Every year, we work on an extensive analysis & report to get a grasp on the current state of remote working. But this year's report is even more special. Covid-19 is a definitive landmark in the history of remote working and it permanently changed our ways of working. And just like me, you would be curious to know what others think & feel.
The wait is over now! I have compiled & analysed the responses to our annual remote work survey. Pretty stoked to present to you this year's analysis.
If you like it, please do share & support on Twitter :)
Special thanks to our partners on this report - GitLab, Running Remote, SafetyWing, Slite and Flexiple.
Individual Perspective
Almost everyone enjoys working remotely
In total, 98% enjoy working remotely and would continue to do so in some form!
64% completely enjoy working remotely while some wish to occasionally visit offices (24%). 8% of people indicate that they miss the office environment and would like to only occasionally work remotely.
Remote working is great but it finally comes down to what works best for individuals
Many individuals support remote work and would recommend it to others (38%). However, a majority of them agree that remote working may not be suitable for everyone and should be a personal choice (59%).
Flexible schedule is the best part about remote working
The most appealing aspect of working remotely is having a flexible schedule (34%). The ability to work from anywhere (23%), not having to commute (26%), and spending time with family (13%) are also some of the other reasons why people like remote working.
Almost two thirds have a dedicated home office and work from it regularly
Two-thirds have a dedicated workspace where they regularly work from. The shift toward remote work has necessitated the need for dedicated workspaces at home away from distractions in the house. Nearly a third of employees work from anywhere within the house including the dining table, lounge, bed, etc.
Switching off from work continues to be a struggle for majority of remote workers
Working from home or living at work? 37% have a hard time switching off from work after their workday. In addition, distractions at home and loneliness are two of the biggest challenges that remote workers face.
Remote working is a boon for people with chronic illness or disabilities
5% of respondents said that they have a chronic illness or disability and more than half of those said that it was the major reason they chose to work remotely.
Nearly a third of respondents are caregivers in the family
30% are caregivers in their family and more than one third of those said that it was the major reason they chose to work remotely. Remote work presents a significant advantage for individuals as they can manage their work while providing care for someone else.
Changes brought in by Covid-19
Nearly half of the respondents said the work hours remained the same
Although 35% said that their work hours have increased as a result of working from home, nearly half of them feel that their work hours have remained the same. 15% even stated that their work hours have decreased when working from home.
Just a few claim tax relief for remote working expenses
Only 25% claim tax relief for remote working expenses. Countries like Canada & Germany are introducing additional tax reliefs for remote workers providing tax exemptions even for heating & electricity bills. However, most people may not take advantage of that.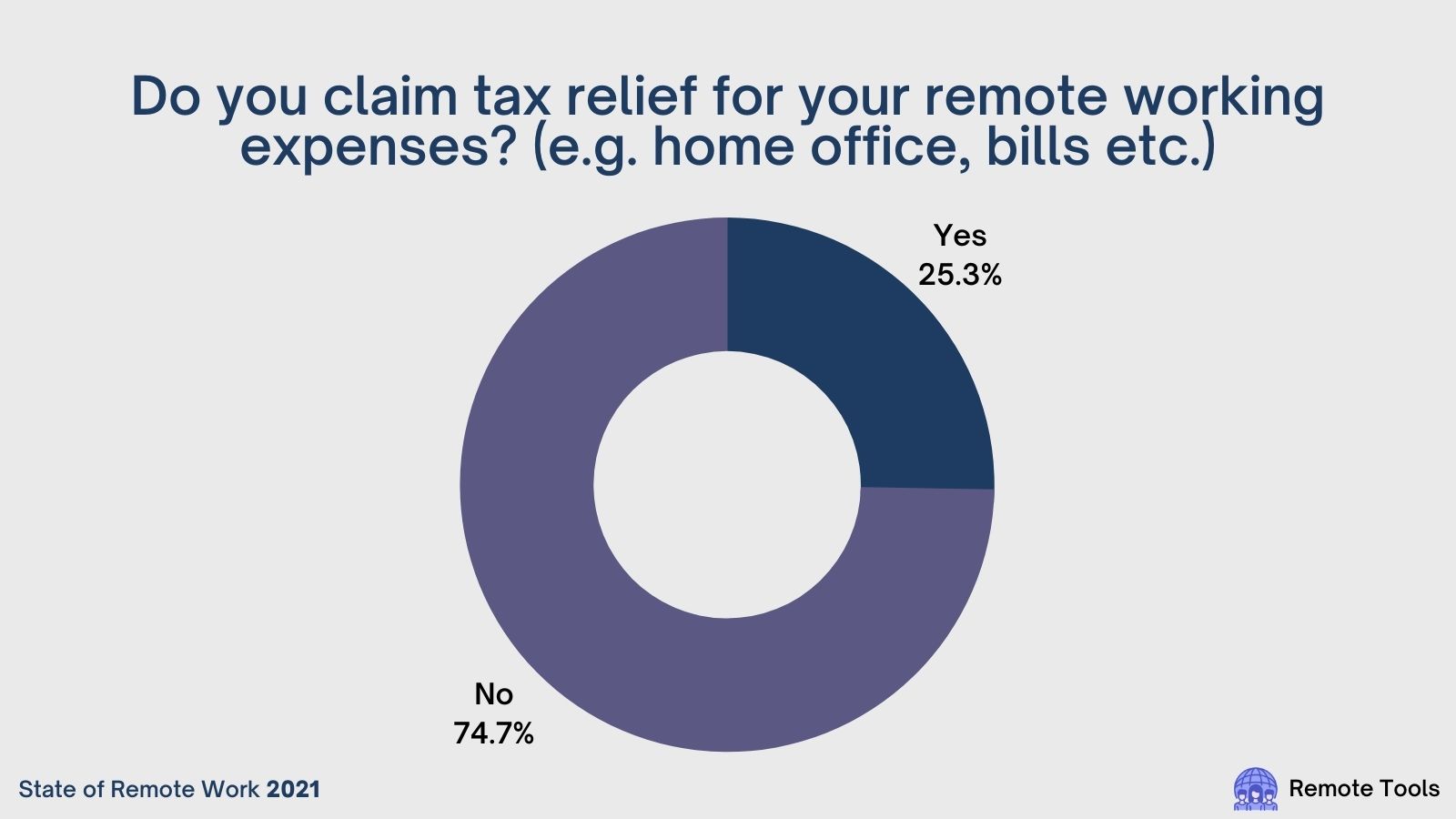 Most say that the number of meetings is the same as earlier
70% of the respondents say that the number of meetings have remained the same after shifting to remote work. 20% said that their calendars are fully booked.
People are taking more than one break, scheduled and irregular equally
Taking time to recharge while working from home is really important. Around 40% of workers take irregular breaks and the same number take scheduled breaks.
A third say that remote work is affecting their mental health
Taking into consideration the pandemic and various global issues, the past year has proven to be difficult for everyone, including remote workers. Nearly a third say that working remotely is affecting their mental well-being.
Company Perspective
Teams were prepared to handle the demands of remote work
Most companies were already remote (44%) while others had established protocols for remote work (29%). 20% of the companies faced initial issues to tackle the demand for remote working and 5% struggled.
Many workers stay in touch with colleagues through dedicated Slack channels
The most common form of communication among remote workers was through dedicated channels and informal catchups over a coffee break. Employee-led events such as informal catchups and coffee breaks are much more engaging than company-led events such as team off-sites.
Almost all the companies have not asked their employees to take a pay cut to work remotely
A majority of the companies have not asked their employees to take a pay cut to work remotely (95%). However, there's still a small chunk of companies cutting pay for offering to work remotely.
Only around one-third of companies pay for work-from-home expenditure
30% of companies provide stipend or pay for work-from-home expenses, such as wifi and electricity, in order to assist their employees working from home.
Companies are yet to trust their employees
25% of companies use time-tracking tools to track their employees' work hours.
Almost half of the remote workers would love to have home-office stipends
Companies such as FB and Shopify have perks such as home-office stipends. Almost half of our respondents would like to get such perks that help them to work better remotely. 34% want mental and wellness benefits to improve productivity and mindfulness.
Just 1% would like to go back to the office again everyday
Most respondents indicated that they would not return to an office setting, and others may occasionally visit them. However, just 1% stated they would return to the office every day.
Who took the survey?
728 people took part in the survey
Location by region: Majority of the respondents were from North America (34%), Asia (32%), and Europe (24%). Remote workers from other geographic regions such as South America (5%), Middle East (2%), Pacific (2%) & Africa (1%) also took part in the survey.
Industry breakdown: As expected, a large number of respondents were from the IT & Services (60%) industry. Followed by Education (5%), Financial Services (5%), Healthcare (5%), Non-profits (4%), Media (4%), Travel & Tourism (1%), Government (1%) and the remaining in other industries (15%).
Company size: Respondents were almost equally distributed with 39% working in startups (<50 employees), 32% working in small companies (51- 500 employees) and 29% working in large companies (& 500 employees).
Function in company: When asked about their function in the company, 30% selected Engineering. Other functions include: Management (15%), Marketing (11%), Product (10%), Design (9%), HR (6%), Sales (3%), Finance (2%) and the remaining in other functions (14%).
Remote work experience: 48% have very little experience working remotely (<6 months) before the pandemic. 34% have some remote work experience (6 months - 4 years) and 18% are quite experienced in remote working ( >5 years).