McDonald's is one of the world's most popular and successful fast-food restaurants worldwide. The company has a long and storied history, where its business model is widely studied and imitated.
In this case study, we will take a closer look at McDonald's marketing strategy that is set to help them maintain a 34.3% market share by 2026.
A brief history of McDonald's brothers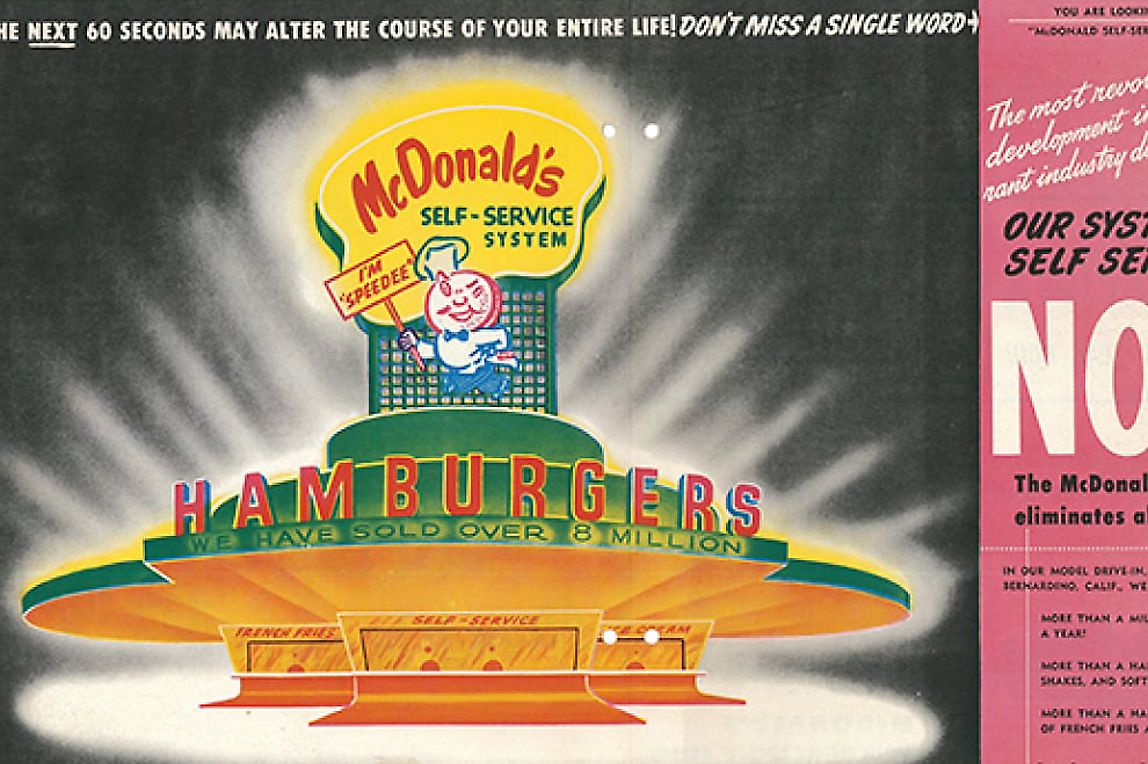 Source - McDonald's Corporation
McDonald brothers Richard and Maurice McDonald found the fast food chain in 1940. 
The brothers originally operated a hot dog stand but eventually transitioned to a hamburger stand.
They developed a new and innovative business model that relied on standardized procedures, assembly-line production, and low prices. Their Speedee Service System included a 15 cents hamburgers, fries and shakes of limited menu.
In 1954, Ray Kroc became involved with McDonald's as a franchise agent. He was so impressed with the McDonald brothers' fast food company that he convinced them to let him expand the chain nationally.
He envisioned scaling McDonald's food with 1000+ fast food restaurants across the US alone. Ray Kroc played a crucial role in developing McDonald's business strategy to achieve this feat and beyond. He recognized the importance of creating a strong brand identity, and he made sure that McDonald's focuses on quality, convenience, and value.
The famous Golden Arches
The McDonald brothers were particular about the basic idea of its architectural design too. McDonald's invested to ensure its fast food restaurant was catchy across the driveway with its Red and White Mansard Roof design, also known as their famous Golden Arches.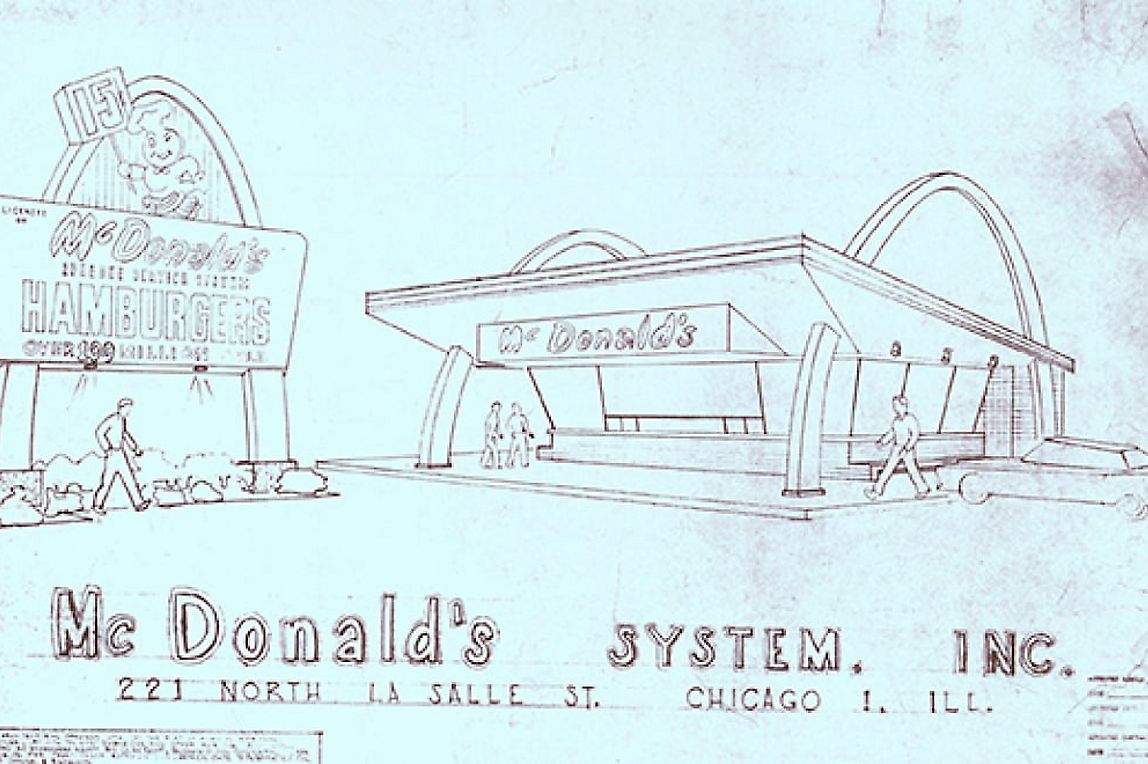 The above image shows early blueprints of McDonald's signature Red and White golden arches with a road sign. Today these golden arches contribute to uniquely positioning their brand in the fast food industry.
What McDonald's believes in
McDonald's corporation mission statement is -
To make delicious feel-good moments easy for everyone.
This indicates a strong focus on being a global and accessible brand in the food and beverages industry.
McDonald's corporate vision is -
To move with velocity to drive profitable growth and become an even better McDonald's serving more customers delicious food each day around the world.
This indicates a focus on profits and growth, but in a way that makes them a better version of themselves. This is evident as McDonald's is known to constantly innovate by entering new markets and experiment with products.
The present day McDonald's as a company
McDonald's success is widely studied for its guerilla marketing tricks, bundle pricing strategy and business model. The company has weathered many storms over the years, including the recent global pandemic, which forced most of its restaurants to close.
At present, it faces issues with the Russian invasion of Ukraine, as covered by Trung Phan's substack issue, yet enjoys an increase in overall sales as stated prior in the case study.
An analysis of McDonald's marketing plan and business strategy reveals that the brand is incredibly successful.
But what about its pricing strategy for profits? 
Today, McDonald's is also extremely profitable, with its latest Q3 2022 earnings revealing a 9.5% increase in sales. Also, it enjoys a recession-proof revenue stream.
McDonald's is the world's largest restaurant chain by revenue serving over 69 million customers daily in over 100 countries in more than 40,000 outlets as of 2021.
So, what makes McDonald's business model and marketing strategies successful? 
There are several factors at play, but the key among them is how McDonald's focuses on product innovation and customer satisfaction. With this, McDonald's is able to curate its services for its global target audience.
Let us understand their marketing mix deeper by highlighting its marketing strategies.
What is McDonald's Marketing Strategy?
McDonald's brand positioning strategies have shaped McDonald's to make it an approachable brand across age groups. Their digital marketing mix is designed to appeal to their target market which is looking for affordable fast food.
Product focus areas
McDonald's primarily sells food products like delicious burgers, cheeseburgers, chicken products, french fries, breakfast items, soft drinks, milkshakes, and desserts. In response to changing consumer tastes, McDonald's has expanded its menu items to include salads, wraps, smoothies, and coffee. Its new restaurants across international markets also adapt to local food products to suit customer demands.
Let us learn more about its key marketing mix strategies across price, placement, product and promotion in the following sections.
1. McDonald's Promotion
McDonald's leads in the fast food industry with its promotional techniques that include offers and freebies to regularly attract customers. 
For example, McDonald's offers a "Happy Meal," which consists of a main meal, side, and drink for a discounted price. They have successfully fostered brand loyalty through their McDonald's Rewards program which allows 26 million customers to earn redeemable points for free.
Its marketing plan primarily includes advertising, public relations, online ads, and direct marketing. They also utilize point-of-sale materials and sponsorships to promote its brand.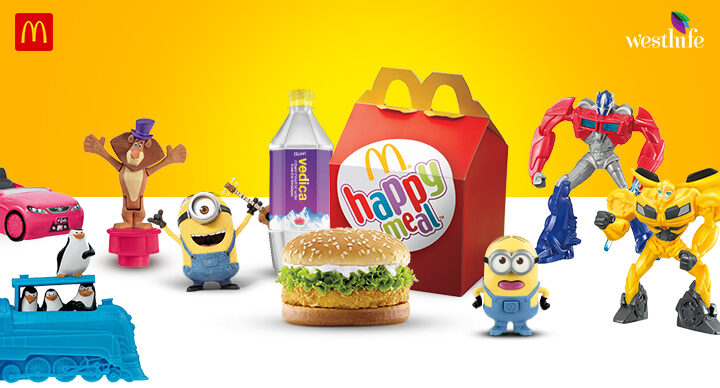 Source - McDonald's Company Blog
2. McDonald's Product
McDonald's product offerings include fast food items such as burgers, fries, soft drinks, milkshakes, and breakfast items. This includes some iconic menu items like Big Mac, French Fries, Christmas-themed McFlurry, Chicken McNuggets, etc. A key to McDonald's success is how it is consistent in terms of taste and quality, no matter which location you visit worldwide.
You can watch this interesting documentary on how McDonald's 'manufactures' consistent French Fries across the globe:
3. McDonald's Pricing Strategies
McDonald's marketing objectives include appealing to the price point of a target market that is looking for fast food service at low costs. This consists of families with children, middle-class income earners and anyone who needs less wait time for food.
Ray Kroc focused on adopting bundle price strategy, like, the Big Mac Meal, that becomes profitable when sold in bulk at low prices. This leads to an impressive 37% profit margins, which is much higher than 6-9% average QSR margins.
Today, it also focuses on self-serve kiosks and meal-based menu items to further reduce labour costs. Their pricing also follows purchase power parity to adapt to the international market segment.
For example, in India, McDonald's finally became profitable after 22 years by focusing on local tastes and spending habits of their target audience.
4. McDonald's Placement
McDonald's has a global presence in over 100+ countries. Their marketing strategy involves strategically placing restaurants in high-traffic locations near schools, shopping centres, and major highways. It was one of the first fast-food chains to introduce drive-thru service in 1975. 
This basic idea at the time allowed McDonald's to tap into a new market – busy people who wanted to eat on the go. Today, their drive thrust is one of the fastest in the world with a 5.11 minutes record.
They also grabbed market share by localising their menu to the customer demands in that country. This enables them to tap into local marketing channels and create unique experience for foreign travellers from their otherwise monotonous consistency.
Iconic Marketing Campaigns by McDonald's
McDonald's marketing campaign don't just include Ronald McDonald or frequent discounts. Their marketing mix is includes iconic marketing strategies, partnerships, and aligning to target market demands that are today their competitive advantage.
Let's explore some of the most innovative tactics from McDonald's marketing mix -
McDonald's Cobranding Strategy to Double Down its Reputation & Cut on the Advertising Cost
McDonald's has had a long and successful history of partnering with other brands to create mutually beneficial relationships. One of the most iconic examples, that is also its competitive advantage, is McDonald's partnership with Coca-Cola.
Here, McDonald's sells Coke products in its restaurants, while Coke promotes McDonald's products in its advertising. Thus, both are promoting each other to their customer bases.
This partnership began in 1955, just a year after McDonald's was founded, and continues to this day. 
Partnership with other brands and creators that complement their fast service
McDonald's has partnered with other companies in various industries, including children's toy manufacturers for their happy meal offer, movie franchises, fashion designers, and even delivery brands like Uber Eats.
Such partnerships allow them to run exclusive products and a multi-brand experience that is complimentary in nature.
For example, McDonald's has partnered with Nike to create a line of McDonald's-branded athletic shoes.
Riding pop culture wave as marketing strategy with McInfluencers
McDonald's marketing plan includes working with pop stars and influencers to keep itself relevant with the times.
For example, Rapper Travis Scott partnered with McDonald's for an exclusive line of shoes and Travis Scott meal. A similar partnership was done with Michael jordan called McJordan which was a huge hit.
Running marketing campaign like these helps them align their brand value with the celebrity's fan base.
Showing up in movies as a marketing strategy
Just like Apple, McDonald's too uses the marketing strategy to makes movie cameos. It has sponsored many movies where their branding is carried out via product placements and featuring the golden arches.
These include The Sleeper (1973), All the President's Men (1976), Mac and Me (1988), The Flintstones (1994), Pulp Fiction (1994), The Pink Panther (2006), 13 Hours (2016), etc.
McDonald's has many documentaries made on their manufacturing processes. This includes McDonald brother and Ray Kroc founding story, with The Founder being a well-celebrated movie. The 1985 Santa Claus The Movie and McDonald's commercial is also a memorable example.
Mcdonald's Green Marketing Strategies: Initiatives for making healthy food and a Sustainable Future 
Recently, the company plans to use reusable packaging to reduce paper and plastic waste that the fast food industry is notorious for.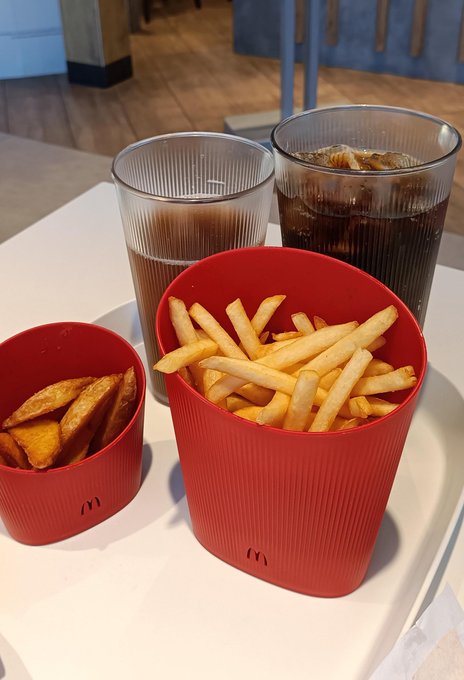 The McDonald's brand has set a goal to be completely carbon Neutral by 2025. They are also working with suppliers to source more sustainable ingredients and packaging.
Such green marketing strategy measures appeal to the present generation that is eco-conscious. Reducing its own carbon footprint helps the company achieve an alignment with SDG goals.
Ronald McDonald and McDonaldland as competitive advantage
Did you know McDonald's has its own cinematic universe?
Ronald McDonald is an iconic character that represents McDonald's brand. They have built a fictional world too called McDonaldland that features other characters like the Hamburglar, Mayor McCheese, Birdie, Grimace, the Fry Kids and the Early Bird.
Clicking photos in the famous McDonald's bench with Ronald McDonald is a childhood memory that makes McDonald's a favourite fast foods joint. These characters have movies made too as a part of McDonald's marketing plan.
Very few fast food joint are able to match the brand value created by McDonald's Corporation with mascot-like marketing strategy.
Dissing competitor brands as marketing strategy
It's very difficult to make pricing strategy as a competitive advantage in low priced fast food industry. So such brand have to compete with each other with massive marketing budget spends, that includes - outwitting each other too!
Many people enjoy thesee public advertising rants across billboards, commercials and even tweets. McDonald's vs Burger King or 'The Burger Wars' is a well-known brand battle covered by marketing nerds and international journal for businesses worldwide.
Such tricks help both brands benefit across their target markets, give audience exposure and reduce ad spends. It makes them more recognisable and earn media attention.
McDonalds marketing strategy with jingles
McDonald's marketing by using mass media to promote its products made it even more popular in the 1960s. The famous "I'm Lovin' It" jingle was introduced in 2003, which has helped keep the McDonald's brand top-of-mind as the favourite fast food joint for millions of consumers worldwide.
This includes a song by the same name by Justin Timberlake credited to Tortora, Batoy, Pharrell Williams and Heye creative director Andreas Forberger:
The Hamburger University as a means for excellent customer satisfaction
McDonald's takes its customer service seriously. The company believes in training their high potential employees across managers, franchise owners and executives to ensure a consistent and pleasant customer service worldwide.
Here, they team leadership principles, pricing strategy, identifying competitive advantages with respect to placement, how to improve sales volume and other business strategies.
Thinking beyond burgers by venturing into new markets
McDonald's went ahead from burgers to further increase their target market segments with its famous breakfast menu and McCafe brand. The McEgg meal and McMuffin food proudcts are very popular worldwide.
Its pricing strategy fits the consumers who are looking for quick bite as they move for their work or school.
McCafe has proven to be an affordable alternative to expensive Starbucks coffee. The menu items are bundled such that it complements well with the breakfast menu.
How McDonald's marketing strategy makes you hungry?
The Red and Yellow colors were not randomly selected by the brand. These colors play a very important role in making you feel hungry!
Red color makes you feel an impulse and a sense of urgency. While yellow is comforting, yet energetic enough to take action.
Also, the red ketchup and mustard dips which are usually used along with fast food products also align with these colors.
Such color psychology tricks along with the scent of fries make you immediately hungry when you enter any McDonald's restaurant. These colors are also distinctly visible and bright during night time.
Why the franchise business model works for McDonald's
Opening new restaurants to rapidly scale was possible thanks to McDonald's franchise model. Running a franchise model isn't easy. But a strong focus on consistency and branding has made McDonald's a must read business strategy case study.
It's successful mainly due to below reasons -
McDonald's is a real estate company
McDonald's owns most of its restaurant properties, which gives it greater control over costs and profits. This also allows McDonald's to generate income from franchising and rent, which account for a significant proportion of its revenue.
It owns $28.4 billion worth of buildings and lands across the world!
Scale with Efficiency and Repetition
The company's restaurants are designed for quick service and high throughput, which helps to keep costs down. McDonald's also benefits from having a relatively simple, limited menu that can be easily replicated across its thousands of restaurants worldwide.
McDonald's Unique Refinancing Strategies During Recession
During the recession, all the banks offer loans at the lowest interest rates so that they continue to buy, and the economy recovers soon. 
McDonald's used this strategy in 2019 to their advantage and opened many global outlets. 
Refinancing helps it pay off old debts (taken at higher interest rates before the recession) from certain banks and pay them off by taking loans from other banks during the recession when the interest rates are lower.
Thus, the company makes a profit by purchasing its own shares and selling them shares again when the market recovers. 
Moreover, the surplus capital is used to acquire more franchises with its global outlets by refinancing. 
Key Takeaways from McDonald's for entrepreneurs
If you're an entrepreneur looking to venture into fast food industry, here are some major takeaways from McDonald's business and marketing strategy -
Less is more
Focus on key products and deliver them well. Do not offer too much and compromise on quality.
Build systems and processes
Focus on building systems that can work consistently and develop SOPs around them to scale.
Larger target market means more marketing budget
If you are targeting EVERYONE - be ready to finance the necessary marketing strategy to acquire customers.
Be adaptable
Figure out a way to adapt to changing customer demands, while still maintaining your core values. McDonald's is a clear example of how one can innovate with consistency.
Adpot a Bundle Pricing strategy
Study McDonald's bundle pricing strategy to club complimentary products together and offer discounts on them to increase sales.
Enjoyed reading this marketing strategy case study?
Check out Netflix marketing strategy to know how you can make a sticky product and gain competitive advantage in red ocean target markets.