Walmart is one of the biggest retailers and among go-to retail stores for one's household shopping. Known for its lowest prices and cost savings across product categories, a visit to its physical stores is an experience in itself.
While a lot of its success is attributed to its intensive distribution strategy, its marketing mix also plays a key role in making it an everyday store for everyone.
In this marketing strategy case study, we will study Walmart marketing strategy that made it a retail business that generates USD 567 billion worth sales volume.
A brief overview of Walmart's retail business
Sam Walton, founded the first store in 1945, and since then, 10,593 Walmart stores have flourished across the world. Even today, Walmart is majorly controlled and run as a Walton family business. Walmart employs 2,300,000 US workers alone, making it the largest employer in United States.
Its retail stores house a huge variety of product categories at very low prices ranging from office supplies, cell phones, music videos, or even cooling equipment.
Today, it successfully delivers an omni-channel experience for Walmart customers via its intensive distribution channel design.
Some of its major business model channels include:
Physical store sales - makes up to 9.26% of net sales across its 10,500 Walmart stores.

e-Commerce store sales - Sam's club, a membership-only warehouse club, and other channels like Walmart International and Walmart US helps Walmart keep a digital presence and attract customers who prefer online shopping.

Subscription - Walmart+ subscription services started in response to the pandemic that includes unlimited free shipping and direct deliveries from any Walmart store. There are around 11 million Walmart subscribers as of 2022.

Advertising - Walmart Connect helps retail the business reach out to both online and Walmart store customers.
The entire Walmart marketing mix revolves around these bulk sales enabled business model.
Let's explore Walmart's marketing strategy in detail.
What is Walmart's marketing mix?
Strategy of Walmart is to enable its customers to save money across product categories via high sales volume approach. To ensure higher sales and maintain lowest price, Walmart uses tons of sales promotions tactics at large scale.
The design of Walmart marketing mix is influenced by its cost leadership strategy.
Here's how it works.
Walmart's pricing strategy to become the lowest price store
Inventory management with efficient supply chain and a highly customer centric approach helps Walmart sell its products at lower prices. For the same, it uses the following pricing strategy:
Everyday Low Prices (EDLP) - control the sale price of the goods sold to maintain low prices on a consistent basis

Everyday low cost (EDLC) - control the expenses such that you can pass on the savings to the Walmart customer
Image Source - CNBC
These tactics enable Walmart to maintain low prices in the hope that the bulk sales volume and high ticket products would make it beyond breakeven. A diversified product strategy also helps Walmart offer everyday low price such that complimentary products are bundled for higher sales.
This is further supported by an efficient supply chain management system that comprises of barcodes, Stock Keeping Unit (SKU) system and implementation of modern distribution strategy.
Walmart's Placement or Distribution strategy
Walmart outlet selects its store location such that its central for people to access. Their 150+ distribution centers are also strategically placed for easier procurement and logistics management.
Walmart also has heavy physical evidence. They have 3 types of stores namely - Walmart Supercenters, Walmart Discount Stores and Walmart Express Stores that cater to locations based on population density and typical purchase intent of customers. Their physical evidence is also characterised by multiple offices across the world for any corporate or customer support.
Walmart also uses state-of-the-art IT systems to track shipments and deliveries. They also deploy strong logistics facilities via its fleet of trucks to ensure timely delivery of goods.
Apart from an intensive supply chain management for in-store experience, Walmart also taps into the online shopping space via its powerful e-commerce platform.
It's e-commerce store is well integrated with its distribution centers that helps customers avail the Walmart experience without visiting the physical store.
Walmart's Sales Promotions marketing strategy
Walmart marketing is extensive and uses tons of Point of Purchase (POP Marketing Strategy) and Point of Sale (POS Marketing Strategy) tactics to ensure customers add more purchases to their shopping carts.
Otherwise, usual marketing strategies like TV commercials, billboard advertisements, press releases or public relations form a significant part of Walmart marketing mix budget.
Walmart offers many promotions across the year via package deals, discounts and freebies. They adopt personal selling techniques in their stores like guiding customers, offering product samples, trial options, etc to provide a better buying experience.
Image Source - Yahoo Finance
Usage of slogans, with their iconic tagline 'save money, live better' also helps with the brand strategy of Walmart. Banners and displays that convey 'low prices' sentiments motivate the customers further into impulsive purchases.
Walmart's Product strategy
While Walmart cannot control much about the products sold via its online and physical stores, what it can truly control is the customer experience. The Walmart employees in the stores are well trained to ensure they can guide the customers to what they are looking for and might require.
They are selective about the products allowed in their store and ensure every product category has multiple options for customers to choose from. They need to comply with their pricing strategies and quality assessments. Walmart purchases these products in bulk rates, thus leveraging economies of scale.
Just like Amazon, they too sell their own Walmart branded products to improve revenue margins.
Image Source - Branding Strategy Insider
Walmart's target audience
Walmart's target audience comprises general lower to upper middle class families and individuals looking to save money on their grocery shopping expenses. This customer segment is price sensitive, and hence requires an extensive marketing strategy that builds trust and consistency in store experience. One of the ways to build this trust is via its strong replacement policies, reliable warranties and even personal selling.
Walmart's business strategy to adapt to international markets
Walmart expanded to the international markets by various combination of localisation, digital marketing campaigns and adaptive mindset.
Some noteworthy Walmart marketing strategy and business tactics used in international waters include:
Going local
China is a big market for retail companies because it is the most populous nation in the world. But merely replicating Walmart's American DNA would be ineffective in expanding to international markets with heavy local influence.
Image Source - Business Insider


To capture the Chinese market, Walmart reduced their product bundle portions, moving away from the bulk buying behaviour. Walmart marketing strategy in China included digital marketing campaigns in local languages influenced by local pop culture to become more relevant to the Chinese customers.
Acquisitions of local players
The USD 16 billion worth acquisition of Flipkart, a local e-commerce giant in India, was heavily celebrated and discussed in the Indian business ecosystem. To enter the Indian market, Walmart chose to acquire a leading local player rather than competing in unknown territories.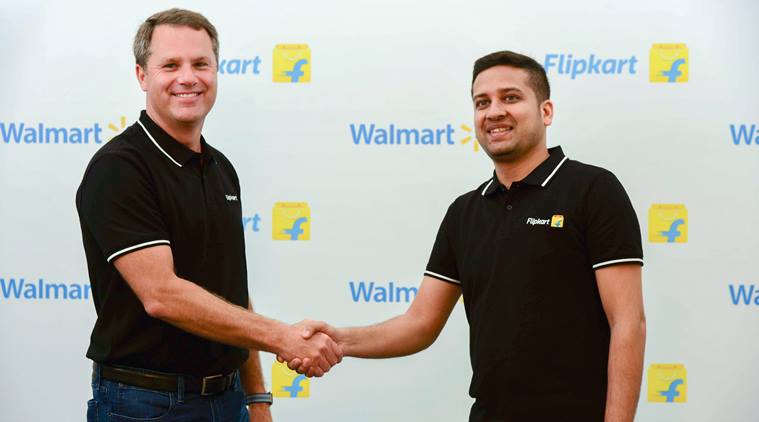 Image Source - The Indian Express
Flipkart has already built a brand via its various digital marketing campaigns and promotional strategies. Today, Walmart simply has to plug their own experience of running a retail business and scale its efforts to dominate Indian retail market.
Walmart used a similar strategy in Germany, where it acquired the retail chain Wertkauf hypermarket, a leading family business run by the Mann family.
Replicating Walmart's corporate DNA
A good aspect about Walmart's marketing strategy is how its core value of keeping prices low is replicable across nations. Of course, one has to localise and adapt to culture. But one can buildd systems around Walmart marketing strategy and business operations to enter new markets.
Key takeaways and marketing strategies for your retail business
Walmart's marketing strategy gives great lessons for entrepreneurs building businesses that are heavily banking on innovative pricing strategies.
Here are some key lessons you can adopt from Walmart marketing mix.
Adapt when required
Walmart was an offline-store business for a long time. Due to the pandemic, they had to focus on their online e-commerce store due to lockdowns. In international markets too, they adapted to local markets and customer behaviour as required.
Make your company values visible
Walmart marketing mix ensures that customers (who always expect lower prices) are shown necessary promotions to save money. Their slogans are repeated across the stores to maintain this brand identity of being a low cost retail store.
Ensure a strong backend
A key strategy of Walmart includes investing heavily on its distribution network and logistics. A lot of resources are deployed to find the most efficient routes, keeping goods intact and ensuring timely deliveries.
Ensure supply quality
Walmart is very strict with their supplier entry and products showcased in their stores. They invest to ensure their customers get the right products in the right condition.
Explore different business models
Walmart has implemented various possible revenue models that a business can adopt. This include subscription, advertising, running clubs, bulk selling, etc. They are not shy to experiment.
Enjoyed reading Walmart's marketing mix? Check out other marketing mix case studies for brands like Red Bull, Zomato, Tesla and many more.