Airbnb pulled off the unimaginable with a successful IPO worth more than $100 billion. All this was achieved during the worst year for the travel industry - the 2020 global pandemic. Investors showed trust in the Airbnb brand and believed in one of the most outlandish insights -that the general public would allow strangers to live in their homes.
The Airbnb marketing strategy which fostered global community members has a crucial contribution to its success. Airbnb's marketing campaign focused on its people and local experiences which led to the creation of a unique brand identity.
Image Source - Forbes
In this article, we will understand Airbnb's strategy to position itself as a trustworthy online platform for short-term rentals. It is an excellent example of how applying marketing tactic helps map a brand that its target audience itself propagates.
Airbnb's marketing strategy to get the first 1000 users
Airbnb is a vacation rental business marketplace that allows backpackers, travel bloggers, or anyone to experience local stays and homes, instead of hotels.
It was founded by Brian Chesky, Nathan Blecharczyk, and Joe Gebbia, who, in the quest to earn some extra cash, rented their own place to the visitors of a local conference in New York City.
They decided to scale this concept by making a short-term rental property site to book homestays or simply beds.
I think the key that makes Airbnb is the fact that we're a community, not just a series of commodities.
- Brian Chesky, Co-Founder Airbnb
Airbnb had to go through a lot of hits and misses across its marketing strategies and business model to reach 150+ million community members. During its inception in 2008, many did not understand or believe in the concept of allowing strangers to live in their homes.
Investors passed its funding rounds and some even shared such comments dismissing Airbnb's idea -
Airbnb company's history is filled with the challenge to gain people's trust in its services.
Here are some of its early marketing strategies to onboard its first 1000 users -
Conferences
They targeted conferences and their visitors who were looking for short stays. They were able to book 600 stays during Obama's Democratic National Convention in Denver.
Better listing photos
Airbnb hosts had put up unappealing photos of their listings. So, the founders went door to door with a photographer to post pictures of their rental property with better picture quality.
Poaching from Craigslist
Used Craigslist to find existing vacation rental home listings and cold-emailed them to onboard to the Airbnb listing website.
Such marketing hacks helped with early customer acquisition to gain traction.
Marketing strategies that helped scale Airbnb
Today, Brain Chesky describes Airbnb as follows -
People don't use Airbnb overtly to trust people more. They use it because they want to get a better sense of the culture and to save money. A by-product was that they live in someone else's shoes.
- Brian Chesky
The quote summarizes the basis of the Airbnb marketing strategy that helped the brand expand. Its marketing mix has a strong focus on building a community and utilising its existing users for user-generated content, social media and its referral program.
Let us understand the Airbnb marketing strategy in detail using the 4Ps of the marketing mix.
Product: Airbnb product strategy
Airbnb is a two-sided marketplace that connects people having spare space in their homes, called Airbnb hosts, with travellers looking for cheaper options to stay.
Most of Airbnb's supply-side involves common citizens without keen business sense but are willing to earn side income via renting their place. They may not even be tech-savvy. Hence, Airbnb needs to ensure their website is easy to register, list their place and track bookings.
Airbnb's website is so easy-to-use, that very few realise that it's a vacation rental software in the backend. They also partnered with many local service providers under its "Luckey program" to enable hosts with running and maintaining their properties.
For travellers, Airbnb needs to ensure it builds trust. Airbnb is a new concept, and its target customers are price sensitive too. Airbnb had to work on its UI such that hosts are able to add every information necessary - including acceptance of dogs, smoking, cleaning, host ratings, etc. This level of detailing, which may seem trivial, does impact a traveller's experience and how they perceive a property. These things are hardly taken care of by Airbnb's major competitors - hotels.
Showcasing 'Superhosts', which are consistently good-rated properties, helps travellers gain confidence while booking. This also makes hosts work hard to gain good ratings on Airbnb's review section.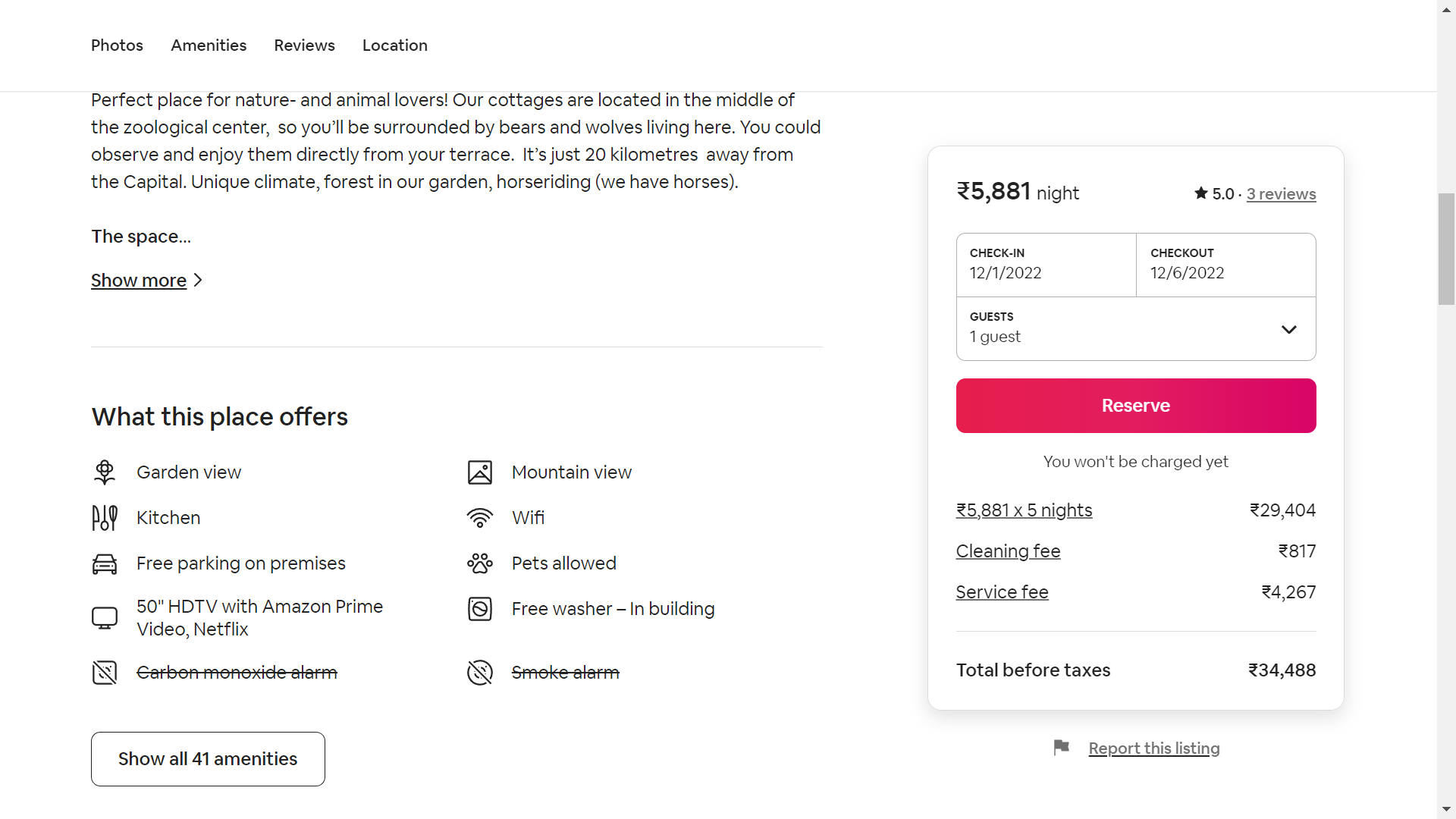 Above is a screenshot of a typical booking page on Airbnb. As you can see, the host has listed the 41 smallest yet important amenities that help buildd trust and justify its pricing. Airbnb's design also includes clear pricing with a breakdown.
With its direct booking website for short-term stays, Airbnb ensures booking is not a hassle. Generous refund policies, conflict resolution measures, direct contact with hosts and simple design make Airbnb's product intuitive and customers feel safe in booking a property. In fact, Airbnb website is known for its good UI/UX design. You can learn more about its design principles on its dedicated design page.
Image Source - The Hustle
The above image shows the transition from a simple website design in its early days to a modern, appealing and photogenic user interface. Today, Airbnb has 6+ million Airbnb property listings done by 4+ million hosts across the world.
Promotion: Airbnb promotions strategy
Since its a marketplace, Airbnb's marketing mix has to target both travellers (demand) and hosts (supply) together to ensure a consistent booking rate.
Its marketing mix includes the following marketing channels for promotions -
User-generated content
Airbnb is a location-based listing platform. With its users adding their properties, it helps them create new web pages that rank in search engines for various locations and travel-specific keywords.
Since the Airbnb host is running a vacation rental business, they use their own marketing strategies outside Airbnb's platform to promote their properties. Many have their own Facebook business page and run ad campaign as required.
Host user's profile on Instagram has photos, reels and other content around their stays. The #airbnbhost has clocked more than 1,03k posts at the time of writing this article.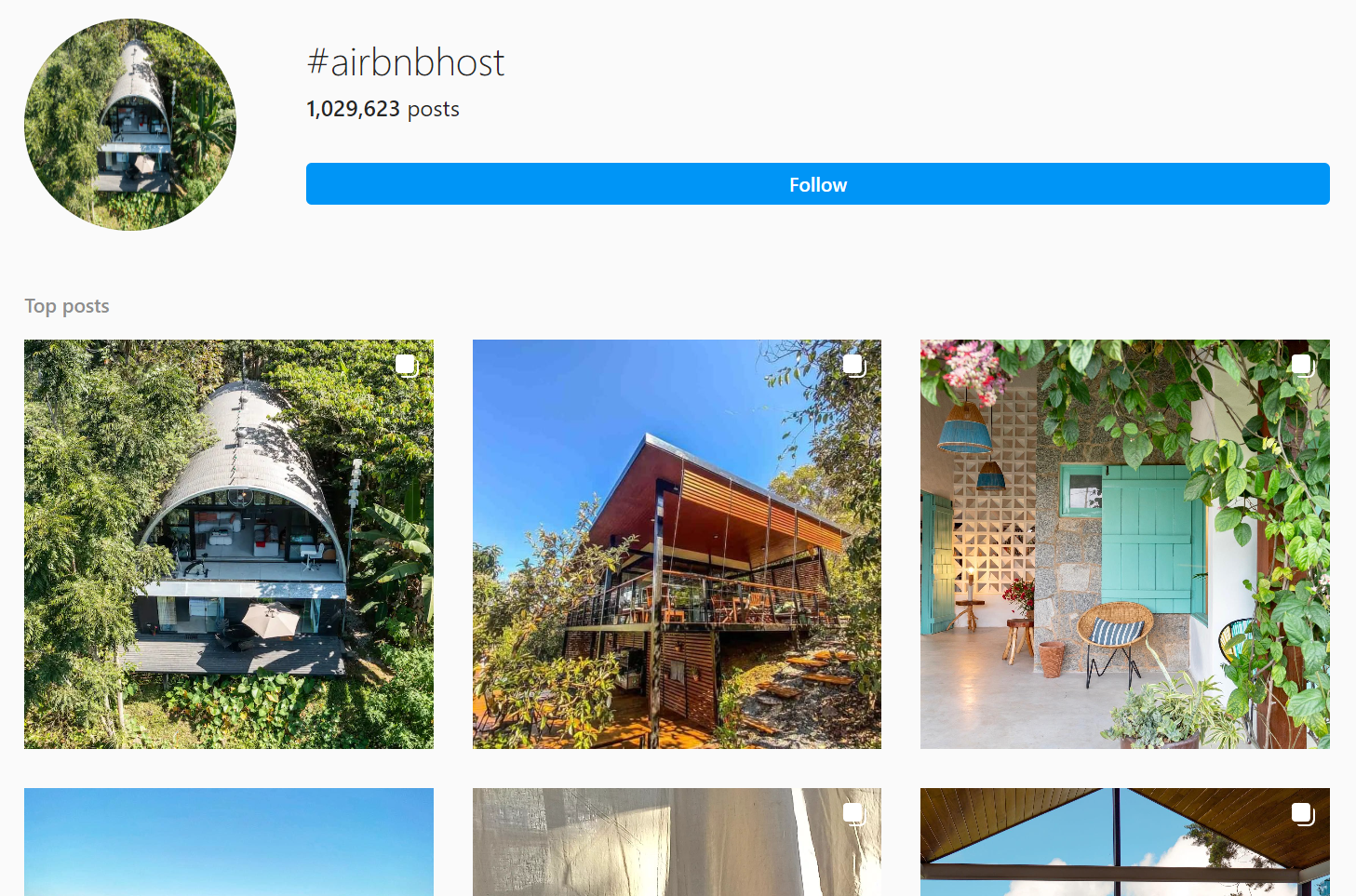 On the travellers front, many of them share their vacation photos on their social media accounts, tagging the Airbnb brand pages. This helps them reach their authentic audience, hence increasing the awareness of their website.
Social media platforms
Being in the travel industry means it's mandatory to maintain a consistent social media presence. Apart from being active on its own Instagram account, Airbnb partners with many travel bloggers. Such campaigns help leverage the influencer's audience and generate the necessary buzz.
Airbnb recognizes its users by featuring some of the tagged social posts on their own page. Many celebrities have their own vacation rental listed, and their massive social reach further adds to Airbnb's word-of-mouth efforts.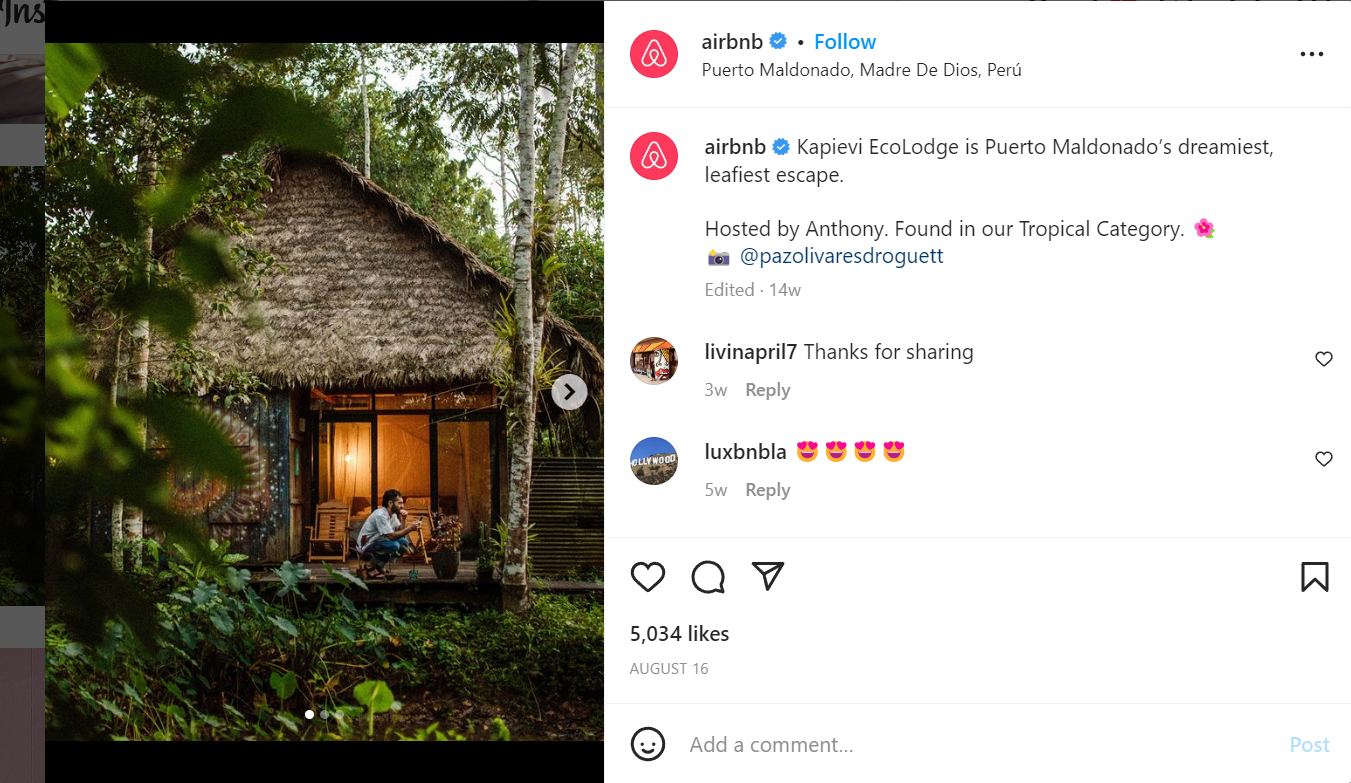 Referral program
A very successful digital marketing strategy adopted by Airbnb is its referral program. When it was launched, it led to a whopping 900% of annual growth.
Referrals are a smart way to utilize your existing users and their audience. They provided rewards to both parties on every successful referral.
Customers receive travel credit as per its comprehensive referral programme terms and conditions. Since most of Airbnb's audience is sensitive to pricing, many jump on the program to save more money on their vacation stays.
Content marketing strategy
Apart from its content creation efforts on social media, Airbnb also takes care of its SEO and branding via its content marketing efforts. This includes multiple blog posts, stories, and listicles that cover every stage of travelling - planning, travelling, experiencing the place, good hosting practices, etc. As per interview with search engine journal, Airbnb has an extensive internal linking strategy for its user-generated content marketing.
It had launched its own travel magazine - Pineapple, that featured visually rich travel stories and tips for both hosts and travelers.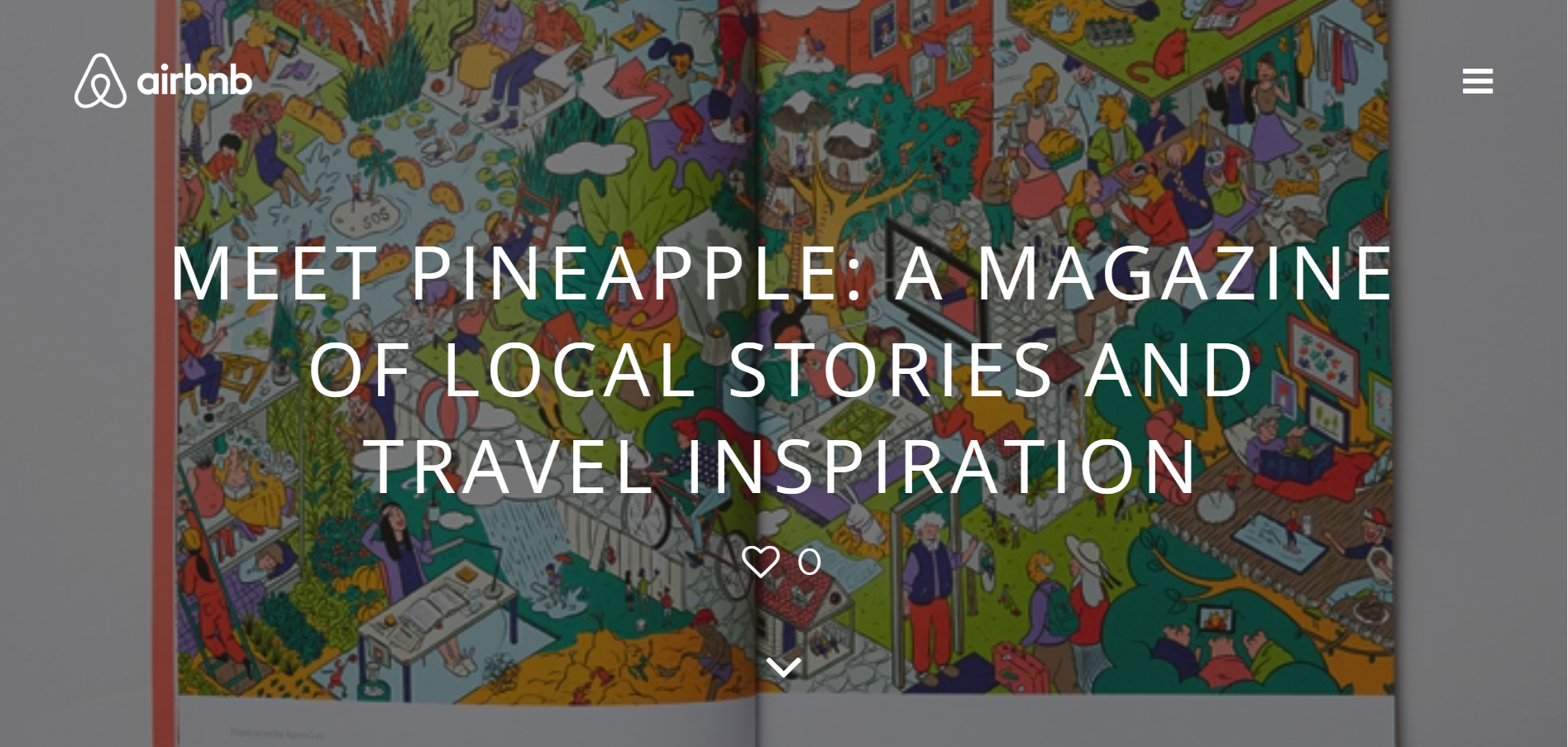 As per its content design page, they embody a thoughtful, spirited and inclusive voice for its content marketing.
Pricing: Airbnb pricing strategy
Airbnb as an online marketplace focuses on a target audience that is looking to save money by opting for homestays instead of hotels. They seek to experience local attractions and mingle with local culture.
Hence, it promotes itself as an 'affordable' option compared to its competitors - the hotel chains. But these days, Airbnb listings include many premium stays that may be more expensive or at par with 4-5 star hotels.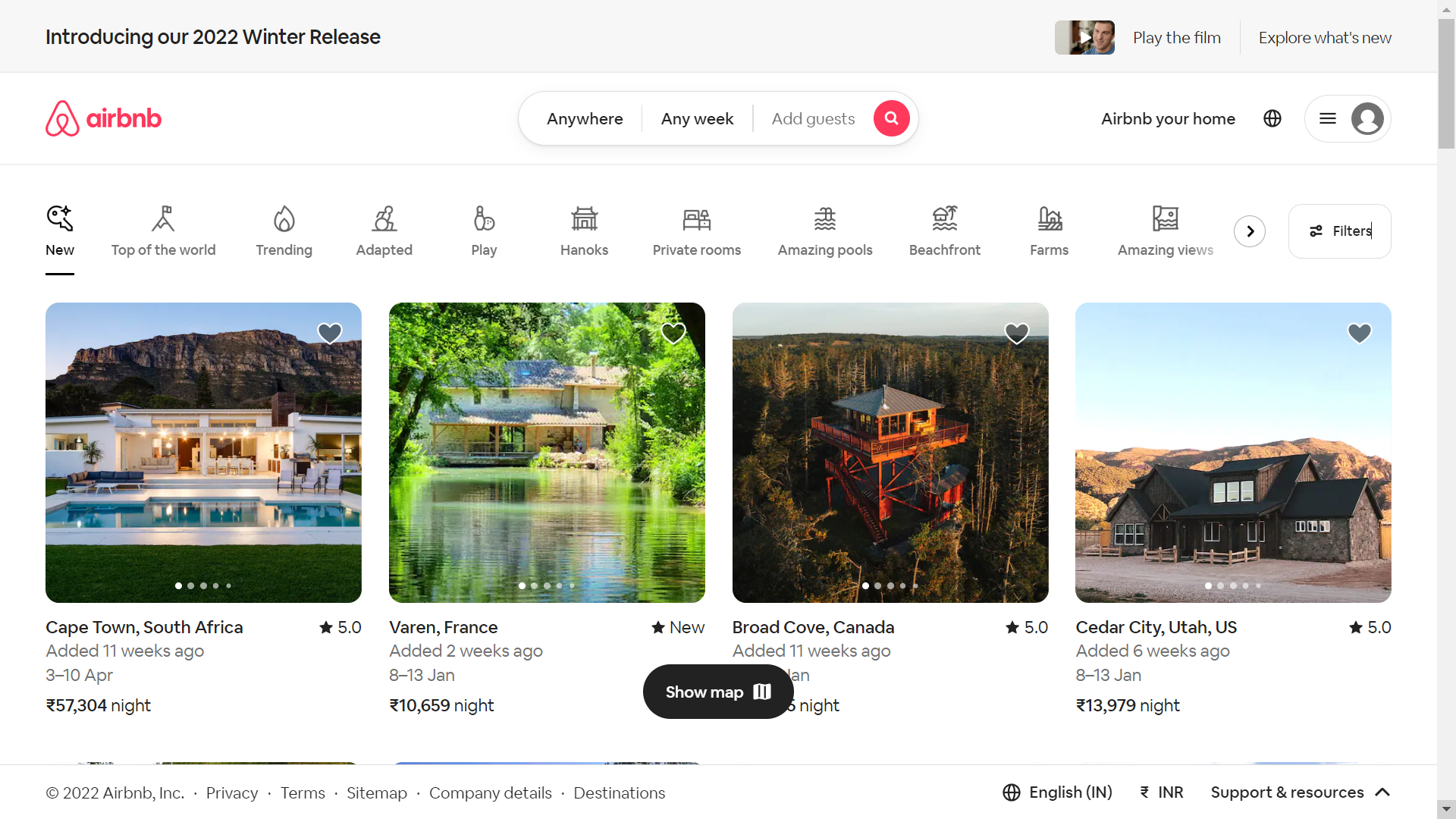 Today, Airbnb includes a variety of homestays with a wide range of budgets across its astonishing 60+ categories!
Airbnb has adopted the marketplace business model - where it keeps a cut of the transaction for every booking that takes place on its platform.
At present, Airbnb charges a 3% cut on the host's side for the complete booking rate. Travellers are usually charged less than 15%, and its value depends on the type of booking, nation's taxes, etc.
Other revenue streams for Airbnb include -
Airbnb Experiences - travellers can book local attractions and experiences
Airbnb Plus - Hosts pay a non-refundable USD 149 for the feature into their Airbnb verified stay collection. On average, Airbnb Plus listings get sold at $250 per night.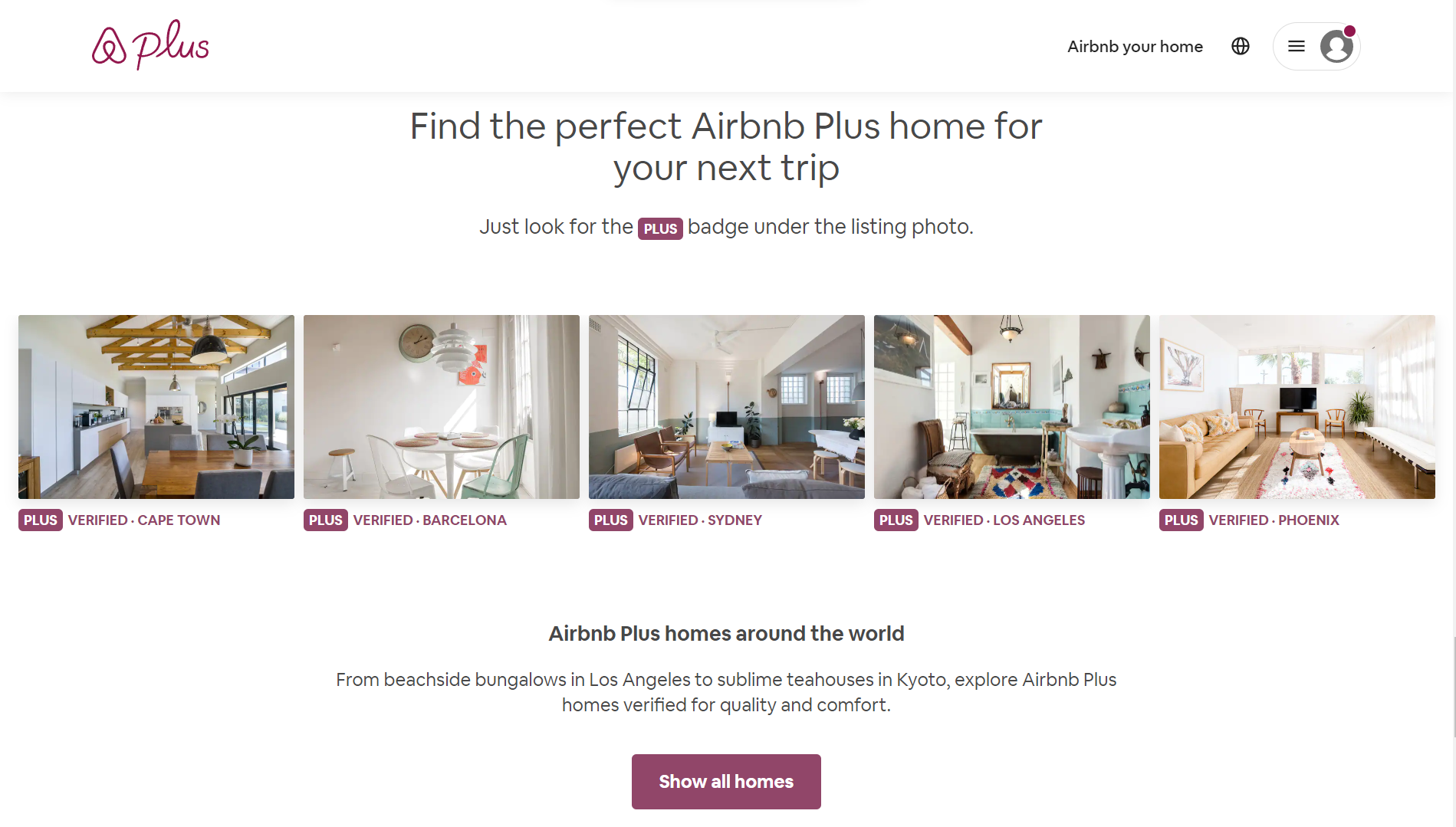 Every strategy in the Airbnb marketing mix is used to ensure more transactions happen on the platform. It has also slowly shifted to value-based pricing. They also publish content to mentor their hosts on pricing their property listings.
Placement: Airbnb marketing channels strategy
Anyone who adheres to Airbnb's quality guidelines can list themselves on their platform. Today, Airbnb is the largest hotel chain - with more than 6 million properties listed.
It is spread across 100,000 cities worldwide. This includes properties in Artic regions, amusement parks, historical places, movie features and many more distinctive experiences across the globe.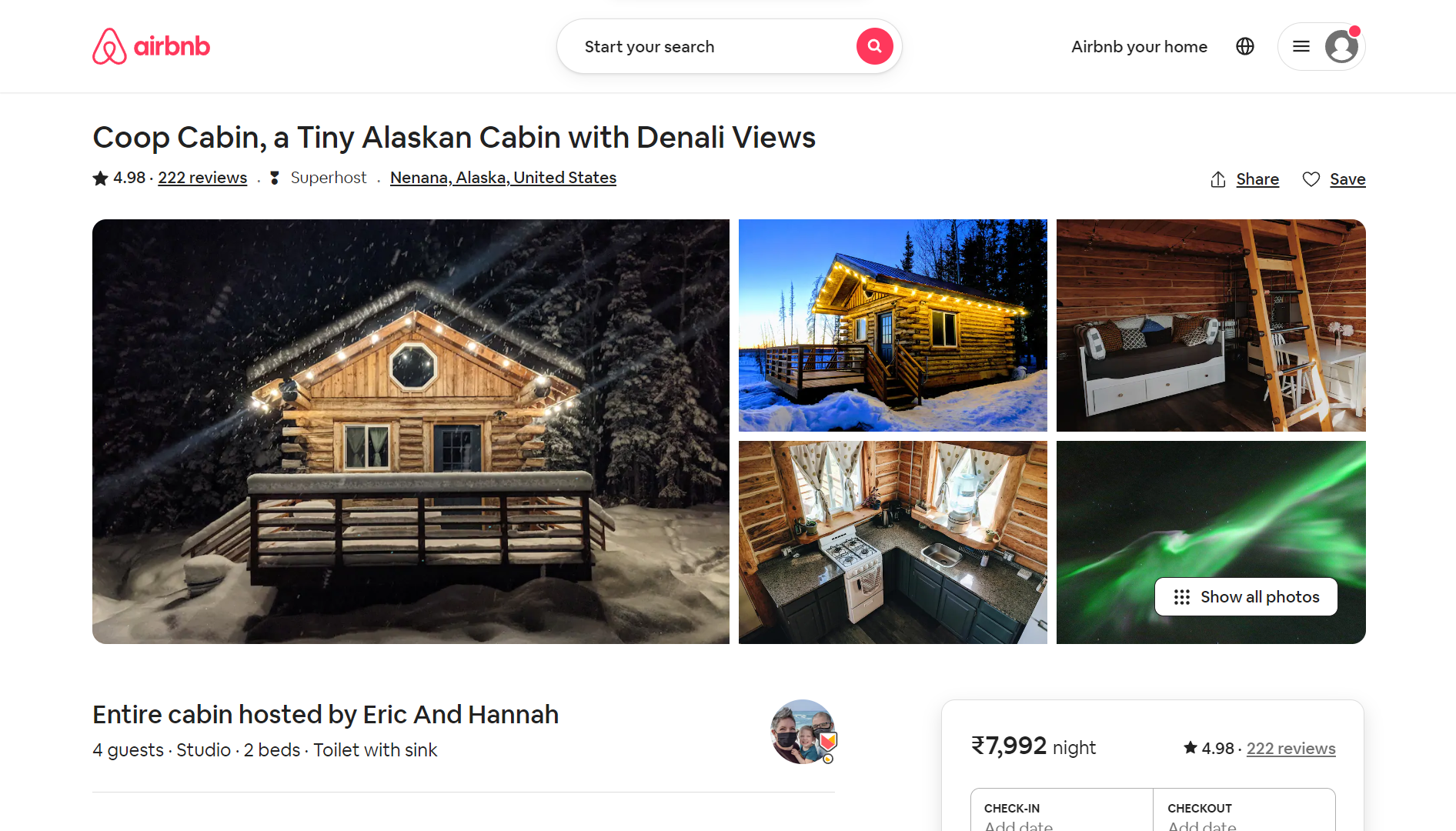 Airbnb's digital marketing campaigns
Airbnb undertakes many initiatives to build the largest community of travel enthusiasts in the world. Gen-Z travelers love Airbnb as a brand as its brand voice align with the generation's mindset and worldview.
As Brian Chesky puts it -
When you are in someone's home, in their bed, you see the world from their eyes. You understand 'the other' is not so other.
- Brian Chesky
Learn more about How Airbnb designs for trust - a TED Talk by Joe Gebbia
One of the key features of the Airbnb marketing strategy is the constant repetition of such messaging of unity, diversity, inclusion and community.
Here are some unique digital marketing initiatives that shaped Airbnb's brand -
Leveraging video and virtual tour
Airbnb marketing strategy includes video content creation across platforms including having a YouTube channel - the most popular video site. They also offer virtual tour under its online experiences, a feature that was an effective marketing strategy during the pandemic days.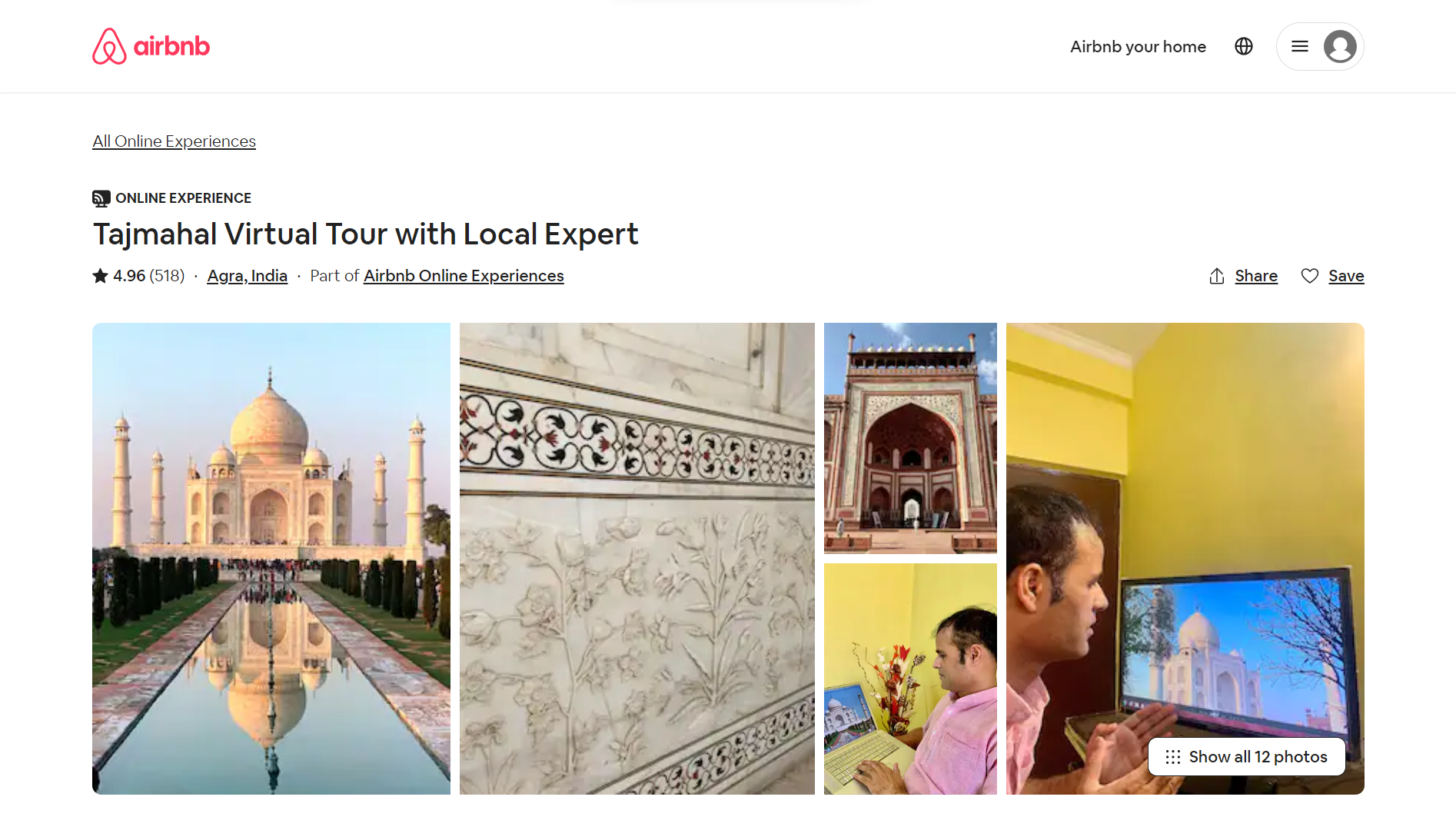 In its YouTube channel, it shows dreamy vacation stays and many travel tips like a typical travel YouTube channel. It uses YouTube paid ads too. Its CFO stated to the MarketingWeek blog how they focused their ad spend on brand-building initiatives than conversions or performance.
For example, as per Google's featured case study on Airbnb, they used ad sequencing to run tailored YouTube ads based on the type of traveller being targeted. This made their customer acquisition more personal and less sales-focused.
Other social media platforms like Tik Tok, Instagram reels, YouTube shorts, etc also form a part of its digital marketing mix.
Launching local partnerships for experiences
Airbnb has onboarded many local partners to support their hosts with their services. These include ensuring hosts and guests have a smooth experience with the stay, cleaning post the guest leaves, clicking professional photographs, managing properties, etc.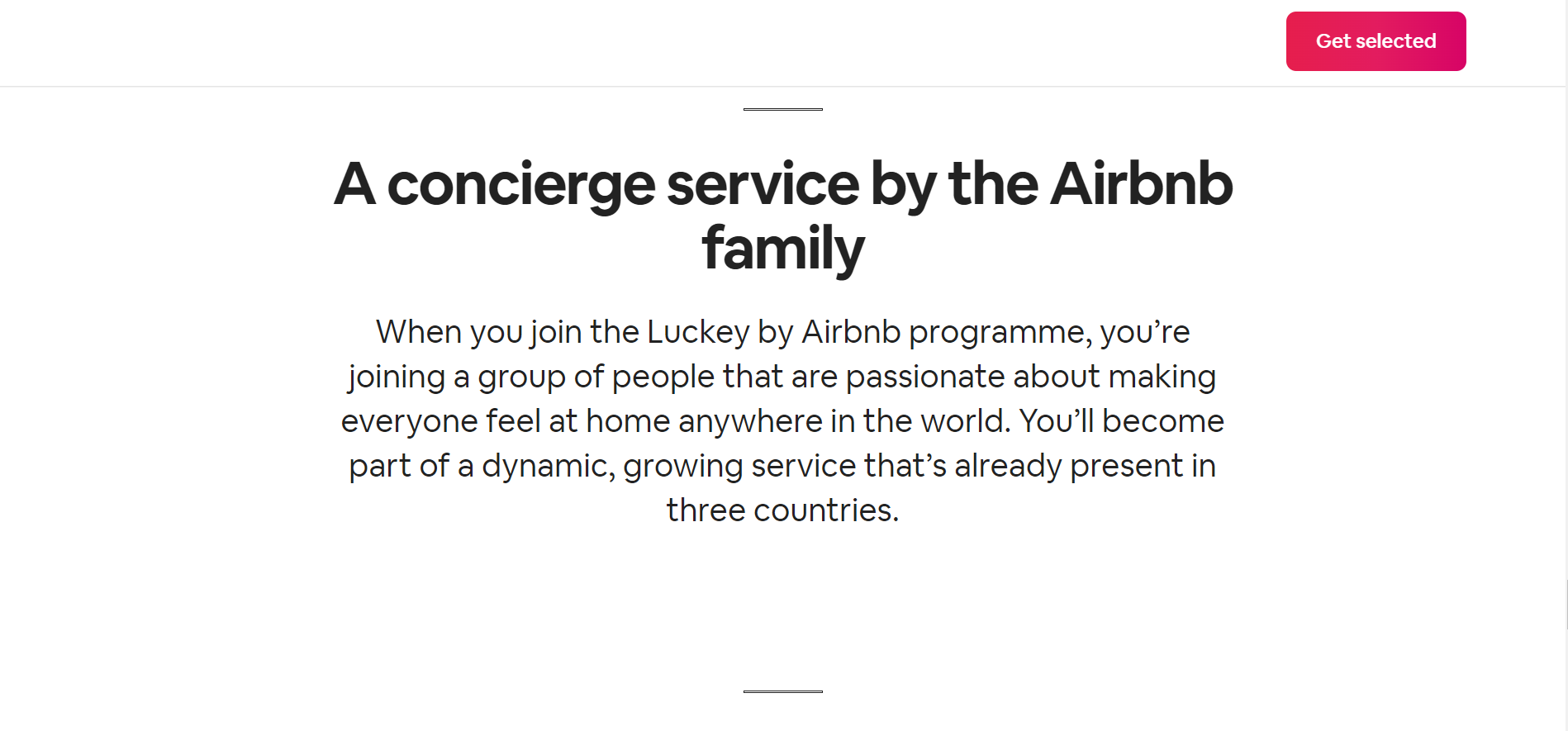 The company's main aim is to nurture more hosts, so any service provider who helps with the same can officially list with Airbnb as a partner.
Being an Airbnb host is a side hustle
In North America, the average annual host earnings can reach easily above $40,000.
This presents a very lucrative opportunity for side hustlers to build a vacation rental business. Airbnb even had an affiliate program called Airbnb Associates Program, which it ended on March 2021.
A simple google search reveals one can even start a rental property business without owning one!
Many content creators in business domain teach how to become a successful host on Airbnb. Most of them are top Airbnb host themselves sharing their learnings. They teach effective Airbnb marketing strategy that helps these owners maximise their revenues from their listings, market them to build an audience, manage finances, etc.
Key takeaways from Airbnb's marketing strategy
If you are building a marketplace, community or vacation rental business, Airbnb marketing campaign has lots of learnings in store for you.
Here are some key takeaways from Airbnb's journey -
Managing customer expectations is key to customer success
Airbnb worked very hard to build its user's trust across both supply and demand sides. Managing false expectations from the listed properties was crucial, where simply adding photos wasn't enough.
People expected to feel safe.
Airbnb added insurance options via its AirCover initiative where it provides coverage of up to $1 million to its hosts. In Airbnb's words -
Host liability insurance, a part of AirCover for Hosts, provides Hosts with $1 million in coverage in the rare event you are found legally responsible for a guest getting hurt or their belongings being damaged or stolen while they're staying at your place. People who help you host, like Co-Hosts and cleaners, are also included, so you can feel confident hosting on Airbnb.
Such customer experience strategies, along with its branding and marketing mix are necessary to build trust with the marketplace participants.
The most recent controversy was about random cleaning fees when the guest leaves the space.
Such customer reviews eventually lead to bad press in the media. But Airbnb's proactive marketing tactics have helped manage many such controversies in its decade of existence.
As a business owner, it is important to stay on your toes and prepare for any customer outrage.
Leverage existing usersbase
Your existing customers already love your product. They have their own sphere of influence - and you can always tap on it for your marketing strategy. Airbnb successfully ran its referral program, nurtured user-generated content, and featured existing social posts made by its customers for their own marketing mix.
Airbnb simply optimizes how it can enable its customers to create more travel content and share it in their social circle. You too can segment your users and target them with the marketing tactics mentioned in this case study.
Get them hooked
Airbnb has a very altruistic and heart-warming slogan - 'Live like a local'.
Such words easily attract the new generation of travellers who like to explore, are inclusive and open to new experiences. Airbnb's messaging revolves around being a part of the local culture and the sharing economy, which resonates well to remove the fear of 'unknown people'.
To know more about how to design a marketing strategy for marketplaces, check out our Zomato marketing strategy case study.