If you were to think of coffee, wouldn't the classic siren logo printed Starbucks cup be the first thing to pop up in your mind? Starbucks is one of the world's most popular and successful premium coffee brands. It is known for its premium coffee, which is made with fresh ingredients roasted in the Starbucks store every day.
Starbucks is an American multinational coffeehouse chain founded in 1985 and operates in around 80 markets! Starbucks has a whopping 36.7% market share in the United States alone.
You'd likely have a lot of questions now: how did Starbucks coffee manage to become so big? What makes them different from all other mass-market brands?
And most importantly, why is Starbucks the best at what they do? In this case study, we will dive into various aspects of Starbucks' marketing strategy.
A brief history of Starbucks
Starbucks was founded by three men — Jerry Baldwin, Zev Siegl, and Gordon Browker. The trio's love for coffee and tea was something they had in common.
They drew inspiration from Peet's Coffee and Tea, a small beverage store founded by a Dutch immigrant. Peet used first-grade coffee and tea beans. Its success cheered the Starbucks founders' to start one on their own. That's when, in 1971, they started their first store in Seattle. They named their new business Starbucks, after a fictional character in the Moby-Dick novel.
In the early 1980s, they already opened four stores in Seattle and outranked their competitors. However, at the same time, Siegl decided to part ways to pursue other interests and this led to Starbucks' struggle for a brief period.
But, in 1984, things began to change for the better when Howard Schultz joined the marketing team as its Director. Schultz had a vision for Starbucks beyond just selling coffee and coffee beans. He wanted to create a unique customer experience that appealed to coffee lovers everywhere.
Schultz's vision came to fruition in 1987 when Starbucks opened its first store outside of Seattle. This marked the beginning of the company's explosive growth. By 1992, there were more than 400 Starbucks stores nationwide.
Going Global
In 1995, Schultz decided to take Starbucks international and opened its first store in Tokyo, Japan. Over the next few years, he opened additional stores in countries all around the world including China, Australia, Italy, Germany, and France.
Today, there are more than 32,000 Starbucks stores in 80 different countries.
What does Starbucks believe in?
Starbucks' corporate mission is -
"to inspire and nurture the human spirit – one person, one cup, and one neighborhood at a time."
This statement emphasizes Starbucks' dedication to providing customer engagement and customer satisfaction.
Also, Starbucks believed that it should be more than just selling coffee and about creating a community space where people can gather and socialize. This sentiment is summed up in its slogan, "The Third Place" and its corporate vision -
"to create moments of connection for everyone who visits our stores."
How Starbucks Became a Global Coffee Giant
As one of the largest chains in the world's coffee market, Starbucks is a company that is always worth taking a closer look at. Now, let's explore its current business model and pricing strategy.
One thing that sets Starbucks apart from other coffee shops is its focus on customer engagement and experience. From the moment you walk into a store to when you leave, Starbucks employees are there to ensure your experience is perfect. This focus on customer service has helped contribute to the chain's massive success over the years. 
But what about its pricing strategy for profits?
Unlike many other consumer chains, Starbucks does not use a discount pricing strategy, and this actually enhances customer perception. That is, it charges exceptional prices for its premium products.
Customers who are willing to pay more for their coffee tend to view it as being of a higher quality. As a result, they perceive Starbucks as a premium coffee brand and are likely to be loyal customers.
While this might be seen as risky by some business owners, its premium pricing strategy has thus far proven to be successful for Starbucks.
So, what makes Starbucks' business model and marketing strategies successful?
Starbucks has always been innovative when it comes to its business model. Rather than just selling coffee, it expanded into food items, drinks, and even music. This means that they can reach a broader customer base, which in turn results in higher customer sales and profits.
Now, the story is no different due to its successful marketing strategies. This keeps the brand exciting and fresh, which helps it stand out from the competition.
There's no denying that Starbucks has a massive success story - but what exactly is the reason behind its successful marketing strategies? Let's take a look at Starbucks' marketing mix:
What is Starbucks' Marketing Strategy?
From the beginning, Starbucks' objective has been to create a "third place" beyond home and work where people can relax and enjoy good coffee.
Starbucks' marketing strategy has been designed to achieve this goal by targeting both regular customers and occasional customers with a consistent brand experience.
In the following sections, let us learn more about its key marketing mix strategies across price, placement, product, and promotion.
1.   Starbucks' Promotion
From its very beginning, Starbucks has heavily invested in promotional campaigns. These campaigns include TV commercials, print ads, and radio spots, as well as online marketing brand initiatives such as social media and search engine optimization.
Through its marketing mix, it attracts new customers and keeps the existing ones coming back for more. The premium global coffee brand focused a lot on building customer loyalty and customer retention.
The company sponsors major sporting events such as the Olympics and Wimbledon, and it even partners with other businesses to promote its products.
2.   Starbucks' Product
In its early days, Starbucks focused on selling high-quality coffee beans to consumers and businesses. It was not until later that they began to sell brewed coffee beverages. However, today, Starbucks offers a wide variety of drinks and food items, including pastries, sandwiches, and salads.
The company also sells Starbucks coffee beans and brewing equipment to customers who want to make their own coffee at home.
3.   Starbucks' Pricing Strategies
One of the factors that have contributed to Starbucks' success is its premium pricing strategy.
To reiterate, Starbucks sets high prices for its products but offers good value for money by providing excellent customer service and a comfortable environment.
That is, it sells coffee at least 25% higher than other value brands and still keeps up a great deal of customer loyalty. However, the chain does offer a few discount programs such as the Starbucks customer rewards program and student beans program at both local and international levels.
4.   Starbucks' Placement
Starbucks has placed its stores in strategic locations all over the world. Although it has many brick-and-mortar stores around the world, it also sells its products online through its website and app.
The company has been expanding its delivery services in recent years in order to deliver a good customer experience to its target audience and also reach more customers.
Iconic Marketing Campaigns by Starbucks
Starbucks' marketing campaigns were designed to entice even the 'I'm not a coffee person' beyond their natural target audience.
Let's explore some of Starbucks' most innovative marketing tactics that won millions of hearts -
Creative Cup Contests
#thewhitecupcontest
In 2014, Starbucks ran a promotion called "The White Cup Contest" in which customers were invited to design their own Starbucks coffee cups. The winners would have their designs featured on Starbucks' limited edition products and merchandise.

Source: Consumer Value Creation
#theredcupcontest
Starbucks' red cups became an annual tradition — the symbol of Christmas — and sometimes prompted speculation. Earlier this year they started a #theredcup competition on Instagram. The winner can post a photograph of their RED Cup and use the hashtag theredcupcontest. 40,000 entries collected during the contest were collected on Instagram in 2015.
Source: Iris Worldwide
Tweet-a-coffee campaign
Tweet-to-coffee allows people to pay for coffee online by tweeting @tweetoffee and their friends. This link will give them $5 in rewards. The company's Twitter page received nearly 1 billion tweets. During the first two weeks of operation, there were nearly $180,000 in revenues.
Source: Starbucks Stories
Humans of Starbucks
Starbucks has been on a mission to humanize work for years now. To date, Starbucks is committed to this goal.
To do this, they have launched several initiatives over the years, including their "To Be Human" campaign. It aims to remind employees and customers alike that we are all connected by the shared feeling of humanity.
So far, the "To Be Human" campaign has been implemented in a few different ways. First and foremost, Starbucks has created a series of videos that highlight real-life stories about people connecting over coffee. These videos are being shown in stores all around the world, in an effort to create brand ambassadors organically, and vouch for the importance of connection.
Get into Cause Marketing
Starbucks has also partnered with several charitable organizations like Feeding America and Save The Children UK in order to support causes that align with their beliefs. For example, for every purchase made through their app during December 2018, they donated $1 to one of these charities.
Mobile App and Loyalty Programs
Starbucks knows that retail's future depends in some ways on technology. As another Starbucks marketing strategy, it launched a mobile phone app in 2009 and positioned it in a way that helps customers save time in long queues.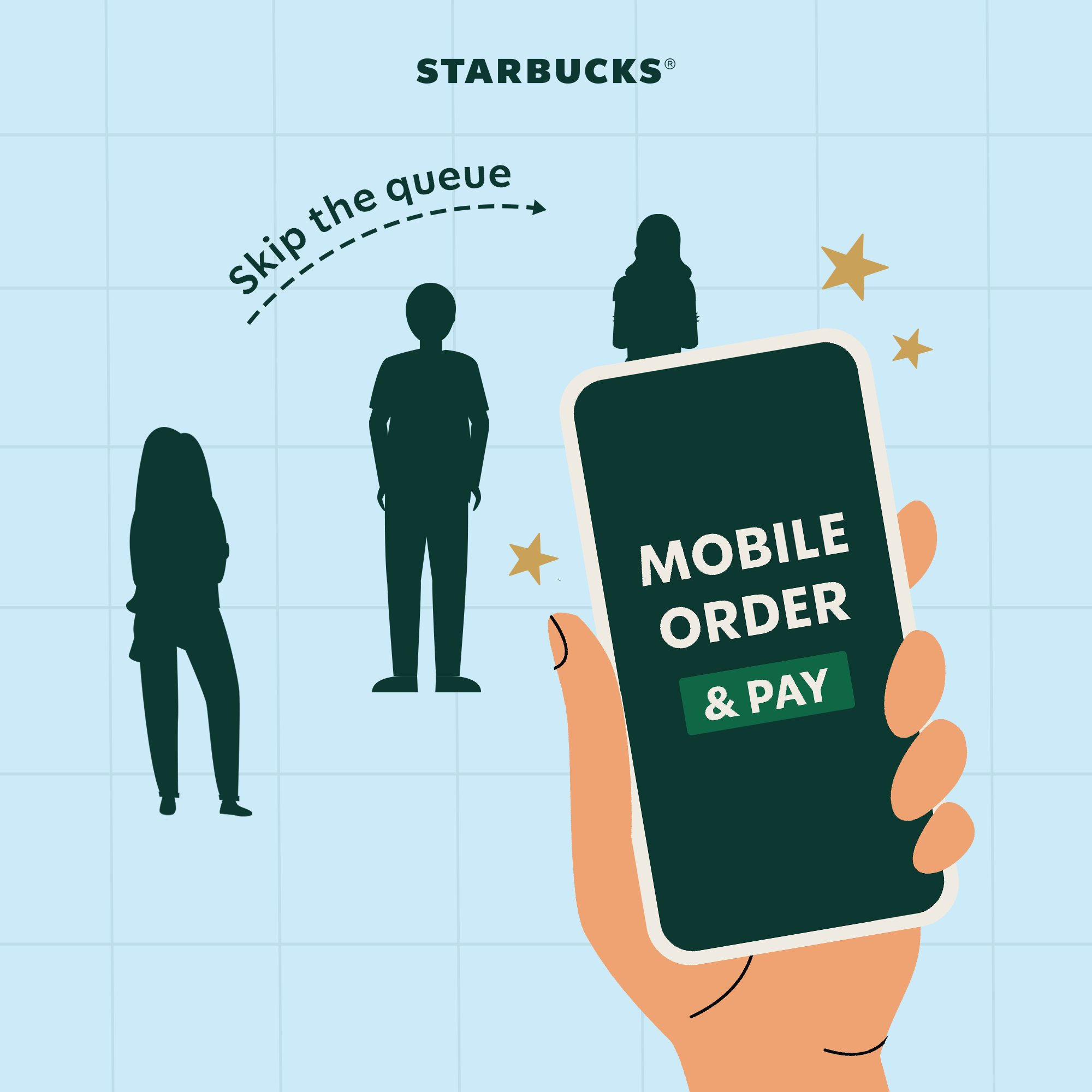 Source: Starbucks Malaysia Twitter
Unlike any other mobile phone app as a business strategy, Starbucks introduced a program on the Starbucks app called 'My Starbucks Rewards' that rewards customers for their continued patronage. In a few seconds, the Starbucks purchases will be rewarded for using the app to pay for their services.
Once they join, they start earning stars for all Starbucks transactions.
On accumulating enough stars, one can redeem them for rewards such as free coffee or free drinks, and food too. Say, for example, you can redeem 12 stars for a free beverage of any size.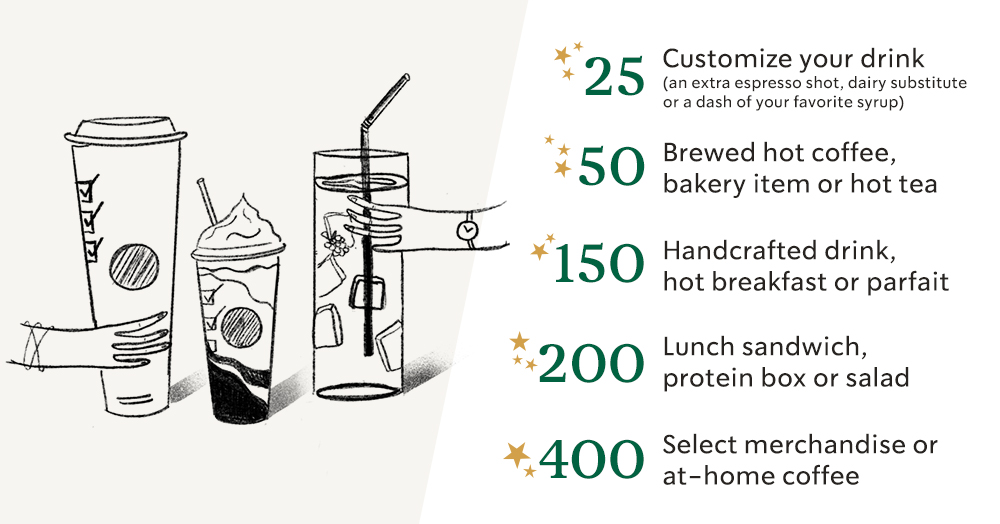 Source: Starbucks
Giving back to society, nature, and itself
Starbucks' ecosystem has a long history of being involved in social responsibility programs. It introduced a comprehensive initiative that focuses on four key areas: environmental stewardship, ethical sourcing, community engagement, and employee well-being.
Environmental stewardship:
One of its primary goals is to reduce its environmental impact by becoming more energy efficient and using less packaging materials.

Some of the things that the Starbucks' ecosystem has done in order to achieve this include installing energy-efficient lighting systems and recycling coffee grounds into biodegradable cups.
Ethical sourcing:
Starbucks takes great care to ensure that its products are ethically sourced. This means that they only work with suppliers who meet their high standards for quality and sustainability.

Starbucks also supports sustainable farming practices through programs like Farmer Equity & Loan Assurance (FELA).
Community Engagement:
Starbucks believes in giving back to the communities where they do business. One way they do this is by partnering with local organizations to help fund literacy and education programs.

They have also created unique scholarship opportunities for employees' children who want to pursue higher education.
Employee Well-being:
Starbucks cares about the well-being of its employees just as much as it cares about the environment or ethical sourcing. This is why they offer health insurance plans, flexible working schedules, and training programs designed to help employees grow professionally.
In-store Marketing
While there are many different aspects to Starbucks' marketing strategy introduced in-store, all of them revolve around one common goal – enticing customers inside the store so they can be sold on the brand!
Starbucks is a prime example of a company that uses in-store marketing to great effect. Their marketing mix includes a variety of elements, such as
Store Layout: The layout of Starbucks stores is very carefully planned out in order to create an inviting environment. It has comfortable seating areas with counters where people can not only drink coffee, but also work or study.
Starbucks also started giving its customers free Wi-Fi in 2002. This encouraged customers to stay longer even after making purchases. Alongside, it attracted working professionals to engage in business or lunch meetings at the outlet all day long!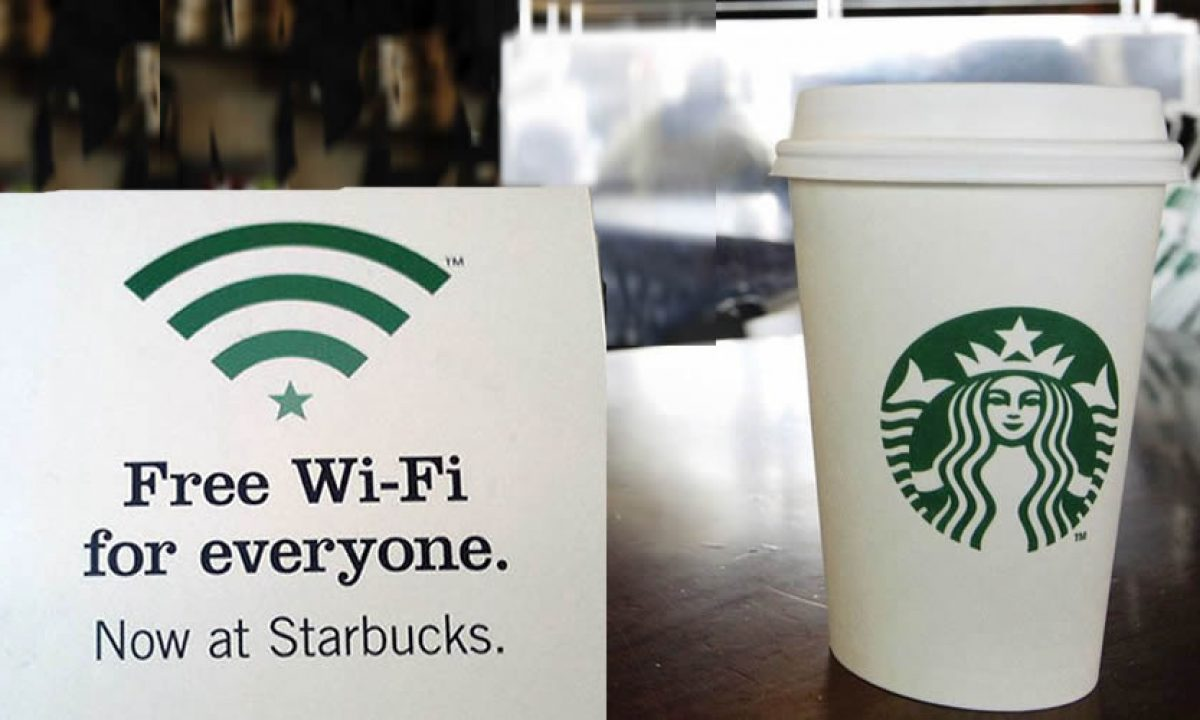 Source: Tech Log
Product Displays: The products on display at Starbucks are always well organized. This makes it easy for customers to find what they're looking for and helps them make quick purchase decisions. And, it is so well arranged that it helps with impulsive purchases, just like how you do in supermarkets!
Promotions: Starbucks runs frequent promotions throughout the year in order to attract more customers. These vary from discounts on coffee drinks to freebies like pastries or stickers.
Thinking beyond regular coffee
Starbucks' success is attributed to its willingness in experimenting with new products and services. For example, they were one of the first companies to offer premium coffee drinks like latte and mocha.
Also, Starbucks launched an instant coffee line called Via which was a big hit among consumers.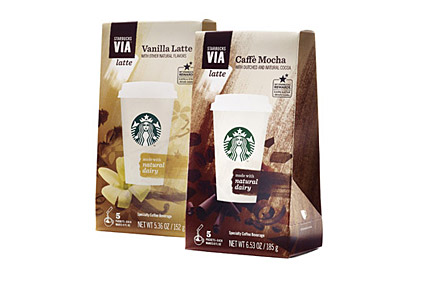 Source: Dairy Foods Magazine
By constantly innovating and expanding its product lineup, Starbucks has been able to elevate its customer experience and stay ahead of the competition.
How Starbucks' marketing strategy makes you hungry?
Starbucks is undeniably one of the most successful coffee chains in the world. But what sets them apart from other coffee shops? The answer is Starbucks' competitive marketing strategy, once again. 
Starbucks uses various marketing tactics to make us all crave its coffee, and one of the most effective methods is by making us hungry. But how? Here, we go.
Appetizing Colors: By far, the human tendency has always been to stay healthy and inclined towards nutritious food. The general Starbucks appeal is created through consistent branding with the green color in Starbucks' brand instantly reminding one of the natural ingredients. This free marketing pull encourages us to eat more, which then leads to us wanting caffeine for energy.
Aroma Marketing:
One of the other main reasons we get hungry at the store is because of the aroma that Starbucks sells. The premium Starbucks coffee tastes are owed to the freshly roasted coffee beans every day.

This creates a Pavlovian response where we start to salivate as soon as we catch a whiff of those delicious aromas.
Key Takeaways from Starbucks for Entrepreneurs
If you're an entrepreneur fascinated by the beverage industry, here are some major takeaways from Starbucks' marketing strategy and its business-
Focus on the Customer: The first lesson is to always focus on the customer. This means putting their needs and wants first and making sure they are happy with your product or service.
Keep Things Simple: Consistent Starbucks' branding and its simple operations helped them become successful worldwide. As an entrepreneur, it's important to maintain consistent branding and keep your business simple and streamlined. This will make it easier to manage and less likely to run into problems down the road.
Be Innovative: Starbucks is constantly innovating and coming up with new products and services that appeal to its customers' tastes. You should try to adopt innovative and new ways to improve your business.
Offer Unique Products: Another reason for Starbucks' global brand success is its unique and premium coffee products. The company offers a wide range of products that cater to different tastes, which helps to attract new customers and lure the existing ones to come back for more.