Education is evolving in India with technology playing a key driving force in the transformation. The Indian edtech company and an amazing platform-driven brand Byju's is leading this charge. From online learning materials to interactive classes, one can learn a lot from Byju's success via product and marketing tactics in the world of online education.
In this article, we explore Byju's marketing strategy, and how it has made them a global education powerhouse.
Byju's humble beginnings
Founded in 2011 by Byju Raveendran, an Indian Institute of Technology-Kharagpur graduate, BYJU'S is India's valuable ed-tech company and the world's most valuable ed-tech firm. It is headquartered in Bangalore with offices in Mumbai, Delhi, Chennai, Pune, and Kota.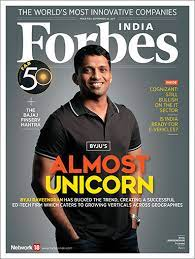 Image Source: Forbes India
Byju's surely managed to make learning personalized and engaging for every student in the world. The edu tech company uses artificial intelligence and data science to create customized learning plans for each student. The company also offers one-on-one mentorship from experienced teachers.
The online learning platform gave students access to some of the industry's best teachers. The digital marketing company realized that it received 13.5 million users during the pandemic in March and April 2020.
BYJU'S has invested heavily in technology and content creation, winning many awards. In 2021, it was featured among the top 100 in TIME magazine's 'World's Most Influential Companies list. With a $200 million investment from General Atlantic, it has become India's third most valuable startup valued at $8 billion.
The Silicon Valley investor community is also an integral part of today's ed-tech industry. With their financial support and strategic guidance, they are helping these startups break down traditional barriers in education and create new opportunities for learners around the world.
Byju's Marketing Mix
Since India's education system is largely based on an offline learning model, how did this company popularize e-learning? Let us understand the same via the 4P analysis of its marketing strategy:
Product Strategy: making online learning possible
Byju's product strategy is simple: to offer the best possible education to Indian students using the latest technology. The company's flagship product is Byju's learning app, which helps students learn math and science. Byju's official app in the Google Play Store has more than 100 million downloads.
The learning app promotes a unique and interactive way for students to learn, with personalized lessons and a focus on helping students grasp concepts quickly. Students in classes 1-3 could learn math and English concepts whereas students in classes 4-12 could learn the subject principle altogether.
With its innovative approach to education, Byju's is quickly becoming the go-to choice for most parents and students looking for a better way to learn.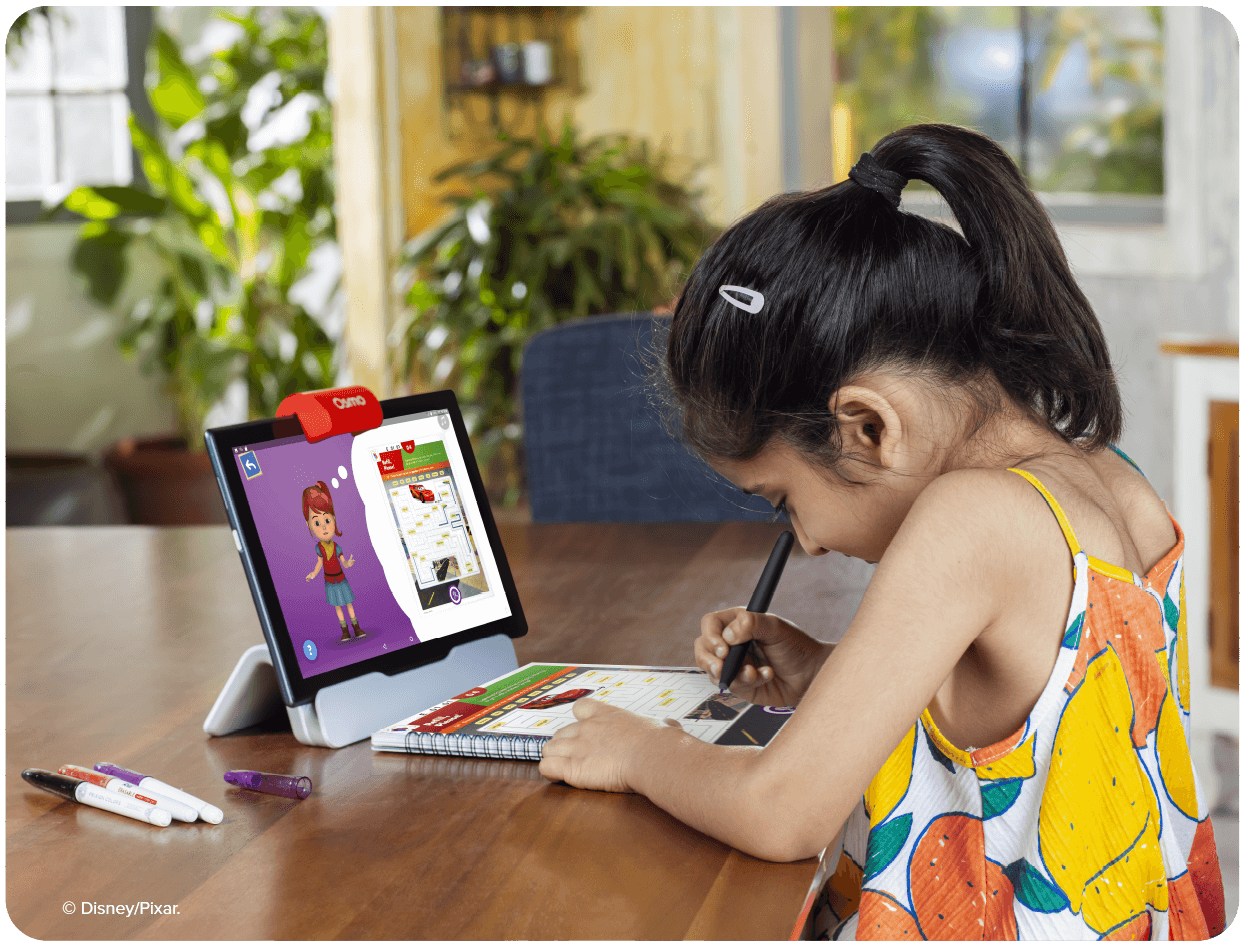 Image source: Byju's.com
Pricing
Cost Base Pricing
The pricing strategy of Byju's is simple – they charge what it costs them to produce their product. This includes the cost of materials, labor, overhead, shipping, and any other associated costs. Byju's knows their audience is price sensitive, so they keep its prices low while still making a profit.
Value Base Pricing
Value pricing is when a company charges what the customer perceives the app to be worth. In Byju's case, they offer a lot of value for their price point. Their content is high quality and engaging, which is why customers are willing to pay per sale.
Competition-Based Pricing
Byju's also takes into account what their competitors are charging for similar products. They make sure their prices are in line with the competition - offline classes, but usually a bit lower. This helps them attract more customers who are looking for a good deal.
Distribution
Byju's distribution channel is through its website and mobile app. It has a freemium business model, where the company offered free access to the basic version of the product and charges for premium features. Byju's has also tie-ups with schools and coaching institutes, where it provides its content to students.
Direct Distribution
Byju's App uses its own direct distribution channel and reaches directly to consumers. Byju's App includes indirect distribution channels such as wholesalers, retailers, logistics companies, and distribution agents as well as opening its own stores.
Indirect Distribution
Byju's App includes channel partners such as wholesalers, retailers, logistics companies, and distribution agents.
Hybrid Distribution
In a hybrid distribution system, the critical aspects of distribution are managed by Byju's App. Secondary functions such as logistics, warehousing, and store management are delegated to various channel partners.
Promotion
Byju's target audience includes students from grade one to grown-up students trying to clear different competitive or entrance exams like CAT, IAS, JEE, etc. However, not every marketing strategy works perfectly for a brand, and that's precisely what Byju's realized. Byju's marketing strategy did not perform very well online.
On social media platforms, only a few leads were converting, so they switched to a Digital marketing strategy. They realized their audience was not the students but their parents, so they revised their digital marketing strategy and targeted audience accordingly.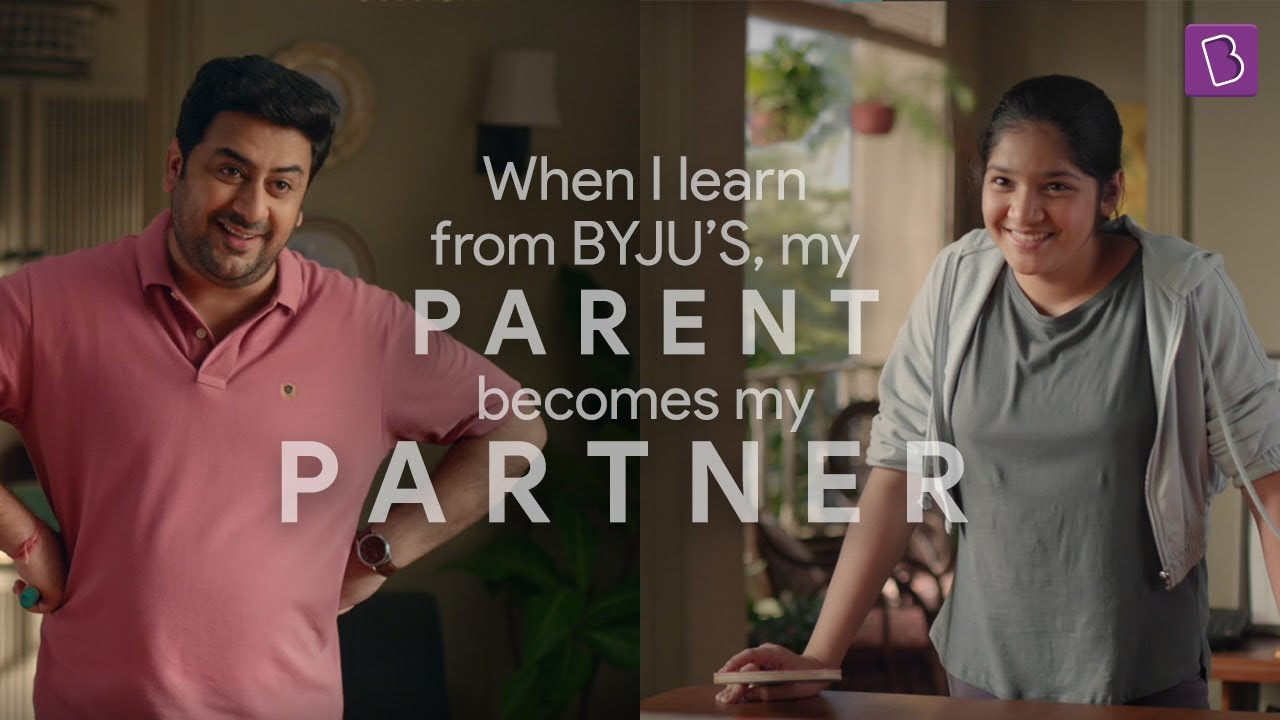 Image Source: Byju's.com
Collaborations and Sponsorships
Through sponsorships and collaborations, brands can reach different types of customers. Byju's app promotes itself by sponsoring events and collaborating with other brands. Such collaborations and sponsorships help Byju promote itself.
A sponsor of the Indian Cricket Team at the ICC World Cup gives Byju increased brand exposure as a result of the ICC World Cup having a large audience base. After sponsoring the Indian cricket jersey since February 2021, Byju's became the International Cricket Council global partner from 2021 to 2023. This proves how clearly Byju's has understood just how much indians love cricket and how this would benefit their business.
News18 Network has also partnered with Byju's on a national marketing campaign.
Image source: Hindustan Times
Search Engine Marketing
Despite the fact that not every marketing strategy works for every brand, the search engine optimization strategy for Byju's did not work well. According to analysts, the app needs to optimize its conversion pages and improve its web experience.
Digital Ads
Apart from the Search engine optimization strategy, another Byju's marketing strategy that did not work for Byju's was digital advertising. This included Facebook ads and Google ads. Facebook Ads generated leads for them, but those leads weren't customer-ready. Google ads too did not do well for Byju's marketing strategy since students were not buying it.
The students targeted had no intent to buy because they wanted to have some information about the product beforehand. And web-based ads didn't convert for them either because there was no intention to buy right off the bat.
Byju's marketing strategy during Pandemic
In March 2020, when the COVID-19 pandemic led to lockdown measures across India, Byju's took a swift marketing plan to support its users and maintain momentum for its business.
Here are some of the steps Byju's took during the lockdown:
Free access to content
To help students who were suddenly out of school, Byju's made all of its content free for everyone during the lockdown period. This included video lessons, practice tests, and other learning materials.
Online classes
In addition to pre-recorded video lessons, Byju's also began offering live classes on its app. These daily classes were taught by Byju's expert teachers and covered core academic subjects like math, science, and English.
Personalized support
One of Byju's key differentiators is its focus on providing a personalized e-learning concept for each student. This was even more important during the lockdown period when many students were struggling with anxiety and uncertainty.
Through one-on-one chats and callbacks from customer support team members, Byju's offered students regular check-ins and tailored guidance to enhance their thinking process.
Byju's Future marketing Plan
AESL (Aakash Educational Services Ltd.) was acquired by Byju's for USD 1 billion, the company's largest acquisition to date. As a result of this partnership, the company will be able to expand its test preparation business. After acquiring Topper for $150 million in July 2021, the company continues to grow its test preparation business.
Byju's mission is to make learning personalized and engaging while providing access to quality education to as many students as possible. With the acquisition of AESL, Byju's will gain access to the largest educational content library in India. This move will complement its existing portfolio of mobile applications and content for school children.
In 2020, the company launched its first international presence in the United Kingdom through an acquisition of an EdTech firm called WhiteHat Jr., allowing it to onboard students from over 40 countries across the world. This move will further extend Byju's reach into different markets which could prove beneficial when introducing new products or services targeted specifically for those markets.
In a nutshell, through its focus on digital marketing, strategic partnerships with educational institutions, and targeted investments in brand-building activities, Byju's is truly making a global impact in the world of education.
Noteworthy Byju's Marketing Campaigns
Regional Campaigns
To reach its multilingual customer base, Byju's runs marketing campaigns in regional languages across India. The brand also relies heavily on celebrity endorsements, featuring Bollywood and Tollywood stars in its ads.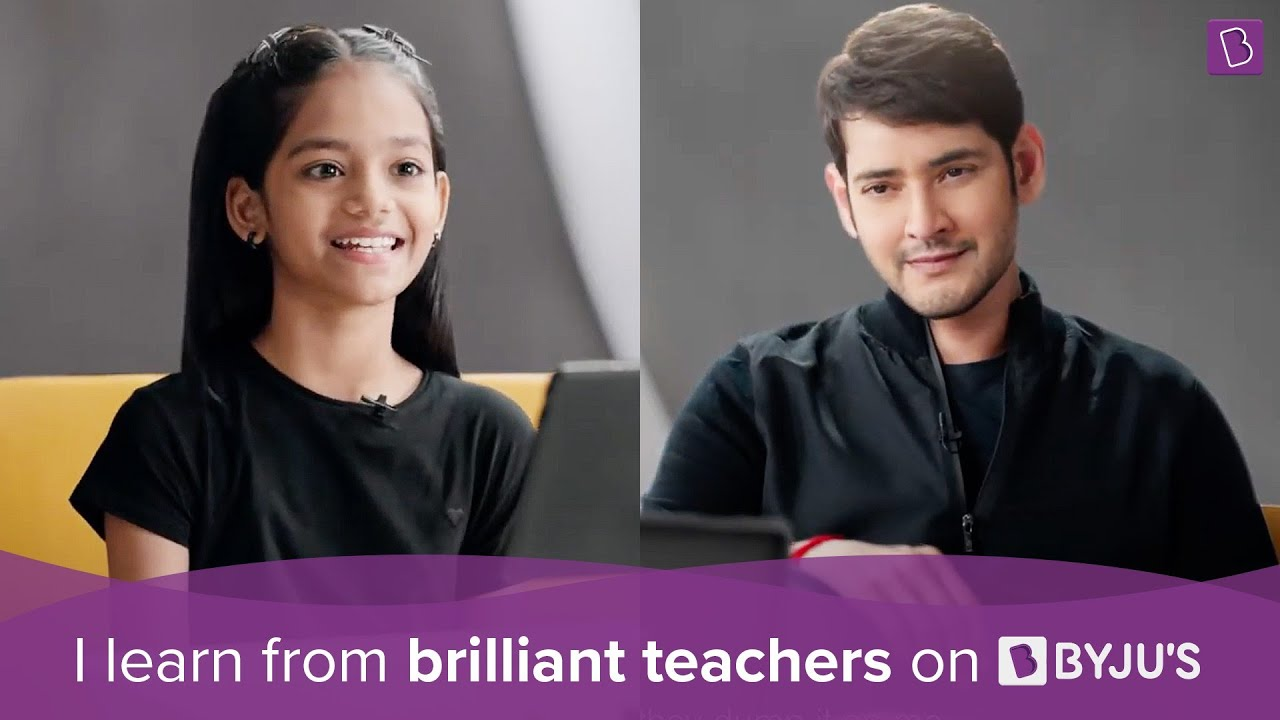 Image source: Byju's Youtube
Byju's two advertisement campaigns demonstrate how online learning is becoming increasingly popular among students. In one ad, a young girl talks about how Byju's helped her ace her exams; in another, a boy extols the virtues of the app's personalized learning approach.
Both ads are pitch-perfect for Byju's target audience: parents who want their children to get ahead academically. And by running its ad campaign in regional languages, Byju's is making sure that no one is left out.
Brand Ambassador or Celebrity Campaigns
Byju's promotional strategy, having byju's brand ambassador was one of the best decisions. In any case, an ambassador gives a brand huge success, and to achieve this their television advertisements began with Shah Rukh Khan as their brand ambassador.
With one of their first ads featuring Shah Rukh Khan during an India-Pak match, was a success and prompted the audience to download BYJU's app. Since he is a superstar, Shah Rukh Khan enormously influenced the audience.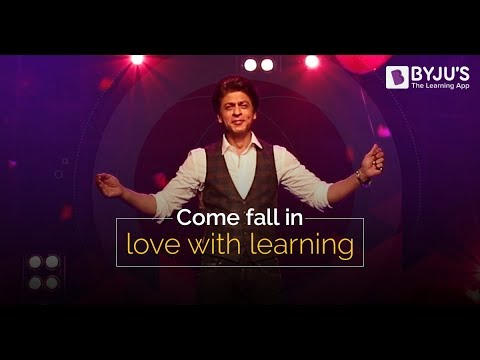 Image source: Byju's Youtube
Disney was also Byju's brand ambassador. It has been entertaining kids for years and is the most beloved company. Interactive videos, fun educational games, digital worksheets, and trademark Disney stories make this a winning product for that age group.
BYJU'S 'Keep Learning' Campaign
Byju's one marketing campaign, "Keep Learning" campaign was launched in 2016 with a new and catchy idea. The campaign focused on the idea of never giving up learning, no matter what age you are or how much you know.
The tagline read 'It doesn't stop at school' and showcased various situations in which people were engaging in learning activities outside of the classroom. The campaign had several influencers promote the idea using their own stories, including cricketer Virat Kohli. The campaign also included multiple videos and print media ads along with an interactive platform where users could share their own journey of learning.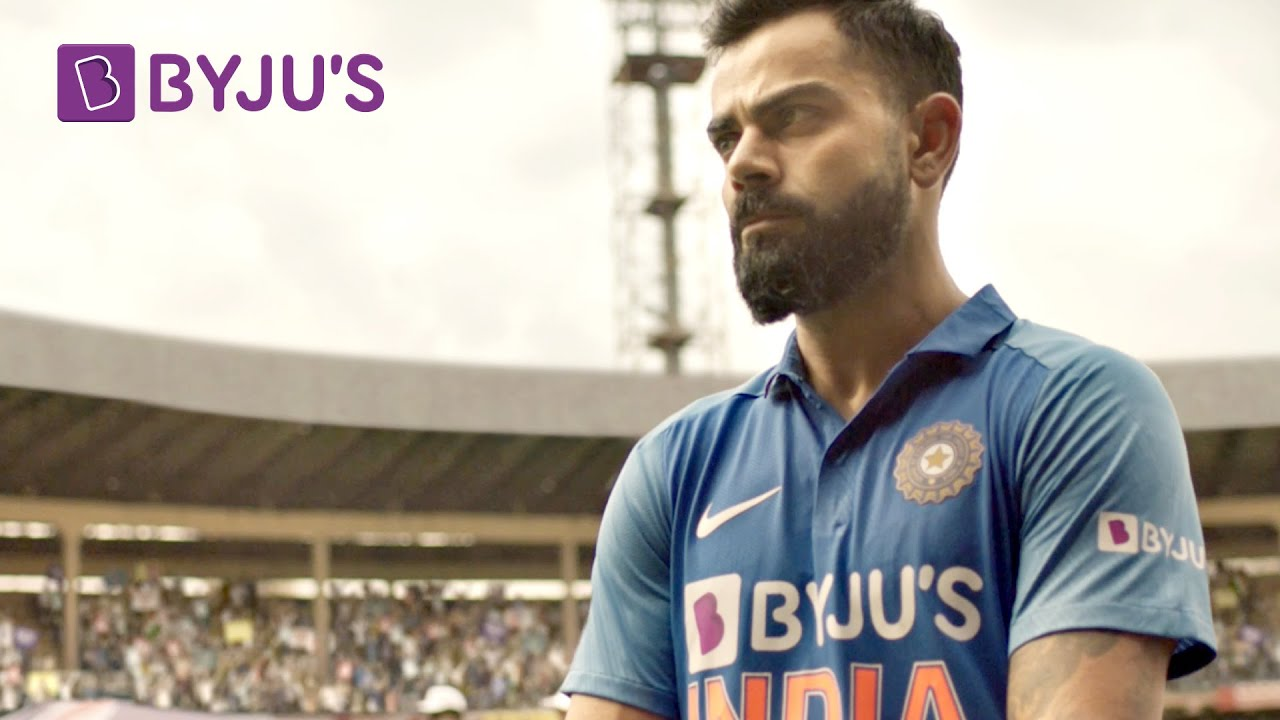 Image source: Byjuu's Youtube
The larger goal behind this campaign was to encourage people to not just focus on bookish knowledge but also on developing life skills such as critical thinking, problem-solving, creativity, etc.
Key takeaways for entrepreneurs from Byju's marketing strategy
If you're building an edTech company, here are some key lessons you can consider for your marketing strategy:
Focus on your content creation strategy
Produce high-quality content like Byju's interactive videos that is useful for students and teachers alike. Think about how you can differentiate from your competitors to make content your moat.
Build multi-channel content distribution
Byju's has an aggressive content distribution strategy. They use various channels such as YouTube, Facebook, and Instagram and offline sales.
Form moat with technology
Byju's used technology to make its content stand apart with educational games, interactive videos, etc. This appealed to its young target audience as well. Think about how you can use technology to your benefit.
Byju's marketing strategy is certainly a success looking at its even stronger aggressive sales. This is largely due to its careful approach, focusing on creating a personalized user experience. By utilizing the latest digital tools, targeting students of all ages across multiple channels, and offering an impressive selection of courses for low prices, Byju's has managed to become one of the most successful edtech startups in India. Their success should serve as an example that with the right combination of technology, content, price, and personalization, any business in any sector can achieve remarkable growth.