Riding the wave of innovation and convenience, Ola has revolutionized the transportation industry in India. With a user-friendly mobile app and over 1.5 million registered drivers, Ola has made booking a ride easier than ever. But what exactly is the secret behind this Indian unicorn's success?
The business model, which focuses on receiving a commission for each ride that is booked on the platform and providing add-on services like vehicle rentals, and food deliveries, has helped the company grow. Ola controls the Indian transportation sector with a $7 billion valuation and backing from well-known investors like SoftBank and Tiger Global.
Join us as we go deep into this innovative Ola Business model and learn the tactics that have helped Ola rise to the top.
Timeline of Ola's Growth
Ola (Online Automotive Limited) backed by Ani Technologies is a massive ride-hailing company that has transformed the transportation sector in India and elsewhere. Bhavish Aggarwal and Ankit Bhati, two young businessmen who saw an opportunity to leverage technology to challenge the established transportation market, founded the company in 2010.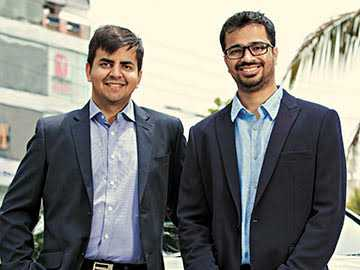 Source: Forbes
Bhavish had the idea for Ola while having a horrendous car experience on a road trip and became aware of the country's lack of dependable transportation options. He teamed up with co-founder Ankit, a college friend, and the two set out to create a platform that would connect riders with available drivers in their area.
Ola started as an auto-rickshaw hailing service because they are a common form of transportation in India. However, they immediately realized that they could accomplish more, so expanded to incorporate other kinds of vehicles, such as Ola and buses. Additionally, Ola introduced an Ola App that made it simple for customers to book a ride and locate the driver.
Ola competed fiercely with Uber, which already had a significant presence in India, but the company stood out by concentrating on the Indian market and adjusting its services to suit Indian clients' needs. Ola diversified to offer these services — Ola Auto, Ola Micro, Ola Prime, Ola Rentals, Ola Outstation, Ola Share, Ola foods, and Ola Lux.
Ola encountered significant legal difficulties as it increased in popularity, but the business was able to overcome them and come out stronger. One of the biggest cab aggregator firms in India today, Ola cabs has also grown to include operations in Bangladesh, Australia, New Zealand, the UK, and other nations in the area. Ola cabs continue to innovate and enhance its services to better meet the needs of its customers as part of Ola's vision to create mobility for a billion people.
Fuelling of Ola's Dream
Ola has a history of continual innovation and expansion, and its funding story is no different. Ola's business model has garnered a diverse group of investors to help them in their quest with a total of $5 billion raised across 29 rounds, including debt funding and secondary market investments.
All of this began in 2011 when a group of angel investors Rohit Bansal and Kunal Bahl, recognized Ola's potential and invested $500k to launch the company. This was followed by fundraising rounds totaling $20 million from Matrix Partners and Tiger Global Management in 2013 and $5 million in 2012 from Tiger Global Management. But it wasn't until Ola raised a staggering $900 million in 2015 that it took off, making it a unicorn.
Ola expanded internationally and entered the Australian market in 2018 after raising $1 billion and acquiring Foodpanda in 2017. Following that, Ola expanded its operations there and Ola launched a $250 million fundraising campaign. Ola secured $250 million in 2019 to enter the London market and the electric vehicle (EV) industry.
In December 2021, Ola announced that its Series J financing round had been successful and that the company now had a market value of $7.3 billion. The company obtained around $500 million in debt via a Term Loan B (TLB) deal in 2021. 60 investors, including well-known ones like SoftBank Group, Tiger Global Management, Matrix Partners, Temasek Holdings, and Bhavish Aggarwal, have contributed to the company's development.
Ola's fundraising process was marked by resilience, research, and a global investor base that was drawn to the company's ambition. Thanks to its unique business model and innovative strategies, Ola is well-positioned to continue expanding and revolutionizing the transportation industry.
Acquisitions and Investments
Ola has made several strategic acquisitions to expand its offerings and gain a foothold in new markets and segments. Some of the notable acquisitions made by Ola include:
In May 2015, Ola acquired "Taxi For Sure" for a reported 200 million dollars. This acquisition helped Ola expand its reach and increase its market share in the industry.
In 2015, Ola acquired "Geotagg," a trip-planning applications company to strengthen its bus shuttle service.
In May 2016 Ola acquired "Qarth," mobile payments company in an attempt to strengthen its mobile wallet service Ola Money launched in November last year.
In December 2017, Ola expanded its presence in the food delivery market by acquiring "Foodpanda."
In April 2018, Ola acquired "Ridlr," a public transportation app, to expand its transportation options to include buses, trains, and other forms of public transportation,
In May 2020, Ola made a significant move into the electric vehicle market with the acquisition of Amsterdam-based "Etergo BV," a manufacturer of electric scooters. This acquisition was aimed at positioning Ola as a leader in sustainable transportation options.
In October 2021, Ola acquired "Geo Spoc" to build the next generation of location technology.
In March 2022, Ola acquired "Avail Finance," a financial services startup that serves the blue-collar workforce, as the ride-hailing giant looks to expand its financial services offerings.
Apart from these acquisitions Ola also has made significant investments in MSwipe, Ola fleet technologies, and Vogo.
These acquisitions and investments have helped Ola to establish itself as a one-stop shop for all transportation needs and to stay ahead of the competition.
Value proposition
For customers looking for quality cab services, Ola's on-demand transportation service offers a convenient flawless experience. With just a few clicks on Ola's app, Ola users can select from a selection of priced, flexible ride options that are unrivaled in quality and trustworthiness.

Source: Ola
Their in-ride amenities, including entertainment, WiFi, and other tools, are designed to make the trip as comfortable as possible. Only the most dependable and experienced drivers are permitted to operate the vehicle.
Furthermore, their operational customer care strategy ensures minimal wait times and the flexibility to stop multiple times en route. They also provide a variety of payment options, including cashless ones, to satisfy the needs of even the pickiest traveler.
Drivers have an unparalleled opportunity to control their financial future thanks to Ola's platform, which allows them to set their own hours and earn money by providing rides. Their ability to arrange rides for commuters increases their financial potential even further.
They also have a 24-hour helpline and leased cars, which provide additional assistance. Overall, the Ola Business Model aims at providing commuters and drivers with unrivaled value in the transportation industry.
Revenue Streams
The business model of ola makes money from the following streams:
Fixed Share from Ola Trip (Commission on each trip)
Ola charges a portion of the total fare for each ride booked through its platform; the percentage of commission is typically 15% on average; this revenue stream is a significant source of income for the company, and because it provides a wide range of trips, it points to multiple earnings.
Price Per Distance
In addition to the base rate, Ola also charges for the distance traveled which may vary depending on the region.
Ride Time Fare (Additional Fees Determined by Time Needed for Pickup and Drop-Off)
The total cost of the ride also depends on how long it takes to pick up and drop off passengers; fees are determined by the total number of minutes.
Surge Pricing
As part of its peak pricing, Ola makes money by charging an additional price per km during rush hours and in specific areas (increased fees during peak hours). Based on variables like the time of booking, the vehicle selected, the location, etc., several ranges are chosen.
Advanced Booking Charges
Ola charges customers for the service of booking a ride in advance, this feature allows customers to book a ride for a later time.
Airport Rides
Ola charges customers for the service of booking a ride from or to an airport.
Convenience Fees
Ola charges customers for the service of booking a ride for their convenience, this feature allows customers to book a ride from a specific location or at a specific time.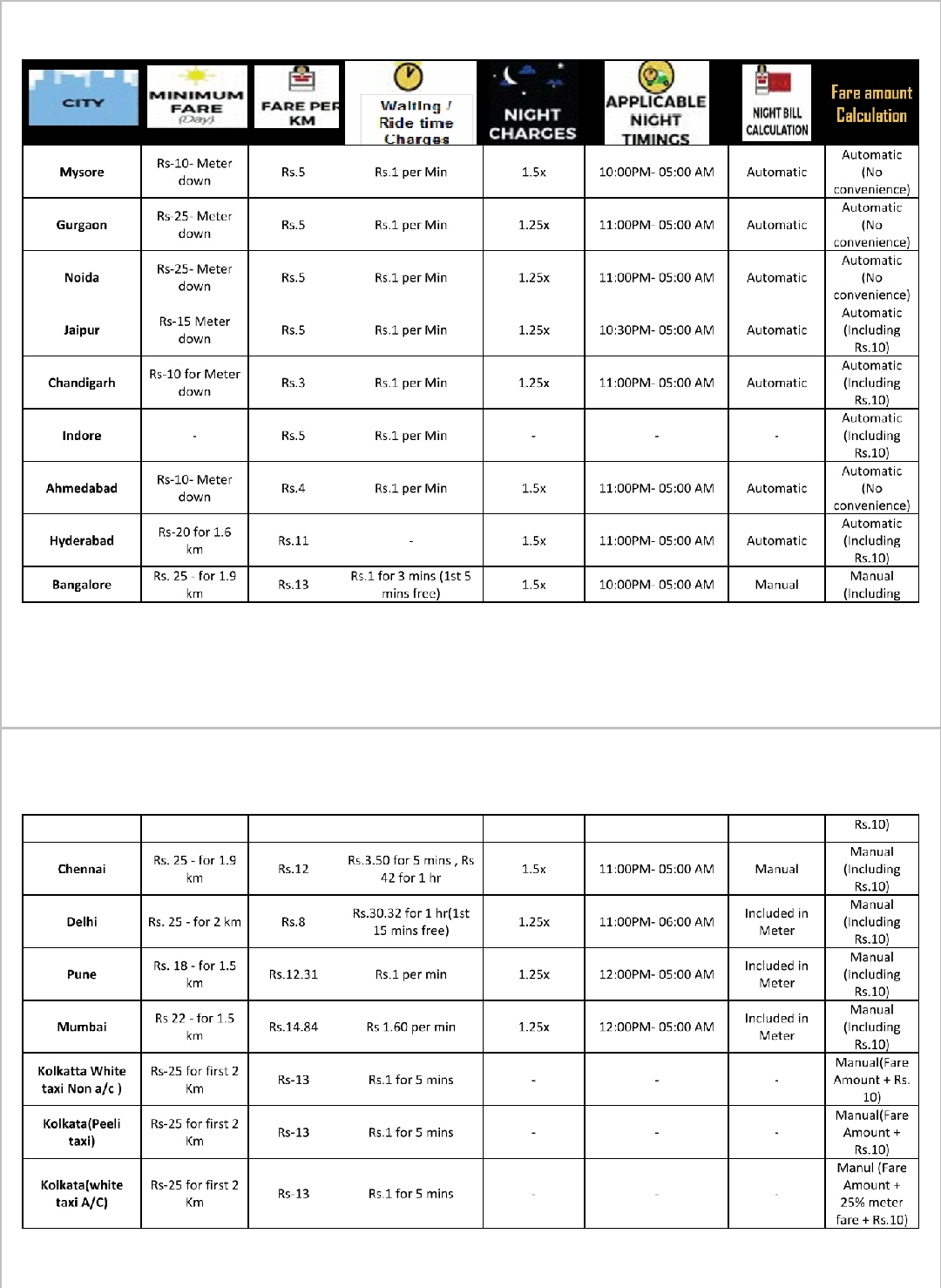 Source: Ola
Ola cabs Leasing
Ola purchases fleets of cars for drivers who cannot afford to purchase their own vehicles. Rentals must pay a set fee for a cab and a refundable security deposit when renting a car. After deducting Ola's commission, the revenue from each trip is distributed to the drivers.

Source: Ola
Corporate Tie-ups
Ola partners with corporates to convince employers to use the Ola cars at reduced rates.

Source: Ola
Ola Prime Play
Ola Play provides an enjoyable medium inside the cab for commuters who enjoy entertainment on their journey. It has worked with Sony Liv, Apple Music, and other services to achieve consumer convenience for this reason. As a means of generating cash for Ola cabs, this would see a little increase in the fee for riders.
Ola Select
Regular users of Ola can sign up for membership subscriptions that come with benefits like free WiFi, priority bookings, and no surge pricing.

Source: Ola
Ola financial services
Ola separated its financial services operations from its parent company ANI Technologies in 2019 and established Ola Financial Services Pvt Ltd.

Source: Ola Wallet
In collaboration with SBI and VISA, Ola has developed an Ola credit card as one of its business models to roll out Ola Money Hospicash, Ola Money Postpaid, and Ola Money Mobile Wallet. Customers of the Ola Money credit card receive a variety of advantages and rewards, such as up to 7% back on rides with Ola and the first year is free of annual fees.

Source: Ola
Ola Foods
In 2017, Ola acquired Foodpanda India, a food delivery company, through which Ola began its own food delivery services, allowing customers to order food from local restaurants and have it delivered to their doorstep. Ola earns revenue from this service through a fixed share of each successful delivery.
Ola also had Ola Cafes in various locations but it is no longer available.
In-house brands or cloud kitchen
Ola Kitchen is a food delivery service offered by Ola, where customers can order food from the Ola App and have it delivered from Ola's own kitchens in select cities in India. Ola's focus on in-house brands or cloud kitchens is a strategy to control food delivery and food costs and to have better control of the customer experience.
Ola Store/Ola Dash
Ola Store also known as Ola Dash not only offers a convenient and efficient way to fulfill your daily needs but also serves as a profitable venture for Ola.
Ola takes a commission on each sale made through the platform and charges merchants a fee for listing their products and additional services.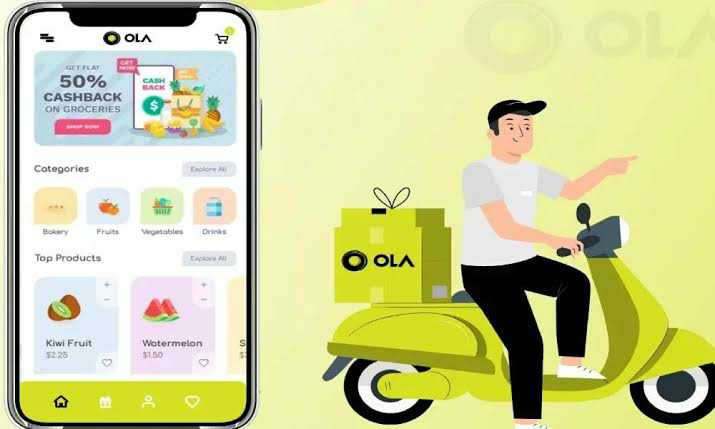 Ola Pedal
Ola Pedal bicycle-sharing service from Ola offers a unique way to explore the city while being eco-friendly and cost-effective. With the ability to rent bicycles by the hour, day, or week and unlock them with the Ola App, it's never been easier to enjoy the freedom of cycling. They also make it convenient to return the bicycle to any Ola docking station in the city. This Ola service is currently available in select cities in India.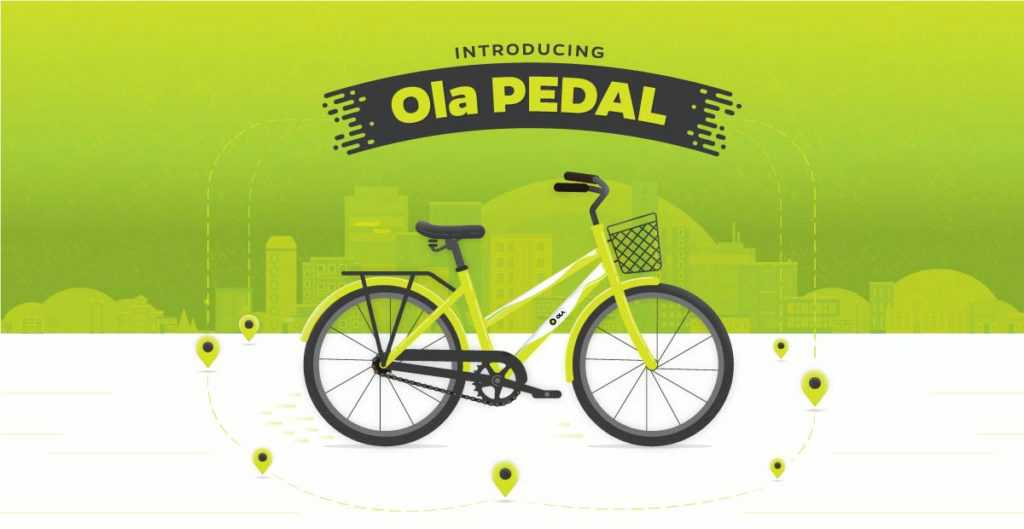 Source: Ola
Ola Electric
With a steadfast determination to revolutionize the automotive industry and promote sustainability, Ola Electric Mobility successfully launched its inaugural electric vehicle in August 2021. As part of their next ambitious undertaking, the company unveiled their S1 Series electric scooters at the esteemed NADA EV expo in Nepal on September 22nd, 2022.
This bold move towards global expansion serves as yet another step towards establishing India as the epicenter of the electric vehicles revolution. The Ola EVs are now available for booking and the company has reported an impressive sales figure of nearly 150,000 units in the year 2022 alone.

Source: Ola
Future Factory
The Ola Future Factory is an advanced manufacturing facility built in just 11 months, powered by over 3,000 AI-driven robots. It is the world's most advanced, sustainable, and largest two-wheeler factory with a carbon-negative footprint and a 100% women-powered workforce. The factory is located in Tamil Nadu, India, with a 500-acre facility size and an annual production capacity of 10 million units.
Source: Ola
Key partners
To provide its services, Ola works with a variety of significant partners. Ola's main commercial partners include:
Automobile manufacturers
Ola has partnered with several automakers to provide a fleet of vehicles for its drivers.
Banks and financial institutions
Ola has collaborated with several banks and financial organizations to provide its drivers with financing choices. Among these are alliances with ICICI Bank, HDFC Bank, and Axis Bank.
Technology partners
To offer its clients a seamless and effective experience, Ola has teamed with several technology firms.
Insurance Business
Ola has worked with several insurance providers to offer insurance protection for its drivers and passengers.
Government Organisations
Ola has partnered with several government organizations to offer its services to the public. This includes collaborations with the Indian Ministry of Road Transport and Highways where Ola Mobility Institute, the research arm of Ola, released India's first Ease of Moving Index in 2018, which provided a comprehensive action plan for cities to enhance their public transportation systems and enhance overall mobility.
Local partners
To offer its services in particular areas or cities, Ola has also teamed with local businesses. This includes collaborations with regional taxi services as well as other ride-hailing businesses.
Key resources
These resources are crucial to the development of the business and are required for Ola to offer its services. To guarantee the company's future expansion and success, Ola's management must efficiently manage and deploy these resources.
The fleet of automobiles
Ola's core resource is its fleet of automobiles, which it makes available to its drivers. The company works with many automakers to provide its customers with a selection of vehicles.
Ola driver-partners
Because they are in charge of providing customers with the company's services, Ola's drivers are an essential resource. Ola employs a considerable number of drivers who pick up and drop off passengers.
Technology
Ola uses technology to provide its services to customers. Through the company's mobile app, customers can schedule and pay for rides. The business also makes use of technologies like GPS and mapping to give accurate pickup and drop-off locations, real-time tracking, and communication between drivers and clients.
Data
Ola has a lot of information on its users, such as their preferences and ride histories, which it uses to tailor its services and its marketing campaigns.
Intellectual property
Ola's exclusive technology, including its smartphone app, and trademarks are regarded as essential resources because they give the company a competitive edge.
Financial resources
Ola has access to a sizable amount of cash, including the money it has raised from investors and the profits it makes from its operations, which it may use to grow its operations, make investments in cutting-edge technology, and buy out rival businesses.
Physical assets
Ola has many different types of physical assets, including office buildings, warehouses, call centers, and other facilities that help the business run.
Human resources
Ola employs significant employees who are in charge of a variety of tasks, including marketing, operations, engineering, and customer service. These staff members are crucial since they ensure the seamless operation of the business.
Key activities
The Indian startup Ola takes part in several key activities. Among Ola's principal activities are some of the following:
Maintenance of the Ola mobile application
The Ola mobile app is the main method for users to book and pay for rides. To make the Ola application more user-friendly and effective, the firm is constantly updating and improving it.
Driver recruitment and onboarding
Ola is always looking for new driver-partners to join its platform. It also offers new drivers training and support to help them understand how to use the app and how to provide excellent customer service.
Managing its fleet of vehicles
Ola partners with automobile manufacturers to provide a fleet of vehicles for its drivers, and it also manages the maintenance and upkeep of these vehicles.
Marketing and promoting the Ola brand
Ola undertakes marketing and promotional activities to attract new customers and retain existing ones. This includes advertising campaigns, partnerships, and promotions.
Managing relationships with partners
Ola works with various partners such as automobile manufacturers, financial institutions, technology companies, and insurance companies to provide its services. It manages these relationships to ensure that they are mutually beneficial and to leverage the strengths of each partner.
Managing and analyzing data
Ola collects data on its customers' preferences and ride history, which it can use to improve its services and target its marketing efforts. The company's data analytics team is responsible for managing and analyzing this data.
Providing customer support
Ola provides customer support to address any issues or concerns customers may have. This includes a helpline, email support, and social media support.
Managing regulatory compliance
Ola is subject to various regulations and laws related to transportation and taxi services. The company is responsible for ensuring compliance with these regulations and for obtaining necessary licenses and permits.
Research and development
Ola invests in research and development to improve its technology and to stay ahead of the competition. This includes developing new features for its app, developing new vehicle technologies, and exploring new business models.
Expenses
Like any other business, Ola incurs expenses to provide its services. The following are some of Ola's major expenses:
Vehicle expenses
Ola incurs expenses for the use and upkeep of its fleet of vehicles, including the cost of the vehicles themselves—whether purchased outright or leased—as well as gasoline, insurance, and maintenance.
Employee
Ola covers the costs associated with drivers, including background checks on potential drivers, training, support, and commissions or incentives for new drivers.
Technology maintenance
Ola must pay for the development and maintenance of its smartphone app in addition to the expense of its technological infrastructure, which includes servers, data centers, and other software.
Marketing and promotion costs
Ola spends money on things like advertising campaigns, collaborations, and promotions to market and promotes its brand.
Administrative costs
Ola has costs associated with its general and administrative operations, including rent, utilities, office supplies, and personnel wages.
Research and development
Ola incurs costs for research and development activities such as testing new features, creating new technology and investigating new business strategies.
Legal and regulatory expenses
Ola incurs expenses for legal and regulatory compliance, such as obtaining necessary licenses and permits and complying with transportation and ride-hailing regulations.
Insurance expenses
Ola incurs expenses for insurance coverage for its vehicles, drivers, and passengers.
Customer Segmentation
Ola has consciously separated its customers into two groups: driver partners and riders.
Those who reserve rides via the Ola app are included in the riders group. These people have a range of options at their fingertips, such as City Taxi, Outstation, Rentals, and Ola Corporate.
The City Taxi and Outstation services, respectively, provide point-to-point transportation within a city and between two cities. The Rentals and Ola Corporate services, on the other hand, are specially created for hourly reservations and corporate transportation needs, respectively.
While those that use the Ola platform to connect with potential riders make up the driver segment. These drivers have the option of using their own vehicles or renting one from Ola. Furthermore, individuals have the option of choosing between full- or part-time employment schedules.
Ola also offers a Driver Partner program as part of its commitment to providing excellent service. This program offers participants the training and support they require to be successful as drivers on the Ola platform, ensuring a convenient and dependable service experience for the riders.
Customer Relationships
As a market leader in the ride-hailing industry, Ola has meticulously created a sophisticated strategy for establishing client relationships, with each element tailored to the distinct requirements and preferences of its broad clientele.
One of the most crucial customer connections Ola develops is that between users and cab drivers because the success of the platform depends on the satisfaction and trust of both parties. Ola promotes this relationship using a variety of resources, such as driver ratings and reviews, and a committed support staff to handle any issues that may arise during a journey.
Through the use of its self-serve app, which offers a variety of features like in-app payments, real-time ride tracking, and 24/7 customer assistance, Ola also develops a direct relationship with its riders. Additionally, the business utilizes user comments to continuously enhance its offerings, providing dependability and convenience for its riders.
Through the development of a Driver Partner program, Ola also fosters a direct relationship with its driver partners and provides them with the training and assistance they need to succeed on the platform. To keep its driver partners happy, the corporation also gives incentives and makes offers.
Ola caters to businesses through its Ola Corporate service, which enables businesses to book trips for their employees and automates the payment process through its digital wallet service, Ola Money.
Marketing strategy
Ola is making every effort to dominate the transportation sector. The company's marketing plan is a well-oiled machine designed to increase clientele, enhance brand recognition, and broaden geographical reach.
Differentiated marketing
Using differentiated marketing ola gives its customers a variety of options, including outstation services, rentals, traditional taxis, and electric scooters. By doing this, Ola sets itself apart from its competitors. By providing such a wide range of cab booking services, the organization makes sure that everyone can find something.
Advertising and Promotion
To further establish its brand and attract customers, Ola doesn't shy away from investing heavily in advertising and promotion. The company's pricing strategy and promotional campaigns are designed to make its services more accessible to customers, thereby increasing its customer base.
Drip Marketing
To maintain client interest and foster customer loyalty, the business uses drip marketing. Utilizing social media sites like Facebook and Twitter allows businesses to communicate with customers, provide information, and respond to inquiries and concerns.
Partnerships
Ola collaborates and partners with a variety of businesses and organizations to broaden its reach. This enables the business to reach out to new customer groups and broaden its clientele.
Competitive analysis
In the highly competitive landscape of the ride-hailing industry, Ola, the Indian cab aggregator stands tall among its rivals. However, as with any thriving business, competition is inevitable.
At the forefront of Ola's competition stands Uber, the American multinational transportation network company. Both companies offer a similar service, providing ride-hailing and ride-sharing services to customers. However, unlike Ola, Uber boasts a larger global presence and a more substantial market share in many countries. In contrast, Ola holds a stronger presence and market share in India and some other countries, yet it still falls behind Uber in terms of global market share.
Grab, a Southeast Asian transportation and mobile technology startup is another tough competitor for Ola. With a solid presence in the area, Grab has grown its offerings to include food delivery and mobile payments.
Additionally, Ola is up against local rivals in many nations, such as Gojek in Indonesia and DiDi in China. Beyond ride-hailing, these businesses also provide a range of other services, such as food delivery and mobile payments.
Ola has managed to carve out a position for itself despite the fierce competition by keeping a laser-like focus on the Indian market and providing a wide range of services, including cabs, electric scooters, rentals, and outstation services. Ola has been able to expand internationally and get a sizable market share in India because of its strategic approach.
What does the road ahead look like for Ola?
Ola Electric, a trailblazer in the electric vehicle industry in India, has revealed an ambitious plan to revolutionize the sector with the unveiling of its indigenous lithium-ion cell, NMC 2170.
The company has set its sights on mass production of the cell from its state-of-the-art Gigafactory by 2023, which is expected to significantly enhance its manufacturing capabilities.
The company also intends to invest heavily in R&D to create advanced cell technologies, thus enabling it to strengthen its position as a leader in the electric vehicle space.
In addition to this, Ola Electric mobility pvt has announced its intention to introduce a diverse range of electric two-wheelers, including scooters and motorcycles soon.
The company also has plans to expand its reach to markets beyond India, including Europe and Latin America, solidifying its position as a global leader in the electric vehicle space.
This is further reinforced by the company's goal to launch its first Ola electric car by 2024. Ola aims to have six different products in the market by 2027.
Furthermore, Ola EV is also set to launch 200 Experience Centres across the country, making maintenance of their electric scooters more convenient for their customers.
Additionally, the company has announced plans to launch its own electric vehicle cab service in Bengaluru, with an aim to scale up to 10,000 cabs in one year. In addition, Ola will soon introduce Ola Maps, its own navigating tool, in India.
With such ambitious plans, Ola Electric is poised to leave a lasting impact on the electric vehicle industry, both in India and globally.
Marketing Strategies to Learn from the Business Model of Ola
User-friendly mobile app
Ola's business model emphasizes the importance of having a user-friendly mobile app as it serves as the primary interface for customers to access their services.
Variety of options
Ola offers a range of transportation options including cars, bikes, and autos, which caters to different customer needs and preferences.
Network of partners
Ola has built a network of vehicle partners, which includes individual car and bike owners, as well as taxi companies, to expand its reach and offer more services.
Value-added services
Ola provides value-added services such as in-app payments, live tracking, and 24/7 customer support, which contributes to a seamless and convenient customer experience.
International expansion
Ola cabs' journey has expanded to international markets in Asia, Africa, and Australia, which highlights the potential of identifying and targeting new markets.
The Ola business model is a prime example of how Ola bridged the gap between technology, innovation, and traditional industries and created new opportunities for growth and success. Check out related articles on Tesla's marketing strategy for actionable insights.