Email marketing is an overwhelming exercise that is easily automated using a good email service provider (ESP). Email marketing, a channel that is nearly four decades old, is popularly high ROI even today. However, 26% of business owners still feel that their email marketing strategies are ineffective.
Using an ESP can help you achieve feats of marketing you otherwise can't. ESPs offer automation and marketing tools that help you create and send eye-catching emails in just a few minutes. 
In this article, we will guide you to know what an ESP is, why you need one and how to choose a good ESP provider.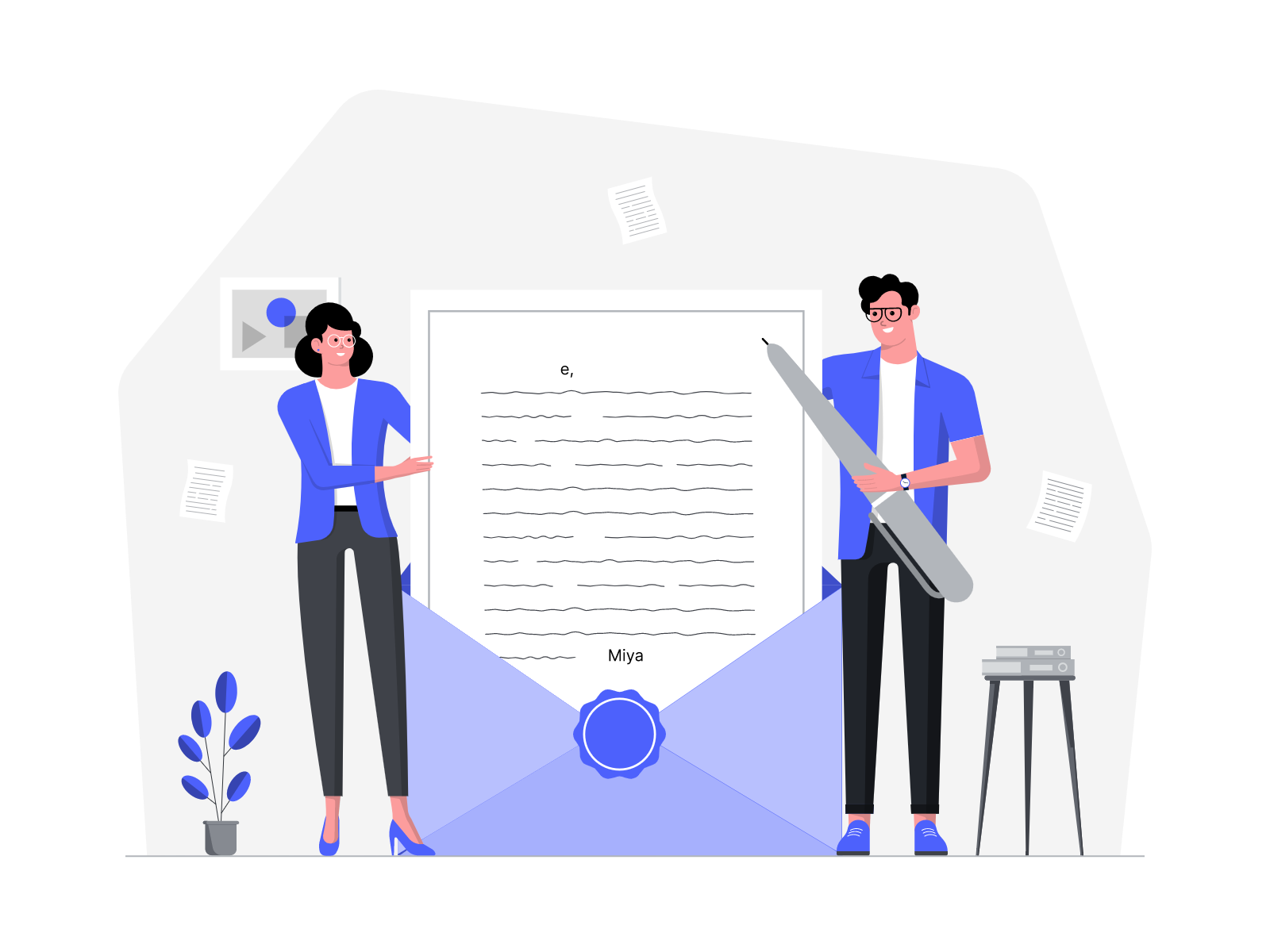 What does ESP mean in email?
An ESP or an email service provider is software that businesses use to manage their email marketing. In simple words, it allows you to deliver emails to your prospects in an efficient way. It eliminates the need for you to send each marketing email on your own.
How is ESP different from email software?
An ESP is not the same as email software. An ESP offers software that powers email sending and receiving, such as Benchmark Email, MailChimp, and others.
On the other hand, email software is a web or mobile application that the email is sent to and which you use to check those emails. Gmail, Outlook, and AOL are all examples of email software.
Is Gmail / Outlook / AOL an ESP?
No, Gmail / Outlook / AOL are email software. They are not designed for email marketing campaigns or any email automation. In fact, any automation or bulk emailing from your business domain could result in poor email deliverability or blacklisting.
Why should you use an ESP service?
Email Service Providers make it simple to manage your email lists, collect fresh email addresses, and analyze email marketing campaigns. However, they are much more than that. 
Here are three reasons why you should get an ESP service:
Ensures higher deliverability 
Sending marketing emails using your Gmail account might get them a 'spam' label by the ISPs. So, there's a high chance that your emails won't even arrive in your customers' inboxes. Using a good email service provider will prove to the ISP that your emails are legitimate. That's because most ESPs are either approved by ISPs or are whitelisted.
Saves your time
ESPs saves you a ton of time by enabling you to schedule your marketing emails and set up an autoresponder.
Enables better target marketing
Segmentation is one of the most powerful features of an ESP email. It allows you to make sub-lists as per the benefits offered to each customer persona. You can send emails to distinct lead groups according to their relationship with your company.
How to choose a good email service provider?
Consider the below features while choosing your Email Service Provider:
Deliverability rate - A high deliverability rate increases the chances of your emails ending up in your subscribers' inboxes. An ESP with a low rate of delivery will cost you time, money, and reputation. Worse, it can even get your domain blacklisted.

Integrations - An ESP should offer integrations with major CRM, CMS, and eCommerce platforms. If not, they should have API access to add custom integrations. Without these, you'll only end up incurring extra costs to get third-party integrations.

Your HTML knowledge - Most ESPs offer pre-made templates to build emails. But with some HTML knowledge, you can customize these templates to align with your brand. If you are a beginner, it is better to use a drag-and-drop ESP that comes with an email builder.

Security - Consider password restrictions, encryption measures, and the use of firewalls. With consumers growing more mindful of data security, it's critical to select an ESP with stringent security regulations.

Budget - Ensure you factor in extra expenditures, such as dedicated IP addresses, extra functionality, and data storage. You should also look into how your ESP determines its pricing - does it charge per thousand emails? Or does it have monthly subscription tiers? Choose as per your marketing budget and audience size.
Top 5 ESP providers with the best deliverability rate
Here is a list of the top 5 ESP providers with the best deliverability rate:
MailerLite

CleverReach

ConvertKit

ActiveCampaign

Sendinblue
MailerLite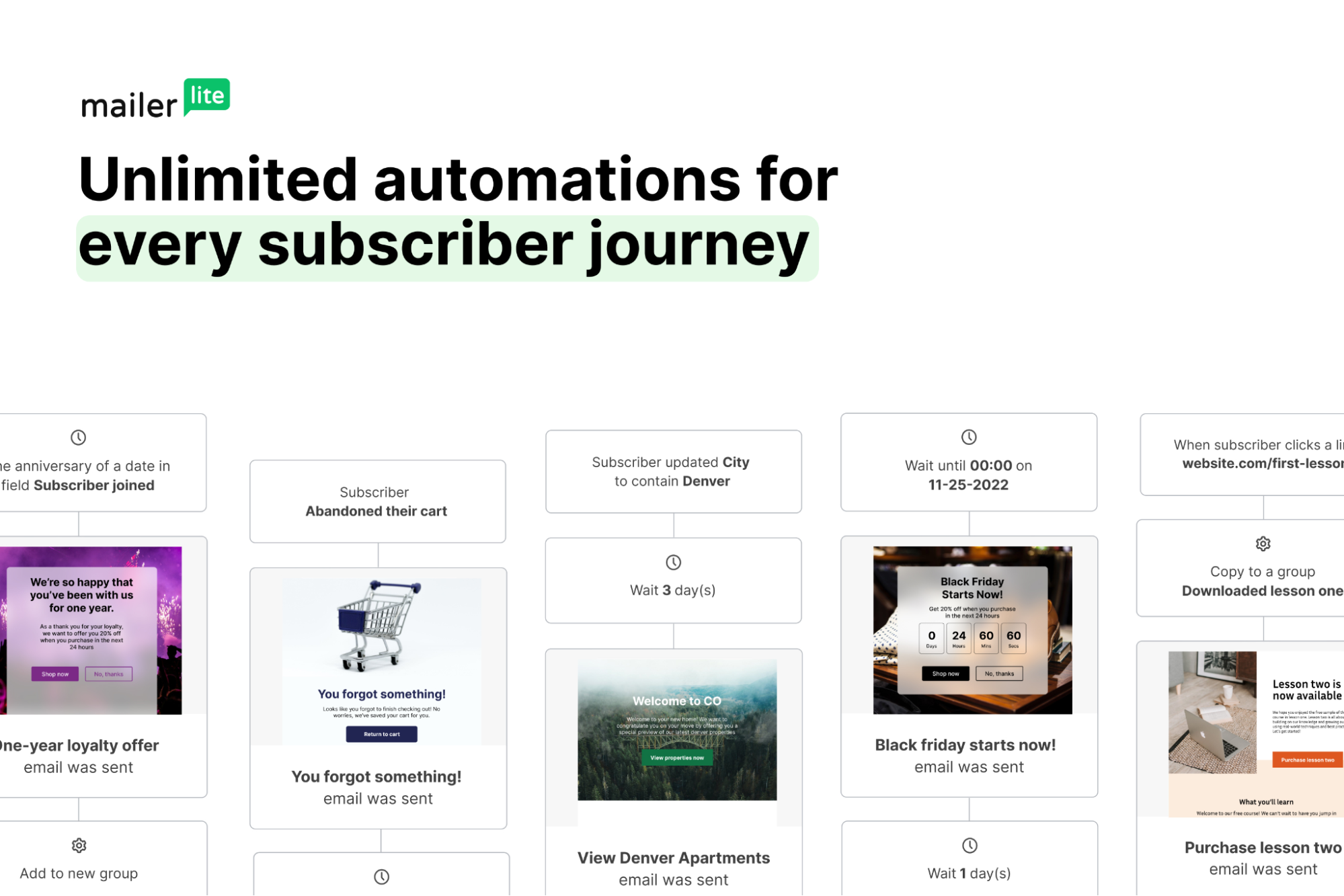 Source: G2 Reviews
MailerLite is an affordable, efficient, and easy-to-use ESP designed for freelancers and small and medium-sized businesses. Its features include third-party integrations to design responsive newsletters and email campaigns.
Features
A/B testing

Mobile optimized emails

Subscriber management

Customizable templates

Reporting/ Analytics

CAN SPAM compliance

Autoresponders

Customer Survey
Price (per user per month)
Free - $0

Growing business - $10 

Advanced - $21
CleverReach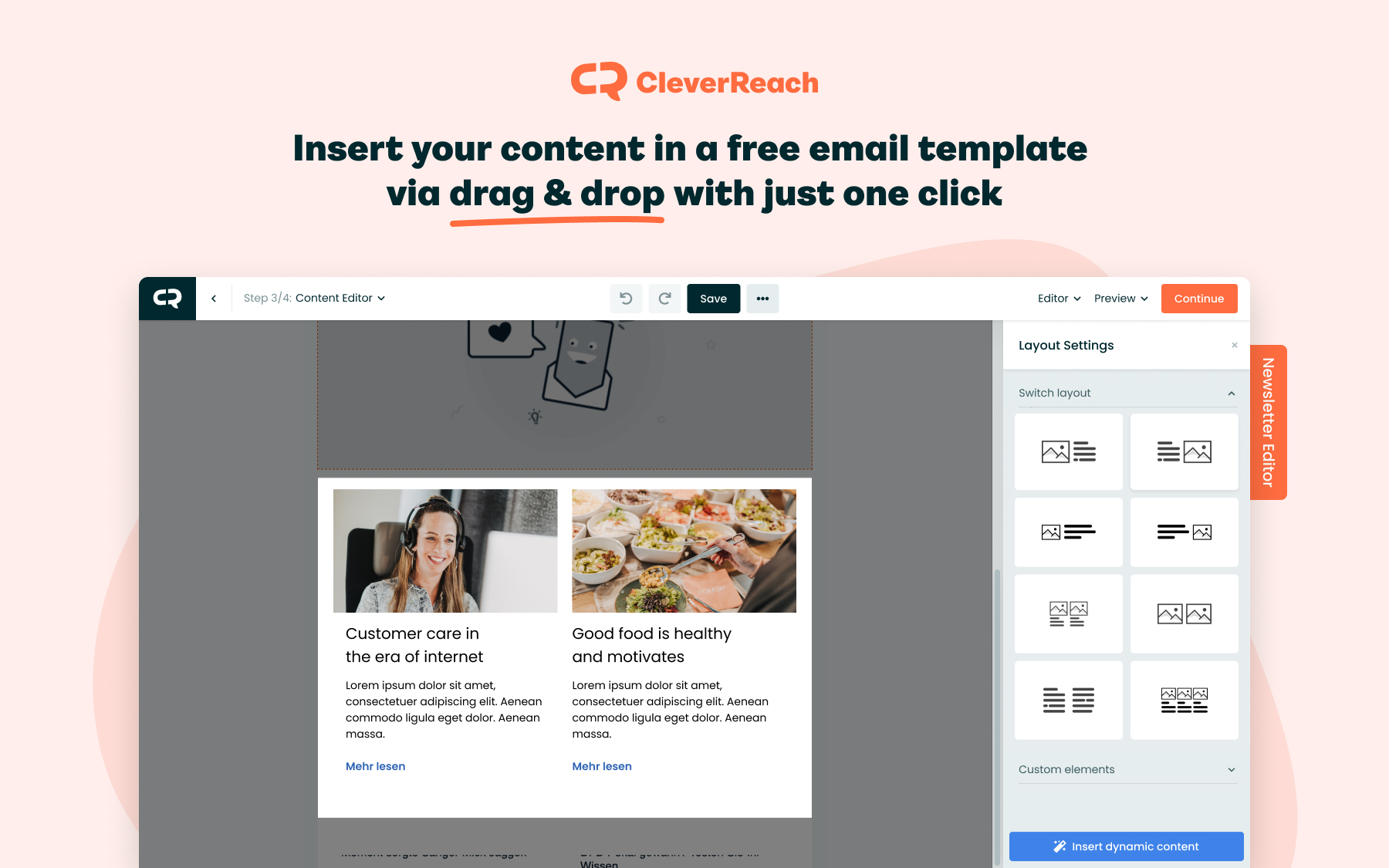 Source - G2 Reviews
CleverReach provides newsletter marketing solutions. It has a simple user interface that makes it easy for any beginner marketer to send marketing emails.
FeatureS
Automated email responses

Email and mobile preview

High-volume sending

Manage email lists

Manage email deliverability

Building and personalizing emails

Sending outbound emails
Price (per month)
Lite - $0

Essential - $8.92

Flex - $23.78

Enterprise - $494.38
ConvertKit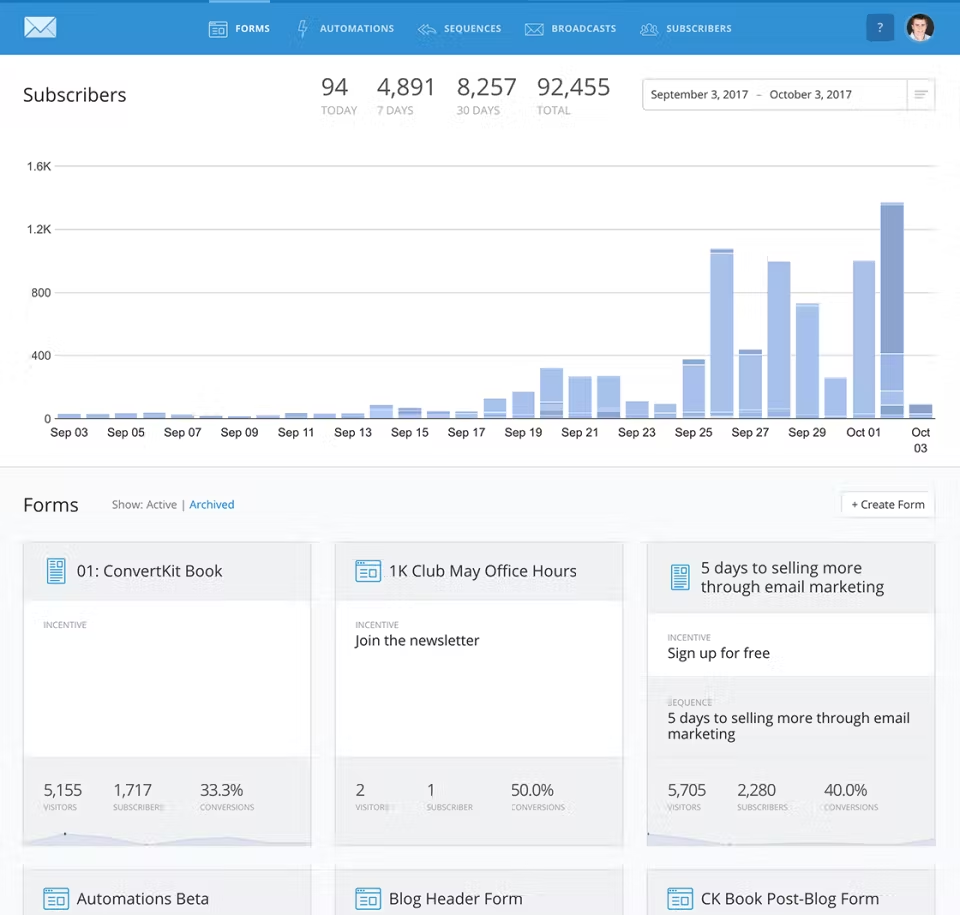 Source - Capterra Reviews
ConvertKit is an email marketing solution that scales with your organization and customer base is simple to use, and is efficient. It is focused on the creator economy to enable creators and small businesses with email marketing.
Features
CAN SPAM Compliance

AB Testing

Click Tracking

Auto-Responders

API

Campaign Management

Campaign Segmentation

Contact Management
Price
Free - $0 for 300 subscribers

Creator - $9 per month

Creator pro - $25 per month
ActiveCampaign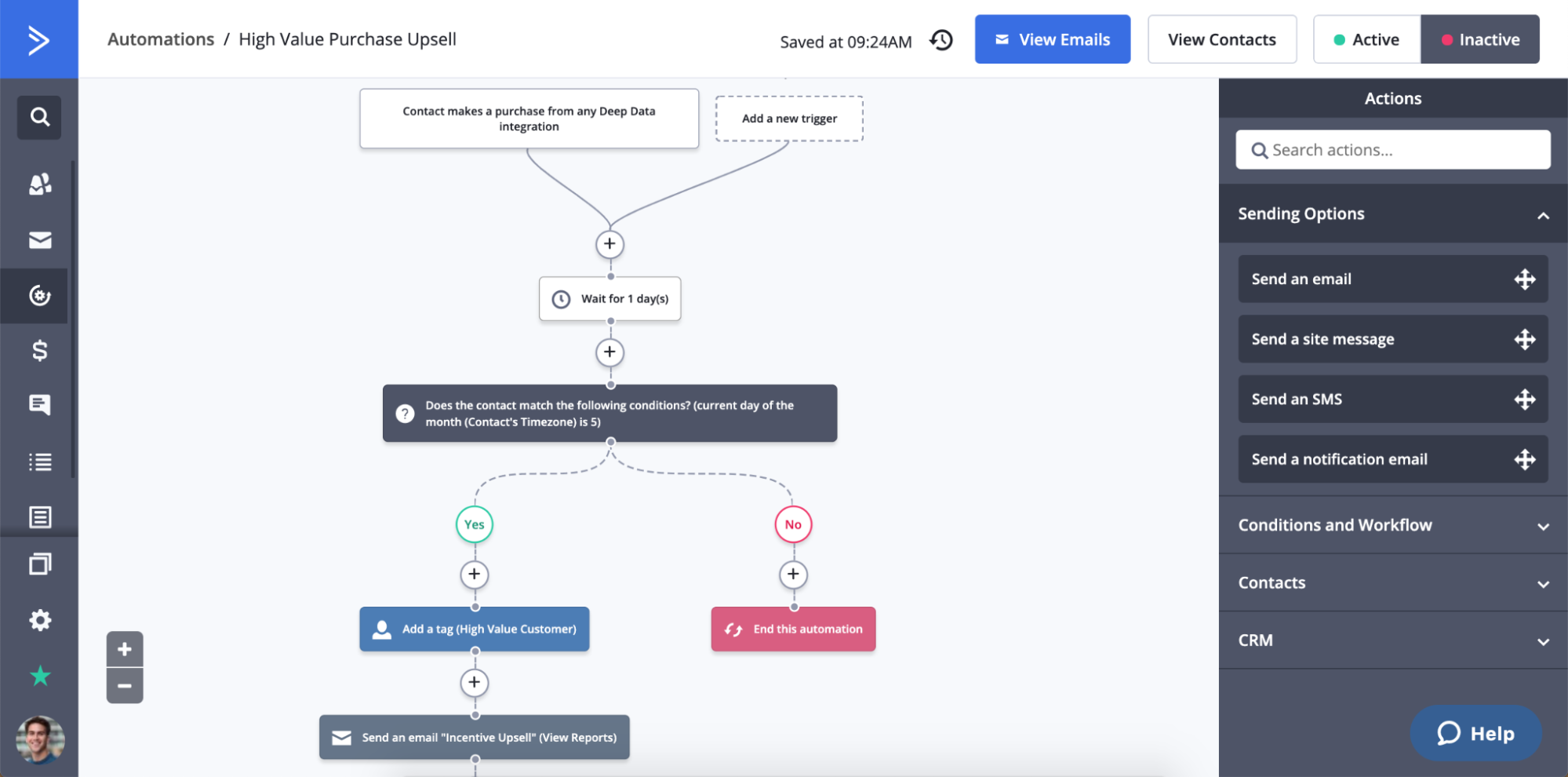 Source: G2 Reviews
ActiveCampaign was established on the premise that outstanding customer development must extend beyond traditional advertising touchpoints such as email. It focuses on email automation and leads management via emails.
Features
Manage email deliverability

Building and personalizing emails

Sending outbound emails

Dynamic content

Automated email responses

Marketing lead database

Mobile optimized

Segmentation

Data quality management

Lead nurturing
Price (per 1000 users per month)
Lite - $29

Plus - $49

Professional -  $149

Enterprise - customizable
Sendinblue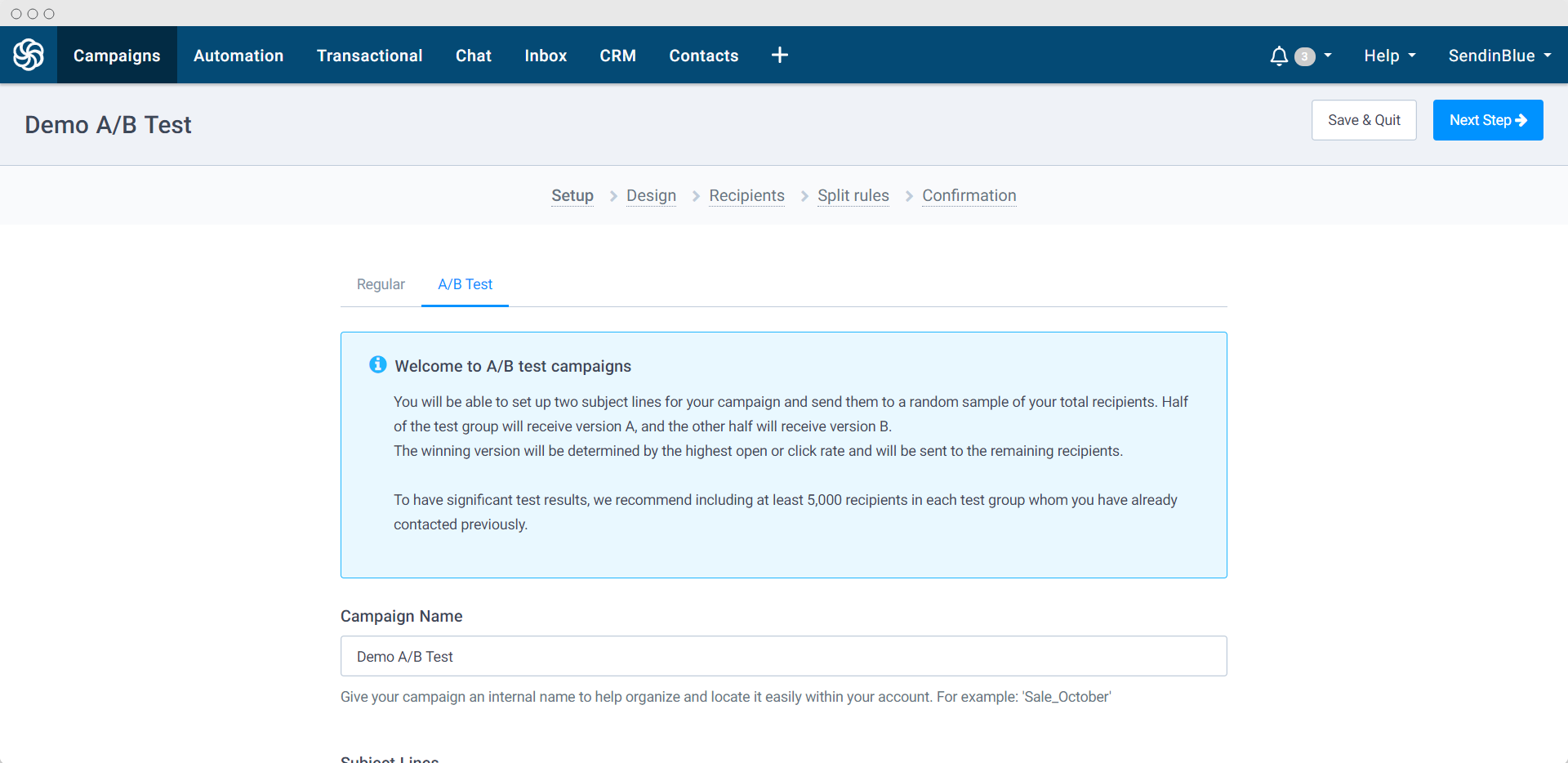 Source - G2 Reviews
The Sendinblue allows you to follow web activity, email interaction, and information from your customers and leverage it to construct sophisticated automation processes.  This saves you time while also assisting you scale and expand your business.
Features
IP Address

Domains

Content

Policy compliance

Processing time

Placement

Campaign performance

Domain reputation

Brand reputation

Blacklist and whitelist
Price (per month)
Free - $0

Starter - $19.79

Business - $49.71

Enterprise - $975.82
Research your use case before investing in ESPs
An email service provider is more than just a 'helping hand' in your marketing strategy. You may want automation for transaction emails, sending newsletters or onboarding new users. What you want to achieve with email is crucial to choosing an ESP provider, apart from the tips shared in this article.
Businesses use it to stay ahead of their competition by generating more leads. ESPs with the best deliverability rate ensure that your emails end up in your prospect's inboxes and eventually be read by them.
So, if you still haven't explored using an ESP, now is the time to do so.