Domino's is a mainstay of the global food delivery industry thanks to its delectable pizzas and lightning-fast delivery. With a core customer base predominantly from the US, followed by India and Malaysia, Domino's 2021 revenue reached 4.36 billion USD.
Behind the brand's phenomenal success is a well-thought-out marketing strategy that has set the company apart from its top competitors (Papa John's and Pizza Hut) and propelled it to the top of the industry making it the largest pizza chain in the world.
In the following article, we will delve into the key components of Domino's marketing strategy, exploring the creative marketing strategies that have allowed the company to thrive in a highly competitive landscape.
A Slice of Domino's History
In 1960, Tom and James Monaghan started Domino's in Ypsilanti, Michigan with a goal to revolutionize the pizza industry by delivering hot pizzas to customers' doors. Little did they know their small venture would become a worldwide success.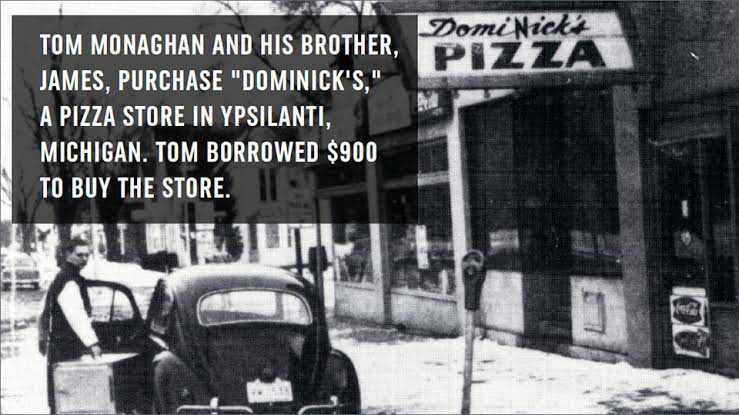 Source: Domino's
As the years passed, Domino's widened its scope and expanded into new markets. By the end of the 1970s, there were 200 stores nationwide, and by the turn of the century, the brand had firmly established itself on the international stage.
In the 2000s, the company underwent a modernization drive that resulted in the introduction of new menu selections as well as the creation of a cutting-edge website and mobile application that made ordering Domino's pizza easier and more convenient than before.
Today, with over 17,000 stores in over 90 countries, Domino's stands tall as one of the largest pizza chains in the world. With a steadfast commitment to quality and convenience, the brand continues to provide customers with the opportunity to enjoy their favorite dominos pizza and accompaniments.
Logo
The Dominos logo, which is a stylized representation of a domino tile with three dots, is more than just a decorative element.
The three dots in the company logo represent the first three Domino's locations in Ypsilanti, Michigan, and serve as a reminder of the company's origins. Pizza lovers all over the world may recognize the company name and emblem because of the vibrant blue letters and white background that they create.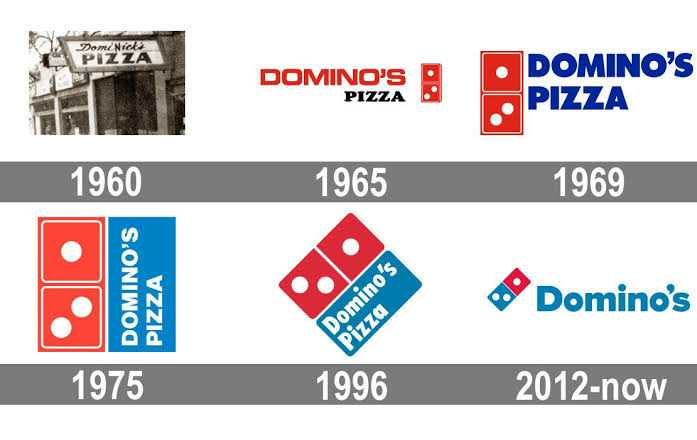 Source: 1000 Logos
Target Audience
Domino's Pizza caters to diverse age groups including families, young adults, and busy professionals looking for a quick, convenient, and affordable meal. The focus of the fast food chain on delivery and technology appeals to people who value convenience and speed.
Furthermore, the company's menu caters to both meat eaters and vegetarians, with veg pizza and non-veg pizza which helps to attract a broader range of customers through franchise owners.
Marketing Mix
Domino's success is largely due to its well-planned marketing mix, resulting from thorough market analysis. Let's examine how the four Ps of Dominos marketing strategy contribute to its success.
Product Mix
The well-known pizza restaurant Domino's provides a wide range of menu options to accommodate the diverse tastes of its patrons including veg pizza and non-veg pizza. Dominos Pizzas, which are their specialty, are available in classic flavors which can be topped with different toppings.

Source: Domino's India
In addition to their well-known breadsticks, pizza burger, and salads, they provide a wide range of sides to go with their veg and non-veg pizzas. Domino's offers a selection of drinks, such as lemonade and soft drinks, as well as delectable desserts to satisfy its customers' desires for sweets.
Pricing
Domino's masterful pricing strategy offers a tantalizing blend of affordability and excellence. Pizzas, the cornerstone of their menu, start at $5 for a medium size with toppings options. Accompaniments like breadsticks and salads begin at $3, while delectable desserts can be yours for as little as $2.
To further enhance the value proposition for its customers, Domino's routinely offers enticing specials and combo packages, allowing customers to try a range of menu items at a lower price. This pricing marketing strategy of Dominos helps it attract customers of all budgets.
Distribution
In 1967, Domino's opened its first franchise, laying the framework for the company's expansion into international markets. Today, the company operates more than 19500 locations worldwide, including 6619 in the US and 1,567 in India under Jubilant Food Works.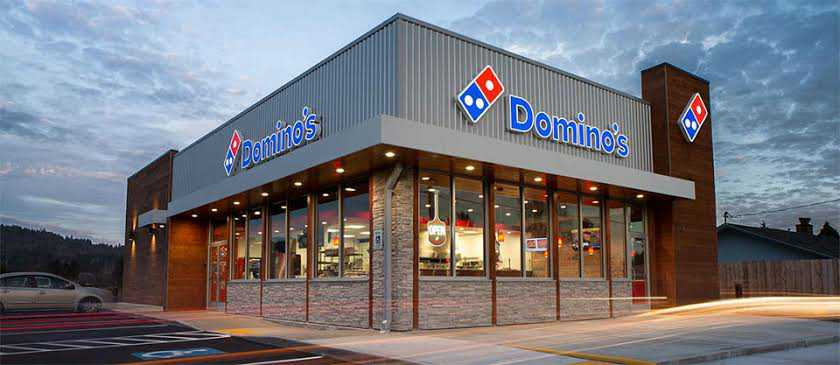 Source: Domino's
Company-Owned Stores
At the forefront of Domino's Distribution strategy are its company-owned stores, which offer customers a wide range of options for enjoying its menu offerings. Dine-in, carry-out, or delivery, the choice is theirs.
Using a vertically integrated supply chain, the company has established itself as a top-tier pizza supplier and is better able to compete in the market by successfully coordinating its resources and controlling the cost structure.
Franchise Stores
In addition to company-owned stores, Domino's also operates a large number of franchise stores. Domino's focus on a franchisee-owned business model and low-cost infrastructure investment aims at serving amazing food fast to people on move. This marketing strategy has helped Dominos to enter new markets while still being major cost component making it viable in developing nations where there is low capita income.
E-commerce Platform and Delivery Services
For those who prefer the comfort of their own homes, Domino's offers a user-friendly online ordering platform that can be accessed through a website or their own app, providing customers the ability to place orders whenever they want, from anywhere.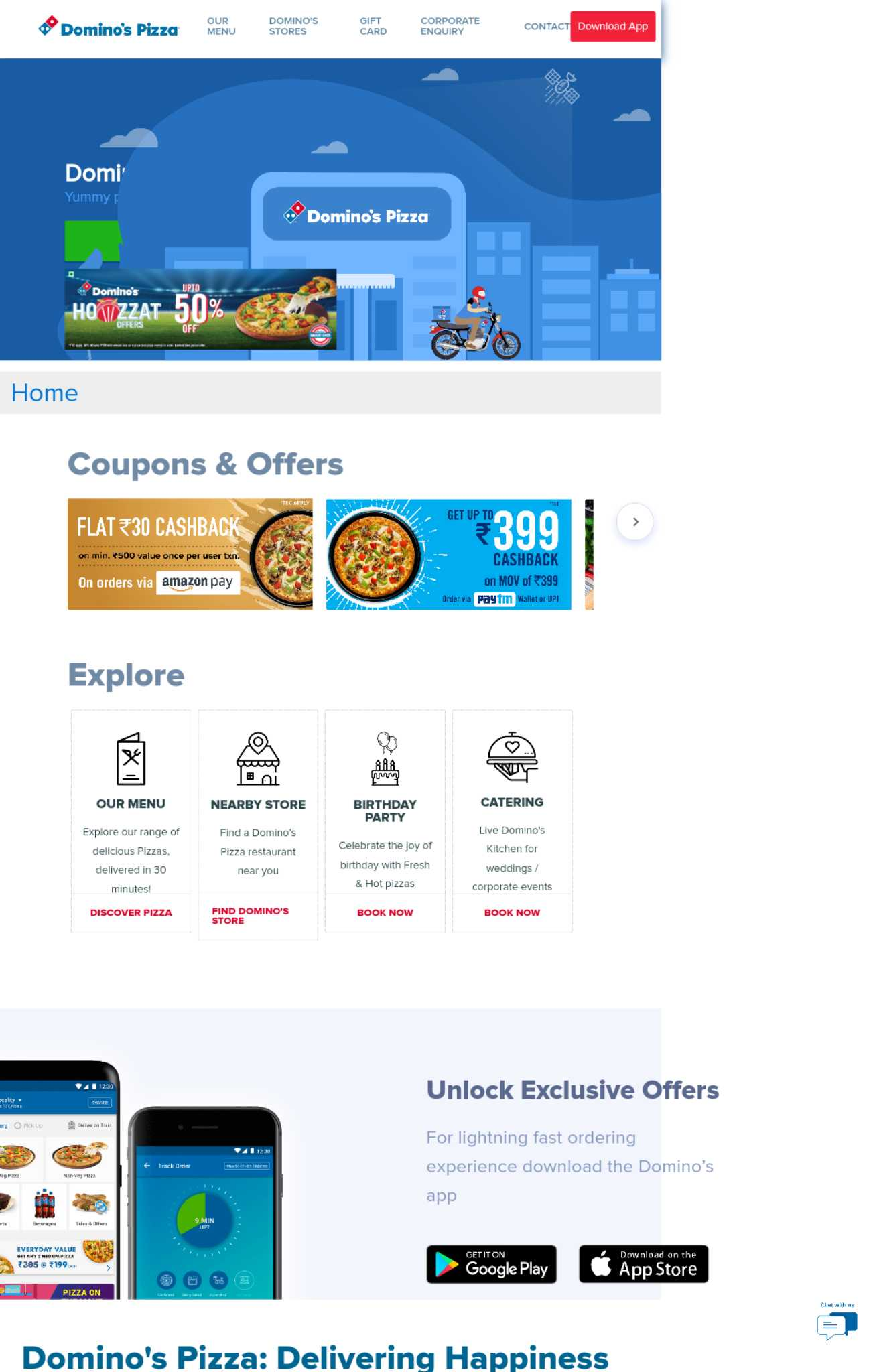 Source: Domino's
Domino's leverages technology for fast and efficient delivery, with real-time updates and GPS tracking. In 2014, they introduced Carside Delivery in the US.
Global Presence
Additionally, Domino's has a substantial international footprint. With the US as its main market, it operates in more than 90 countries allowing clients to relish its products anywhere in the world.
In several of its international regions and developing nations, Domino's has embraced a localization approach and offers menu items that are tailored to regional tastes and preferences. To cater to Indian pizza lovers Dominos replaced pepperoni beef-based topping with spicy chicken sausage topping.
The business's digital ordering system enables several payment methods and is available in multiple languages, making it simple for customers to place purchases.
Partnerships
By forming smart alliances directly with foreign delivery businesses, Domino's has been able to reach a wider clientele. Domino's partnerships include Lipton, Mountain Dew, 7Up, ITC, PepsiCo, etc.
Promotion Mix
Domino's stands out with innovative advertising and promotions, interacting with customers and staying ahead of trends. Let's examine their use of the elements of the promotion marketing mix and some of their top digital marketing strategies:
Advertising
Domino's advertising strikes a balance between consistency and impact, evoking a sense of togetherness. Their "Oh Yes We Did" campaign showcased new menu items like pizza recipe, desserts, and sides, while the "You Got 30 Minutes" commercial guaranteed 30-minute delivery or the pizza was free.
Domino's also uses billboard ads, such as the 2011 real-time consumer feedback billboard in Times Square, showing positive, neutral, and negative comments..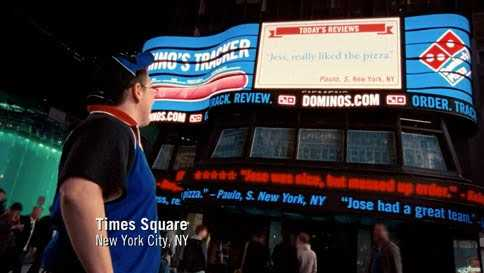 Source: Food Channel
Social media Marketing Strategy
Domino's uses the social media platforms Facebook, Instagram, and Twitter to keep their customers informed about sales and new goods. KFC posts pictures of their meals on social media and engage with the public by using popular hashtags.
Sales Promotion
To attract customers Domino's offers a wide range of momentary discounts and specials. Additionally, they offer extra promotions throughout specific times and events.
Public Relations
Domino's uses PR strategies like "Dominos Cares" and "Domino's Carside Delivery," which offer contactless delivery options, to build strong relationships with customers and enhance brand perception.
Email Marketing and SMS Marketing Strategy
To reach customers and foster brand loyalty, Domino's uses targeted internet advertisements and direct marketing methods like email marketing, SMS Marketing, and direct mail with a call-to-action buttons. They use consumer data to provide customers with personalized offers based on their past purchases.
Partnerships
Domino's partners with sports leagues, music festivals, and events to attract customers and raise brand awareness. In 2001, they teamed up with the Make-A-Wish Foundation for a two-year partnership. They also collaborated with the Spanish esports organization Liga De Videojuegos Profesional (LVP).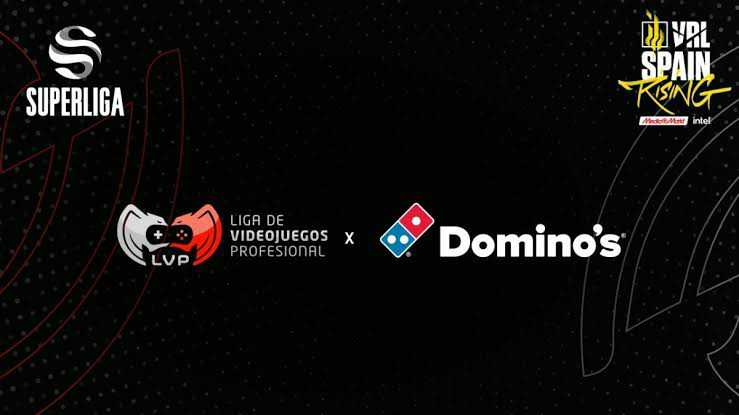 Source: LVP
Domino was RCB's official partner for the entire IPL season in 2018.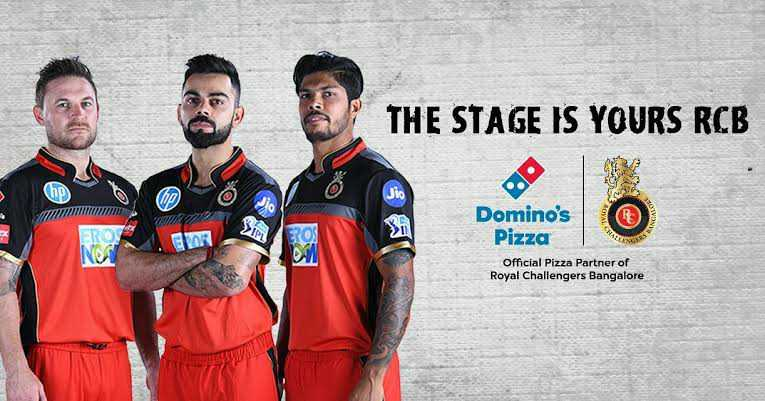 Source: Facebook
SEO and Search Engine marketing
To boost its brand's presence on search engines, Dominos pizza uses both organic and paid searches. Domino's paid search includes Google ads, sponsored Facebook ads, and YouTube advertisements to target their audience based on their location and age group.
In the restaurant sector, according to Semrush traffic figures for December 2022, Dominos.com came in third with 54 million visitors, an average session time of 10:51, and a bounce rate of 31.64%.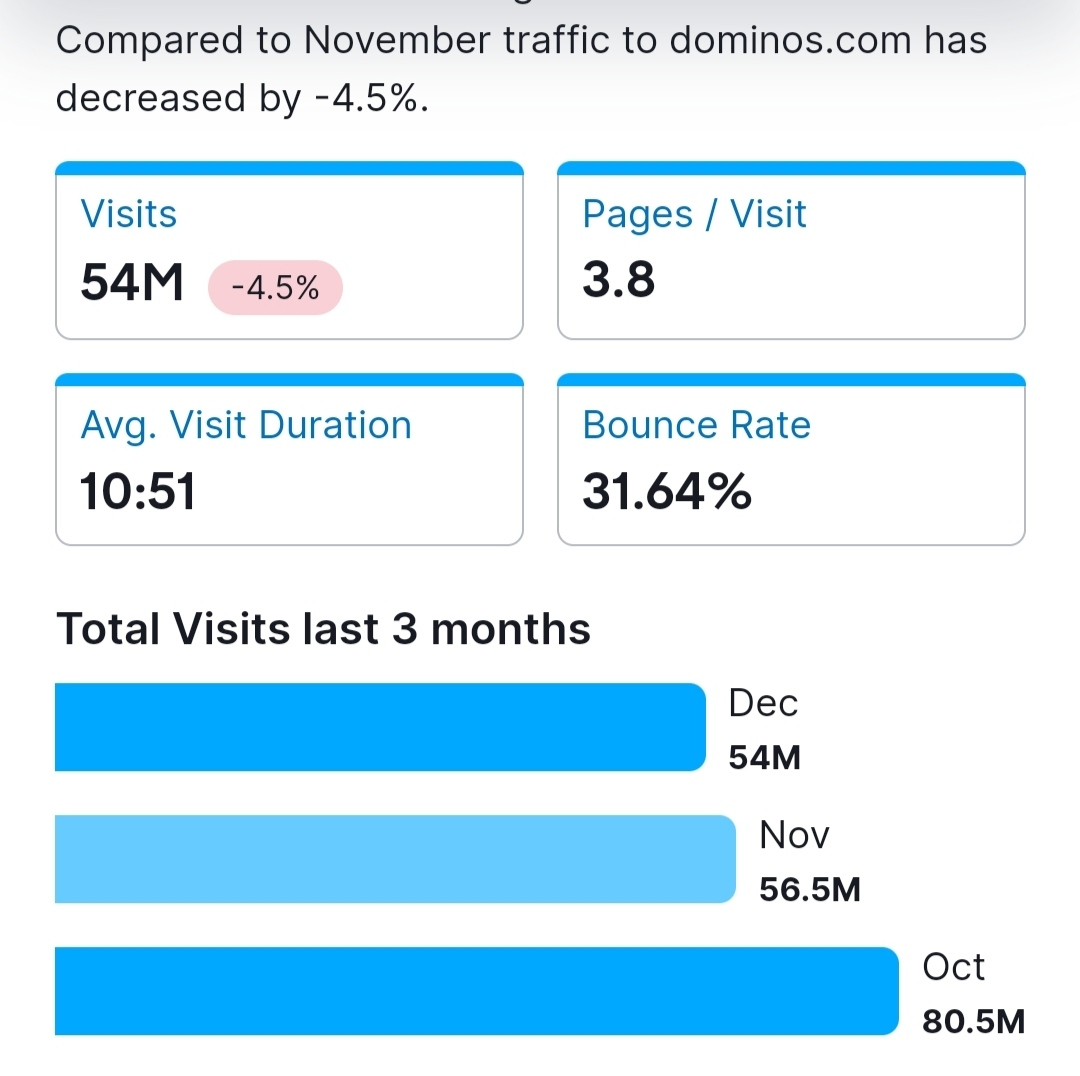 Source: Semrush
17% of visitors to Domino.com use a desktop computer, while 80% use a mobile device. There were 25.7 million organic visits and 1 million paid visits to the Domino website in December.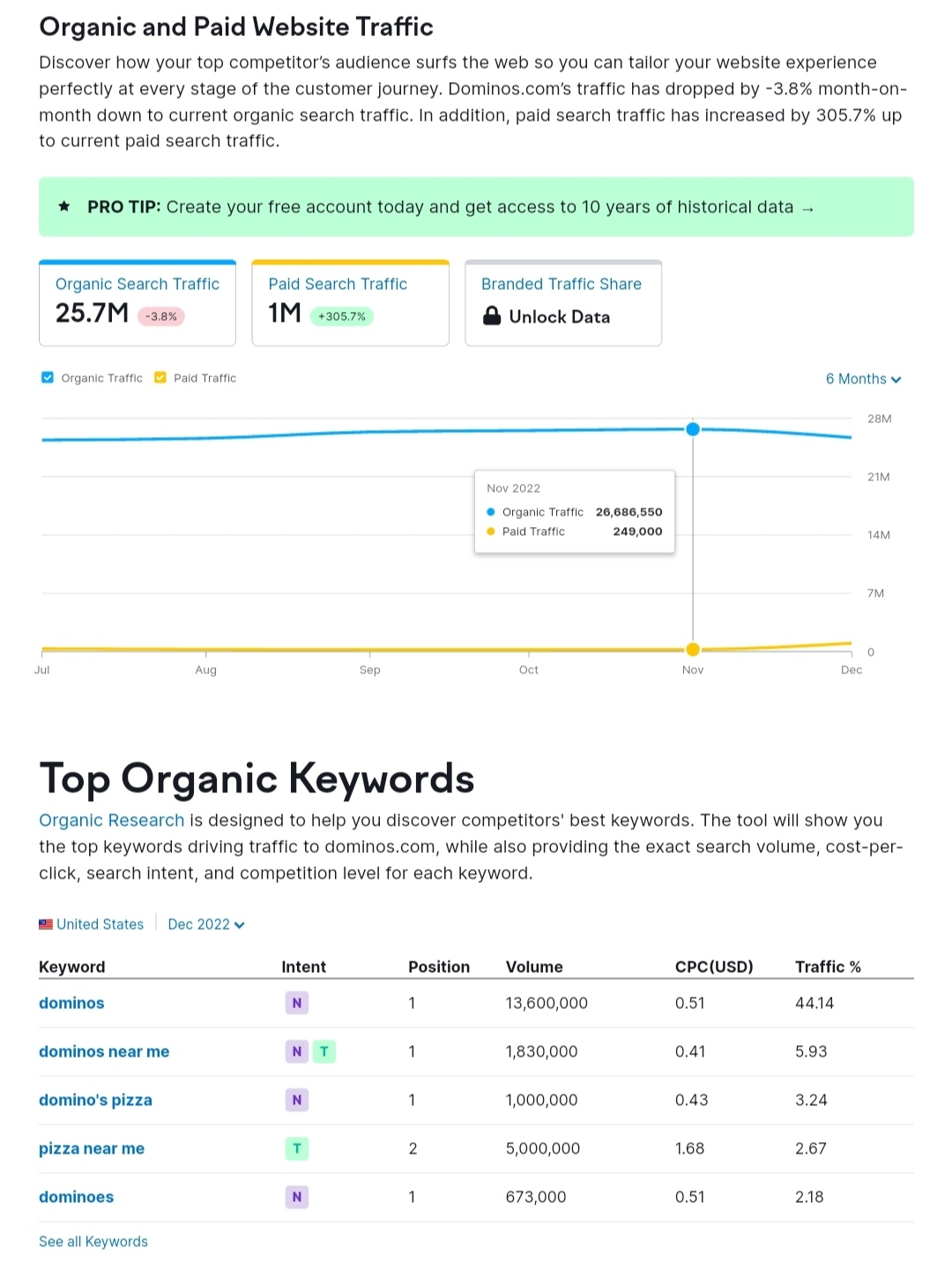 Source: Semrush
Domino's Marketing Strategies that Made a Difference
With a history of game-changing campaigns, and creative adverts, Domino's has risen to become one of the world's largest pizza chains. Let's take a closer look at other best marketing strategies that have made a difference, and put Domino's on the map as a global brand.
Digital Platforms
Domino's has taken the lead in using technology to enhance customer satisfaction by embracing digitalization. Customers can easily and quickly place orders with the use of the company's mobile apps, delivery tracking, and ordering online capabilities.
Domino's Pizza has integrated cutting-edge technology into their ordering system with the introduction of their "Domino's Voice Search" feature. This allows customers to effortlessly place their pizza orders via voice commands through the use of either the Domino's mobile application or Amazon Alexa/Google Assistant enabled devices.
Client-Centered Methodology
Client satisfaction forms the most of the Dominos marketing strategy. As Domino's has always prioritized its customers' needs and wishes and placed a high priority on doing so. The company continuously solicits customer feedback and uses it to improve both its services and the overall customer experience.
Value Proposition
Domino's has developed a strong value proposition based on its track record for timely and reliable delivery. The company's motto, "You Got 30 Minutes," has come to signify that hot, fresh pizza will be delivered within 30 minutes of receiving an order. This plays a main role in Domino's having a high market share compared to other pizza outlets like Pizza Hut, and Papa John's.
Diverse Menus
For its customers' benefit, Domino's appeals its customer base with Dominos veg menu and non-veg menu and it frequently introduces brand-new menu items and technological innovations. This has helped Dominos to keep the brand fresh and relevant while bringing in new customers.
AI-based chatbots
An excellent illustration of Domino's dedication to innovation is the use of AI-powered chatbots for customer service. These chatbots are available 24/7 and can handle a variety of consumer inquiries, providing prompt and efficient replies.
Design for an immersive pizza theatre
For its locations, Domino's has adopted an innovative "Pizza Theater" design that incorporates technology and interactive components to provide customers a fully immersive experience. This design strategy sets Domino's unique and exemplifies the company's dedication to innovation and technology, from digital menu boards to open kitchens.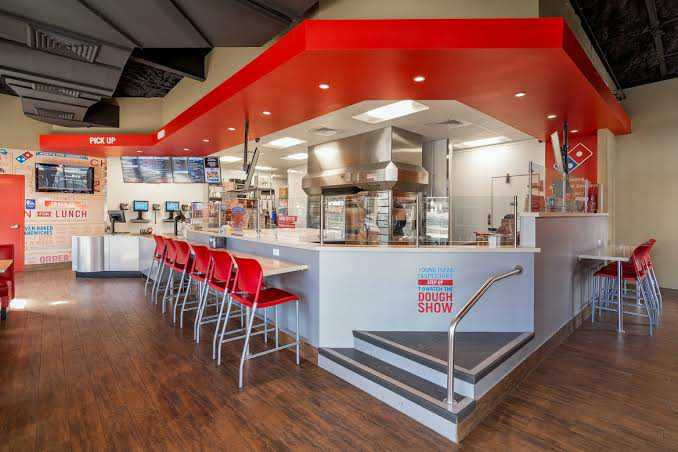 Source: Crain's Detroit
Domino's Marketing Masterpiece: A Look at its Game-Changing Ad Campaigns
Ad campaigns are the heart and soul of any marketing strategy, and Domino's has been delivering on this front for decades. From its iconic "30 minutes or less" promise to its more recent forays into digital marketing, Domino's has consistently raised the bar for pizza chains around the world.
With a focus on creative storytelling, customer engagement, and memorable slogans, Domino's ad campaigns have played a crucial role in shaping the brand's image and driving sales. Let's look at some of Domino's most memorable and game-changing ad campaigns:
Domino's Fashion Week Debut
In the midst of the bustling festivities during London Fashion Week of 2019, one unlikely brand made its mark on the fashion world - Domino's. With a unique collaboration with designer Liam Hodges, the pizza chain crafted a comfort-driven collection, dubbed "Night In," inspired by the growing trend of staying in rather than going out.
The collection, consisting of the "Controller Coat," a stylish cape with pockets for holding essentials like tv remote, and gaming controller; the "Gaming Bag," a cozy sleeping bag suit; and the "Boxset Blanket," a three-person blanket for TV bingeing, was designed to elevate "nights in" to be more memorable. The campaign generated buzz on social media, amplified by a competition that offered users the chance to win one of the three highly coveted designs.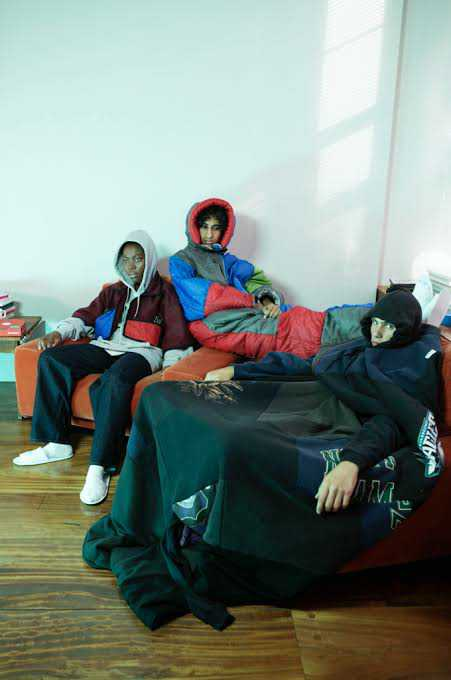 Source: Fads magazine
The Last Slice
In 2022, as the globe celebrated International Friendship Day, Domino's India began a moving social experiment to show the impact of just one slice of pizza. Schbang, who conceptualized and carried out the #Thelastslice campaign, brought complete strangers together for a humorous experiment that fostered new friendships.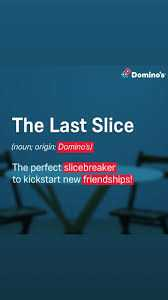 Source: Schbang
Three pairs, consisting of creators and influencers, were given only the last slice of a pizza and with each bite, conversations started flowing and bonds were formed. The last piece served as the ideal icebreaker, showing us all that even the tiniest things can draw people together. A new bond was formed as the last bite was taken.
Who says you need an entire pizza to have a meaningful connection?
Domino's Puts Local Marketing on the Map
As a global giant, Domino's knows the importance of forging a personal connection with consumers on a local level. In 2018, the brand set out to tackle a common pain point for drivers and pizza lovers alike - potholes. With its 'Paving for Pizza' campaign, Domino's invited customers to nominate their town for a paving grant, ensuring their pizzas would make it home in one piece.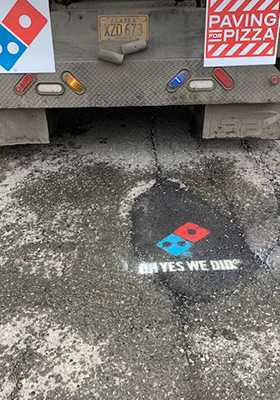 Source: Paving For Pizza
This lighthearted take on a serious subject not only generated discussion and interaction on social media, but it also showed Domino's dedication to having a positive effect on neighborhood communities.
The campaign garnered an astounding 35,000 organic mentions on social media in just its first week. Domino's increased the budget after seeing how well it worked to cover all 50 states, demonstrating that even the most powerful businesses can create meaningful change, one pothole at a time.
Tweets for Treats
In March 2012, Domino's UK introduced the "Tweets For Treats" Twitter promotion to boost lunchtime orders. By offering a discount for each tweet that included the hashtag #letsdolunch, they amassed 825 tweets and reduced the price of the Pepperoni Passion pizza from £15.99 to £7.74.
With 13% of digital purchases made on mobile devices, the campaign increased online pizza sales by 43% and overall revenues by 14.6% to £43.6 million. It was a successful marketing strategy of Dominos that raised brand awareness and gained more fans and followers.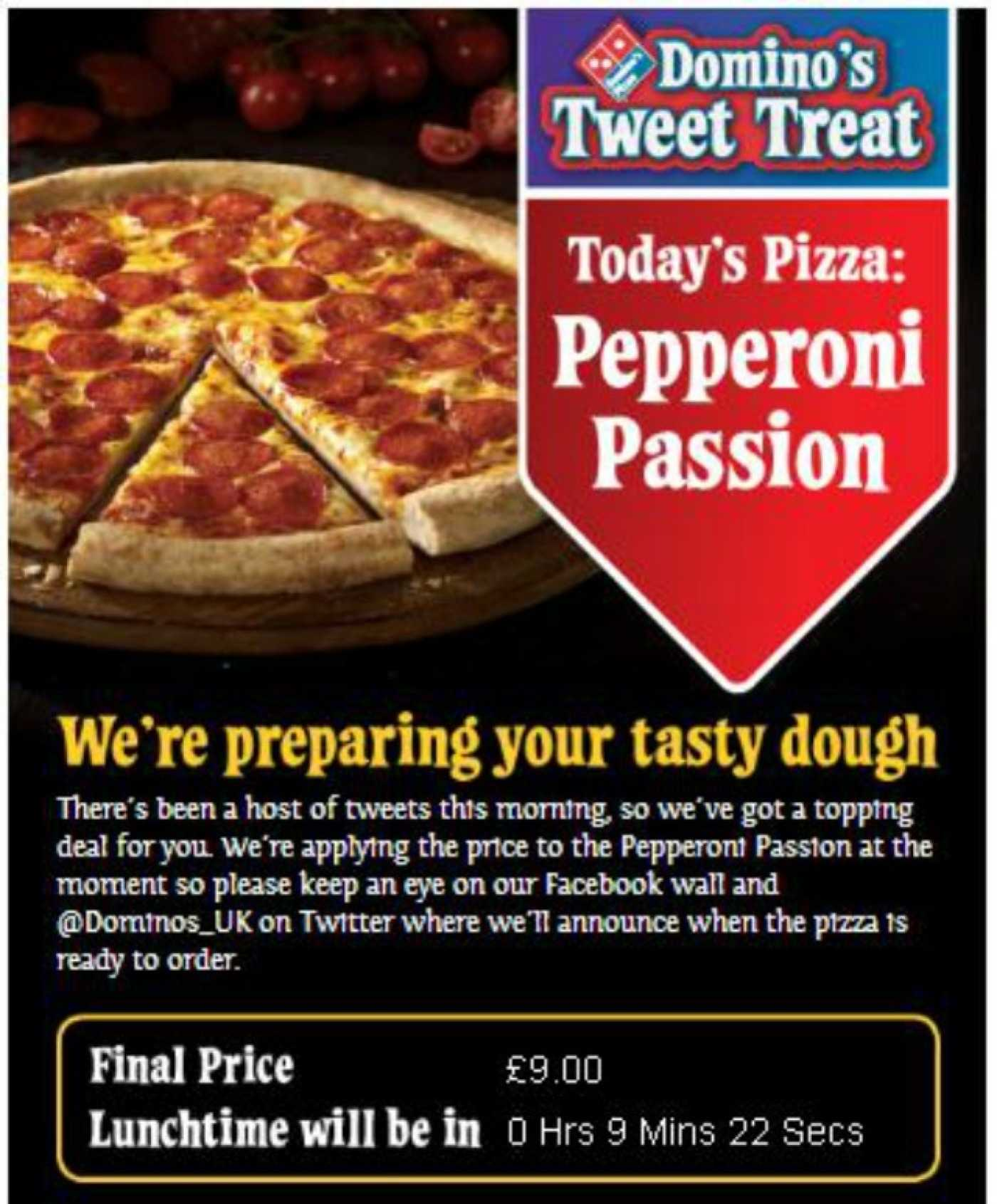 Source: Skipedia
Maximize Your Marketing Potential with Lessons from Dominos Marketing strategy
Marketing strategies can often be dry and uninspiring, but Domino's innovative approach to the industry serves as a lesson in creativity and customer-centricity. Here are six key takeaways from marketing strategy of Dominos that marketers can learn:
Convenience is King
Domino's places a strong focus on the importance of simplifying customers' lives through a steadfast commitment to delivery and user-friendly digital ordering.
Inventive Methods
The customer experience is improved by Domino by integrating technology into its daily operations, such as AI-powered chatbots and GPS tracking. This also increases operational transparency.
Putting customers first
By prioritizing client feedback, Domino's illustrates how a customer-centric marketing strategy is necessary for success in any industry.
A Strong Brand Identity
Domino's has expertly crafted their brand to stand out in consumers' minds, in such a way that elements such as their iconic logo and memorable jingles contribute to their distinctive image.
Global Growth with Regional Accents
Domino's exemplifies the importance of maintaining a strong brand identity when entering new markets by adjusting to regional tastes and cultural norms.
Unwavering Concentration on Quality
With a vertically integrated supply chain Domino maintains its position as a market leader in the pizza sector by consistently enhancing the flavor of their goods, demonstrating that quality should always come first.
The success of Domino's in the intensely competitive fast-food industry has been significantly attributed to the marketing strategy of Dominos. By conducting a thorough market analysis, Domino's has been able to secure a significant market share, outpacing its competitors like Pizza Hut, and drive sustainable growth through innovative and data-driven marketing strategies. How Domino's retains innovation and its competitive edge with its marketing strategy as the food market matures will be an intriguing thing to watch.
If Domino's Case Study intrigued you check out McDonald's marketing strategy for further details on the fast food industry.