KFC has successfully shown for over seven decades to the world how to capitalize a simple recipe that satisfies taste buds globally. With its iconic golden-fried chicken, enveloped in a secret blend of 11 herbs and spices, KFC has established itself as a beloved staple in fast-food-loving households across the world.
While no doubt their product works, the marketing strategy of kfc also plays an important role in its growth, such that today they enjoy a brand value of 5.4 Billion USD.
In this article, we will understand KFC marketing strategy by uncovering the sophisticated business strategies and innovative marketing mix that have made this fast-food icon a household name.
KFC's history: From a small gas station to global dominance as a fast food giant
The history of KFC is a story of a man's passion and perseverance that led to the creation of a finger-licking-good legacy. Colonel Harland Sanders, also known as the "Kentucky Fried Chicken King," started his journey in a small gas station in Corbin, Kentucky, where he cooked for travelers who passed by. With his secret blend of 11 herbs and spices and his signature pressure-frying technique, Sanders' chicken became so popular that he eventually opened his own restaurant.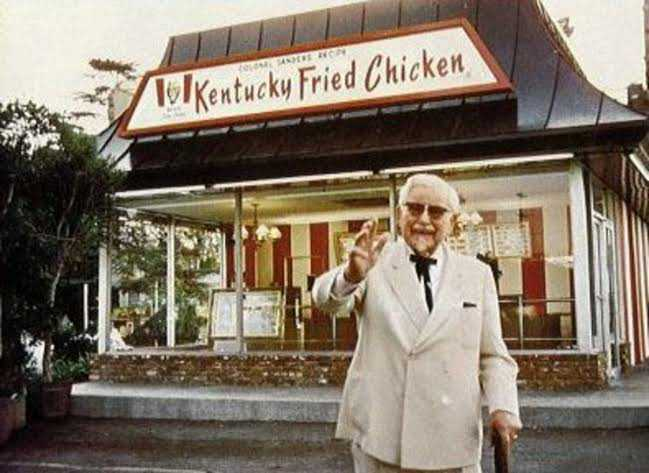 Source: Tough Nickel
As the demand for his delicious fried chicken grew, Sanders hit the road and started franchising his concept, spreading the KFC (Kentucky Fried Chicken) name across the country. By the 1960s, KFC worked on its marketing strategy to grow into a multinational company, with locations in countries all around the world. Today, KFC is the second largest food chain in the world, under its parent company Yum brands! serving up the Colonel's secret recipe to millions of people every day. Yum brands also own Pizza hut and Taco Bell.
A Bite of Branding Brilliance: KFC's Logo Legacy
The KFC's logo, featuring Colonel Sanders in a white suit and black bowtie, has been a recognizable symbol of the brand for 60+ years. The red backdrop symbolizes the Colonel's secret blend of 11 herbs and spices, and the tagline "finger-licking good" embodies KFC's juicy and flavorful fried chicken. The logo combines tradition and modernity, encapsulating the essence of the KFC brand.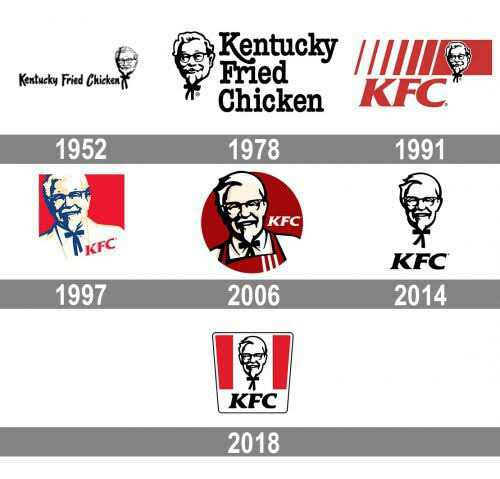 Segmentation and Target Market
KFC uses demographic segmentation to target families and young adults with value-driven products. It has a wide geographic reach and appeals to those seeking quick, inexpensive meals, as well as fast food enthusiasts and brand devotees drawn to its unique flavor profile.
KFC started with an undifferentiated targeting strategy, offering the same menu and experience across locations. But currently being a global brand the company has employed a localisation strategy, adapting its menu and offerings to the local culture and tastes of different countries.
KFC leverages market analysis to stay ahead of the ever-evolving market dynamics and maintain strong brand equity in the fast food industry.
KFC Marketing Mix
Product Strategy of KFC
KFC is the place to be for all young adults, chicken connoisseurs, and food lovers alike. With exclusive chicken dishes, KFC has elevated the fast food game, making it the go-to destination for those looking for an unparalleled chicken experience. The famous Original Recipe fried chicken, seasoned with a secret blend of 11 herbs and spices, has become a household name.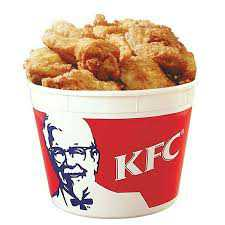 Source: Pinterest
KFC's chicken menu is a culinary journey, showcasing the finesse of its chefs. From the irresistible crunch of golden-fried chicken popcorn to the heartiness of a chicken bucket or the fiery chicken wings, every item is carefully crafted to satisfy. The burger category, too, is not to be missed, with the Veg and Chicken Zinger burgers stealing the show.
For those looking for healthier options, KFC offers a variety of nutritious rice bowls and grilled chicken salads, without sacrificing taste. The veg menu is a delight for vegetarian lovers, with options like the Veg Strips and Veg Longer, proving that KFC covers even veg dishes.
KFC's sides, too, are a treat, with creamy macaroni and cheese and crunchy french fries completing the meal. A glass of iced tea or a classic soda to wash it all down, and you have a feast for the senses that not only pleases the taste buds but also takes into consideration the nutritional factors.
But KFC faces stiff competition from global fast food chains and local fast food joints in their non-chicken food items offerings.
Price
KFC's food items appeal to a diverse range of customers while striking a careful balance between value and price. The company has adjusted its pricing strategy with a discriminatory pricing policy to meet the needs of people looking for both quality and a good deal.
KFC has something for everyone, from small, delectable pieces of chicken wings to the warm embrace of a family bucket. For those looking for a true feast, the chain's catering capabilities are unrivaled, offering a tempting spread of delectable cuisine to feed even the largest parties.
However, KFC's commitment to affordability extends beyond its menu offerings. The chain is constantly coming up with new promotions and special deals to ensure that its most non-vegetarian lovers can enjoy their favorite dishes at a reasonable price.
Placement
KFC's distribution Strategy is a symphony of convenience and accessibility, guaranteeing that customers can enjoy their favorite delicacies no matter where they are or what their needs are. Due to the widespread global presence in both urban and rural locations, KFC outlets provide its consumers with a convenient and enjoyable dining experience.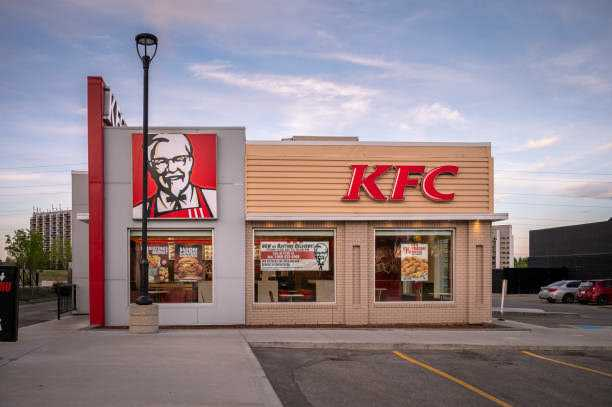 Source: Istock
KFC's corporate-owned restaurants are never far away, whether they are in busy malls or peaceful standalone locations. Due the chain's presence in non-traditional locations including airports, train stations, and universities, customers can grab a bite between flights or courses. For people who are constantly on the move, this is practical.
Through its franchise program, the restaurant chain has recruited a talented group of independent business owners who each bring something unique to the KFC experience. The success of the restaurant industry depends on these franchisees, who operate under KFC's guidance and with its support.
For the utmost convenience, KFC offers online and mobile ordering alternatives so that customers may make orders from the comfort of their homes. The chicken preparation and even the delivery are kept under constant checks for quality.
Promotion Strategy
The KFC promotion engine is fueled by a fiery mix of following elements:
Advertising
KFC has a lengthy history of noteworthy and successful audience-winning strategies. KFC regularly employs a lighthearted and cheerful tone in their advertising, which appeals to a broad audience.
As part of the fast food chain's usage of celebrity endorsements in its marketing strategies, well-known personalities like Reba McEntire, Allu Arjun and many more have made appearances in KFC.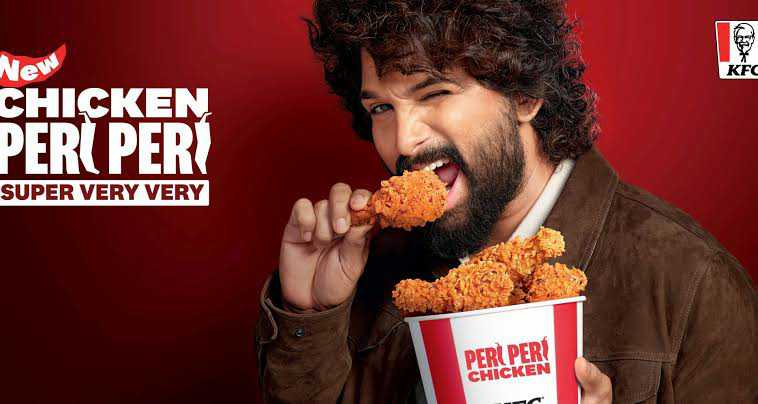 Source: Balcony Stories
"Nobody Does Chicken Like KFC" and "Its finger-lickin' good" are the catchy taglines used by KFC to strengthen its brand identity.
KFC advertisements also appear in print media as well as billboards.
Social Media Marketing
KFC's social media presence is sizzling thanks to its amazing blend of engagement and content. With its delectable commercials, engaging projects, and influencer relationships, KFC spices up its feeds and keeps fans wanting for more. KFC proves it's more than simply finger-lickin' good.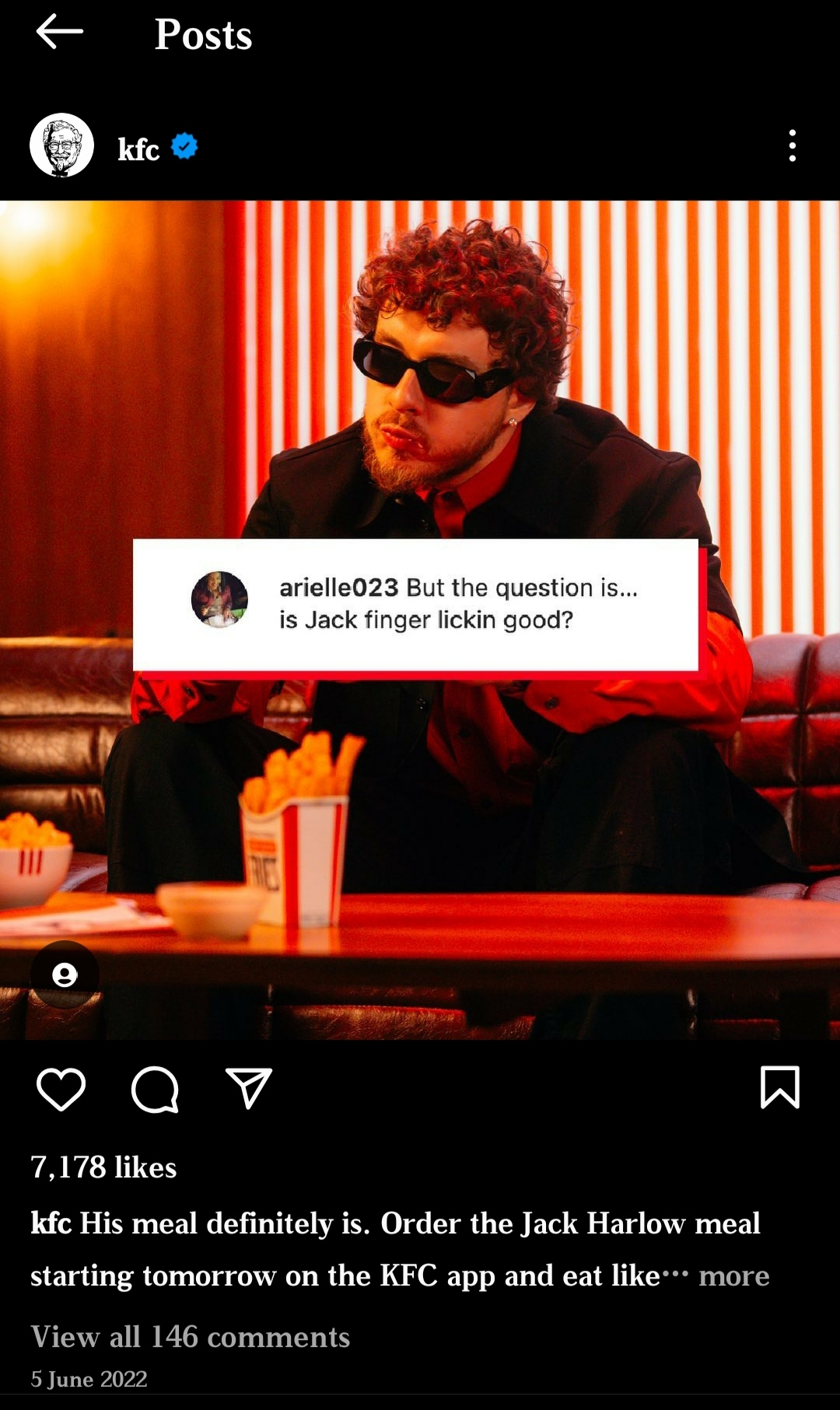 Source: Instagram
Partnerships and Sponsorships
KFC uses partnerships and event marketing to spice up its promotion planning. From partnering with companies and influencers to create original campaigns, hosting pop-up events and food truck activations, and introducing new menu items with exciting events, to sponsoring sports teams and events for brand exposure.
The Indian Super League (ISL) team Mumbai City FC was recently sponsored by KFC.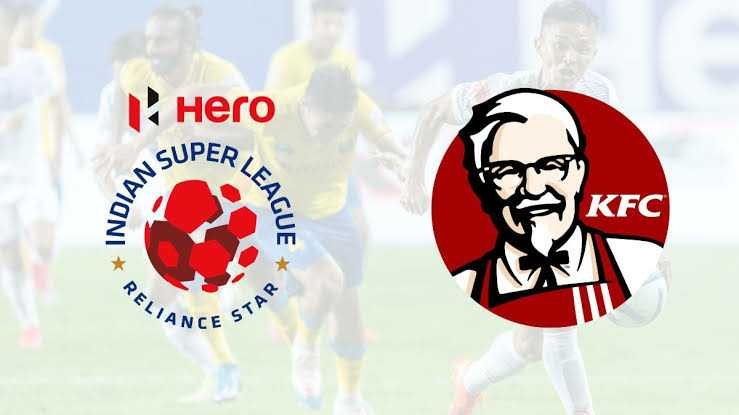 Source: SportsMint Media
Direct Marketing
KFC also spices up its marketing strategy with a savory blend of direct marketing: email offers, subscription forms, targeted direct mail, SMS deals, loyalty rewards, and in-store promotions to entice all chicken lovers. They also offer free meal vouchers using the print media where you can use the pamphlets to get free meals or discounts.
KFC has been a highly successful company that has won various awards, including the Marketing Excellence Awards in 2014 where they won Gold for Consumer Insights/Market Research and Silver for Direct Marketing Category. At the Loyalty & Engagement Awards, KFC won Silver for Best CRM Strategy and Best Use of Consumer Insights & Analytics and was named Relationship Marketing Agency of the Year. In 2017, KFC was awarded Eater's Brand of the Year. In 2022 at the e4m Real-time Programmatic Advertising Awards in Mumbai, KFC India won four awards.
Entrepreneurial Essentials: Marketing Tips from KFC marketing strategy
KFC has developed a solid marketing strategy that has sped up its development and success. The following are the main conclusions from the marketing strategy of KFC:
Iconic Brand Identity
KFC has created a memorable brand identity, synonymous with its recognizable logo, the legendary Colonel Sanders, and the famous catchphrase "finger-licking good."
Affordable Elegance
Through its well-liked "bucket" meals, value-packed combos, and free meal deals, KFC offers value-oriented pricing that gives its customers access to affordable and satisfying cuisine.
Personalized Touch
KFC understands the value of personalization and offers the option for customers to customize their meals, providing a distinctive experience that takes into account specific tastes and preferences.
Product Innovation
With vegetarian options, healthier options, and new menu items that keep up with shifting preferences and trends, the company has expanded its menu to cater to a larger range of clients.
Digital Savvy
KFC has embraced technology in its marketing strategy, providing customers with digital ordering, delivery choices, smartphone apps, and online ordering platforms.
Global Footprint
With a presence in more than 150 countries, KFC has achieved considerable progress in its global expansion, establishing its position as the second-largest fast-food chain in the world.
Social Media Prowess
The fast food chain has a strong presence on social media, using platforms such as Twitter, Facebook, and Instagram to attract customers and promote its products.
To sum up, KFC's marketing strategy has been a harmonious blend of various innovative marketing approaches. The results speak for themselves, cementing KFC's position as a preeminent player in the fast food industry.
Interested to explore the fast-food industry further? You can read our marketing strategy case study on KFC's competitor McDonald's.