Nintendo is one of the few recognisable brands whose fan base spans across generations. It's known for its popular games like Mario, Pokemon, The Legend of Zelda, Animal Crossing, etc. Such IPs make it a very valuable company with a market capitalization of $49.97 Billion. While its products play a key role in its legacy, Nintendo's marketing strategy ensured they stay on top of the mind of its loyal customer base.
In this marketing strategy case study, we will explore how Nintendo built a household brand name that is aspirational and nostalgic for gamers via its advertising and marketing strategies.
A brief overview of the Nintendo Entertainment System
Started in 1889 by Fusajiro Yamauchi in Japan, Nintendo was originally a leader in playing cards for four decades for hand-painted hanafuda cards. It tried multiple business verticals including running a taxi service and love hotels. It even tried to become a food company to sell ramen noodles. The Nintendo brand we know today was not realised until its first console release of Color TV-Game in 1990.
Image Source - Business Insider
Today Nintendo caters to casual gamers and serious gamers via its host of gaming IPs. Its latest console, the Nintendo Switch made 10 million sales worldwide within the first three days.
A key to Nintendo's massive success is its ability to keep reinventing itself. Today the company is incredibly clear about its position and legacy in the gaming industry. Yet it is not afraid to explore new horizons with its gaming characters, new technology and even core business model. Irrespective of how Nintendo shapes, its customer fan base is always willing to support its journey. Nintendo's marketing strategy is largely responsible for nurturing its sticky customers. Let us explore what marketing strategies helped Nintendo buildd a loveable brand across the world.
Nintendo Marketing Strategy
Nintendo caters to a wide variety of audiences having a common love for video games. This includes an older audience with their Mario nostalgia and young gamers looking for a virtual reality-based gaming experience. Satisfying such a wide target group across its market capitalization isn't easy. Its marketing game helps navigate this diffused terrain.
Here's how Nintendo's marketing strategy is designed (explained with the 4Ps of the marketing mix):
Product: Nintendo Product Strategy
Nintendo's game development strategy doesn't only focus on hardcore gamers who expect high-end graphic cards or gaming consoles. They invested across the video game industry including mobile gaming, arcade games, theme parks, home console, etc. They went broad when it came to defining their target customers, and experimented to suit each one's taste across generations as it grew. Some of its most iconic gaming products include -
Arcade games
A major turning point for Nintendo was in 1981 when it released Donkey Kong which sold more than 60,000 copies in North America. Donkey Kong bought Nintendo out of its financial hardship and triggered its expansion across the world.
Gaming Consoles
When arcade games became a thing of the past due to the rise of personal computers and excessive competition, Nintendo switched to making toys. They innovated with NES consoles targeted at teens to provide an immersive gaming experience backed by stories or a narrative. This led to the making of many successful characters like Super Mario bros, Zelda, etc that engaged the game players.
Other popular gaming consoles that Nintendo released include the Nintendo Dual Screen, Wii U series, Gameboys, etc. Nintendo was also one of the early brands to experiment with virtual reality games. The Nintendo Virtual Boy was released in 1995 that aimed to take their 'immersive gaming experience' a step ahead. Thus, Nintendo has always adapted to what the gaming market demanded and aligned to necessary competitive trends.
Pricing: Nintendo Pricing Strategy
In the gaming industry, change is a constant as gamers constantly seek new experiences. Considering how Nintendo is always releasing new products to keep up with its huge target market, its pricing strategy also is varied to suit accordingly.
Most new and hardcore gaming experiences would be priced at a premium. Casual gamers are kept happy with low-end gaming consoles or mobile games. Nintendo games are also not fixed - the price decreases across the product life cycle. This means, older products that did not perform well are eventually sold at discounted prices. It also aligns its pricing strategy with that of its competitors Sony Playstation or Xbox.
A key advantage that a brand like Nintendo has is how its older products are easily capitalized via 'nostalgia' reselling. Many of Nintendo's Switch models or other consoles act as collectables for fans who are passionate about games.
Placement: Nintendo Placement Strategy
Nintendo successfully maintains both physical and online distribution networks. Throughout its 130+ years of history, Nintendo has grown enough brand equity to flourish its network to reach a wide audience.
Nintendo managed several partnerships with complementary brands to increase their gaming console adoption. One such partnership was with Blockbuster and Toys 'R' Us which enabled their customers to rent game consoles before making a final purchase.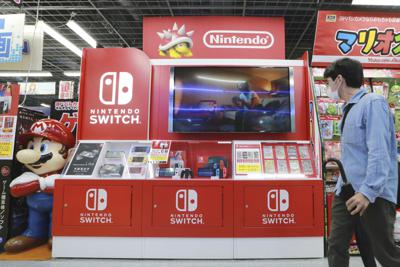 Image Source - AP News
Otherwise, its offline distribution also includes hypermarkets like Game Planet, Walmart, local electronic arts stores, and pawn shops.
Nintendo online stores
Nintendo also has an online store to download any game and manage updates as released. They have a separate section for 'upcoming games' on their website that generates excitement among their loyal fans. eBay.com and Amazon also are popular distribution sites where Nintendo games are available.
Promotion: Nintendo Promotions Strategy
Nintendo consistently positions itself as a company in the entertainment space, and not technology. In its advertisements, it focuses on how the customer would experience the game on playing its video games than any technology specifics.
Due to this, Nintendo's marketing strategy plays a lot of importance in its product launch campaigns. They distribute tons of freebies like T-shirts, goodies, posters, console cases, etc.
Many brand partnerships with companies like Maxim magazine, Heineken, Walmart, etc have helped them market their consoles to their audience. Nintendo is also actively involved in Game Developer Conferences to attract good talent. Usual ad campaigns for the holiday season also make up for its sales.
Their latest Nintendo Switch looks very modern with a stylish logo. Here's an ad for Nintendo Switch sport that showcases how the brand likes to present itself -
You can observe how their ads focus on the 'experience' one has on using the console more than anything else.
Nintendo decided to also use a lot of nostalgia-themed marketing to target the audience of previous generations who enjoyed playing Mario.
But even so, Nintendo marketing strategy is such that the gamer community knows what to expect from the brand with every new release - a familiar and fun experience. Today, Nintendo marketing strategy also includes social media like Facebook, Twitter, Instagram, Tik Tok, etc to capture the market share that belongs to the younger generation.
Iconic Nintendo Ad Campaigns
A key advantage of Nintendo is how many of its consumers have played games using its products for more than 130 years. From the times of visiting gaming stores to today simply playing games on the cloud, Nintendo has seen it all. This experience is visible in their advertising campaigns as they have also refined over a long period towards better clarity.
Playing with slogans
Nintendo loves to play the slogans game in their advertising.
One of its famous and early slogans is for the Nintendo NES and the Nintendo Entertainment System - "Now you're playing with power!"
For their game boy color, they used the slogan - "Escape to a World of Color". They also highlighted its portability when first released - "Now you're playing with power, portable power!"
Another famous campaign includes the slogan 'Touching is good". The act of 'touching' is forbidden in most societies, here Nintendo plays with the gamer's mindset of how 'touches' are important while controlling their gameplay. Here's a poster for Nintendo DS with this campaign -
Not all advertising campaigns were a success - for example, the Virtual Boy campaign for their Virtual Reality games was a failure. It used the slogan - "A 3-D game for a 3-D World." and the overall experience was too early for the 1995 audience.
How Nintendo beat SEGA in the games market using content?
SEGA had better graphics and technology than Nintendo. But the casual game players hardly cared about technical specifications and expected immersive experiences - something that Nintendo had focused on early. Nintendo focused on the content of its video games. They worked on storytelling and making the gamer complete a quest in their video games. This insight was drawn from the audience research itself. This shows how Nintendo knew when to focus on their market competitors and when to listen to the audience.
But SEGA too copied this strategy and released memorable characters like Sonic the Hedgehog that helped it capture 65% market share at a point. On releasing Game Boy is when Nintendo crawled back into the arena to finally beat SEGA around the 1990s.
Marketing of Animal Crossing and Nintendo Switch during the pandemic
The global COVID-19 pandemic was a perfect time for the video game industry to flourish. Nintendo released a casual, family-friendly game that anyone can play called 'Animal Crossing'. Many families and their friends used such games to socialize as everyone got locked into their homes due to the pandemic. This multi-player game helped Nintendo ride the growing popularity of casual games like 'Ludo' and hence acquire new customers.
Lessons from the Wii U proposition and Nintendo DS
Nintendo also defined how video games were played for more than a decade in the 2000s with its Wii series of video games. It included Wii remote that enabled one to play games by pointing at the screen and a wireless controller. This gaming console successfully attracted casual gamers. For its core gamers, it released Wii U in 2012. The Wii series proposition was to appeal to the hardcore gamers market who appreciate good graphics and a better playing experience. But many were confused about whom Wii U truly served.
Optimizing marketing strategy for Nintendo Switch
Nintendo Switch learned from the hurdles caused by Wii gaming consoles' confusing positioning. The Nintendo Switch brand focused on a clear message of being portable, interactive, multi-platform, etc. It focused on building a consistent brand that its large target audience could easily understand.
Nintendo also gambled with Nintendo Dual Screen (DS) systems when their major competitors like Sony released their Sony Playstation. It was in a way better version of their Game Boy Advance (GBA). It was successful thanks to better graphics and the age of flip phones. Learn more about How Graphics worked on the Nintendo DS.
Key Takeaways from Nintendo's Marketing Strategies
Nintendo's 130+-year-old play in the entertainment market has lots of lessons to take away for entrepreneurs, especially in the consumer space. Here are some key lessons from the Nintendo marketing strategy:
Listen to your audience
Nintendo always focused on its customers and how they received their video games. Any latest technology breakthrough or competitive landscape hardly impacted their company DNA. They did experiment in their early days but worked on optimising their positioning for clarity as they matured as a brand.
You don't have to be the first
Nintendo was neither the first video game company nor the first to bring a new console to the market. It never focused on being 'the first' to bring any technology to the masses. They primarily learned by making mistakes and experimenting without fear, leaving it all to the audience's response. Eventually, today it has found its positioning in the market.
You can enter a saturated market
When Nintendo entered the arcade games market in the USA, it was already saturated with cheap copies and multiple gaming stores springing everywhere. Differentiation was difficult, but Nintendo focused on its character-narrative strategy to nurture new fans in the USA. It focused on its niche. Today, the Nintendo console maintains a market share of 29%. They fiercely play and compete as the rest of the gaming console market share is owned by Xbox (25%) and Sony Playstation (46%).
To conclude, the Nintendo marketing strategy teaches businesses about building a consistent brand that is not afraid to explore. Its journey shows you what it takes to buildd a 100+-year-old brand. If you're in the entertainment business, read our Netflix marketing strategy case study to gain more insights.