Pepsi is a household name with deep market penetration and competing neck-to-neck with Coca-Cola. Being a 'second player' can be tough, but despite the stiff competition, it persevered and eventually became one of the most well-known soft drinks brands in the world, generating $79 billion in net revenue in 2021.
From being just a tonic to help with digestion, now Pepsi is a drink of accompaniment, celebration, and a drink of a new generation.
How did Pepsi manage to garner the attention of billions amidst its rival Coca-Cola? How did it combat Coca-Cola, which was already making millions in sales when Pepsi initially entered the market? What marketing strategies were employed to make Pepsi successful?
Let's understand Pepsi's marketing strategies and what you can learn from them for your own business.
The Creation of Pepsi Cola
The story of Pepsi's humble origins begins in 1893 in New Ber, North Carolina when Caleb Bradham, a pharmacist, created a special tonic known as "Brad's drink" to aid with digestion.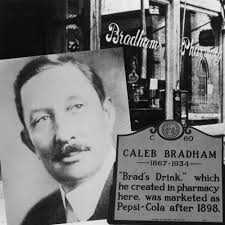 Source: Facebook
As his beverage gained popularity, he named it Pepsi-Cola. The popularity of the brand kept rising, and by 1910, there were 240 bottlers scattered throughout 24 states.
Journey of Pepsi-Cola from the Great Depression to the Present Day
But Caleb Bradham's success didn't last long. With the sugar prices falling during World War I, he was left with an overpriced sugar inventory and Pepsi-Cola went bankrupt in 1923.
The Pepsi trademark was subsequently acquired by Roy C. Megargel, who filed for bankruptcy once more after eight years.
The CEO of Loft Inc., Charles Guth, bought Pepsi-Cola after the second bankruptcy (Stores with soda machines were run by the candy firm Loft.)
After almost ten years, Loft's was renamed "The Pepsi-Cola Company," and Walter Mack was appointed the CEO. After going through few branding modifications, PepsiCo opted to utilize the red, white, and blue logo as a representation of patriotism during World War II.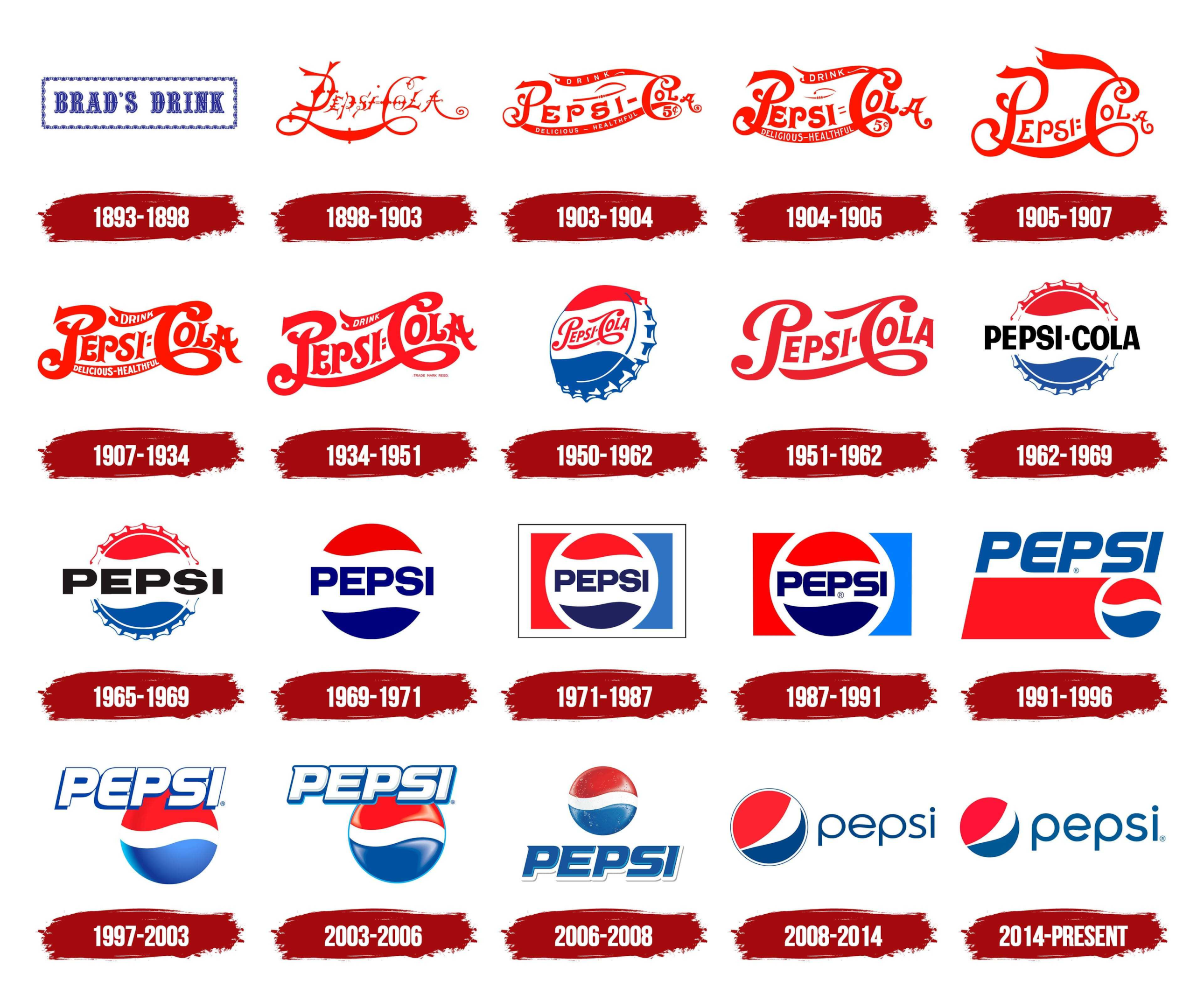 Source: Logos world
As a marketing strategy in 1965, Pepsi brand also leveraged company growth by merging with Frito-Lay. At the time of the merger, Frito-Lay ranked as the largest snack firm globally.
Since then, the coke brand has experienced several changes, from global expansion to the addition of new products.
Let's review a few significant events that helped define Pepsi.
Pepsi's Marketing Strategy Failures
Sometimes we might have a great marketing strategy but if it doesn't interest the consumers, the plan fails. PepsiCo had the resources to execute a great marketing strategy but still failed because it didn't align with the public. Two of the biggest Marketing failures of PepsiCo are:
Live For Now Moments Anthem
In 2017, Pepsi decided to use targeted on-trend advertising starring Kendall Jenner to capitalise on the Black Lives Matter movement and societal crisis. The public, however, did not find the concept appealing. Instead, it was ridiculed and denounced, which forced the PepsiCo team to delete the advertisement and issue an apology.
Crystal Clear Launch
An example of how even the most successful marketing plan can fail is "Crystal Clear." It was regarded as a beverage for the younger generation that will change the course of history. However, the failure of Crystal Clear is still up for debate. Was it a result of the competitors, consumer dissatisfaction, or corporate sabotage?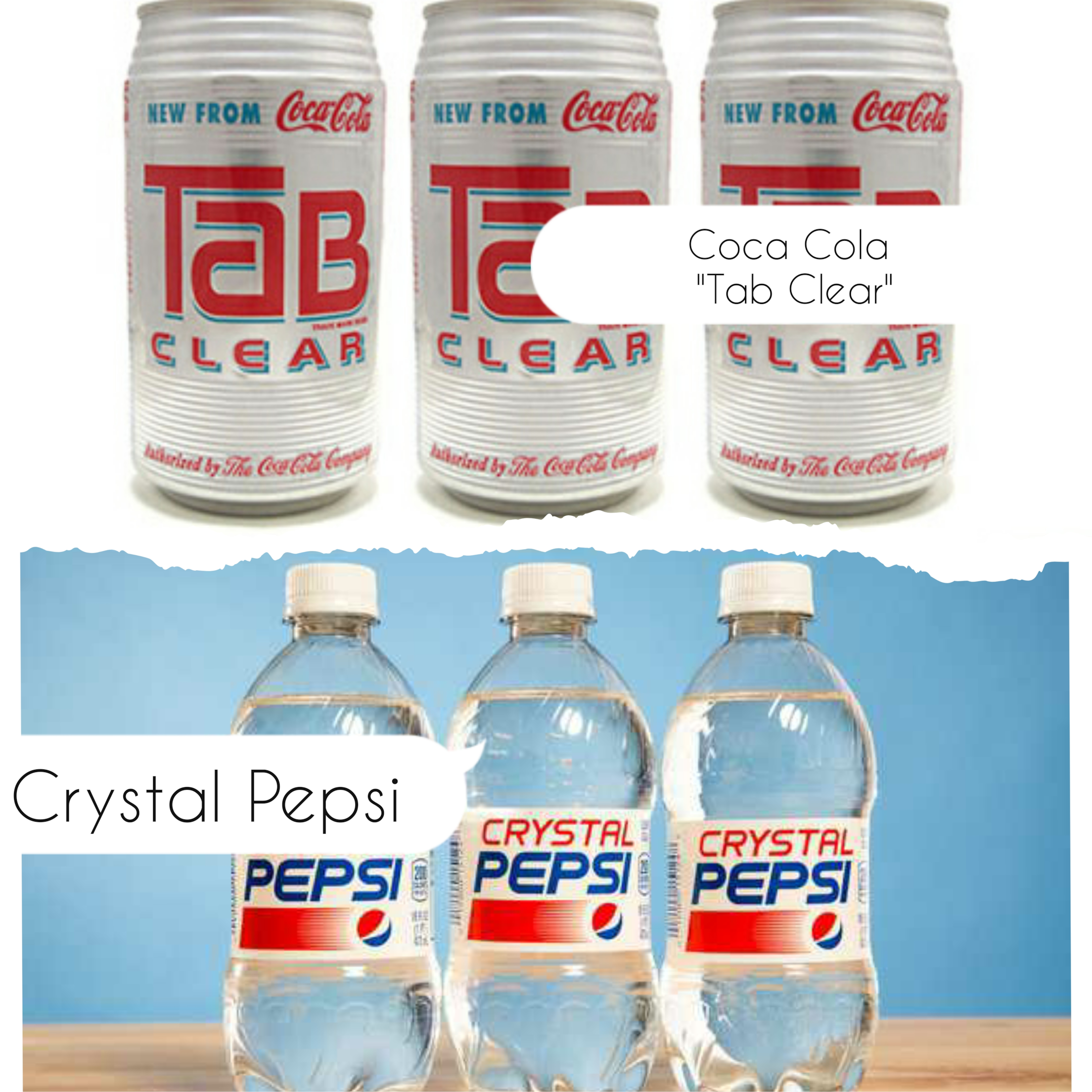 Source: New World Associate
Well, the Crystal Pepsi failure was caused by all of these factors. The main reason is the launch of the "New tab" (another transparent drink) by Coca-Cola. The use of the "Japanese Kamikaze Strategy" failed both beverages. Coke and Pepsi have been direct competitors in the soft drink industry for over a century.
The Bottle Battle with Coca-Cola
Coca-Cola sued PepsiCo in October 2010 over the design of the glass bottle.
Coca-Cola claimed that selling Pepsi and Pepsi Max in containers that resembled its well-known "contour" glass, Coca-Cola bottles was a trademark infringement. Pepsi refuted claims with Coca-Cola losing the battle.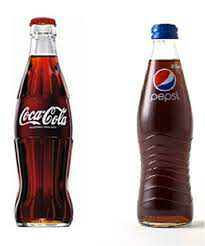 Source: Stuff
The Pepsi Marketing Mix
The Pepsi marketing mix learned from its mistakes. Today, it focuses on affordable and good quality beverages and snacks that are easily accessible to everyone using a customer-centric approach. Let's learn about them in detail using 4P analysis:
Product Mix
Unlike Coca-Cola, PepsiCo concentrates on both the food and beverages industry leveraging its competitive advantage. It has 23 brands under its roof and a diverse product portfolio. This has significantly helped in more sales and thus increase its market share.
Pepsi offers customised products to serve particular geographic locations. It also makes significant investments in developing new products.
Since the first Pepsi-Cola was made in 1893, the beverage has undergone several changes. Here are a few well-known flavors of Pepsi — Diet Pepsi, Crystal Pepsi, and Pepsi Twist.
The well-known beverage brands produced by PepsiCo include Pepsi, 7Up, Bottled Starbucks drinks, Mountain Dew, Fruit juices, and numerous others.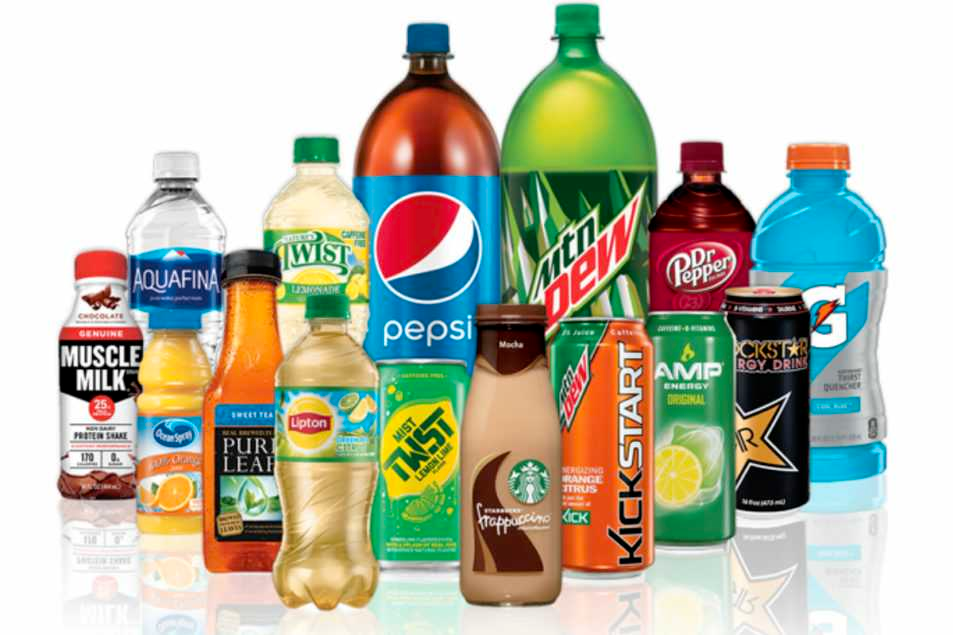 Source: Food Business News
Additionally, they dominate the consumer snacks industry with complementary products like Doritos, Fritos, Kurkure, Cheetos, Lays, etc.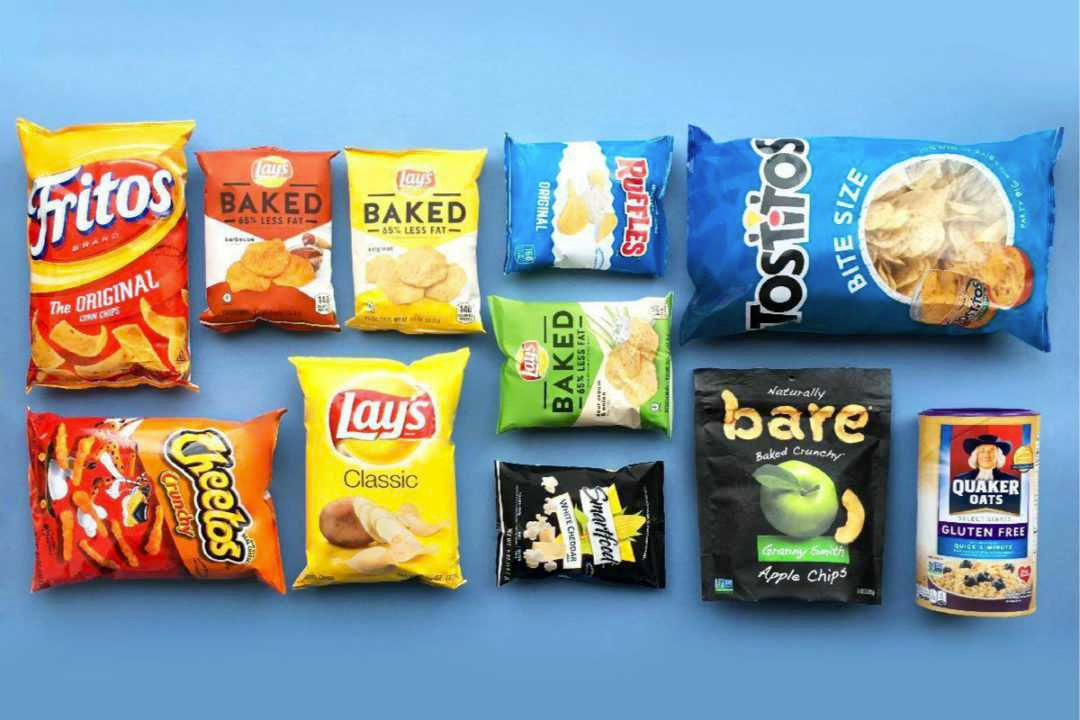 Source: Baking business
It also offers a wider range of products, including Quaker Oats cereal, Gatorade sports drinks, and ready-to-drink teas like Lipton, pure leaf, etc. Coca-Cola clearly lacks this product diversification.
Pricing Strategy
Since PepsiCo aims to emerge as the top beverage brand in the beverage industry, it concentrates on offering both a geo-based pricing plan and a value-based pricing strategy. But the prices vary because of the diversified portfolio.
Value-based pricing strategy is used for soft drinks. But the prices depend on the drinks and the sizes of bottles for easy accessibility.
Products like Mountain dew, Tropicana, Pure Leaf, and Doritos have targeted customers who don't care about the pricing and just require value.
Before releasing a product in the market, PepsiCo always undertakes a thorough analysis to identify the best negotiable product price based on the market and the geographical locations.
As it aims to be an accessible brand to everyone it uses a geo-pricing strategy as well.
It gives discounts and other promotions if the targeted customers buy Pepsi in bulk to increase sales and the customer base of Pepsi products.
Promotion Strategy
Pepsi's brand image is well-known for being contemporary and young. That's why Pepsi continues to focus on employing ambassadors and celebrity endorsement to connect with the younger generation. It uses creative ideas, unique packaging, catchy slogans, and marketing strategies to capture the interest of young people.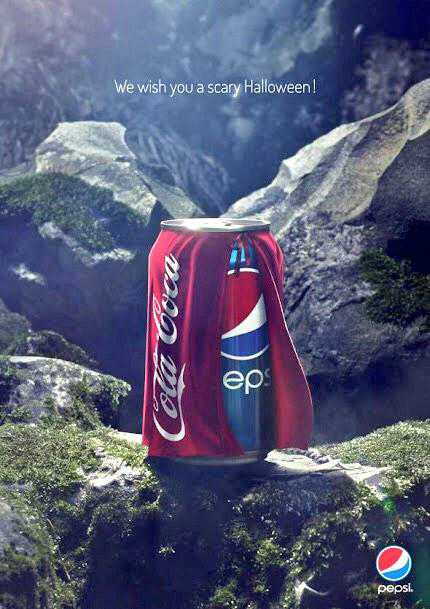 Source: Twitter
Pepsi has limitless influence, from celebrity endorsements to famous product placement in movies to television and newspaper marketing. They are well-known for their efforts in social media marketing and other digital marketing campaigns as well - here's a case study on how Pepsi uses ads on the Meta platform across Facebook and Instagram.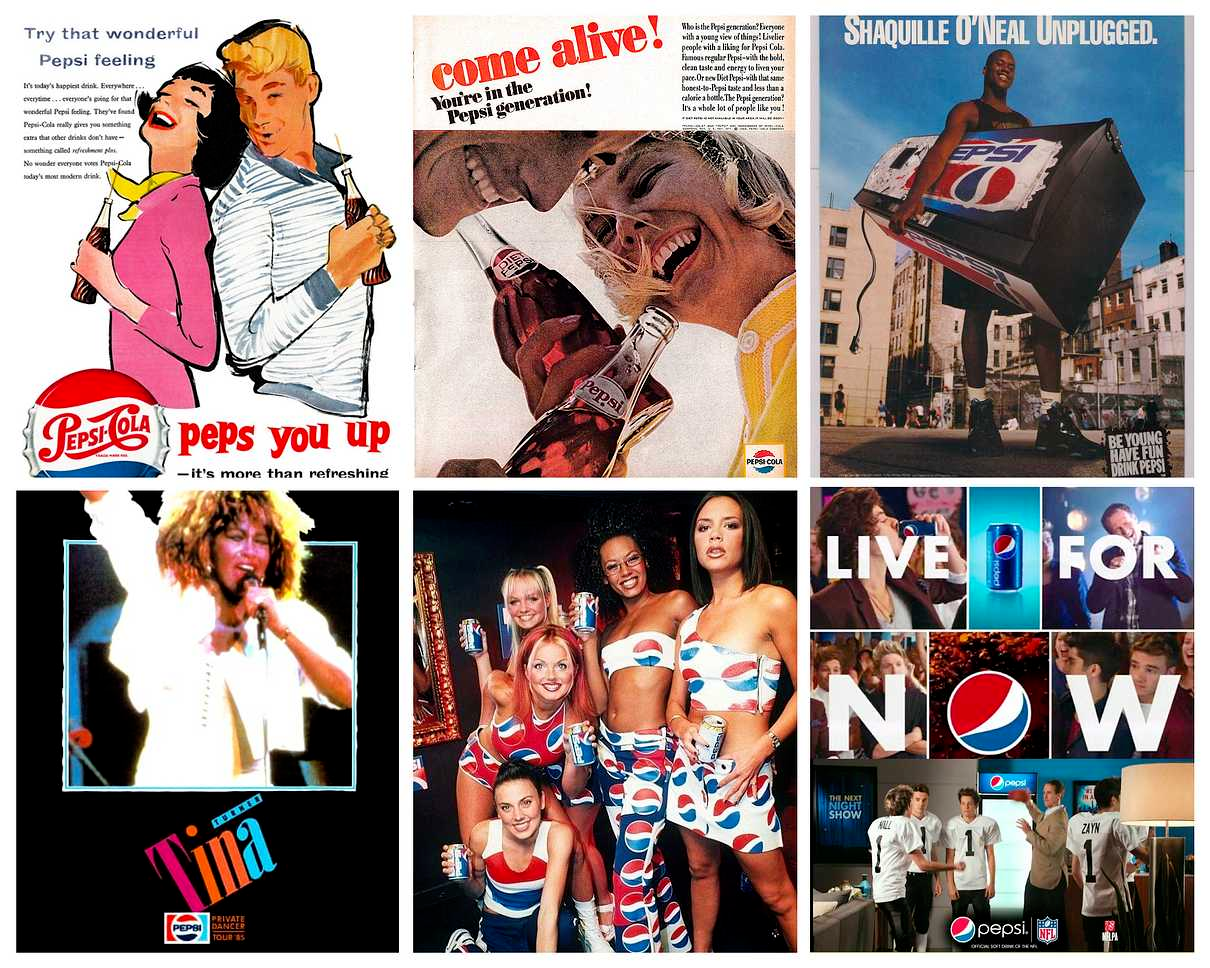 Distribution Strategy (Place)
Pepsi is well-known for being affordable and having good product quality. Pepsi's marketing strategy works on distributor relationships utilising Direct Store Delivery.
Pepsi's Distribution channels focus on retailers, internet merchandisers, grocery stores, supermarkets, and convenience store chains. Where the drink is accessible to everybody.
Well-known international restaurant brands including Pizza Hut, KFC, Burger King, etc. are owned by this firm, leading to more visibility of Pepsi within the target audience.
Notable Pepsi Marketing Strategies
By establishing itself as a new-generation brand, Pepsi constantly tries to stay in touch with new trends, devising customer-centric marketing strategies. Even in fierce competition with the Coca-Cola company, Pepsi manages to be the talk of the town. Which Pepsi marketing strategy sets them apart from the competition?
Brand Positioning
By positioning itself as a conscious brand of youth, Pepsi has continually attracted teenagers and a young customer base.
It stands out and is superior to other drinks because it includes the more contemporary, pop culture elements of the moment, adds some wit, and gives off a cool image. To appeal to young people, pop singers, athletes, and music are commonly used in ads and promotions.
The success of Pepsi is now largely attributed to the company's brand positioning. It created a name for itself by employing the same brand messages throughout all of its advertising, and as a result, it has amassed a considerable amount of fans.
Celebrity Endorsements and Sponsorships
Pepsi deserves praise for realising the value of influencer marketing before it was a thing.
From casting the supermodel Cindy Crawford to the 90's pop sensation Britney Spears, and the GOAT Michael Jackson in Pepsi advertising campaigns— Pepsi is huge on influencer marketing.
Source: PepsiCo
Pepsi markets with every opportunity it finds - from producing and funding sporting events and concerts to working on films and music for improving its brand recognition. This increases its brand equity and promotes trust.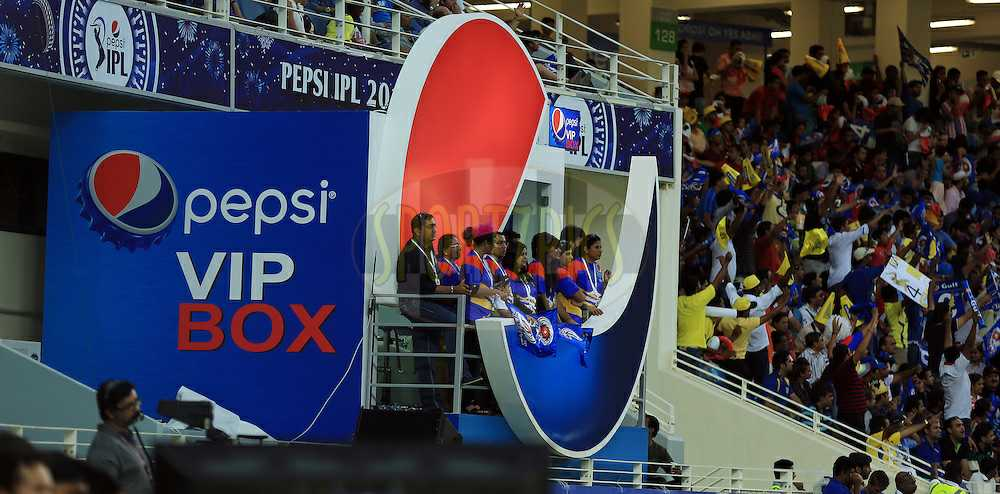 Source: Sportsbiz
It has ventured into the world of sports, endorsing notable sports figures like Lionel Messi to Paul Pogba, other groups, and events including the National Basketball Association and the UEFA Champions League (including USA Basketball, NBA Development League, and WNBA). Pepsi and India's Board of Control for Cricket collaborated in 2016.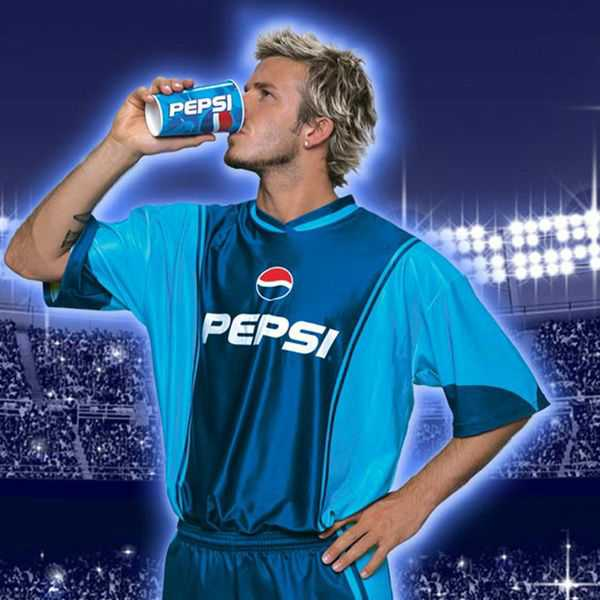 Social Media
Just like Coca-Cola, social media promotion for Pepsi is crucial. They use social media as a key distribution channel to get their brand content in front of the young generation.
They promote by hosting contests, marketing offers, sponsorships of events, alliances, etc.

To promote its product as a beverage to go with food, the company routinely posts recipes.

The Pepsi marketing strategy is widely known for promoting using the hashtag strategy.

To contrast the advertising tone of voice, Pepsi uses friendly language to sound more human and engage its audience.
Easy Accessibility of Products
Another factor that promotes the global success of Pepsi products is that customers have easy access to its products.
Pepsi is a well-known global brand that sells more than a billion products per day and is present in 200+ nations.
It has implemented a tailored distribution strategy that is primarily focused on customer needs to offer this level of simple accessibility to its target market. It also has vending machines set up in some places.
Versatile Portfolio with Healthy Options
You can see that PepsiCo offers a variety of food and nutrition product lines in addition to a large range of beverages. Providing nutritionally adequate and healthy alternatives for health-conscious people who stir away from carbonated beverages.
For health-conscious people, the Pepsi diet and Zero-O-Sugar are available along with other fruit juices and green teas.
This is the main factor driving Pepsi's growth in comparison to its competitors.
Popular Pepsi Marketing Campaigns
Pepsi's marketing strategy is focused on its creative advertising. They are well recognised for emphasising on the Pepsi generation, sometimes called the new generation. They contain witty references, pop culture, and a variety of slogans over the years.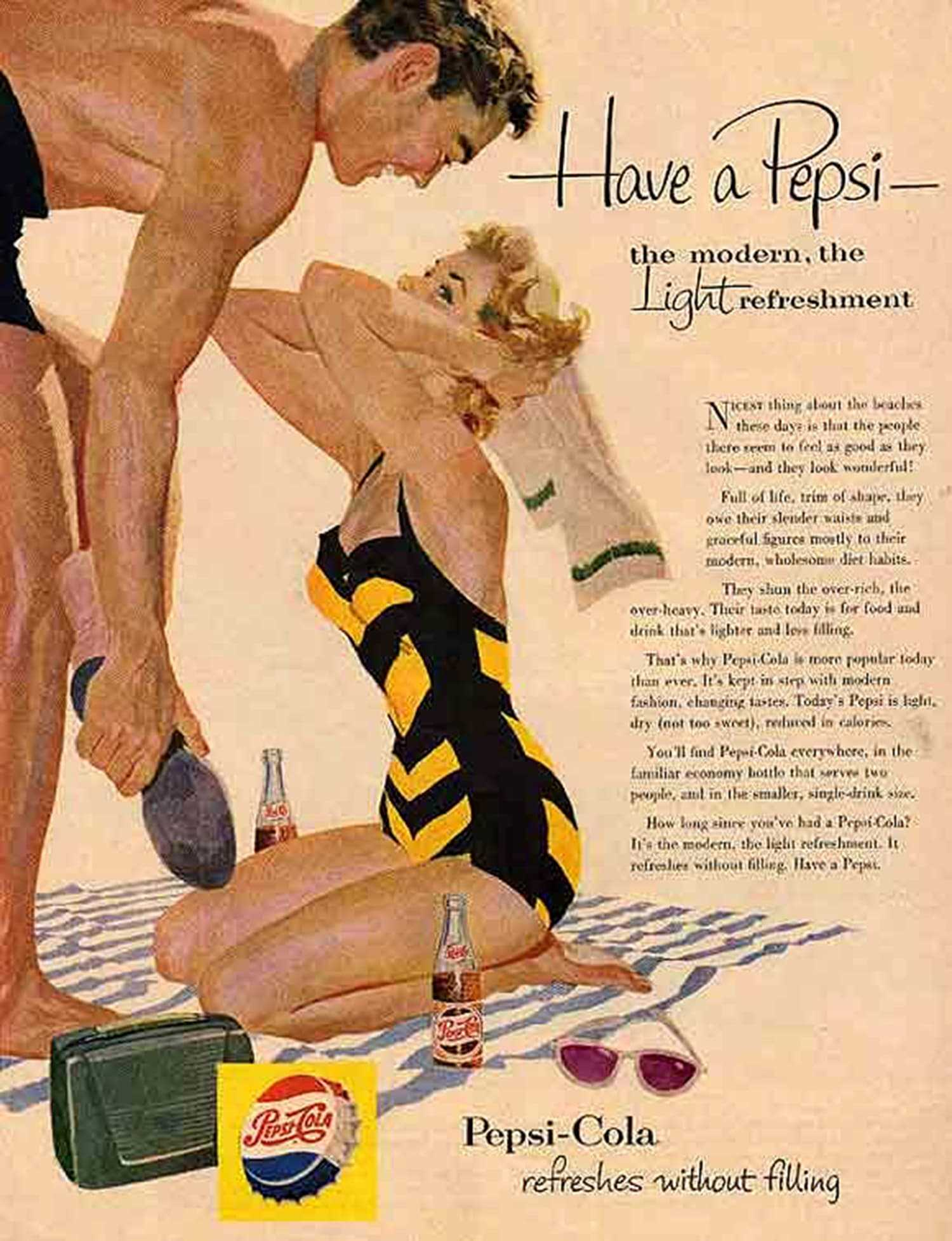 Source: Dawn
Here are the top 4 Pepsi Marketing campaigns:
The Pepsi Challenge
In 1975, Pepsi-Cola launched the Pepsi Challenge. It was more of a battle between Pepsi and Coca-Cola to see which coke brand the consumers favored.
To sum up the challenge: In shopping centers and other public settings, cola consumers received two coke bottles, one after the other, separated by crackers to clear their palates.
Source: Jameson Flink
The test's findings indicated that most Americans preferred Pepsi. As a result, Coca-Cola was driven to launch "New Coke." But the launch flopped.
New generation, 1984 — Michael Jackson
The 1984 commercial "The Choice of a New Generation" featured Michael Jackson, a pop sensation and the biggest performer of all time. After Michael Jackson joined Pepsi, sales climbed significantly. Indeed, the magic of the legend!
New Can 1992
Cindy Crawford exits a red Lamborghini in this promo wearing a white bathing suit and denim shorts, and she proceeds to a vending machine. As two little boys stare in awe, she takes a sip of the cool beverage. Amusingly, one of the children says, "Is that a fantastic new Pepsi can or what?"
Even while the advertisement first sparked good debate, it now seems like the conversation centres on how inappropriate it is.
This is an example of how marketing evolves with time!
Gladiator 2004
A commercial that featured the queens —Beyonce, Britney Spears and Pink. Dressed in armor singing "We Will Rock You" for emperor Enrique Iglesias.
Key Takeaways for Entrepreneurs
The Pepsi marketing strategy is a powerful resource for developing brand strategy. If you want to experience exponential growth in the beverage industry for your brand, you must apply these crucial lessons: try to get your audience's attention, don't underestimate your competitors, and invest in influence marketing.
Understand your target audience
Similar to how Pepsi appeals to young people by portraying a hip, modern image, you need to identify your target market. Having a target market makes it easier to offer products that target their unique problems and pain points. To do so start with customer development.
Keep an Eye on your competitors
Every business strives to be an industry leader in their field. That's why you must consequently keep an eye on what your competitors are doing. How well-functioning are their products? Do they lack anything that you can provide your customer with?
Make use of influencer marketing and celebrity endorsements
The degree to which Pepsi's marketing strategy relies on endorsement and influencer marketing is one factor that sticks out. Getting a celebrity to endorse your business will cost you a fortune, but if millions of customers witness a celebrity they respect using your products, the investment may be rewarded.
Although there have been ups and downs, Pepsi has worked to keep its place as one of the most recognisable beverage brands in the world. It exemplifies how, even if you're a marketing leader, things may still go wrong with your marketing strategy.
If you're building a consumer brand in the beverages space, we recommend checking marketing case studies for Redbull, Gatorade, and Monster energy to gain more insights into the marketing mix for this industry.