Monster Energy is the market leader in the premium energy drink and alternate beverages segment. In a monopolistic market with giants like Pepsi, Redbull, and other beverages, Monster Energy has managed to grab a 5.9% market share with USD 4.9 billion in revenues.
When in the red ocean market, a big-budget marketing strategy is an inevitable requirement to thrive. While Monster Beverage Corporation has managed to differentiate with its product benefit positioning, its efforts in building a strong brand identity have enabled it to compete in the market.
In this article, we will understand the Monster energy marketing strategy that has led to the creation of a global brand that can sell energy drinks worth USD 5.5 billion.
About Monster Energy Drinks
Monster Energy is a leading energy drinks and non-energy beverage brand founded in 1935 by Hubert Hansen. Coca-Cola company has a stake of 19.3% in the Monster Energy Corporation, a business strategy that probably helps it compete with PepsiCo's Gatorade. As of today, the company is run by Rodney Sacks as the CEO and released more than 30 products under the Monster energy brand.
This company has leveraged its partnership with Coca-Cola effectively for its distribution and manufacturing expertise.
Competing with its direct competitor Red Bull, the Monster company has developed a space for itself via an aggressive marketing strategy that involves many tactics like product sampling, content marketing, social media marketing, etc.
The marketing strategy of Monster Energy drink brands
Monster energy's marketing strategy is a good lesson in positioning strategy by being in a niche industry and aggressive demographic segmentation principles.
Overall, the company positions itself as an energy drinks brand that caters to those who love adventure, sports, and action.
Let us understand its marketing strategy further via 4P analysis:
Product
The Monster drink has developed 34 distinct products that help them capture a wide variety of target market apart from its core consumers of energy drinks. Its target audience includes people aged 18-34 who are looking forward to building an active lifestyle that includes exercise, extreme sports, enjoy gaming, or watching sporting events.
Monster Energy company's products are diversified and well-segmented as below examples -
Espresso Monster- a milk and coffee blend

Monster Ultra - for sugar-free Monster drink

Reign Total Body Fuel for fitness enthusiasts

Monster MAXX which tastes like fine champagne
Thus, Monster Beverage Corporation uses psychographic segmentation in deciding its product lines. As a result, Monster beverage caters to coffee, juices, sodas, tea, energy drinks, flavored drinks, etc. Such diversity helps them cater to consumers changing taste palette.
Even though it offers a wide variety of energy drinks and beyond, the company's marketing strategy and brand voice are manly with a target audience of bikers, sports enthusiasts, musicians, etc. It also provides exceptional tastes to its products to differentiate from other energy drink brands.
Pricing
As a part of its targeting strategies, Monster Energy is priced at a lower segment compared to other brands. Its competitor Red Bull is priced at a premium, while Monster drink uses a lower pricing strategy as a competitive advantage while providing similar products in the market.
Monster Energy drink also comes with more quantity in its can, where it offers 16 oz compared to 8 oz of Red Bull for the same price.
Such a pricing strategy is suitable for the targeting strategy of 18-35-year-old potential consumers where they may choose Monster brand to save costs.
Promotion
A core part of its marketing strategies involves using trait positioning so that it can promote the benefits of its products to a particular target audience. This is evident in its social media and the engaging content it creates that suits certain habits of its customer base.
Monster Energy has built a social media audience, with its Instagram having more than 8.2 million followers and 3+ million subscribers on YouTube.
A quick look into its posts depicts the efforts to build emotional connection via imagery of sports, adventure, danger, action, and chaos.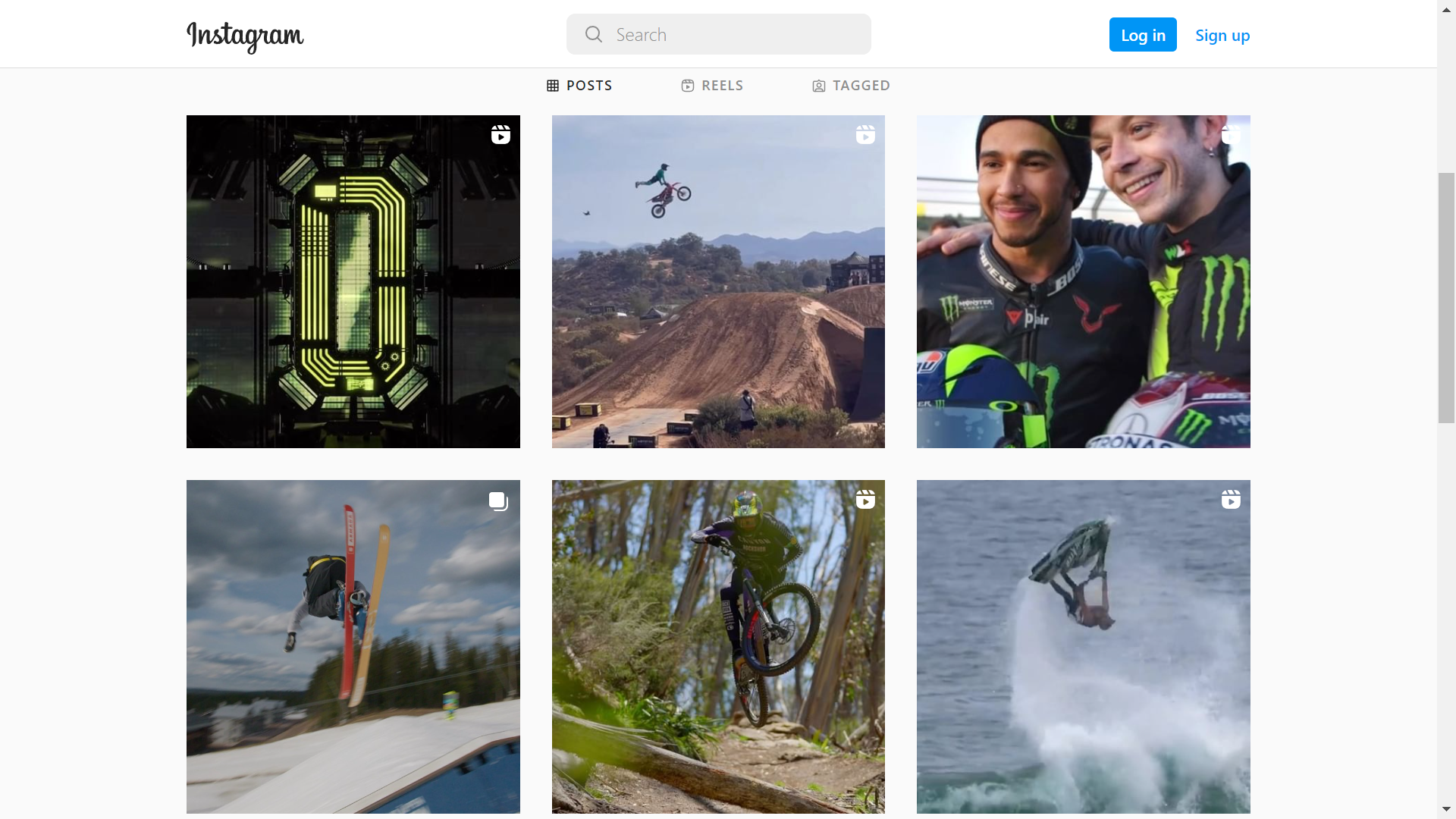 Other than this, Monster Beverage Corporation also actively invests in traditional marketing techniques like sponsoring sporting events and music festivals. A lot of product sampling is carried out in these music events and games that allow people to taste their products.
SEO strategies and content marketing also form a key to its overall digital marketing. It continuously creates engaging and informative content for its YouTube, Tik Tok, and strikes conversations on the rest of the social media platforms around topics like cars, bikes, films, interviews with experts, etc.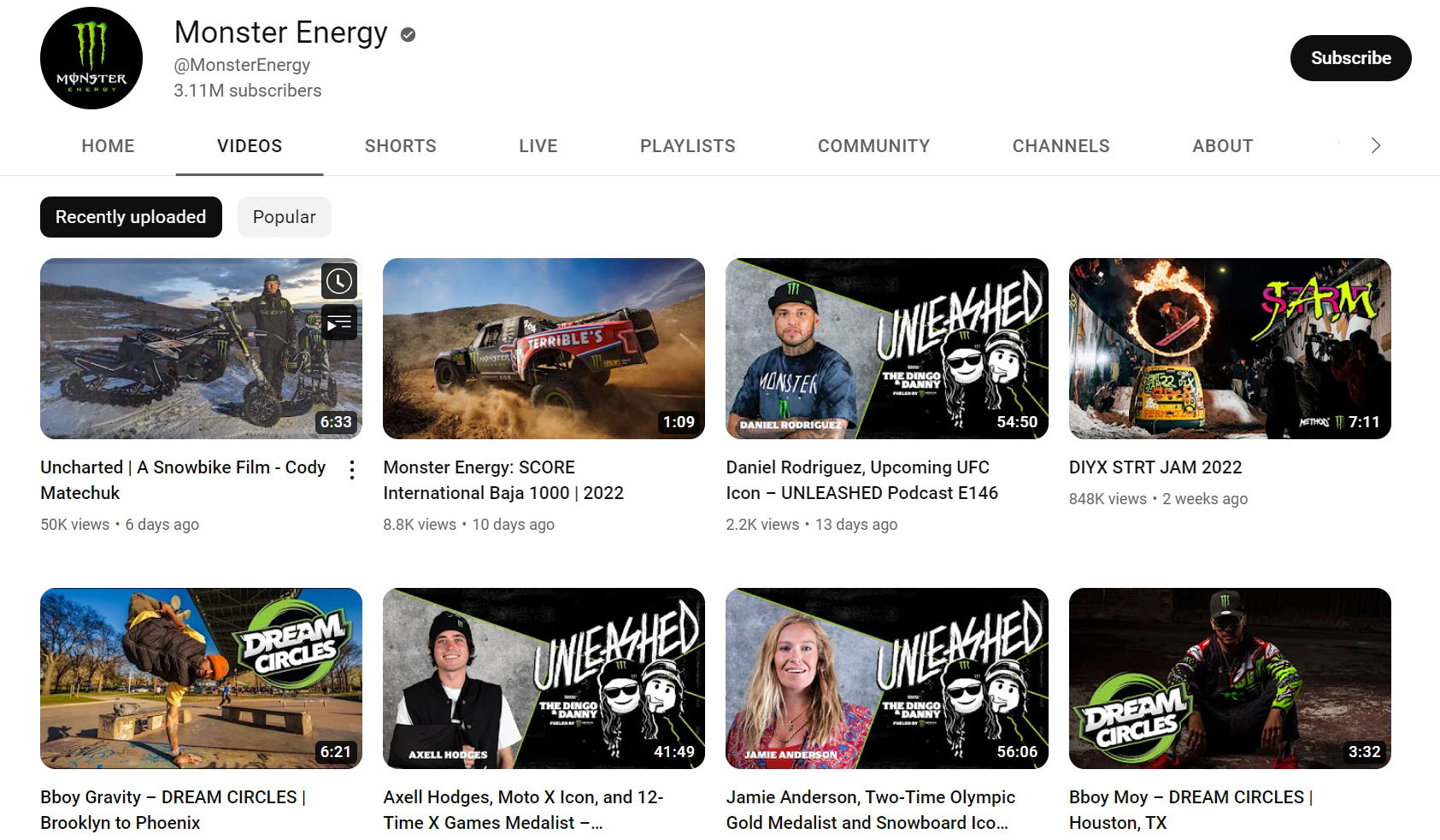 Many professional and amateur athletes get featured across its many influencer marketing campaigns and social media profiles to ride onto their popularity. Features of sportspersons such as interviews, doing commentator rounds post games, filming lives, or creating short documentaries on various adventure sports also help the company align as a part of its positioning strategies.
Some of its key influencers include Formula One driver Lewis Hamilton. The Monster Energy company partnered with him for releasing a sugar-free Monster drink.
Standing out with the packaging
Red Bull and Monster both have similar brand messages and target audiences, but Monster Energy tends to use more vibrant colors and loud designs in its overall branding to differentiate.
Darker colors like Black, Purple, and Red and brighter colors like Yellow, white, etc together create an eye-catching design that's easy to spot. The logo too is hard to miss and unique compared to other typical logo designs, which also made it viral.
These colors are also maintained across its other marketing mix including social media marketing and website design that uses a dark-mode-like color scheme.
Placement
Coca-Cola company helps Monster drink with its distribution strategy. This helps them penetrate the market in other countries very easily compared to other brands in this space. With such distribution support, Monster Energy can push its niche products to specific nations including the Middle East, South America, and Asia.
This partnership has resulted in ~29% of net sales in 2013 for the Monster Beverage Corporation.
The company also outsources the manufacturing of its products to third-party vendors and uses Coca-Cola resources for bottling and packaging.
Notable marketing campaigns by Monster energy drink brands
The Monster Energy marketing strategy involves the usage of the advertising campaign across both online platforms and offline media. Its complete marketing mix is designed to create an endless emotional engagement for its potential consumers to feel energetic, and excited and think about pushing limits.
Here are some notable marketing campaigns by Monster company:
OPERATION ULTRA ad
For the Indian audience, Monster Energy marketing strategy used localization to enter the Indian market. The company collaborated with Akbar and Babar Khan (India's popular stunt bikers), the Chaos Faktory parkour team for a Monster Ultra first can chase sequence.
The result is an engaging influencer marketing video that received 1.4 million views on YouTube.
The Monster Mule ad
Among its many ads, the Monster Mule advertisement has received 626k views as of writing this case study. The ad uses the cowboy culture to represent the company brand message with amazing cinematic shots and colors that complement the Monster brand.
Monster content marketing strategy
Monster Beverage does have a basic understanding of how to use content pillars across its content marketing. Considering the site gets 1.2 million visits with its top 5 nations being the US, UK, Poland, Japan, and Germany, Monster has invested in SEO strategies for an effective marketing mix.
Here are some insights from its website traffic analysis: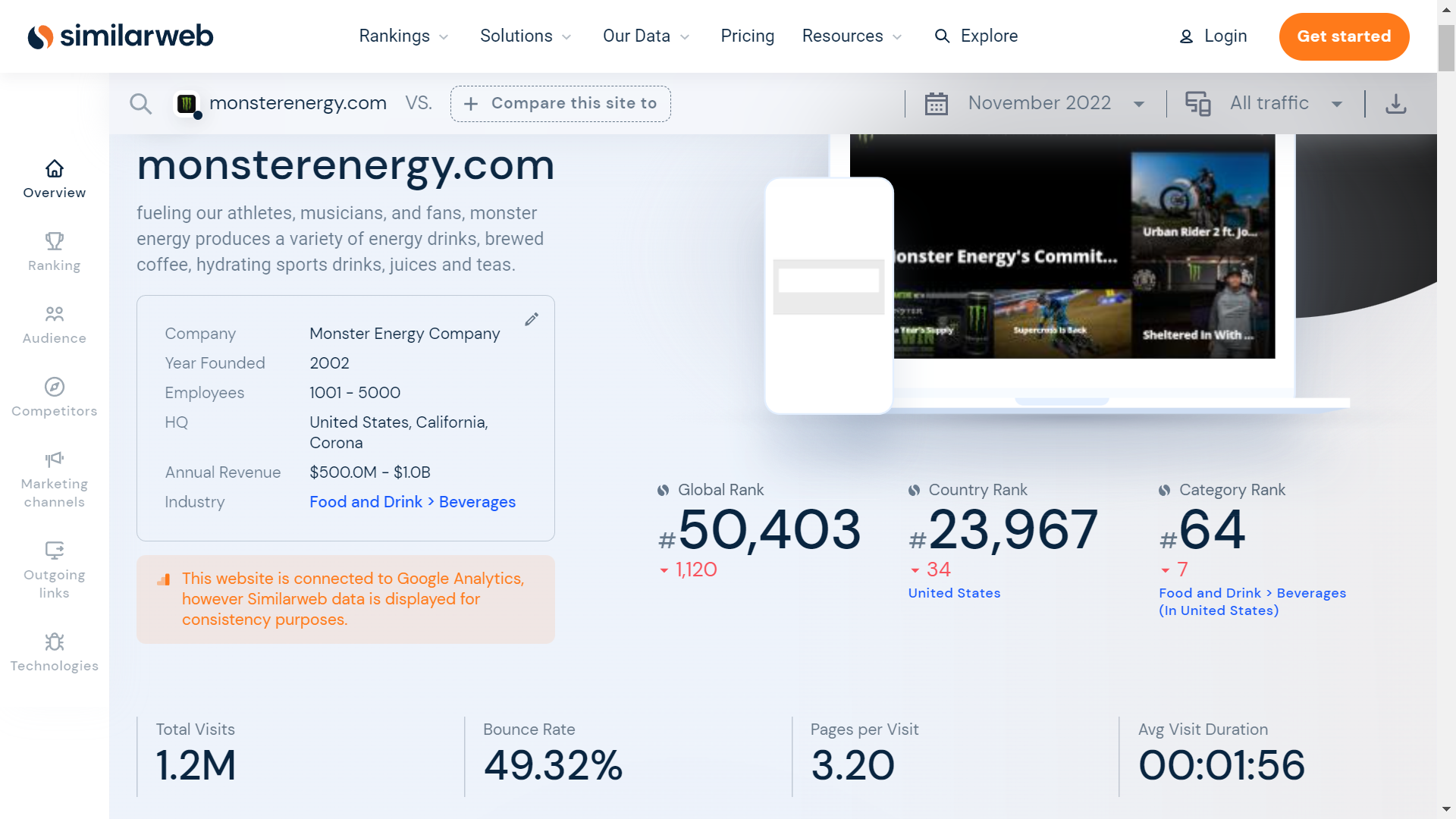 Further analysis shows more than 70% of its traffic is skewed toward men, which may be due to its association with extreme adventure sports.
A majority of this audience is aged from 18-35 years old, although 35-44 is also quite significant.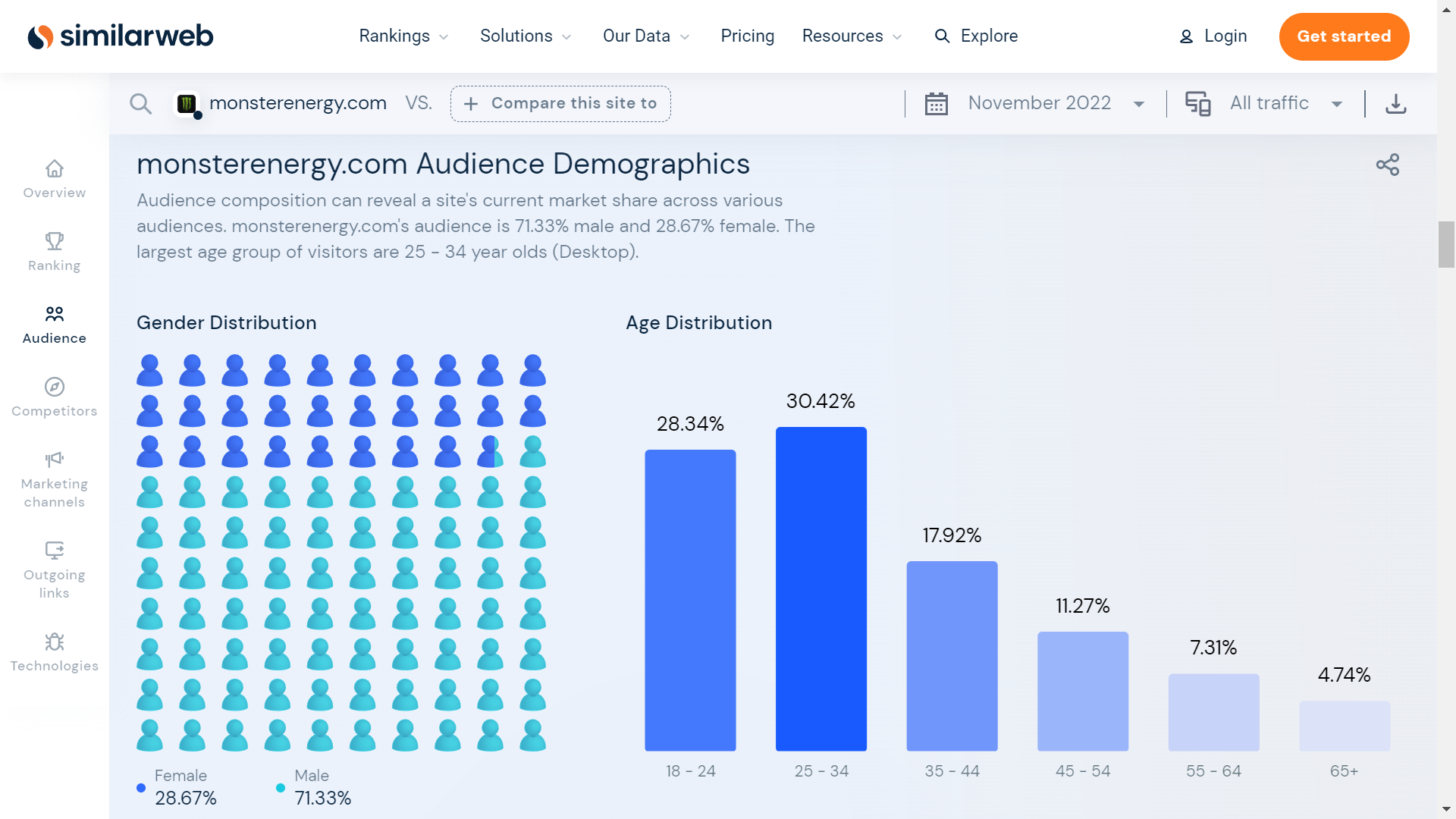 A great victory for the Monster brand is how most of its traffic comes from search and direct sources. Email Marketing, as expected for a retail brand, is not a core channel for its marketing.
A lot of this traffic is coming from its news page and dedicated content for music and gaming-related activities. The website covers blogs with many interviews, biking guides, sports news coverage, and other sports-related topics that would interest its target group.
Referral marketing also forms a significant chunk of its overall marketing mix. If you check its promotions page, there are many contests available that have sports festivals or music events tickets available for winning.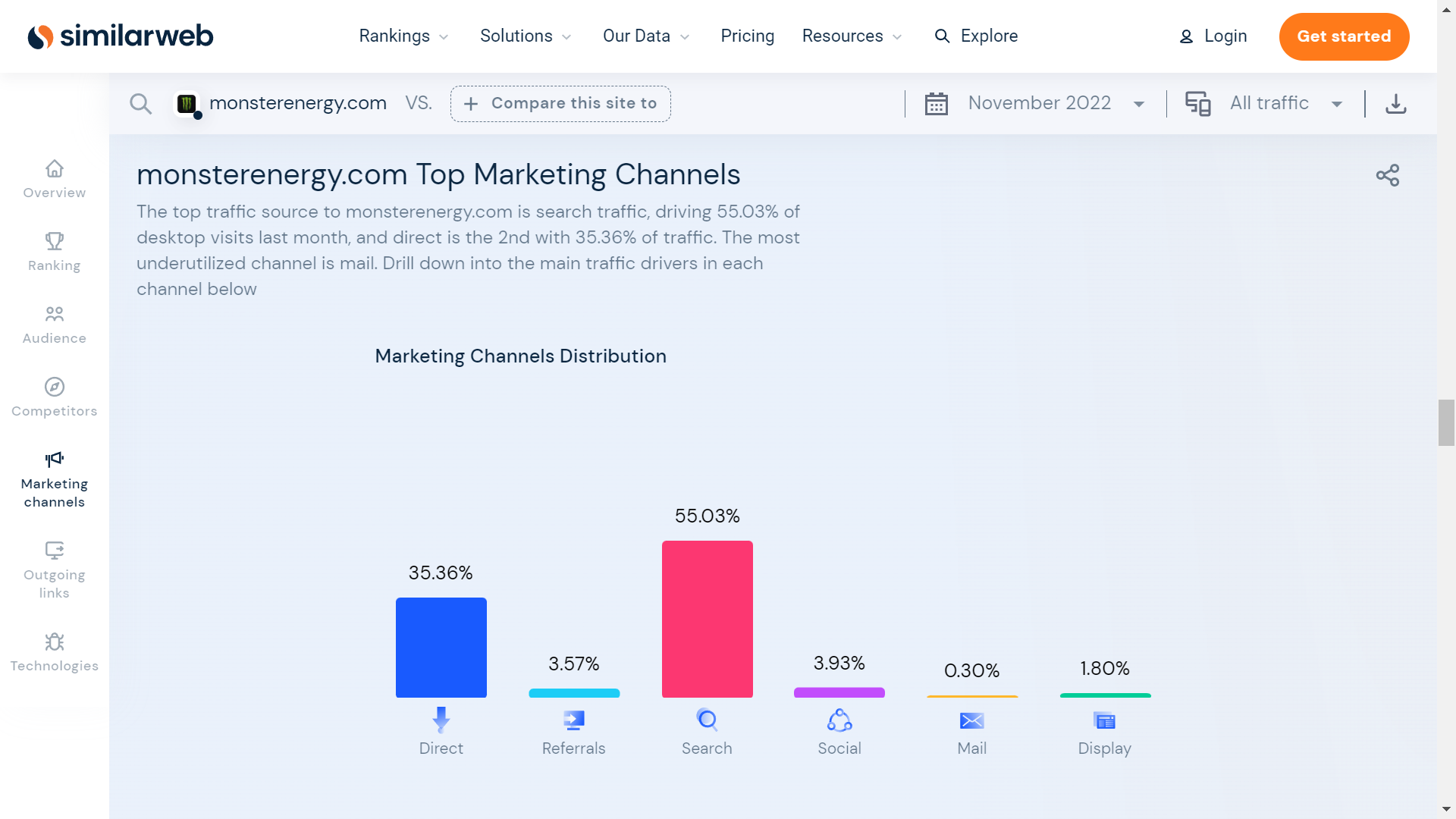 Key takeaways from Monster Marketing Strategy for entrepreneurs in the retail industry
The Monster beverage company is a great example of delegating via partnerships, using an aggressive content strategy for a retail business, and creating a brand that stands out.
As an entrepreneur, here are the key lessons you can use for building your own company in the consumer industry:
Learn to build a recognizable brand
Monster understood how its competitor Red Bull's imagery and the brand kit did not quite well fit into its targeting of a young and adventure-seeking audience. They filled the gap by taking risks with its logo, colors, and brand messaging that contributed to its virality.
Taking such risks led to many mocking Monster's brand-building practices, but those discussions did get them more eyeballs and media mentions.
Explore aggressive product sampling strategy
Monster beverage company conducted many product roadshows. It sponsors music events or festivals to primarily use them as a channel to push its products for sampling purposes. This makes your product more recognizable among potential customers and gives them a chance to use it.
If you have a good product, it will take off automatically via word of mouth.
Go broad in your niche
Monster is in a niche market of energy drinks. But its product line is very vast even within this small market segment. It covers coffee, juices, and sodas such that it makes it appealing to its customers by keeping it low in sugar and healthy.
It does not shy away from experimenting with flavors, but it ensures the products can align as one brand via its branding initiatives.
Overall, Monster Energy has successfully built its space in a crowded market of the beverages industry by starting with the niche of energy drinks.
If you are building a consumer brand, get more insights by reading our marketing strategy case studies for Gatorade, Pepsi, and McDonald's.