Southwest Airlines is a customer-oriented airline that takes pleasure in being low-priced and offering top-notch service to its passengers. But what particularly made Southwest Airlines one of the world's most well-known business operations and major airlines? Let's look more closely at the marketing strategy that helped Southwest Airlines achieve such incredible success.
How Southwest Airlines stood out from other low-cost carriers
Southwest Airlines was founded in 1966 by Herb Kelleher and Rollin King, as Air Southwest Co. In the early days, the company began flying between Houston, San Antonio, and Dallas Texas with a single Boeing 737 in 1971.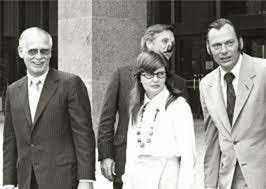 Source: Forbes
Southwest is a pioneer in the airline industry, emphasizing low operating costs and excellent customer experience to obtain high operational efficiency. The company pioneered the "point-to-point" service, which allows passengers to fly directly to their destination. They don't work by connecting through a hub and spoke model like most airlines which increases the turnaround time. Using it as a competitive advantage, it became a popular choice for travelers looking to avoid the hassle and delays associated with connecting flights.
Southwest now has a fleet of over 700 planes that it uses to fly to over 100 destinations in the United States, Mexico, and the Caribbean.
Despite the fierce competition from other low-cost carriers, Southwest Airlines is devoted to achieving a dominant market position in the US airline industry.
Major airlines competitors like American Airlines, Delta, Northwest, TWA, United Airlines, and U.S. Air tried to match Southwest's low-cost carrier model, but they were unable to do so without incurring significant losses.
The Southwest Airlines Marketing Mix
Here's a quick rundown of the marketing mix strategy of Southwest Airlines.
Product
As you browse their website or mobile app, you'll notice that they provide a large selection of products and company services to choose from.
Air travel
The cornerstone of Southwest airlines' offerings is flights. In addition to a small number of international locations in the Caribbean and Mexico, Southwest Airlines provides short distances flights to a significant number of local destinations.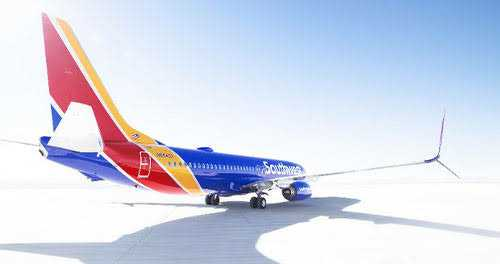 Source: Southwest Airlines
Southwest Vacations
For customers who want to avoid the headache of travel preparation, Southwest provides vacation packages that include lodging, transportation, and activities.
Rapid Rewards
Joining the Southwest rapid rewards entitles customers to benefits for using their airline. For every dollar they spend on travel-related expenses like lodging and rental vehicles, they could accumulate points that can be applied to future travel or other rewards.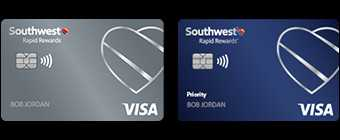 Source: Southwest Airlines
Gift cards
For customers who are unsure of what to get someone for a special occasion, Southwest offers gift cards that may be used to reserve flights, lodging, or rental cars.
Lodging and Vehicle rentals
Instead of just flying customers from point A to point B, Southwest wants to help them with every aspect of their travel preparation. Southwest offers the option to book hotels and rental cars via its website or app.
This makes planning their entire trip in one place easier. For instance, customers can book a flight to Las Vegas, a hotel room on the strip, and a rental car all at once.
Additional services
Additionally, Southwest Airlines provides its customers with several extra services, such as luggage handling, in-flight entertainment, and in-flight meals (on select flights).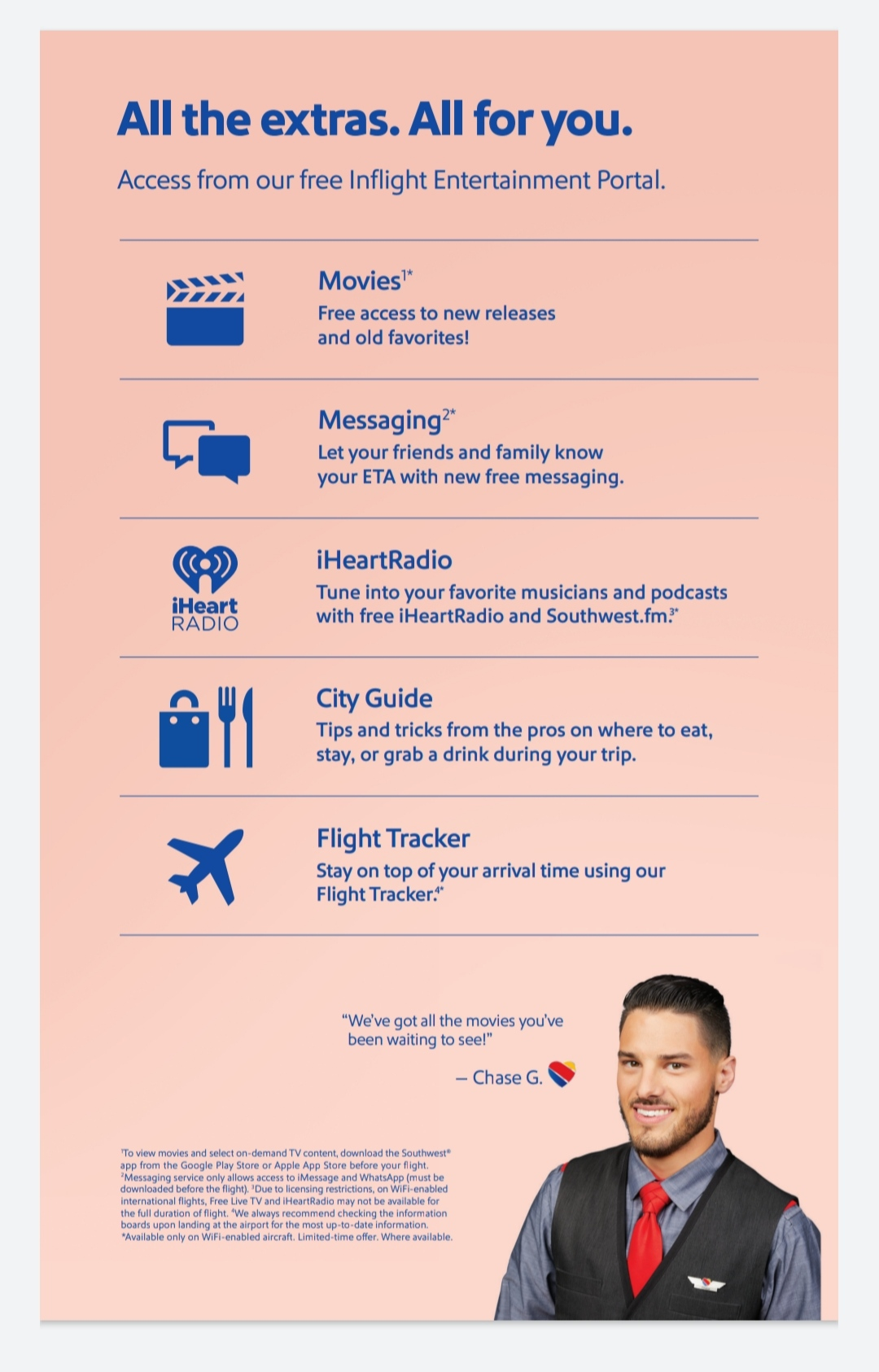 Source: Southwest Airlines
Price
The company's pricing strategy seeks to offer low-cost air travel while also delivering a top-notch customer feel. Southwest airline has a clearly defined business strategy that leverages short-haul, secondary airports, and point-to-point travel rather than a spoke model to reduce expense. Southwest Airlines tends to use a penetration pricing approach to successfully enter a new market.

Source: Southwest Airlines
"Wanna Get Away" fares
You will find lowest price customers on this Airlines offering. These rates are ideal for vacationers who are flexible with their plans and don't mind a few constraints. Although they do not typically offer refunds and do not permit changes or cancellations, they will get consumers where they need to go without breaking the bank.
"Anytime" fares
They give a little bit more freedom than the "Wanna Get Away" fares. If travelers cancel their reservation within 24 hours of making it, they will receive a refund for these rates. They are more expensive than "Wanna Get Away" airfares, but they are worthwhile if passengers desire the flexibility of itinerary changes.
"Business Select" fares
The most expensive price Southwest offers has a variety of benefits that will improve travelers' vacation experience. Consider requesting a free drink, priority boarding, and additional Rapid Rewards points. They are ideal for business travelers who want to arrive refreshed and revitalized at their destination.
Southwest Airlines also runs specials or promotions on travel to specific locations or times of year in addition to these price options. These promotions may entice potential customers while also enticing frequent flyers to book additional flights.
Promotion
To draw in new travelers and maintain the brand loyalty of their current ones, they use a variety of marketing techniques. Let's look at the strategy Southwest uses to attract customers and keep their loyal flyers coming back for more:
Advertising
We've all seen the smart promos and attention-grabbing ads that Southwest utilizes to attract viewers. Whether it's through TV advertising promoting low-cost flights or billboards highlighting the benefits of its Rapid Rewards loyalty program, Southwest knows how to make a statement.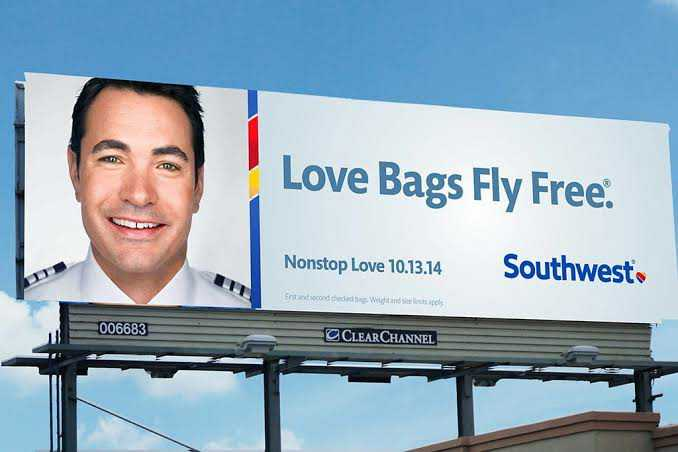 Source: Skift
Sales promotions
Southwest knows that everyone likes a good deal, so they frequently run promotions like cheap tickets, free checked bags, and double points for Rapid Rewards members.
Public relations
Instead of just selling them flights, Southwest wants to be a part of their customers' life. To build and maintain a positive reputation in the media and among the general public, they use public relations.
Southwest Airlines is always looking for new ways to interact with its consumers, whether it's via sponsoring events, working with nonprofits, or issuing press releases on new products and services.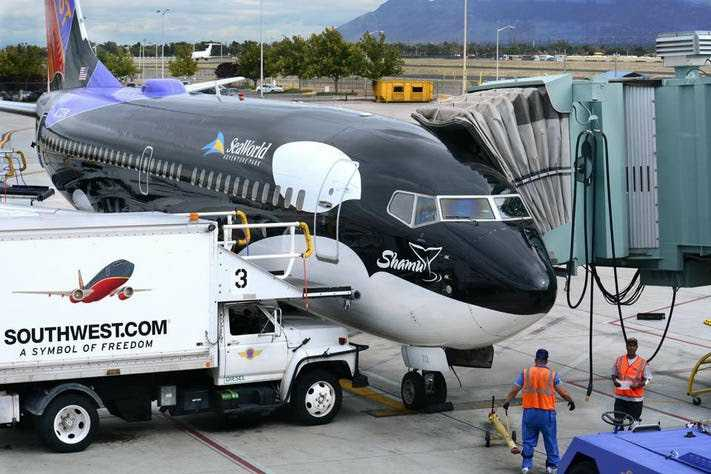 Source: Forbes
Southwest Airlines is the official major sponsor of several baseball league teams, including the Texas Rangers, Baltimore Orioles, and San Diego Padres. The Houston Rockets, Orlando Magic, Phoenix Suns, and Indiana Pacers were among the NBA teams it sponsored as its main partners.
Direct marketing
Southwest Airlines employs customized email marketing and commercials to get in touch with specific demographic groups and persuade individuals to book flights with the airline.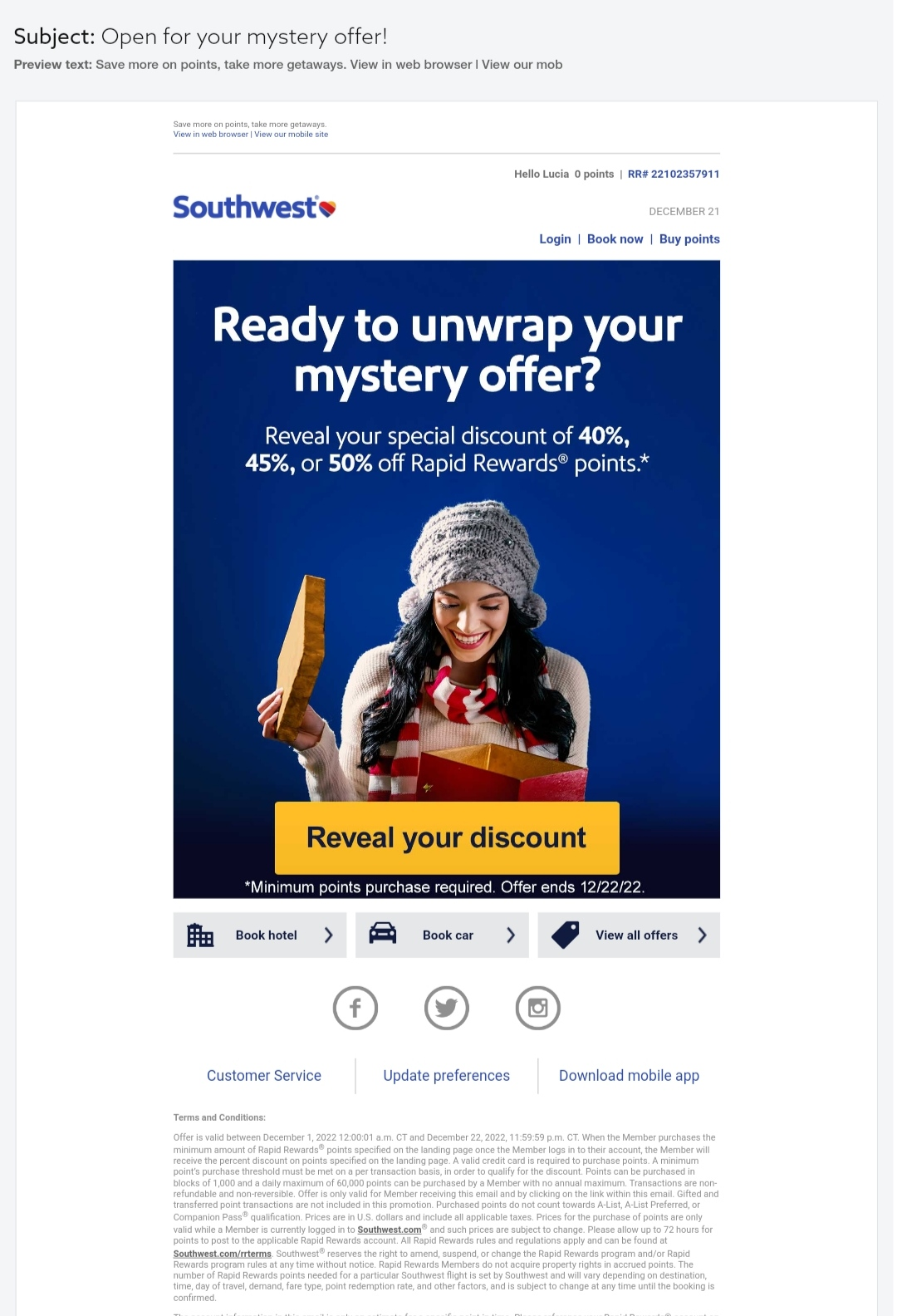 Source: Mailcharts
Southwest's promotion mix's overarching objective is to engage and keep their existing consumers while also luring new customers through a variety of channels. Whether it's through advertising, sales promotions, public relations, or personal selling, Southwest knows how to get the word out and persuade consumers to fly with them.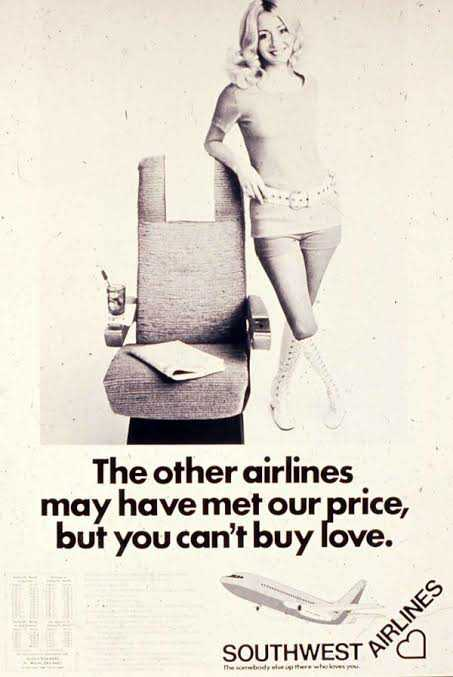 Source: Twitter
Placement
Travelers have a plethora of options available to them with Southwest Airlines. The several "roads" that comprise Southwest's place mix are as follows:
Domestic Flights
With services to both large and small communities, Southwest's domestic flight network largely covers the country. Southwest airline has flights that will take clients to New York City's lights, San Diego's white sand beaches, or Denver's snow-capped mountains.
International Flights
Southwest airlines may be best known for its domestic flights, but the airline also has a few foreign routes that go to well-liked locations like Cancun, Montego Bay, and Nassau.
Online Reservations
Southwest's user-friendly website and app allow consumers to book a flight whenever and wherever they choose. Additionally, the procedure is simple because of functions like mobile boarding cards and flexible booking.
Airport ticket counters and kiosks
For travelers who prefer to make their flight reservations in person Southwest airline has kiosks and ticket counters at the majority of major airports. Simply walk up to the kiosk, enter your information, and then depart.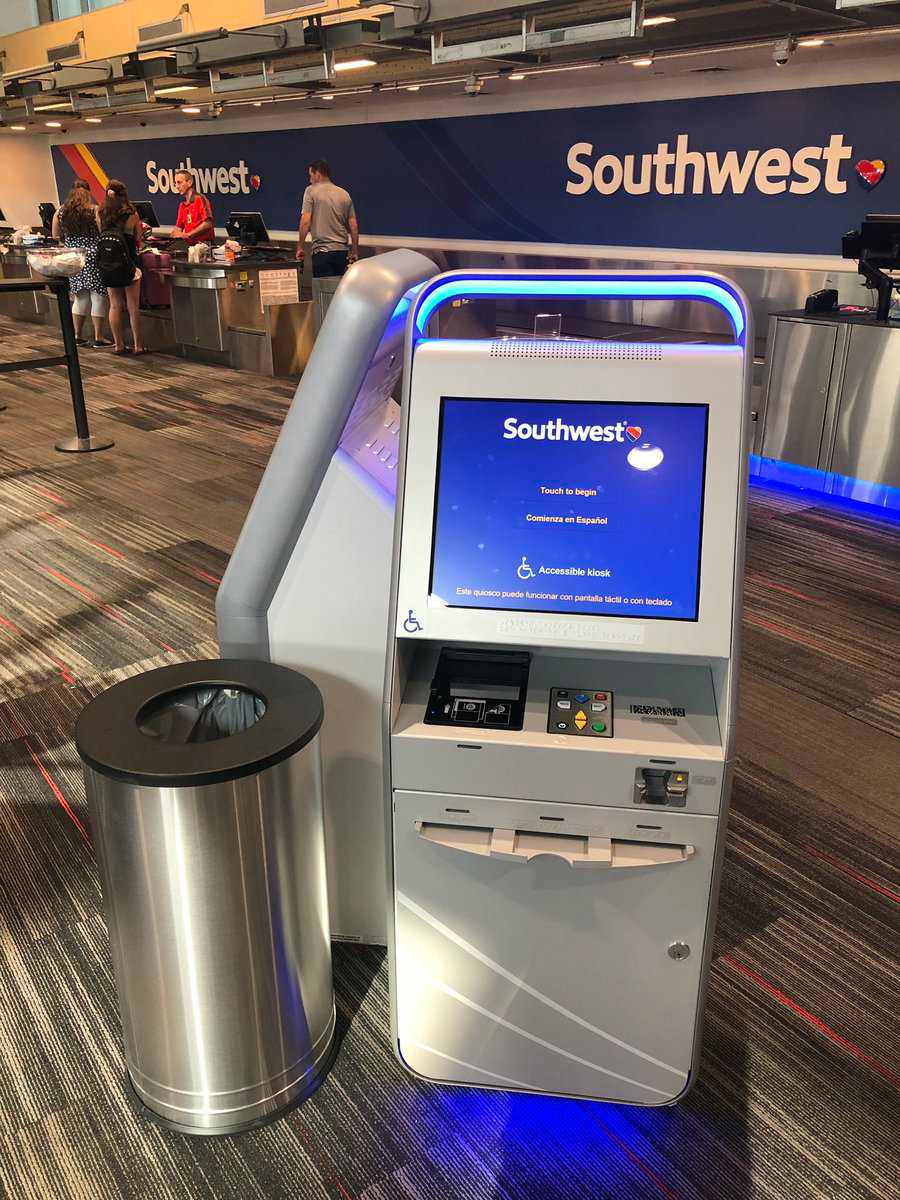 Source: Twitter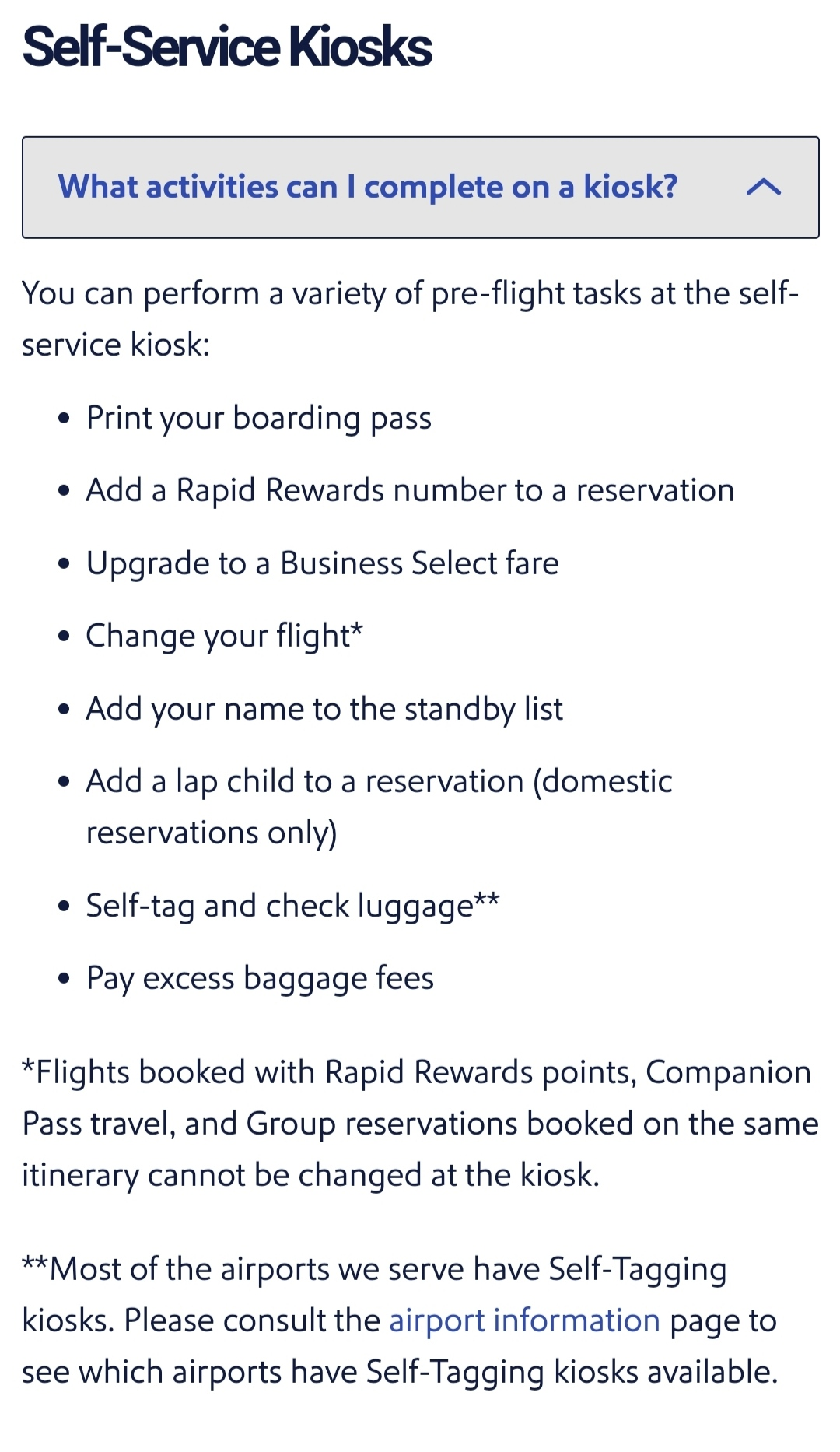 Southwest offers a variety of choices for booking and taking flights to all kinds of destinations, whether domestic or international, online or in person, or as part of a package, through its location marketing mix in general.
Notable Southwest Marketing Strategies
Let's take a quick look at the core values that influence the marketing strategy of Southwest.
Budget-Friendly Positioning
Southwest's marketing strategy revolves around accessibility. Despite its humble beginnings as a low-cost carriers serving only three Texas locations, Southwest has consistently positioned itself as a traveler-friendly alternative.
Southwest Airlines has attracted many customers who value convenience and dependability, as well as those who are concerned about costs because its prices are significantly lower than those of its competitors.
This brand has used catchphrases such as "Low prices. "Wanna Get Away? " and "Nothing to Hide?" to emphasize their point and demonstrate that all of their consumers can afford their fares.
Exceptional Customer Service
However, Southwest's marketing strategy places a strong focus on providing excellent customer service in addition to being the world's largest low cost carrier. The airline has worked hard to maintain its position as a leader in customer satisfaction.
The company has put in place several programs and efforts to guarantee that travelers have a wonderful experience when flying with the largest airline, and their employees are well-known for their upbeat and accommodating demeanor.
This airline brand has been successful in creating a devoted consumer base that keeps returning because of its efforts.
Key takeaways for entrepreneurs from the low-cost carriers strategy
If you want to be a low-cost carrier that stands out in a crowded airline industry, you can take a page from Southwest's strategy book.
Identify a clear target market and focus on meeting their needs
Targeting travelers on a tight budget, Southwest has constantly worked to suit their needs by providing low cost fares and a well-organized network of routes. To achieve this, a point-to-point route network that does not employ hub airports for connecting passengers must be run, and a variety of ticket options must be made available to fulfill the various needs of a wide range of travelers.
Build a strong brand reputation
Southwest has built a strong reputation for providing a friendly and inviting travel experience, which has assisted in differentiating it from other airlines and fostering client loyalty. This entails consistently providing its clients with high-caliber customer service by training their employees and highlighting its pleasurable corporate culture through its marketing campaigns.
Leverage partnerships to reach a wider audience and offer additional value
This airline brand has partnered with several businesses to provide additional travel-related benefits and savings to its consumers, including hotels, rental car agencies, and credit card companies. This helps to raise the overall market share, and value of its offering and attract a wider audience through the marketing efforts of its partners.
Use social media tools to engage with consumers and promote special offers
Southwest has a significant social media presence, using sites like Twitter and Instagram to interact with consumers, advertise exclusive deals, and offer advice and information about traveling. This enables the airline to maintain a more personal and engaging connection with its consumers while keeping them updated on new specials and bargains.
Offer a loyalty program to reward and retain loyal customers
With Southwest's Rapid Rewards program, loyal passengers who reserve flights, accommodations, and other travel-related services receive points. This encourages repeat business by rewarding consumers for their loyalty and giving them incentives to keep booking their vacations with this airline.
With their marketing strategy, Southwest Airlines knows how to soar above the competition and keep their devoted consumers coming back for more. They do this by providing low fares and excellent customer service. Their standing as a top option for air travel is further cemented by the loyalty program they have in place to reward frequent travelers. Southwest Airlines has become a leader in the US airline industry as a result of all of these combined efforts.
If you are building a business in the travel industry, do take a look at our marketing strategy case studies for Airbnb and SEO strategy for MakeMyTrip to learn more.