'Mood toh tabhi banega, jab Spotify chalega' literally translates to "the mood will be set when you start using Spotify!" Hasn't Spotify proved this through its music recommendations based on your listening history?
Spotify is a popular music streaming platform founded in 2006. Spotify is known for its use of algorithms to create personalized playlists for each and every user.
With a vast library of songs, podcasts, and other audio content, Spotify has become a go-to destination for music lovers around the world. Let's dive into how the Spotify marketing strategy helped it make it to the top.
A brief history of Spotify
Spotify is a digital music service with access to millions of songs. It was founded by two Swedish entrepreneurs, Daniel Ek and Martin Lorentzon. At the time, Ek was working as a software developer and Lorentzon was an experienced businessman.
The idea for Spotify came about when Ek realized that despite the existing music piracy practices, many people were still turning to illegal sources to do them. Immediately, he saw an opportunity to create a legitimate service without having to download pirated music files. Spotify's focus was also to offer the convenience that one would get through music piracy, but without the risk of virus and other issues.
Both its founders began developing the service in 2005 and launched it in Sweden in October 2008. They quickly gained a large following, and by the end of the year, they had over a million users. In 2011, Spotify expanded to the United States, and it has since become one of the most popular music streaming services in the world.
Today, it has over 345 million users in more than 100 countries.
What does Spotify believe in?
Spotify's mission is to "unlock the potential of human creativity."
Through its mission, Spotify encourages artists to be creative and innovative, alongside nurturing their opportunity to live off their art and passion.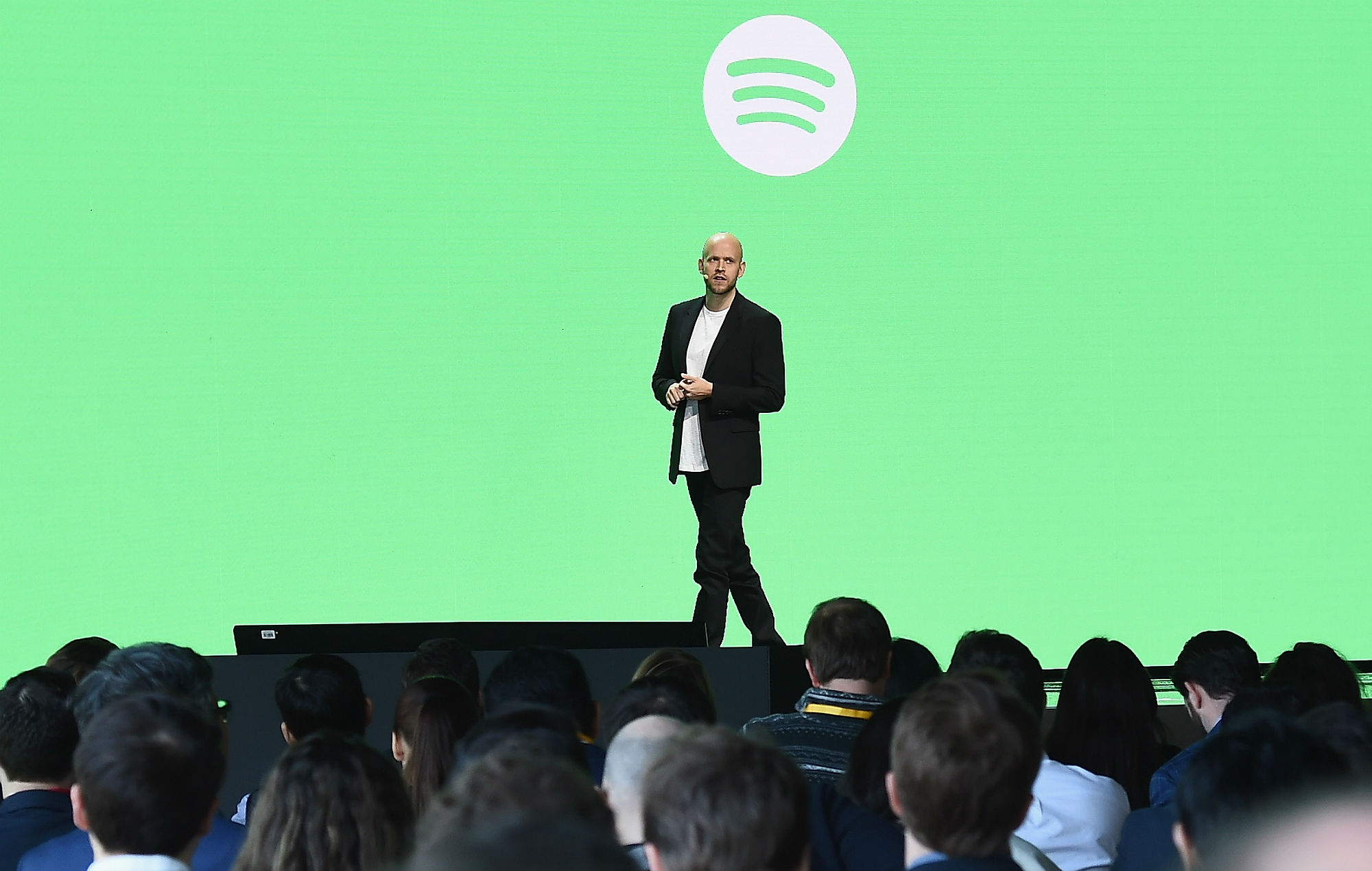 Source: NME
Spotify believes that music is a universal language that can bring people together and that it is responsible for using its platform to provide access to music for as many people as possible. This is outrightly spoken of in their vision "to be the world's go-to music service, available anytime, anywhere."
Finally, Spotify also strongly emphasizes transparency and buildds trust with its users.
How Spotify became a popular music streaming platform
Having launched in 2008, Spotify gained popularity in the European market initially before it expanded to the United States in 2011. One of the key factors in Spotify's early success was its focus on building partnerships with record labels and artists, which helped build a strong music library from the very beginning. The company's other smart move was to make it super easy for its users to discover new music through its algorithm.
In addition to setting up a strong music library and providing personalized playlists, Spotify also paid attention to building a user-friendly and providing a seamless listening experience across multiple devices.
The company has also made efforts to differentiate itself from its competitors by offering a freemium model with ad-supported listening and by offering exclusive content to its premium subscribers.
These factors have contributed to Spotify's success and positioning itself as a leading music streaming platform in the industry.
But what about Spotify's pricing strategy for profits?
Spotify offers a variety of subscription options for its music streaming service. The company has a free, ad-supported version of its service as well as several premium subscription options. The premium subscriptions offer ad-free listening, higher-quality audio, offline listening, and the ability to skip as many tracks as you like for a fee.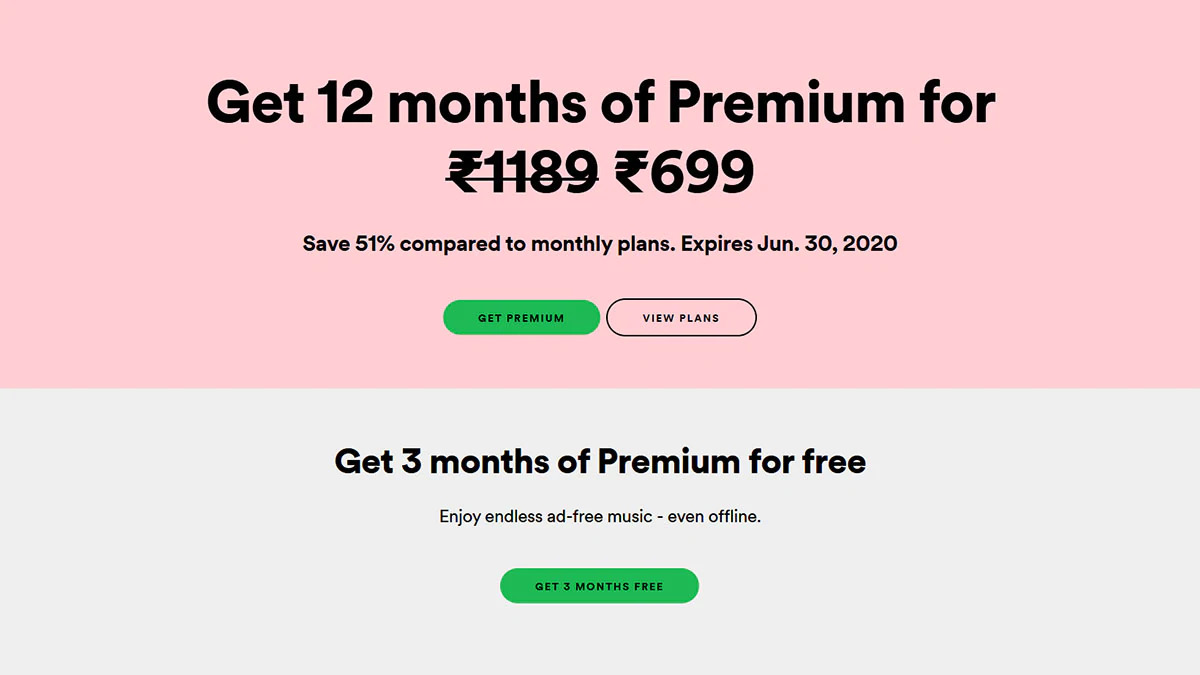 Source: Gadgets 360
It offers discounted rates for students and family plans and has also introduced a discounted plan for Spotify users in developing countries.
In addition to these individual and family subscriptions, Spotify also offers a Duo subscription. This subscription is designed for two people living in the same household.
So, what makes Spotify's business model and marketing strategies successful?
Spotify's business model is based on offering a music streaming service that is available on a variety of devices, including computers, smartphones, and tablets. Spotify's revenue stream is broadly through two means: a free, ad-supported service and a subscription-based service.
The company has made a number of partnerships and acquisitions that have helped it to expand its reach and improve its service. For example, Spotify has struck deals with major music labels and rights holders, which has helped it to secure a large and diverse music library.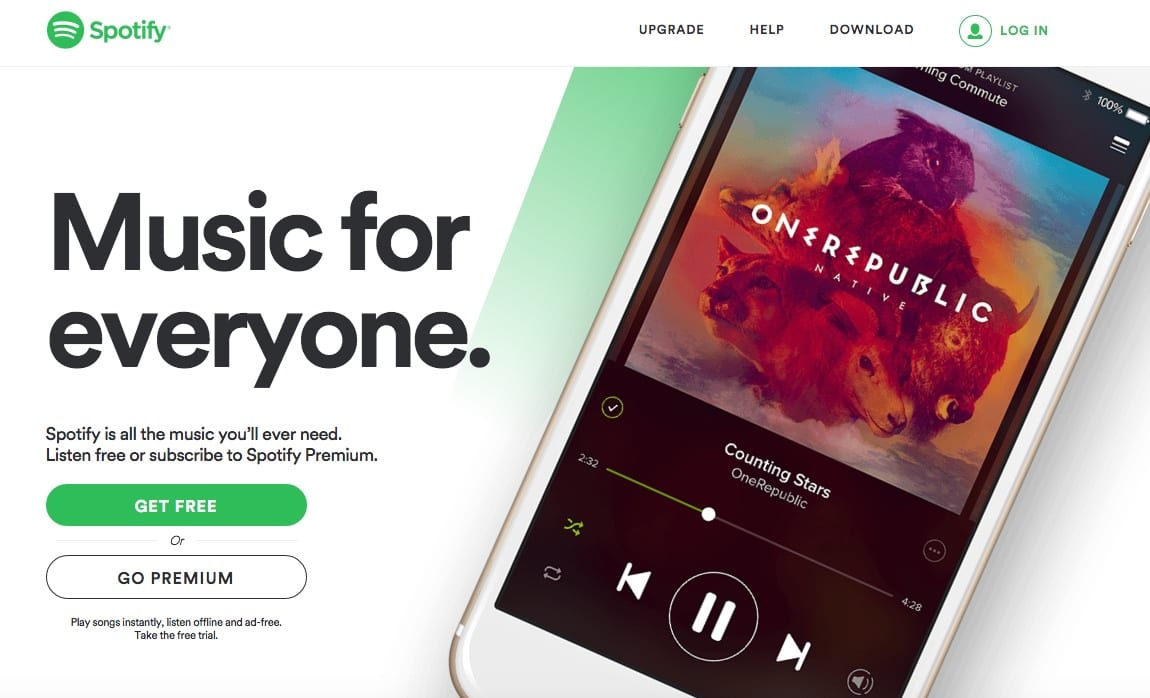 Source: Smart Insights
Spotify has also made a number of strategic acquisitions, including buying Gimlet Media and Anchor FM, which have helped it to expand into the podcasting space and become the podcast streaming market. This has allowed the company to diversify its content offerings and reach a wider target audience.
In terms of its marketing strategy, Spotify has used various tactics to set up its brand identity and attract new users. This has included digital marketing efforts including targeted advertising, social media trends, campaigns, and partnerships with artists and music festivals.
What is Spotify's marketing strategy?
Spotify focused on providing a high-quality service to its users, which has helped to drive word-of-mouth as a marketing strategy and create a loyal user base.
Beginning from one-to-one emails to catching the social media trends to other strategic partnerships, Spotify has nailed it all. There's no doubt that Spotify has knocked out the other market players and has a massive success story - but what exactly is the reason behind its successful marketing strategy? Let's take a look at the Spotify marketing mix:
Spotify's Promotion
One key element of Spotify's promotion strategy is its partnerships with music festivals, concert tours, and other live events. By aligning itself with popular music events, Spotify is able to reach a large and engaged target audience.
Another important aspect of Spotify's promotion strategy is its use of social media platforms, such as Facebook, Instagram, and Twitter, to connect with users and promote new features and content. The company also uses email as a personalized marketing tool to reach out to users and promote new releases and playlists.
Spotify also relies on word-of-mouth as a marketing strategy and encourages its users to share their favorite songs and playlists with their friends and followers on social media. This helps to expand the reach of the service and introduce it to new users.
In addition to these efforts, Spotify also invests in traditional advertising channels, such as TV, radio, and print, to establish its brand identity and reach new audiences.
Spotify's Product
Spotify's product strategy is simply centered on providing users with a seamless listening experience, irrespective of the devices on which they are listening in.
The company has strived to make its user experience and interface easy to navigate and intuitive, with features like personalized playlists, recommendations based on listening history, and the ability to share music with friends.
Another critical aspect of Spotify's product strategy is its emphasis on partnerships and integrations. The company has formed partnerships with a number of music labels, paying artists, music festivals, as well as other companies in the tech industry. This has helped Spotify to expand its reach and offer its users a wider variety of content.
Finally, Spotify has also focused on leveraging data and machine learning to improve its product offerings. For example, its usage of data to personalize recommendations and to help artists understand the Spotify listeners better.
Overall, Spotify's product strategy is geared towards providing users with an unparalleled music listening experience for any music lover. Thereby, it helped in building a strong community of music fans.
Spotify's Pricing Strategy
Spotify's pricing strategy has evolved over time. Currently, the company offers three main types of subscriptions:
Spotify Free: This is an ad-supported, freemium model of the service. Users can access a limited selection of songs and playlists, but they cannot choose specific songs or albums to play on demand. They will not be able to download music as well.

Spotify Premium: This is a paid subscription that costs $9.99 per month. With Premium, users can access the full range of songs and playlists on demand, without any ads, and even download music.

Spotify Family: This is a version of Premium that allows up to six family members to share one subscription for a discounted price of $14.99 per month.
Spotify's Placement
Spotify has a worldwide presence making it available all around the world through mobile apps, web players, PC/Mac desktop applications & other supported devices.
One can install and make use of the app through Google Play Store, App Store, or even the Spotify web player just with the help of an internet connection and a web browser.
Spotify's Iconic Marketing Campaigns
From the very start, Spotify penetrated the market of Millennials and Gen Z and deep-routed the impression of 'music for everyone.'
Let's explore some of Spotify's most creative marketing tactics that helped it make music as the universal language -
Thanks, 2016. It's Been Weird.
In December 2016, Spotify launched a campaign and featured a series of humorous ads that reflected the strange events of the year. The ads featured celebrities such as John Legend and J.K. Simmons and were widely shared on social media.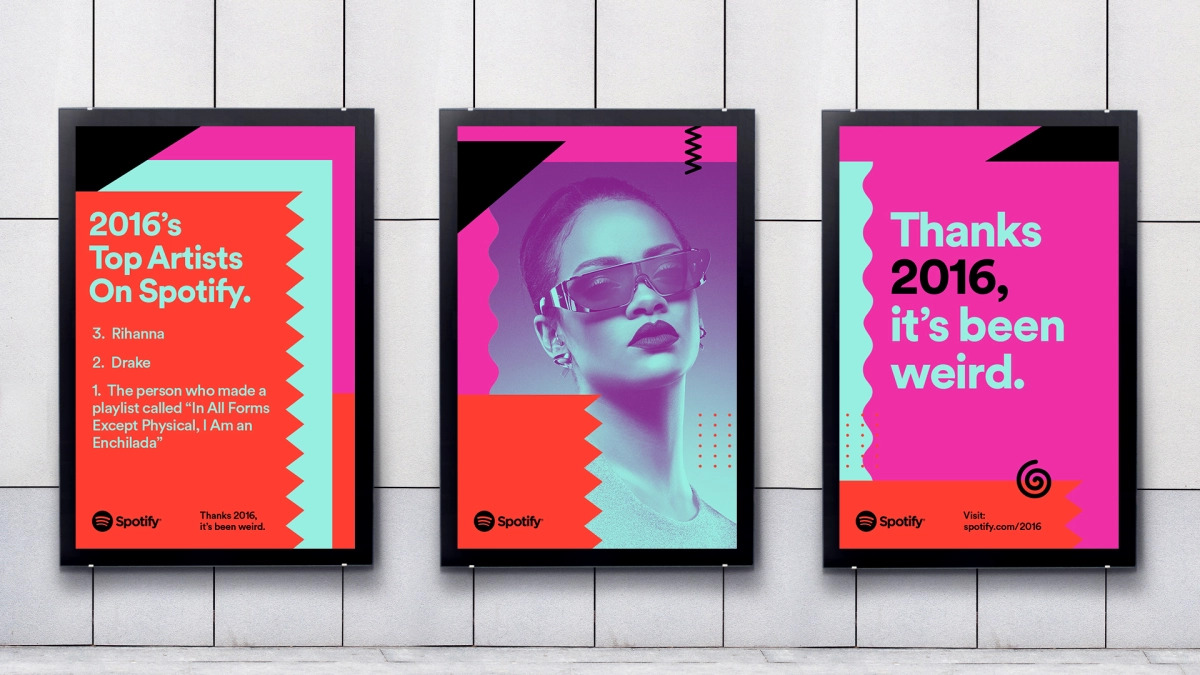 Source: Veto
Sounds of Summer
This campaign, which ran in the summer of 2018, featured a series of TV ads and social media posts that highlighted the most popular songs on Spotify during the summer months. The ads featured a mix of up-and-coming artists and established acts, and were designed to get people in the mood for summer.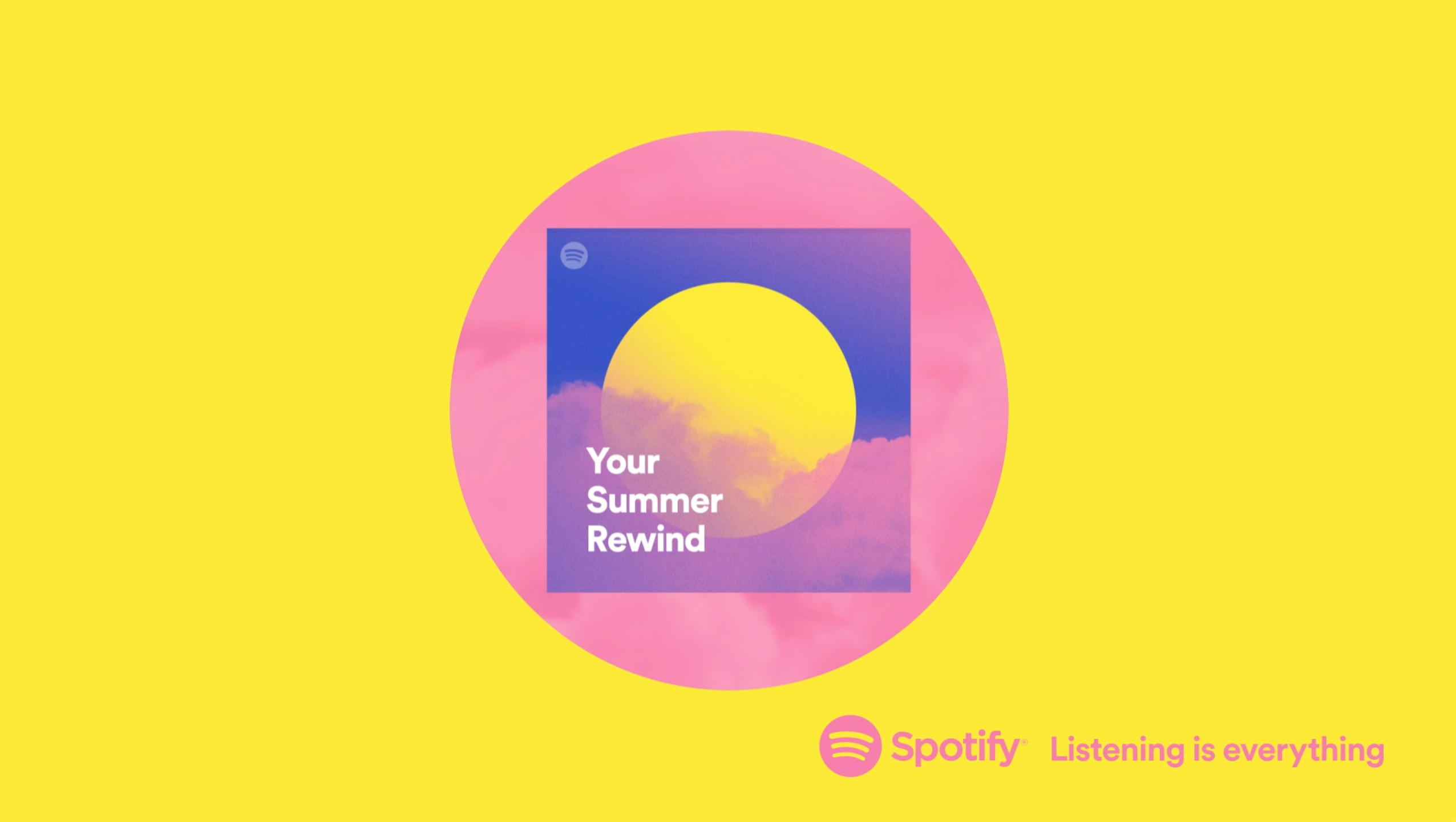 Source: Newsroom
Your Daily Drive
This campaign, which launched in 2019, focused on Spotify's "Daily Drive" playlist, which is designed to help people stay focused and motivated while driving. The ads featured real people sharing their stories about how the playlist has helped them stay focused and motivated on the road.

Source: PR Newsroom
I'm with the banned
Spotify always promoted creativity and the free flow of thoughts and it didn't shy away when it came to marketing campaigns.
In response to the travel ban implemented by the Trump administration in 2017, Spotify launched a campaign called "I'm With the Banned" to show support for affected artists. The campaign included a playlist of music from artists who were affected by the ban, as well as a series of social media posts and a statement from Spotify CEO Daniel Ek condemning the ban.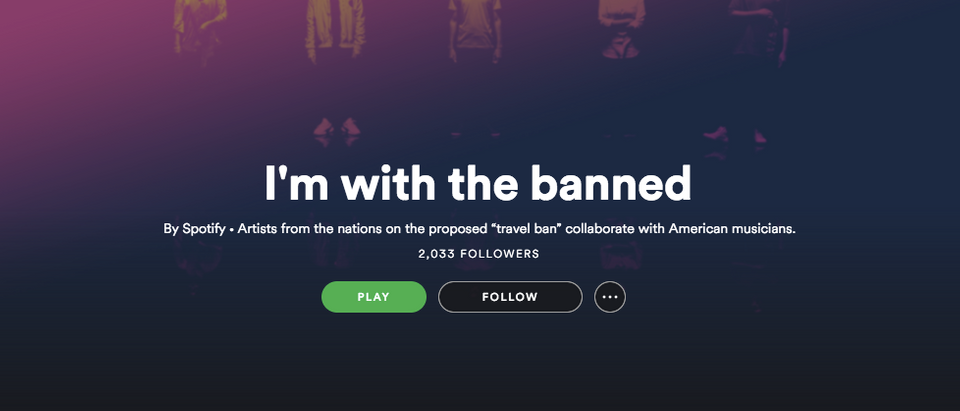 Source: The Daily Caller
Behind the Lyrics
In 2016, Spotify launched this campaign to provide users with additional information and context about the lyrics of their favorite songs. The 'Behind the Lyrics' feature was a popular addition to the app. This campaign positioned Spotify as the destination for music lovers who wanted to learn the meanings behind their favorite songs.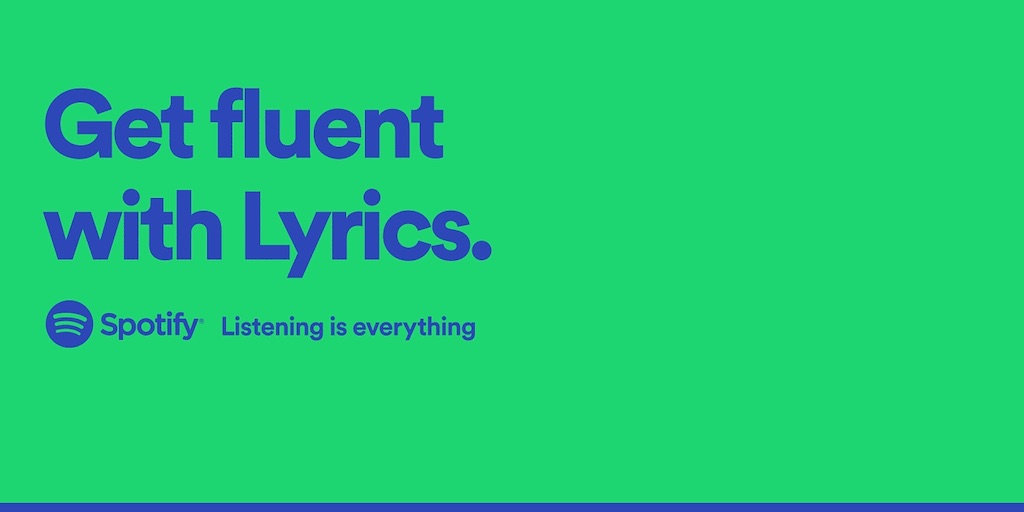 Source: Newsroom
How did Spotify outperform Apple music, YouTube music, and Amazon music?
Spotify has emerged as a dominant player in the music streaming industry, and there are a few reasons why the company has been able to outperform competitors like Apple Music, Amazon Music, and YouTube Music.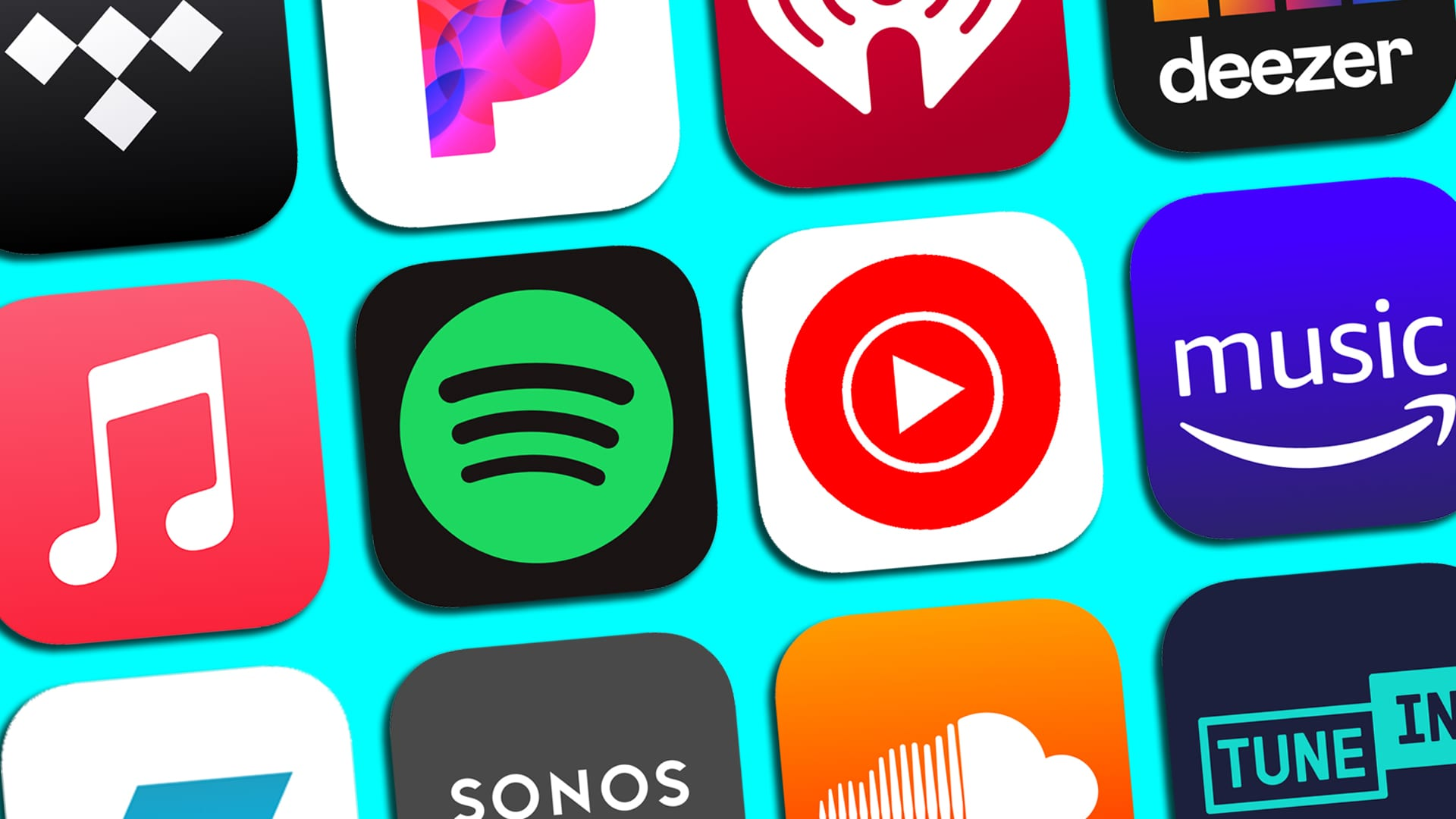 Source: Smartprix
One reason is that Spotify was one of the first companies to enter the music streaming market, and as a result, it has been able to build up a large user base over the years. This has given the company a strong foundation to continue growing and attracting new users.
Another reason is that Spotify has made a concerted effort to build partnerships and relationships with music labels, artists, and other industry stakeholders. This has allowed the company to secure exclusive rights to certain songs and albums, thereby helping it to differentiate its service from competitors in the music industry.
How Spotify's marketing strategy makes you listen to more music?
Spotify's marketing strategies are designed to attract and retain users by promoting the benefits of its music streaming service. Some of the ways how Spotify marketing strategy encouraged users to listen to more music include:
Personalized recommendations: The Spotify marketing strategy uses algorithms to suggest music to users based on their listening history and preferences. These recommendations can help users discover new artists and songs that they might not have found otherwise, in turn encouraging them to listen to more music.

Mood-based playlists: Spotify offers a wide range of curated playlists that are designed to fit different moods and situations. These playlists can help users discover new music that they might enjoy, and they make it easy to listen to music without having to spend time searching for specific songs or artists.

Music discovery features: Spotify provides features such as "Discover Weekly" and "Daily Mix," which are designed to help users discover new music based on their listening history. These features can help users find new music that they might enjoy, which can encourage them to listen to more music.

Source: Atlas VPN
Key Takeaways from Spotify for Entrepreneurs
For an aspiring entrepreneur who is all set to outshine in the music industry despite the giant names, here are some major takeaways from Spotify's marketing strategy and its business-
Having a clear vision and staying true to it: As an entrepreneur or a business leader, it is always important to have a clear vision and stay true to it by all means. Spotify absolutely made sure to provide an outstanding music experience to its users.
Continuously learn and adapt: In the rapidly changing business environment, it is vital for an entrepreneur to be willing to expand beyond one's horizon and adapt to the changing trends.
Creativity and innovation in driving business growth: Spotify was one of the first companies to popularize the music streaming model, which revolutionized the way people consume music and other forms of audio content. You should always be on the lookout for ways to innovate your business.
Maintaining relationships with customers: By consistently delivering high-quality products and services, Spotify has likely been able to build trust and satisfaction among its customers. Make sure to record your customers' feedback periodically use it to continuously improve the quality of your products and services.