Audio devices are highly personal such that their own form a part of one's personality. The Indian youth is no different, and many homegrown and international consumer electronics brands strategize to capture this third-largest smart personal audio market.
One such brand is boAt, which successfully launched in the Indian market in 2014 via an aggressive marketing strategy that is also its competitive advantage. Today, it is a success story such that it has captured 32% of the market share and is India's fastest-growing audio brand.
In this article, we break down the boAt marketing strategy and business model that teaches us how to stay relevant in a red ocean market.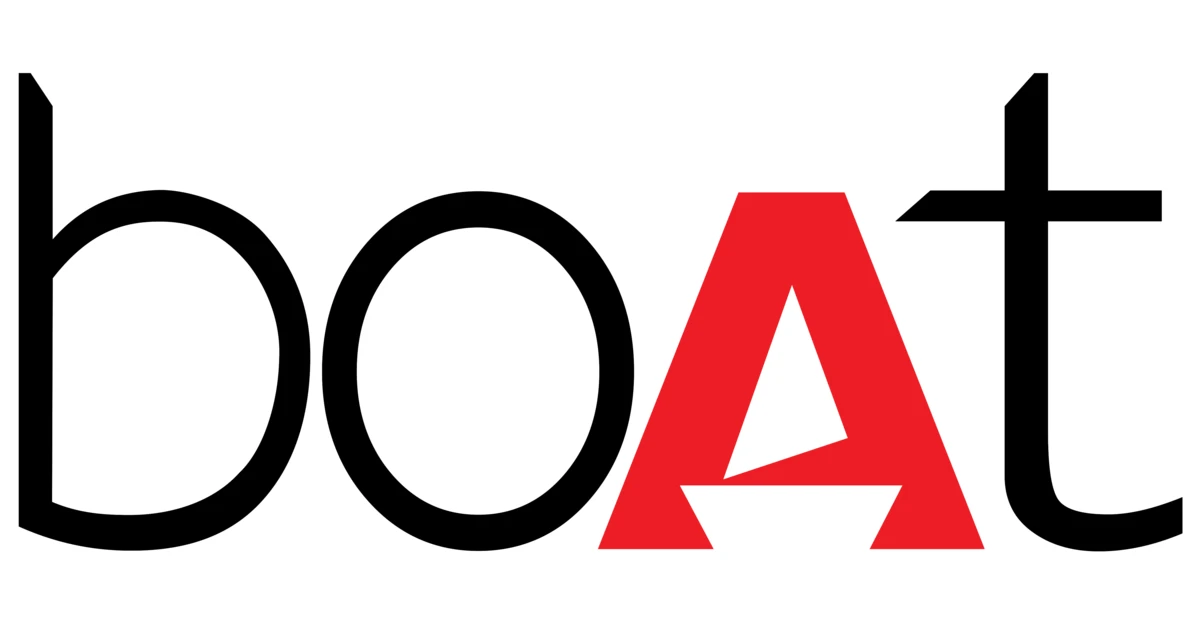 About BoAt consumer electronics company
Boat is a consumer electronics startup that brings millennials affordable, durable, and fashionable audio products and accessories.
The boAt story began when co-founders  Aman Gupta and Sameer Mehta, the owner of Redwood Interactive, saw an opportunity in the Indian market for affordable, good-quality audio products. Aman Gupta used to work as a CA and Assistant Manager at Citi Bank before he joined JBL in 2012.
In 2014, Aman Gupta launched boAt lifestyle when he teamed up with Sameer Sharma to sell unbreakable charging cables for iPhones. Due to his previous experience working for JBL, Aman was ambitious as he had a deeper understanding of the audio industry. Since there weren't any branded manufacturers at low pricing rates, and even if they were, they didn't provide good quality products, there was a HUGE  gap in the market.
Image source: Aman Gupta's Twitter
Since then, the company that began its success story from being a cable manufacturer has expanded its product range to include wireless headphones, wireless speakers, computer gaming peripherals, wireless or wired earphones, Bluetooth speakers, and other electronic gadgets.
BoAt's Investors
In 2018 Investors Kanwaljit Singh and Fireside Ventures invested a combined $600m into the company. They felt enthralled by the extraordinary service of the organization in identifying the right audience and maintaining an outstanding standard of quality products.
As mentioned in their blog, in 2021 Qualcomm ventures invested approximately 100m in the business at an estimated cost of Rs 2200m. Overall, The company now holds five investors.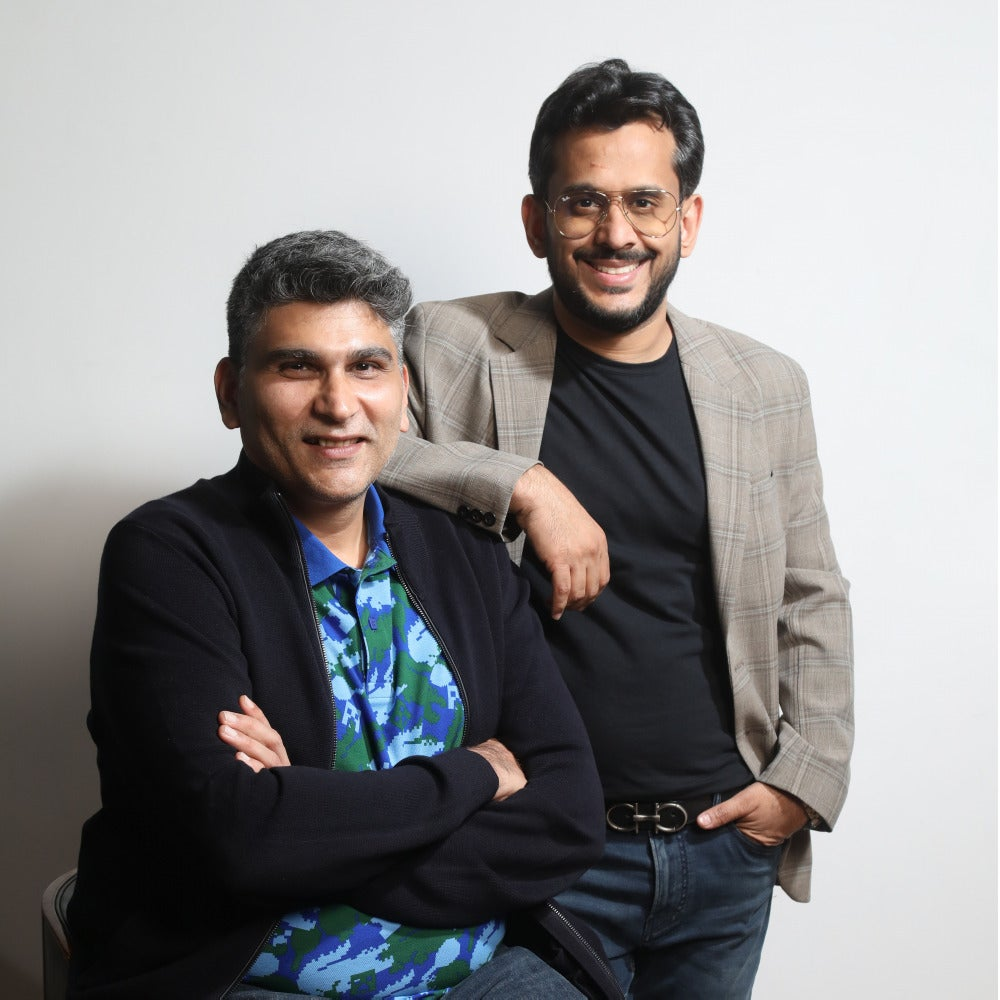 Image source: Entrepreneur India
Marketing strategies that helped lifestyle brand boAt succeed: The 4P's of marketing
When talking about boAt as a rising brand providing technical audio support, it's not just any ordinary audio support; it's high-quality, reliable audio that everyone can depend on. So, how does boAt market itself as a brand to ensure consumers understand this?
There are multiple marketing strategies adopted by boAt to become a leading brand in India's fastest-growing audio devices market - let's look at them with 4P analysis lens:
boAt products strategy
boAt started with only accessories, but today offers a wide range of audio products, including boat headphones, boat earphones, wireless speakers, wireless earbuds, home audio equipment, wireless earphones, etc. They have something for everyone, and is a market leader for consumer electronic products in affordable prices or high-end gear range.
Regarding sound quality, the boAt brand is known for delivering exceptional audio. This company aims to deliver products designed to provide an immersive listening experience, and they often use premium materials to ensure optimal sound quality.
Overall, boAt's products are well-made and offer great value for the price. This helps further boat marketing strategy as they can position good quality products at affordable rates compared to the competition in this category.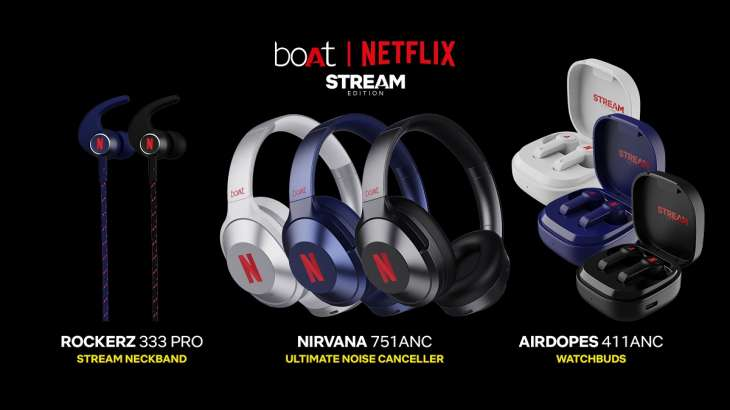 Image source: India TVNews
boAt's pricing strategy
The boAt pricing strategy is simple yet effective - they offer quality products at an affordable price. This has allowed them to become the biggest audio superstore in India.
boAt offers a wide range of products, from earphones and headphones to speakers and cases. Their prices are highly competitive, and they regularly offer discounts and promotions on their website. This makes them an attractive option for customers looking for quality audio products at a reasonable price.
BoAt Revenue and Marketing Performance
In both the initial years of business as an Indian startup, boAt lifestyle needed more funds. After Fireside ventured, boAt lifestyle has tripled its revenue. In December 2020, boAt became the fifth-biggest wearables brand in the world, overtaking Apple, Samsung, and Xiaomi in India. As reported by Forbes India, boAt's revenue stood at rupees 701 crores in FY20, and profits at rupees 49 crores.
In addition to selling 15,000 units every day within its three million+ online community, it partnered with six IPL teams this year and enlisted 14 brand ambassadors from Bollywood and cricket.
Furthermore, true wireless stereos were priced 48.6 percent cheaper year-on-year in the third quarter of this year, dropping to $57 on average. The market grew to 10 million units during this period, with boAt concentrating on the entry-level product range audio segment, thus finding a sweet spot in terms of pricing.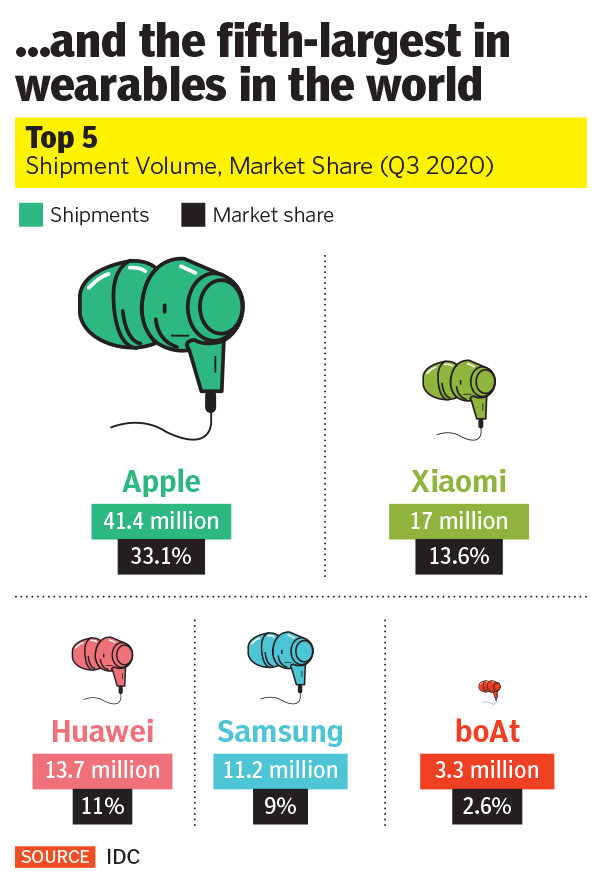 Image source: Forbes India
boAt's Distribution Channels
The boAT marketing strategy across its product distribution essentially follows a pronged approach when it comes to marketing - online- offline, and word of mouth.
for online digital marketing, the company invested heavily in search engine positioning so that they appear as the top result when users search for keywords related to their products.
Word-of-mouth marketing is also critical for boAT's success. They have leveraged their strong and loyal customer base to spread the word about their products via community-building initiatives. In addition, they've made sure to actively engage with their customers, especially on social media platforms. This has allowed them to get positive reviews which have further boosted sales.
Source: boAt Lifestyle website
All in all, the boAt marketing strategy of combining online, offline, and word-of-mouth tricks has helped them stand out from their competitors. Their focus on creating an omnichannel presence along with engaging customer relationships has enabled them to become one of India's most recognized brands in the audio equipment segment.
boAt's Promotion Strategy
To break into the audio market, boAt had to establish itself as one of the significant premium brands and invested heavily in digital marketing and influencer marketing to reach a wider audience.
boAt's digital campaigns included creating digital content for its target audience, advertising on major digital platforms like Instagram and YouTube, and engaging with online influencers to a brand development hype.
boAt collaborated with celebrities and content creators such as actors Ranbir Kapoor, Kartik Aaryan and influencers such as the YouTube sensation Prajakta Koli who could help spread the word about their fashionable audio products. This led to widespread brand visibility and an aura of exclusivity being created around BoAt products.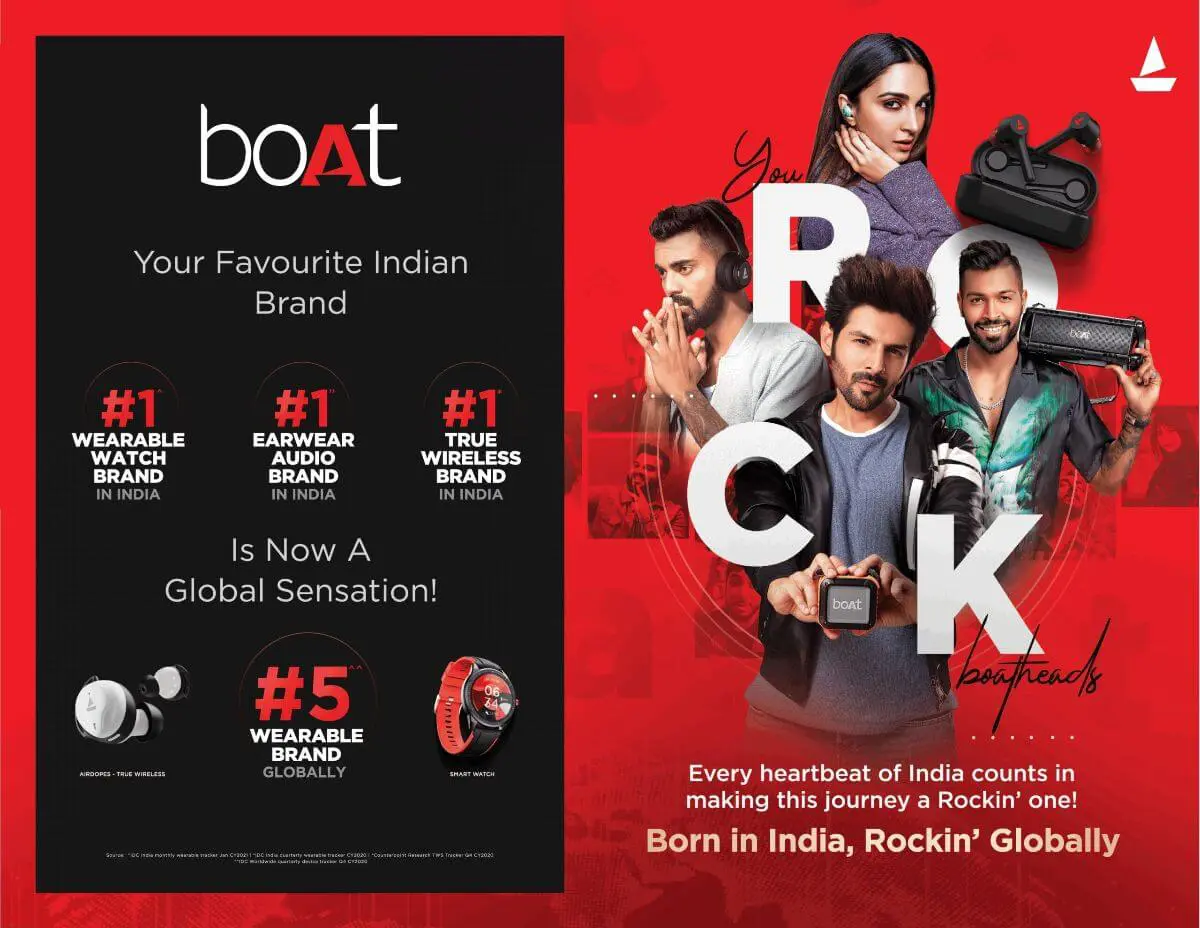 Let us look at various promotional marketing strategies adopted by the boAt brand:
Lifestyle Marketing strategy
To market itself as a lifestyle brand, India's leading audio support company, boAt made use of various marketing strategies.
Firstly, it utilized social media platforms such as Facebook and Instagram to reach its target audience. Through these platforms, boAt created a community of people who shared the same passion for the music industry and audio products.
For example their Marvel Collection was a special collection of earbuds, headphones, and speakers designed especially for Marvel fans. This collection features characters like Iron Man, Captain America, and Black Panther.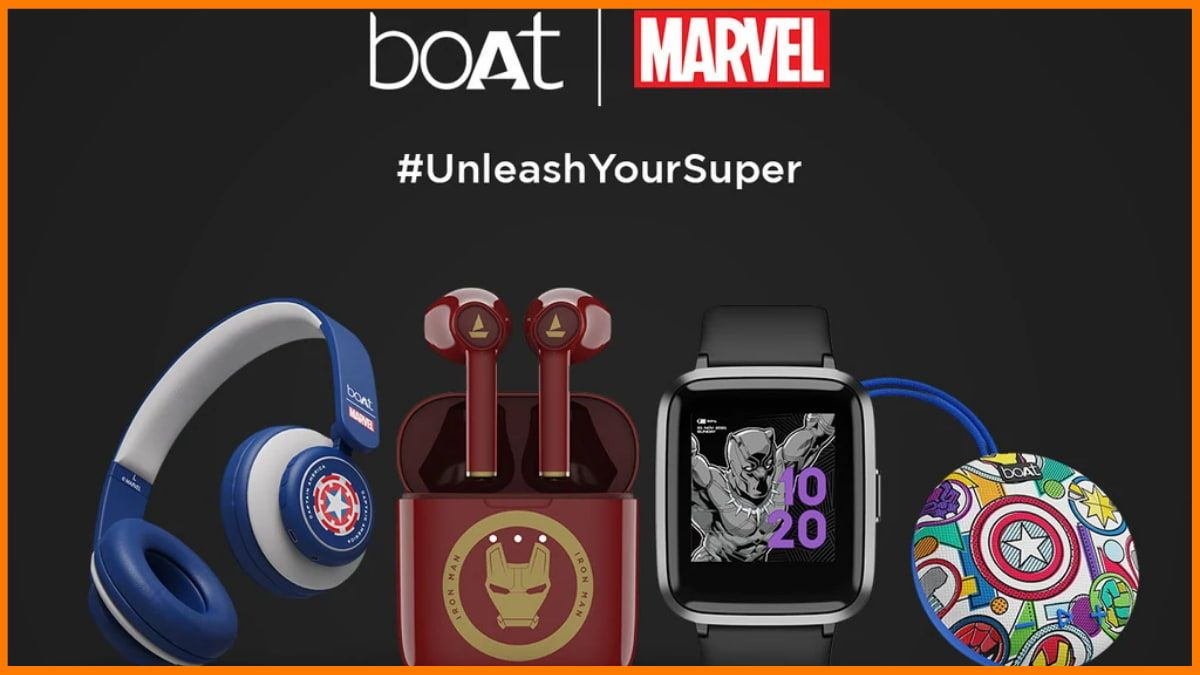 Images source: boAt lifestyle
Organizing events and meet-ups
Secondly, the company began organizing events and meet-ups where like-minded individuals could come together and share their love for music. This helped create a solid bond between the brand and its existing and potential customers.
Traditional marketing strategies
Finally, boAt also used traditional marketing channels such as television and print media to spread awareness about the brand. Overall, using a combination of online and offline marketing strategies, boAt successfully established itself as a lifestyle brand.
Personalized message strategy
For the boAt marketing strategy to win, the brand needed to focus on customer service. It did this by ensuring that its customers could get the best possible experience when using its products. They sent personalized messages via emails and SMS, created a customer care helpline, tailored warranty policies, and kept the customer in mind when designing new products.
Additionally, now Boat offers "Do what #floats your boat" pages on its very own website. They designed various digital marketing campaigns around this for building a stronger community. This allowed customers to get quick help and walkthroughs on using specific products or features according to their tastes.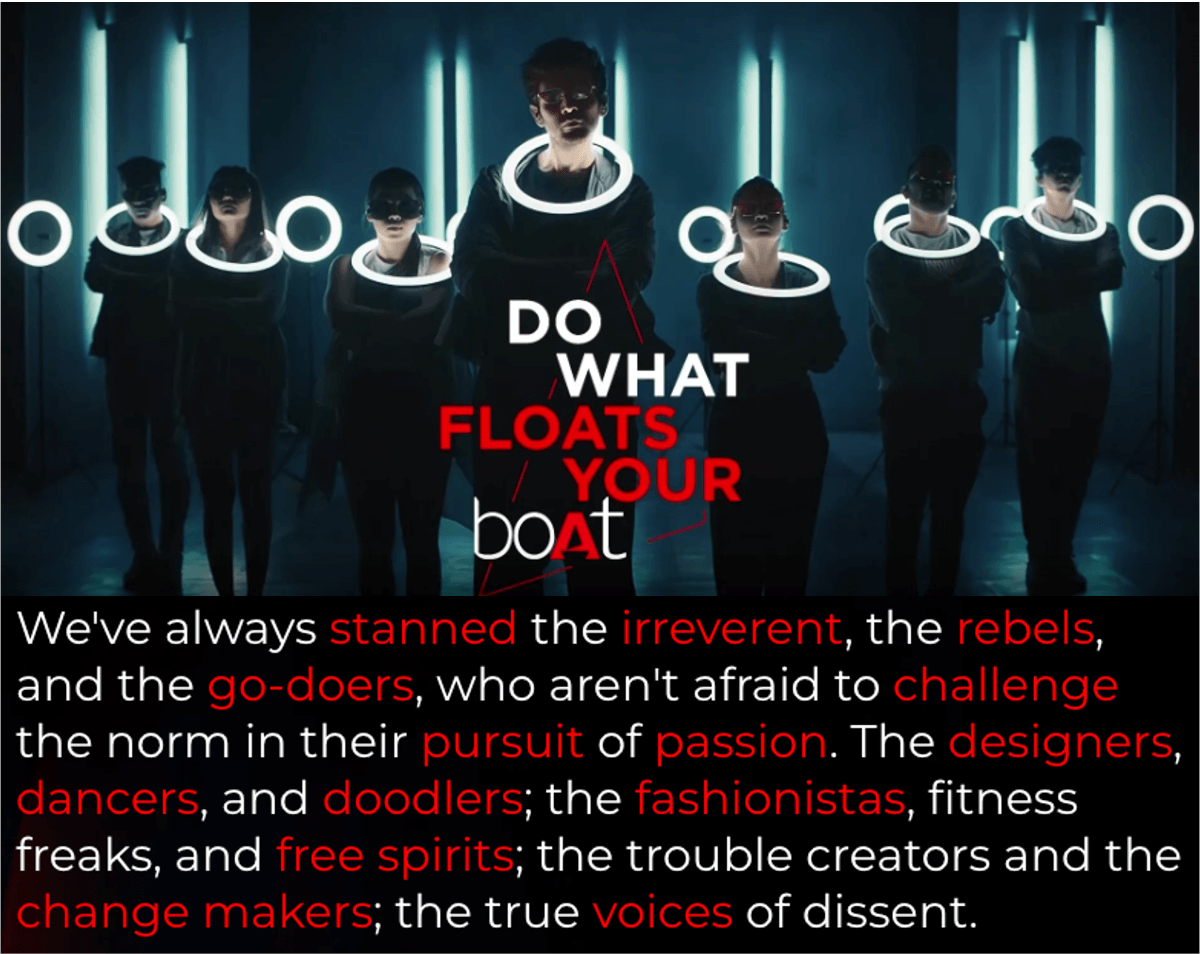 Image source: boAt lifestyle website
Apart from all this, the boAt co-founders, especially Aman Gupta has become very popular since his stint in Shark Tank India edition. He is publicly appreciated and loved, and his brand received a lot of publicity thanks to the show's popularity.
Noteworthy boAt Marketing Campaigns
The boAt marketing strategy is always on top for its digital marketing campaigns. They never fail when it comes to aggressive social media marketing campaigns that often include celebrity endorsements, social media influencer partnerships, and innovative marketing initiatives like community building.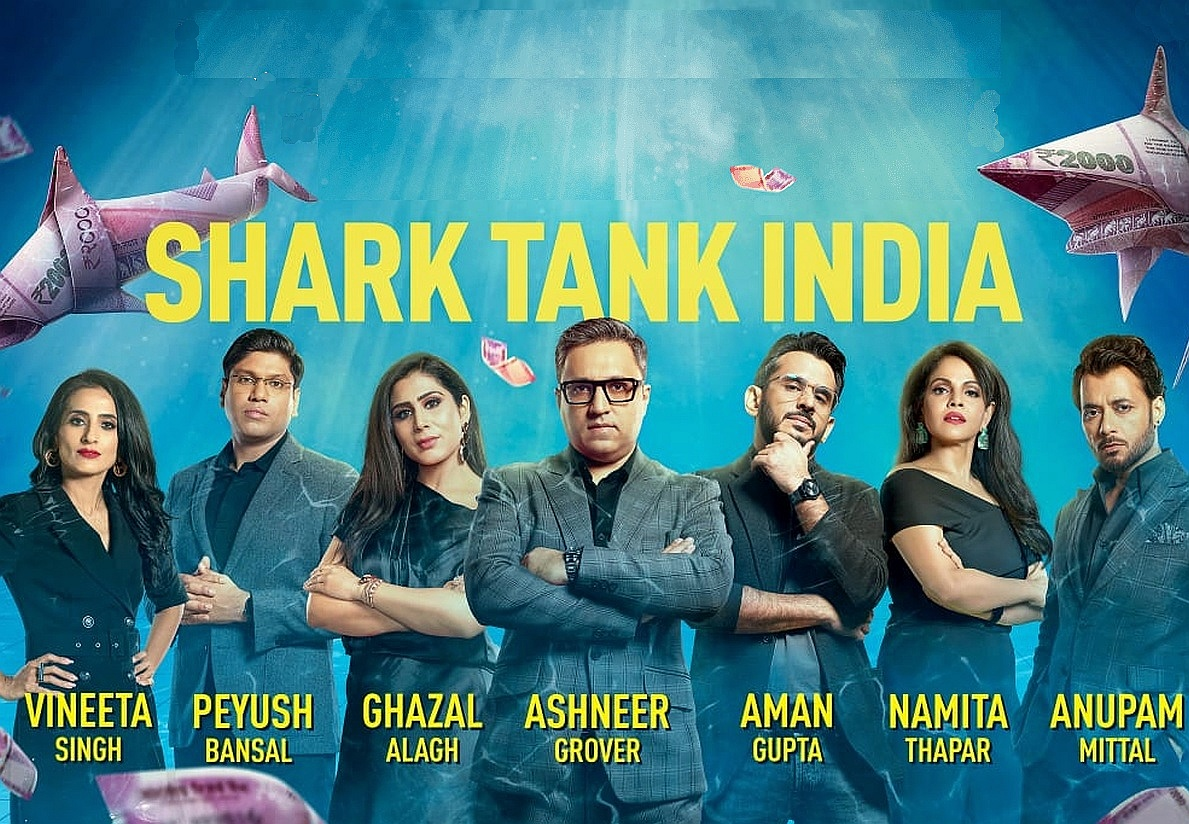 image source: Shark Tank India
Rock with boAt challenge
This is one the most recent challenges of boAt that has reached over 1 million people and generated a lot of positive buzz around the brand. A lot of celebrities and influencers were seen wearing their wireless earbuds and showing some moves.
More in Everyday
The #MoreInEveryday campaign was a reminder for GenZ, hustlers, and doers about all that they can accomplish with an Alexa on their wrist.
Thanks to this well-rounded approach, boAt quickly became the go-to brand for quality audio products in India. In just four short years, they have gone from selling headphones out of the trunk of a car to becoming a Rs.100 crore company!
Official audio partner for Lakme fashion week
boAt's unique intent to promote itself was evident at the Lakme Fashion Week (2009) in Mumbai, where all models wore BoAt products. BoAt showcased its products in the fashion industry as fashion accessories. Models in the Lakme fashion week wore BoAt products as the only accessories on the stage.
The brand even created a limited edition of their headphones for the Lakme fashion week. In addition, the brand ambassadors were carefully selected based on their face value among millennials, especially those from Bollywood and sports (cricket). Such simple curation allows boAt to stay relevant among their target audience.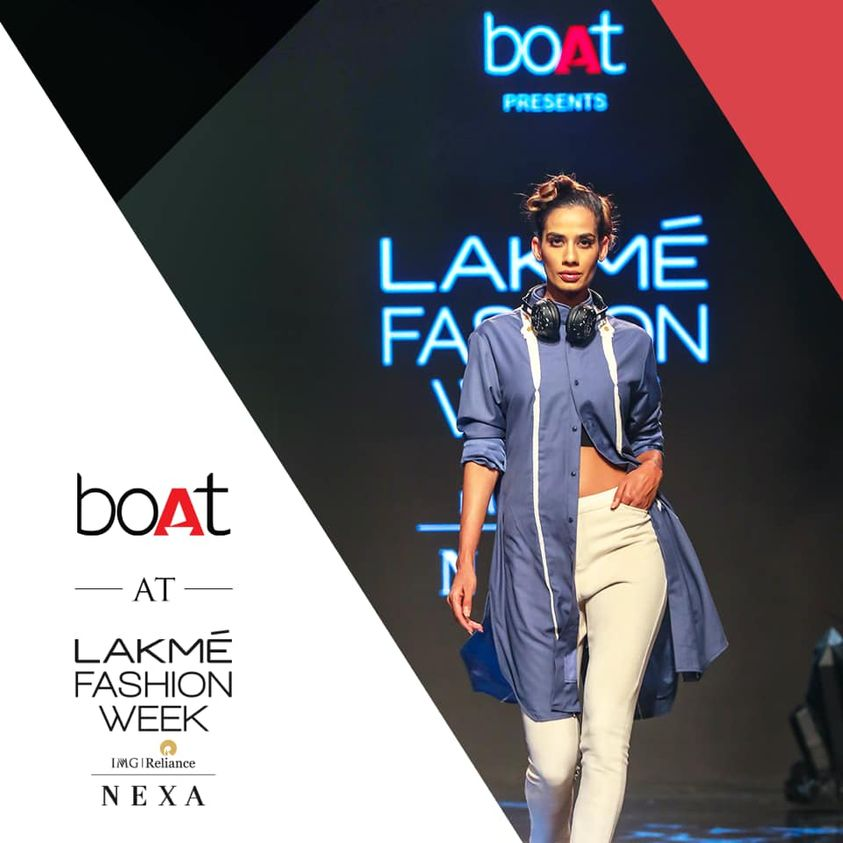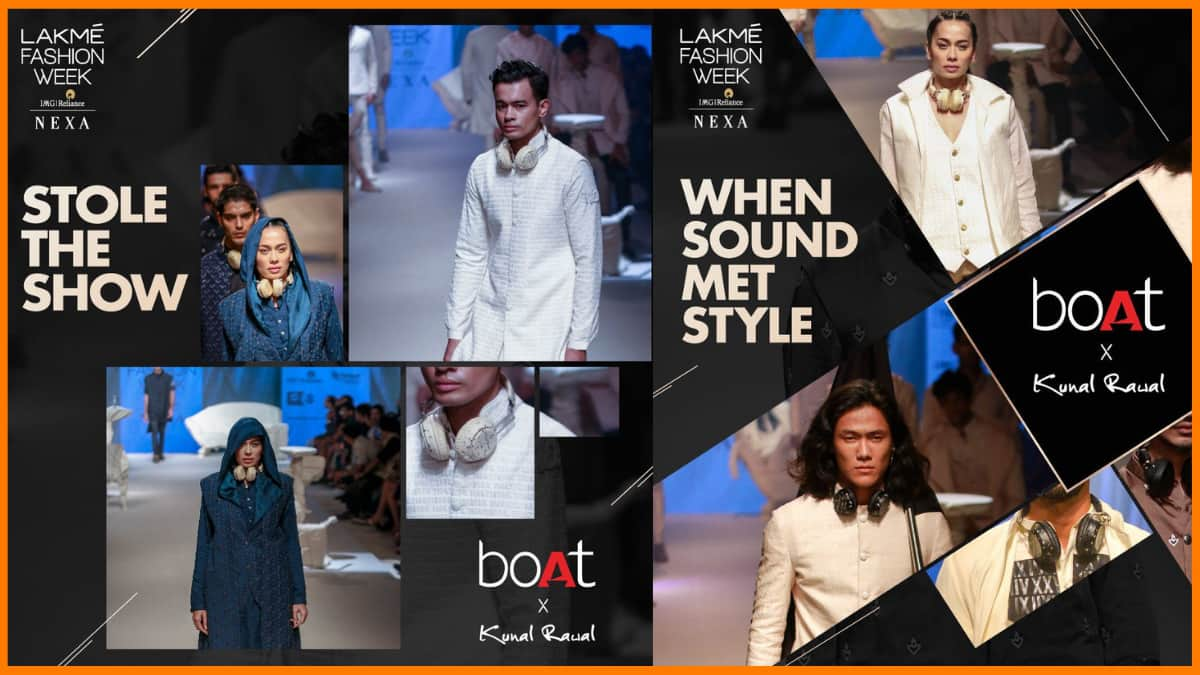 Images source: Lakme Fashion week Facebook
Key takeaways from the boAt marketing strategy for Entrepreneurs
One major takeaway from boAt marketing strategy is how one should think of finding market gaps and getting aggressive for winning the market via pricing strategies. Apart from this, here some more marketing strategy lessons to remember:
Establish a personal connection with your audience:
One of the critical things that boAt does well is to establish a personal connection with its audience. This is evident in their social media presence, which is very engaging and relatable. They use a mix of humor "baby ko bass pasand hai" and SERIOUS business advice to connect with their followers, which has helped them build a strong bond with their target market.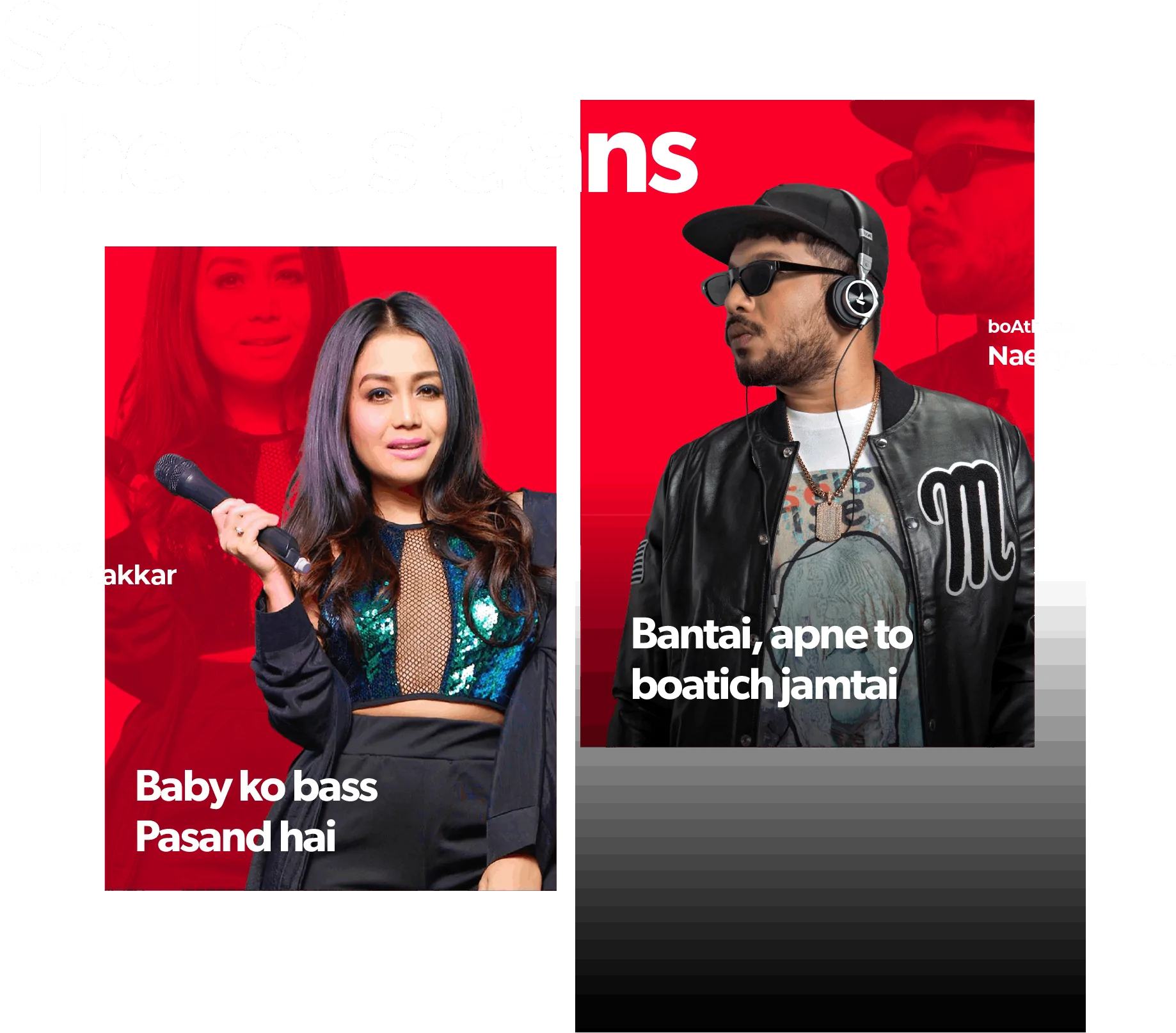 Image source: boAt lifestyle
Know your USP
boAt knows its unique selling proposition (USP), and it uses this to its advantage in its marketing efforts. The brand's USP focuses on providing affordable and high-quality audio products, which is reflected in its marketing messages. By communicating this USP clearly to its target market, boAt is able to differentiate itself from other brands in the industry.
Be active on social media
Social media is a powerful platform for promoting businesses, and boAt has leveraged effectively. The brand is active on all major social media platforms, and it uses these platforms to engage with its audience, promote new products, and offer valuable content. This approach has helped boAt build a solid online presence and reach more people with its message.
Use influencers wisely
Influencer marketing can be extremely effective, but it must be done carefully to avoid pitfalls. Boat uses influencers wisely by partnering with relevant influencers who have a genuine connection with the brand's identity.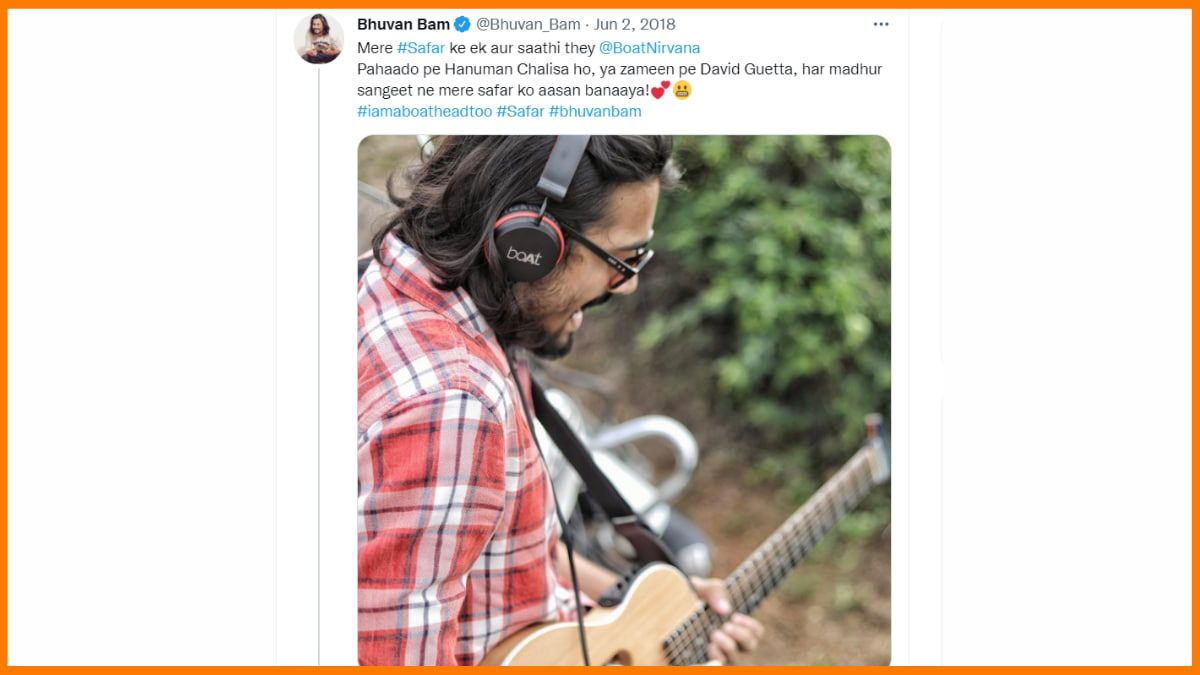 BoAt captivated the entire electronic gadgets market in just six short years. The company is one of the five largest and top-selling wearable brands worldwide and at present the 1st in India. It has excellent branding strategies. Currently, it concentrates on an intelligent, crisp marketing campaign and effectively use digital platforms to promote their business.
Although there were several pandemics, the brand used different tactics. The boAt marketing strategy has caused other giant companies such as JBL and other audio manufacturers to lower their product prices in a competitive market.
If you are building a consumer brand, you can also check out our other case marketing strategy case studies for Apple in technology space or Nike in wearables brand space for more inspiration.