Fashion Nova quickly rose from its modest beginnings as a small brick-and-mortar boutique in Los Angeles to become one of the most well-known names in the fast fashion industry.
Fashion Nova is known for its trendy and affordably priced clothing, especially for young women. Its modern marketing strategies have positioned them in the fast fashion industry to get valued at USD 100 billion.
But how did Fashion Nova's business model manage to grow so quickly in an already crowded fast fashion industry? How did it execute its social media strategy to become a household name among the younger generation?
In this article, we will dive deep into Fashion Nova's marketing strategy and how it contributed to the company's success.
How Fashion Nova made space among major fashion brands?
Fashion Nova was established in the United States in 2006 by Richard Saghian, who is also its current CEO. The fashion brand originally began as a network of physical stores selling affordable clothing and clubwear in malls in LA. Today it has 5 physical stores located in Southern California.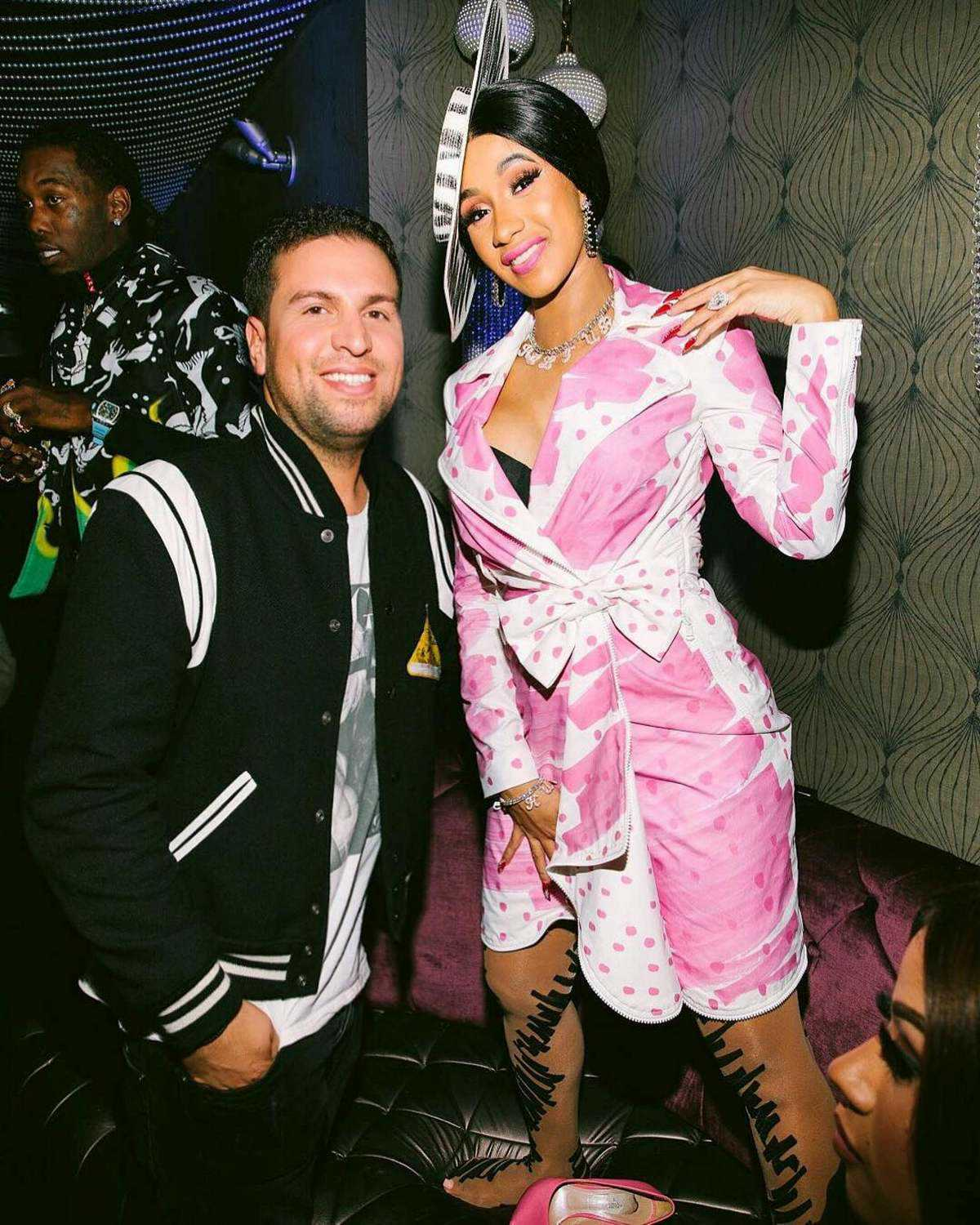 Source: Luxury Launches
In 2013, the business opened its well-known online store as a part of a marketing strategy to boost social media presence and engagement. Fashion Nova grew to include a wide range of categories in addition to women's, men's, and children's clothing.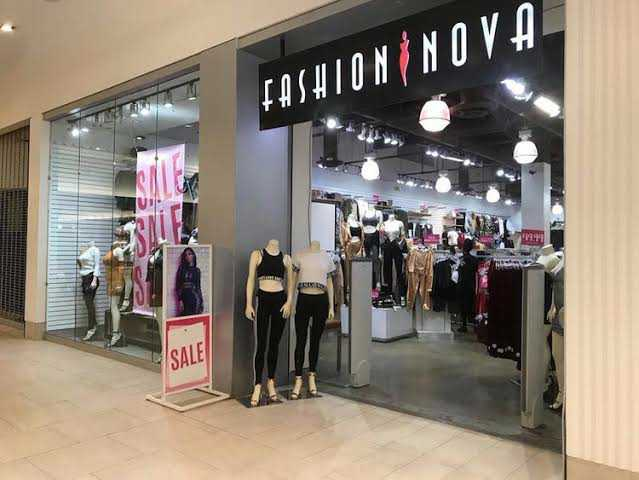 Source: Business Insider
The business has a history of using a range of marketing strategies to advertise Fashion Nova's pieces, such as sponsored posts and events, influencer relationships, and social media advertising.
Marketing Mix of Fashion Nova
Here's a quick rundown of the marketing mix of Fashion Nova via 4P's of marketing analysis:
Target Audience
The majority of Fashion Nova's target market consists of women between ages 18- 35 looking for trendy yet reasonably priced clothes.
Product
Fashion Nova's product mix includes a variety of items such as dresses, tops, bottoms, jumpsuits, rompers, swimwear, lingerie, activewear, and shoes along with plus size clothing, as well as a men's and kids collection.
The brand offers a variety of sizes in its apparel styles to accommodate a wide range of body shapes and sizes.
"We thought we could be a little different by celebrating body positivity and using curvier girls and the customers liked it."

- Richard in an interview with Paper
The brand launches 1000 new styles with lower lead times every week thanks to its efficient supply chain.
"It's essential to offer a range of patterns because our consumers often post on social media and frequently need new clothes. Girls showing up in the club wearing the same outfit is not acceptable. There must be 50 different denim jackets. not one alone, "

- Richard Saghian in the WWD
Price
The company aims to provide fashion-forward options at prices that are accessible to a wide range of consumers. Fashion Nova's prices generally fall in the moderate to low range.
With many things costing around $50, using competitive differentiator the company frequently charges less than other fast fashion brands. It doesn't focus much on profit margins, which are usually thin. Fashion Nova also offers sales and promotions throughout the year, which makes certain items even more affordable.
Placement or Distribution strategy
With only 5 physical stores, Fashion Nova focuses completely on its e-commerce model.
Breaking into fast fashion industry - Fashion Nova's Business Model
Fashion Nova's e-commerce approach has helped the company grow to a worldwide level and give customers a satisfying shopping experience. But why did the fast fashion brand embrace ecommerce with such zeal? Some of the explanations are as follows:
Source: Fashion Nova
Convenience
Imagine being able to access the most recent styles whenever you choose, all from the comfort of your couch. Due to Fashion Nova's online business model, customers can do just that. Customers can make purchases at their convenience from Fashion Nova's online store without having to deal with the mall crowds or terrible weather to get to a physical location.
Global reach
Through its eCommerce store, Fashion Nova can reach clients all around the world, not only those who happen to reside nearby. Whether they reside in Sydney, London, or New York, they can order the latest trends from Fashion Nova and have them delivered right to their doorstep.
Personalization
Fashion Nova can customize the purchasing experience and offer specialized recommendations using information about customer interests and activity. Customers are thus more likely to find a style that suits their particular likes and fashion preferences, enhancing and rewarding the shopping experience.
Lower overhead costs
Fashion Nova can operate an e-Commerce store without having to pay rent or other operating expenses that come with physical storefronts. This enables the brand to sell Fashion nova items at more affordable costs, which is essential to its success.
All these savings are passed on as discount code to the customers and compete on prices.
Fashion Nova's accomplishments have been greatly influenced by its emphasis on e-commerce. The eCommerce model generates more website traffic than luxurious brands like Louis Vuitton and Dior. By embracing the convenience and worldwide reach of ecommerce, Fashion Nova achieves the top spot in the fast fashion industry.
Promotion
From partnering with famous celebrities to making use of social media to attract customers. Fashion Nova knows what's in trend and how to make the most of it.
Fashion Nova's Marketing Strategies>
Social media plays a prominent role in Fashion Nova's ascent to fame
In 2013, the CEO, Richard Saghian, realized he needed an online presence and a marketing strategy to promote his eCommerce website, so he began using Instagram and posting pictures of his best-selling products.
Fashion Nova was one of the first brands to use social media developing an Instagram strategy solely for marketing purposes ditching traditional marketing.
The firm has been successful in attracting a highly engaged large following due to its significant Instagram presence, where it has 21.4 million followers as of December 22, 2022.
The company uses social media to promote sales, unveil brand-new styles, and show off its most recent collections.
Fashion Nova posts fresh Instagram content every half an hour. It also has an Instagram profile for plus-size women (@fashionnovacurve), which has 4.1 million followers, and for men (@fashionnovamen), which has 3.1 million followers.
Fashion Nova runs many brand campaigns on social media via ads to make its products stand out and increase sales.
User-generated content
The hashtag strategy and user-generated content are key components of Fashion Nova's Instagram. Fashion Nova encourages customers to share posts of their purchases online using the hashtags #NovaBabes or #NovaStars.
The brand likes and comments on each customers post, and frequently shares them on its own Instagram account. This improves brand recognition by placing the products on display in the real world.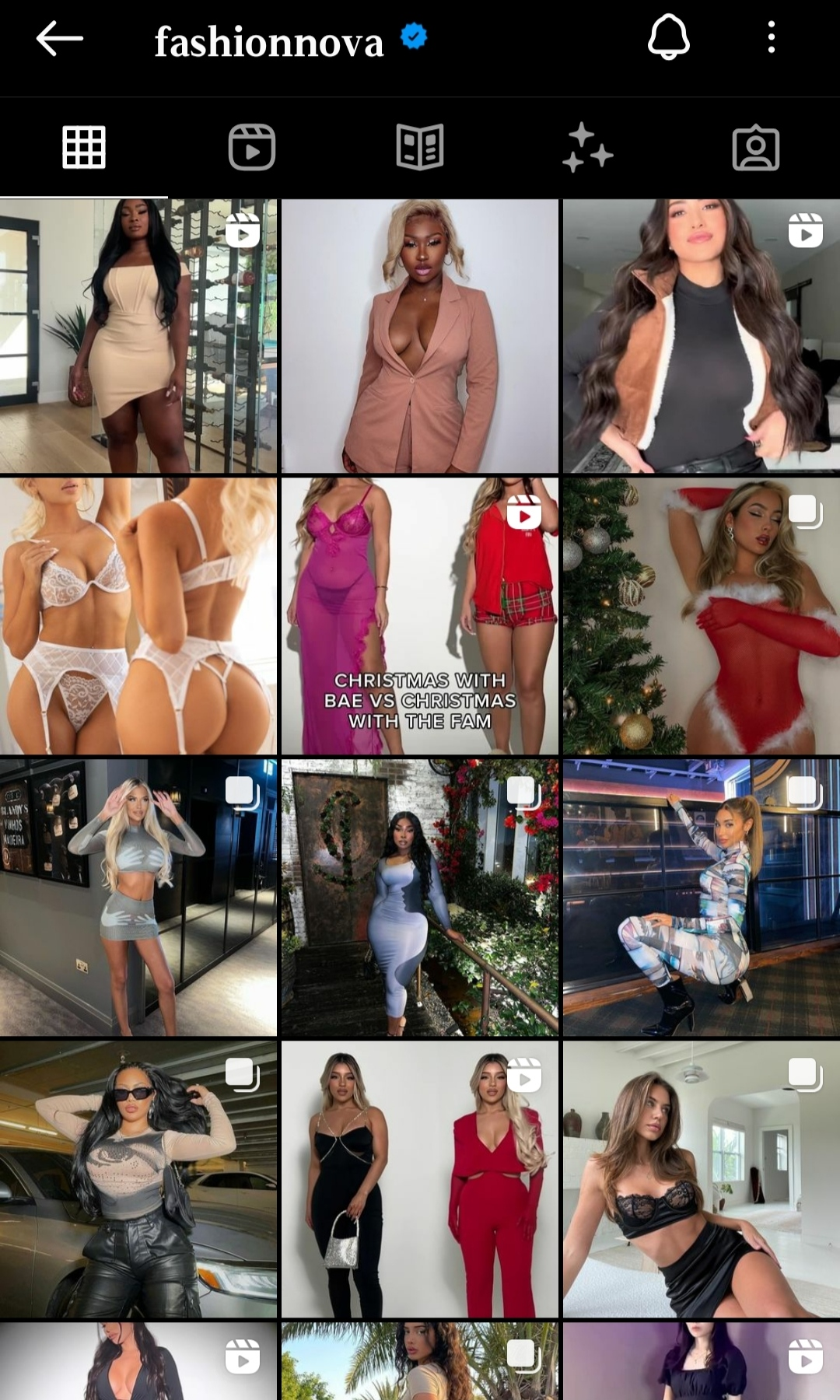 Source: Fashion Nova Instagram
Building Customer Loyalty
By responding to queries and comments, promoting user-generated content that features its products, and using hashtags, Fashion Nova interacts a lot with their followers.
The fashion brand is renowned for organizing giveaways and other interactive social media events. This personal touch has strengthened relationships with clients and developed a sense of belonging.
In order to promote upcoming collections, Fashion Nova uses social media to share behind-the-scenes details about its office and creative process.
Influencer Marketing: Partnering with the Stars
Social media has been highly credited with Fashion Nova's success, but the company has also embraced influencer marketing as a way to advertise its products and build brand recognition.
Fashion Nova has teamed up with some of the biggest names in the entertainment industry, having spent $40 million in 2019 . These collaborations with reality TV royalty to chart-topping rappers have improved the clothes retailer's brand value and increased sales.
One of famous Fashion Nova's influencers is Cardi B, who receives a payment of $20,000 from the company in exchange for promoting their goods to her 146 million Instagram followers. In May 2019, Fashion Nova and Cardi B launched an exclusive collection that brought in $1 million in a single day. One of her famous quotes is 'I could buy designer but that #FashionNova fit.'

Source: Fashion Nova
Along with the top driving forces Cardi B, famous stars like Kylie Jenner, Nicki Minaj and Megan the Stallion have also worked with Fashion Nova on exclusive collections.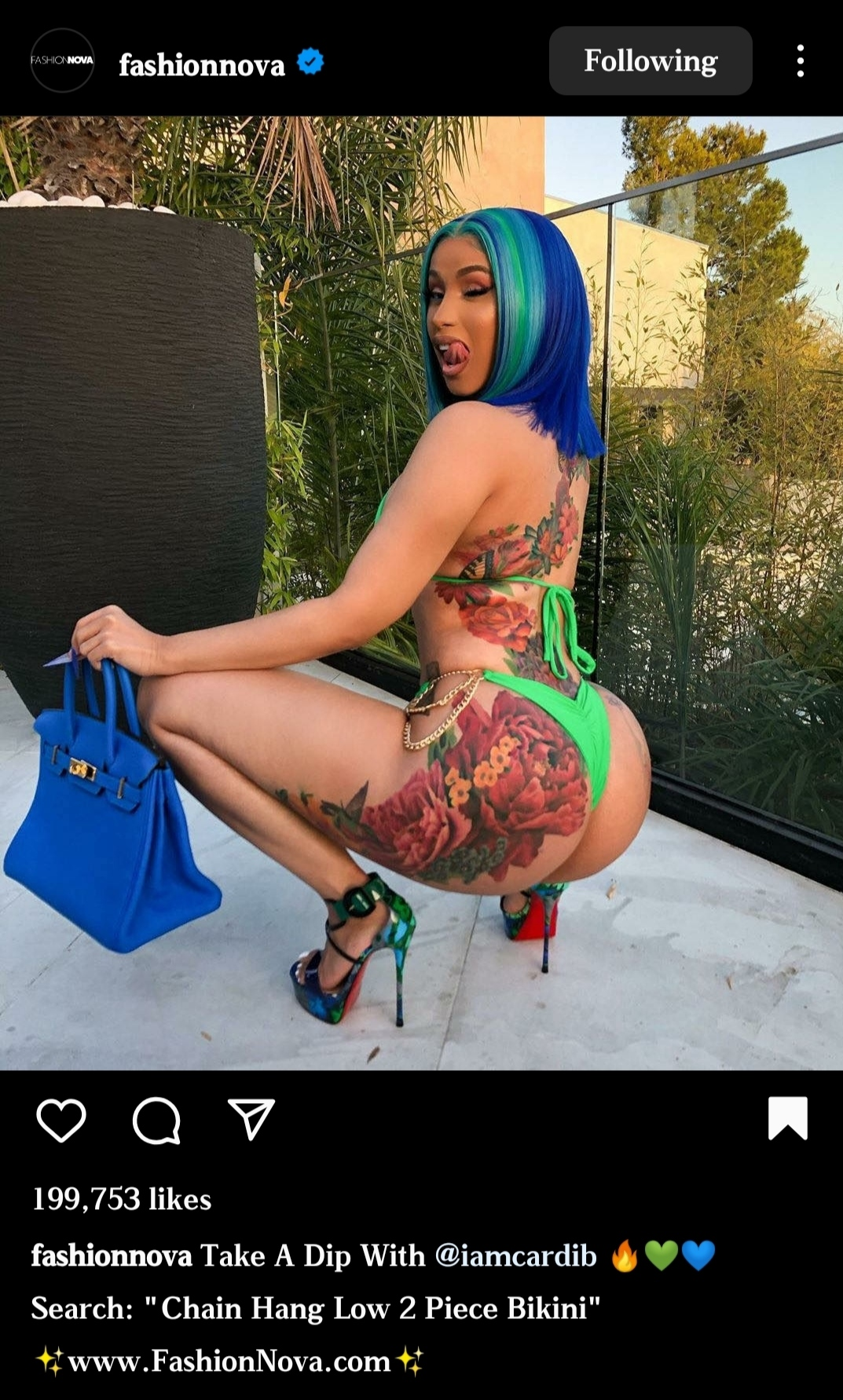 In an interview with The Cut, The chief executive, Richard claimed that Kylie Jenner is one of Fashion Nova's top influencers who has the potential to bring in up to $50,000 in revenue for the company through her single post.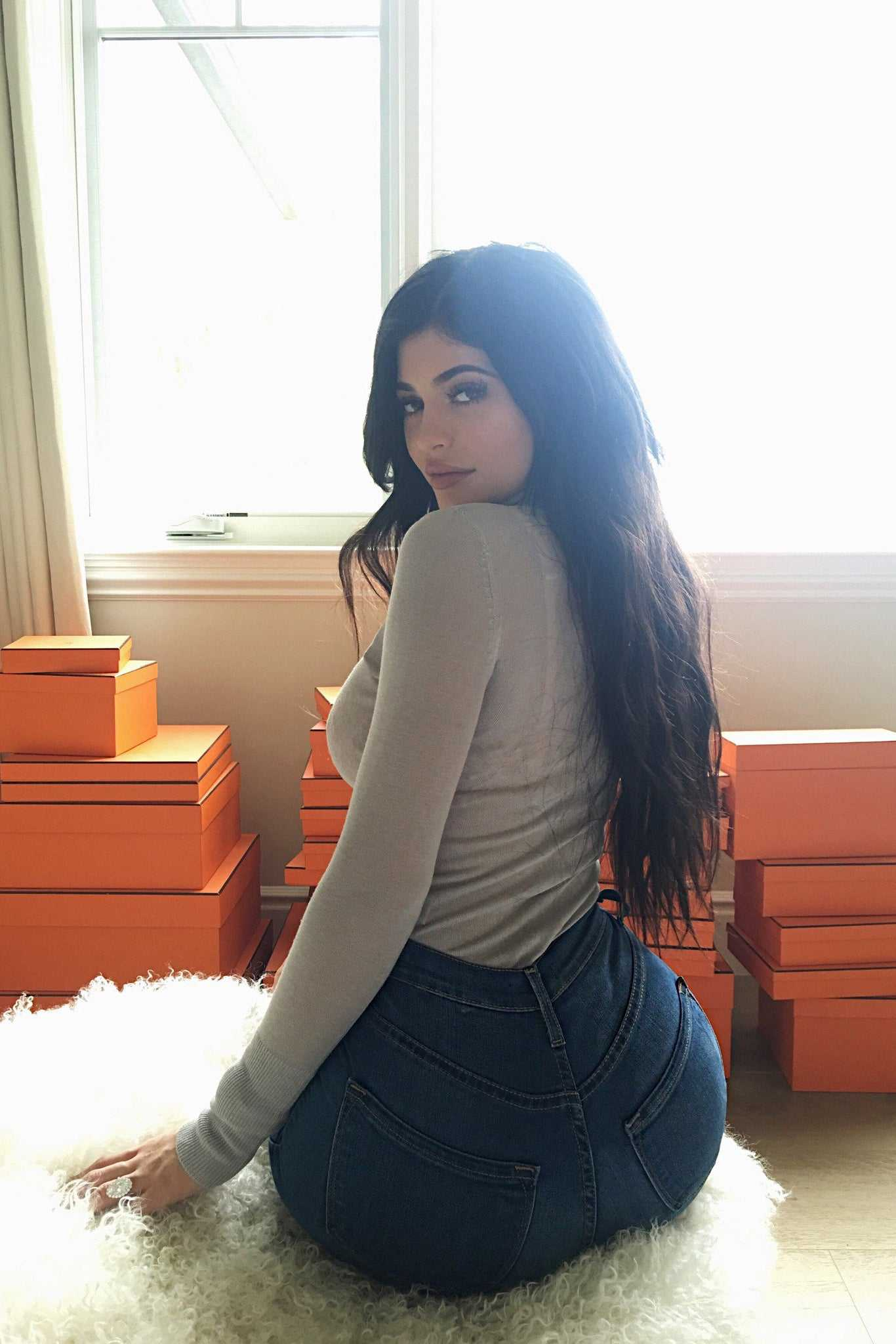 Source: Fashion Nova
Fashion Nova also uses micro influencers and macro influencers in addition to these mega Instagram influencers because their engagement rate is 7.2% as opposed to 1.1% for those with more than 100,000 followers. They receive free clothes on a daily/monthly basis.
The celebrity partnerships have enhanced Fashion Nova's reputation and expanded its market reach. The apparel brand has been able to increase sales by betting on the influencer industry. As a result, Fashion Nova collected $111.9M of Earned Media Value from from its 2800+ ambassadors.
Personalized Promotions: Exclusive Deals for Influencer Followers
In addition, Fashion Nova has employed influencer marketing to provide influencer followers with specially crafted promotions, such as exclusive discount codes or deals. Fans are inspired to buy Fashion Nova clothes by the sense of privilege they get from this.
Creating buzz and fostering connections through events
In addition to its online marketing strategies, Fashion Nova has embraced events as a way to spark interest and connection. To promote its products, build ties with customers and influential members of the industry, and spark conversation about the company and its products, the fashion brand has organized fashion shows and product launches.
Fashion Nova participated actively in the event as the main stage sponsor of Rolling Loud NYC 2022 and used the platform to debut its hoodie line.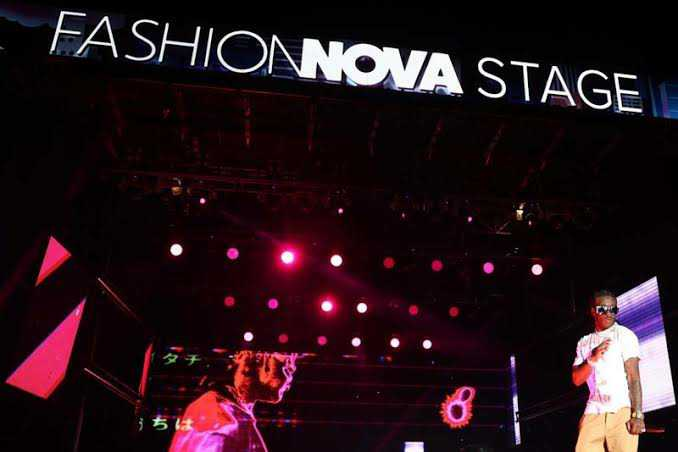 Source: HypeBeast
The company also uses in-store displays and promotions to drive sales.
Key Takeaways for entrepreneurs from Fashion Nova Marketing Strategy
There are several things that entrepreneurs can learn from Fashion Nova's marketing strategies:
Use social media effectively
Social media has the ability to instantly transform a brand into a success if the strategy is implemented correctly. Like how Fashion Nova used social media platforms to reach a large and enthusiastic audience. Similarly, it can be used by fast fashion brands to promote their goods, interact with consumers, and establish their brand.
Collaborate with Micro Influencers
Fashion Nova has worked with influencers, including celebrities, to sell its products and debut new collections. Most brands can consider working with mega as well as micro influencers by giving them free items to reach their target audience and increase brand recognition.
Pay attention to customer feedback
Fashion Nova has a reputation for responding to client issues or concerns right away. Entrepreneurs can prioritize the needs of their clientele by hearing what they have to say and resolving any problems.
Keep up with the latest trends
The company's success can be attributed to Fashion Nova's ability to generate fresh looks that swiftly reflect the latest fashion trends and runway looks. By keeping abreast of industry changes, business owners can modify their products and marketing strategy as necessary.
Host events
To pique interest and encourage participation, Fashion Nova has held events like runway shows and product debuts. Fashion brands may think about holding events to promote their goods and establish connections with clients and key players in the industry
Create a sense of exclusivity
Celebrities like Cardi B have endorsed Fashion Nova's limited edition collections, which have boosted sales by creating a sense of exclusivity. Business owners may want to think about producing limited edition products or offering special discounts to a particular clientele in order to foster a sense of exclusivity and spark excitement.
Use user-generated content
Fashion Nova has invited clients to upload pictures of themselves wearing the company's clothing to social media using the hashtag #NovaBabe. The company's products have been marketed and its brand recognition has grown thanks to this user-generated material. Entrepreneurs might consider encouraging customers to provide product reviews or photographs on social media by offering them some benefits.
A Marketing Strategy for Ultra-Fast Fashion Success
Fashion Nova's marketing strategy has had a big impact on the company's performance in the quick fashion industry. By utilizing the strength of social media and influencer marketing, the company has been able to engage with a sizable and interested audience and increase brand awareness.
There are many ways to turn an e-Commerce model into a successful business. You can take a look at Myntra and Meesho's marketing and SEO strategies to learn about their marketing mix.