Zara, the Spanish fast fashion giant under the Inditex group with a brand value of 13B USD, is always in the news circles for its unique business model and negative environmental impact.
Post successfully establishing the fast fashion industry, Zara experienced quick growth curves like its fast factories thanks to its innovative marketing strategy. In a world where trends come and go faster than a New York minute, Zara has managed to stay ahead of the curve by adopting a customer-centric business model. By listening closely to its customer demands, Zara has unlocked the secret to delivering fashion that is both on-trend, quick, and relevant to its target audience.
However, to achieve all this Zara spends only 0.3 percent compared to other fashion brands. So how does Zara spend so little yet gain so much?
In this marketing case study, we dive deeper into Zara's approach to marketing and business model that has set them apart from its competitors and established a loyal customer base across the globe.
From Spain to the World: Zara's Fashion Legacy
Zara, a Spanish fashion retailer, stands tall as a beacon of innovation and style in the global fashion industry. Founded in 1975 by the visionary duo of Amancio Ortega and Rosalía Mera, Zara has journeyed from humble beginnings as a single clothing store in Galicia, Spain, offering fashionable and affordable attire for women.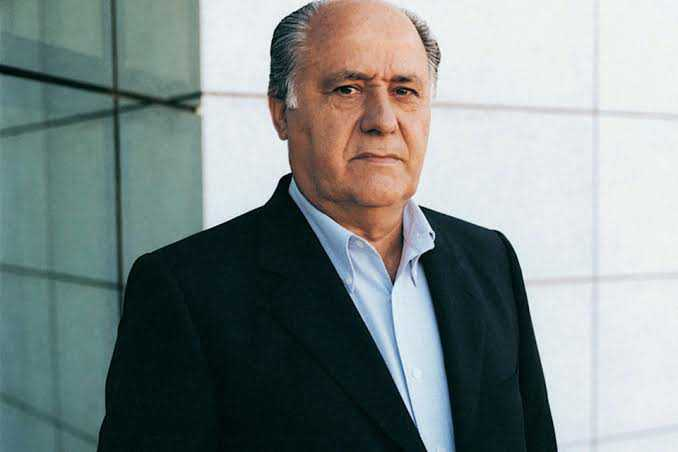 Source: HybeBeast
As the years went by, Zara began to make waves in the industry with its unique business model. While most retailers placed orders for clothing months in advance, Zara received new shipments twice a week, using customer feedback and data analytics to inform its designs and respond quickly to new trends in fashion. This approach won the brand a loyal following and a reputation for being at the forefront of fashion.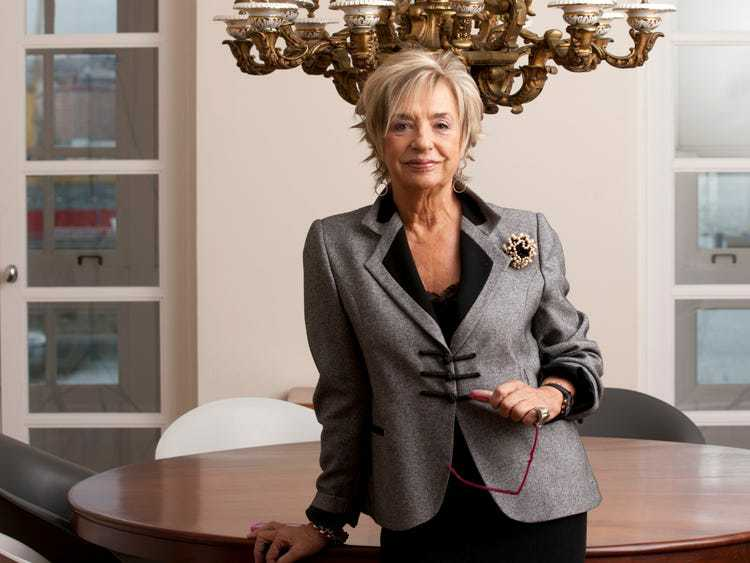 Source: Business Insider
The 1990s and 2000s saw Zara continue its upward trajectory, opening flagship stores in major fashion capitals across the globe, including Paris, London, and New York City. The company also expanded its product offerings by introducing accessories, footwear, and home goods to its product line. Throughout its journey, Zara has always embraced technology, utilizing data analytics and artificial intelligence to optimize its logistics management.
Today, Zara stands tall as one of the largest fashion retailers in the world, with over 3000 stores in 96 countries. Its innovative business model, trendy fashion clothing, and commitment to customer satisfaction have made it a household name and a symbol of fashion excellence. In recent years, Zara has also taken strides towards sustainability, demonstrating a commitment to preserving the planet for future generations.
As a subsidiary of Inditex group, one of the largest fashion groups in the world, Zara continues to leave a lasting impact on the fashion industry.
Target Audience
Zara appeals to the fashionable, trend-savvy person who embodies a sense of youth and a deep love of fashion. This group includes a wide range of men, women, and children who are all motivated to stay on trend and showcase their originality through their clothing choices. Zara targets the cosmopolitan, culturally aware consumer who isn't hesitant to invest in their particular style by emphasizing quality and design. /p>
Zara's Logo: The Crest of Catwalk Culture
The logo for Zara is a subdued depiction of understated beauty. Even though it's just a font, the message it conveys is powerful. The business name, etched in jet-black letters, emits a futuristic and minimalist attitude ahead of the always-evolving fashion trends.
Despite its seeming simplicity, Zara's brand strategy defies expectations and forges its own course. Unlike other fast-fashion brands, Zara wants to let its apparel speak for itself rather than overtly flaunt its branding. The business is sure that the quality of its apparel speaks for itself and does not require a logo to establish its authenticity.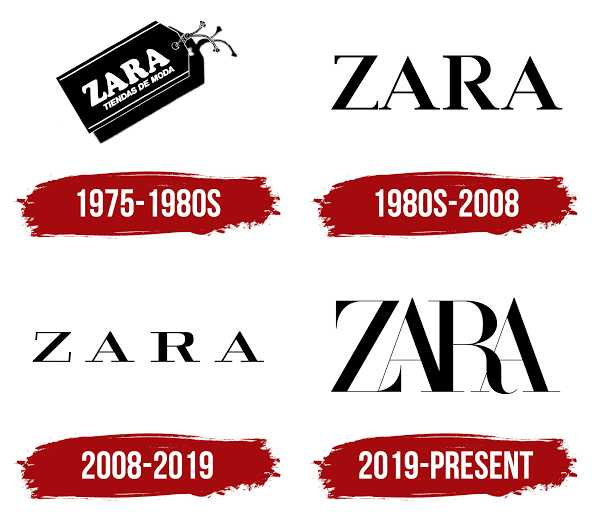 Source: Logos-world
Instead of focusing on the logo, Zara invests in creating visually captivating clothing, with designs that are unparalleled and materials of the highest caliber. The brand's clothing is meant to be the centerpiece, commanding attention, and the absence of a logo only accentuates this concept.
Marketing Mix
Zara is a true trendsetter in the fashion industry, constantly pushing the boundaries with its stylish and on-point clothing collections. But behind the flawless must-have pieces, lies a carefully crafted marketing mix that has helped establish the brand as a leader in the fashion world. Let's explore Zara's Marketing mix to understand how Zara continues to captivate customers and define new benchmarks for the fashion world to follow. From product offerings and pricing strategies to promotion and place mix the ingredients that make Zara's marketing mix truly unforgettable.
Product
Zara's product lineup is a tasteful synthesis of new trends, new styles practicality, and adaptability. The fashion brand offers a wide range of clothing and accessories to satisfy the various needs and preferences of its trendy customers.
The main component of Zara's product line is special women's clothes, which range from stylish gowns to casual tees and everything in between. The clothing brands menswear line, on the other hand, is a stylish combination of formal and casual apparel designed to meet the sartorial needs of the contemporary man.

Source: Zara
Zara provides fashion items for even the youngest members of the family, ensuring that they can enjoy both comfort and style. Zara's children's clothing line is stylish and practical. And Zara offers a wide range of accessories, like handbags, shoes, and jewelry, to complete the look and give any outfit the perfect finishing touch.
Additionally, Zara's assortment of goods goes beyond just apparel and accessories. To give customers a full fashion experience from head to toe and even at home, the business's home collection includes a variety of furnishings, including bedding, towels, and décor items.
In 2021, Zara also introduced its first cosmetics line, Zara Beauty. The brand's beauty line offers a range of cosmetics and skincare products including lipsticks, eyeshadows, blushes, face masks, and fragrances.
Every year, Zara creates close to 450 million items based on the latest trends and fashion seasons. It takes 15 days to create new collections and get them into stores, capitalizing on market trends. If the item doesn't sell, Zara removes it from stores right away, halts production, and pursues a new design.
Basic clothing that lasts for years being a staple of wardrobes and fashion-forward clothing that only lasts three to four weeks are both major products of this fashion brand.
Price
The price structure of Zara seamlessly blends value and affordable prices. From the company's extensive inventory of products at different price points, customers can select the appropriate zara clothes to fit their style and budget.
For added customer appeal, Zara employs several promotional price techniques like promotions and discounts. These methods offer buyers the possibility to get their preferred things for a significantly lesser cost.
Zara's pricing strategy, though, extends beyond straightforward sales and discounts. The company employs psychological pricing techniques including anchoring and odd pricing to influence customers' perceptions of value and boost sales.
Additionally, Zara's pricing strategy considers the regional economic conditions of its various locations, adjusting prices as necessary to maintain its products' accessibility and global competitiveness.
Zara's pricing strategy is an adaptable, comprehensive plan created to meet the needs of its customers and provide them with affordable access to high-end fashion items.
Placement
Zara's distribution strategy is a seamless fusion of brick-and-mortar retail store locations and online sales channels.
Zara Stores
Zara gives customers the chance to connect with its items in a remarkable physical setting thanks to its enormous retail presence in global markets that covers more than 3,000 locations across 96 countries.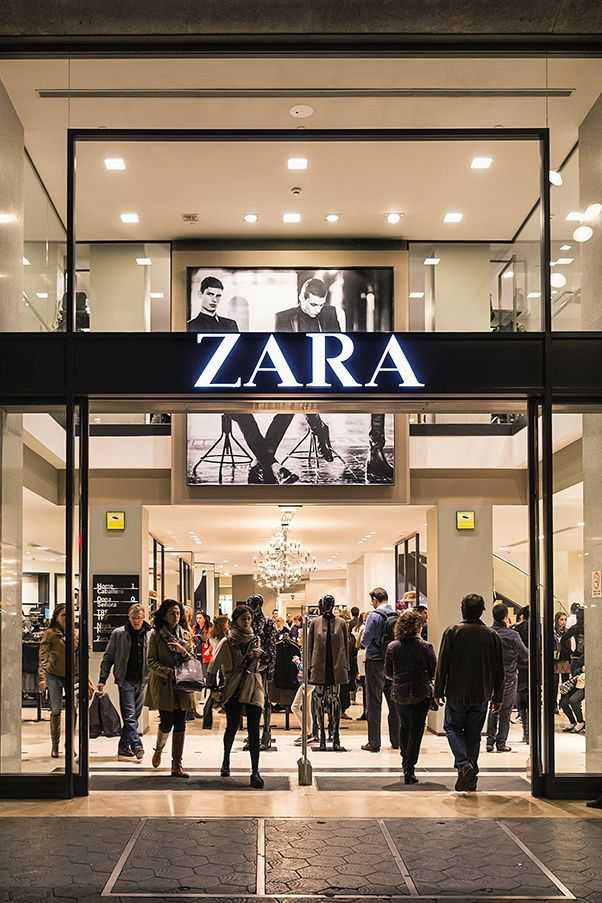 Source: Elle Australia
E-commerce platform
The Spanish fashion retailer, on the other hand, is aware that convenience is king and has enhanced its physical presence with a dynamic e-commerce platform, giving customers the option to purchase whenever they want from the comfort of their own homes. It first opened an online shop in Jordan in September 2010 before branching out internationally.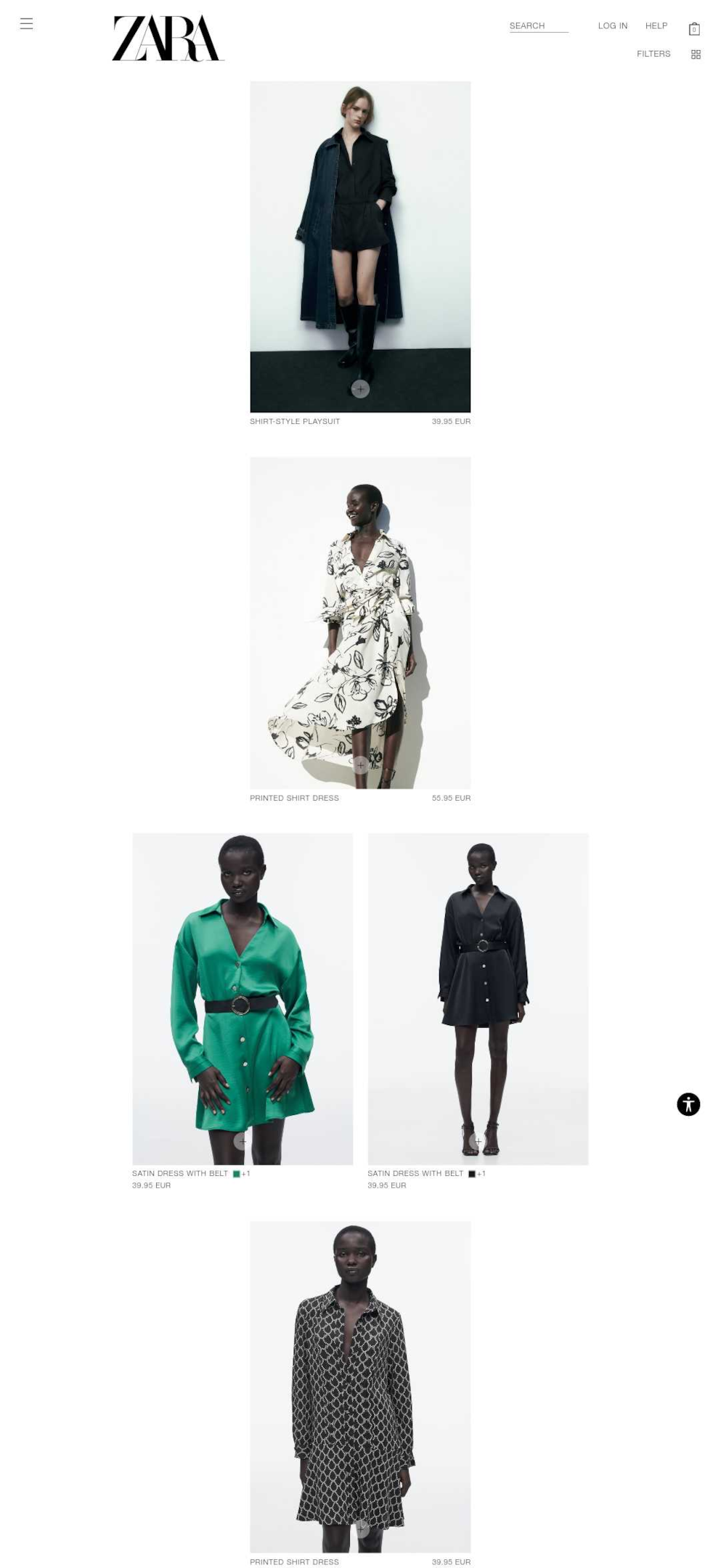 Source: Zara
Supply Chain
Zara's distribution strategy is built around a flexible and efficient supply chain. To quickly and affordably meet customer expectations, the company works with various logistics firms in addition to its own distribution centers. Zara is able to respond quickly to the continuously evolving fashion environment and customer preferences because of this.
Customers can shop with ease from any corner of the world because of Zara's distribution strategy, which uses both physical and digital touchpoints. Whether customers want to purchase in-store or online, Zara promises them a simple and delightful experience.
Promotion
Zara marches to the beat of its own drum when it comes to fashion marketing. While other fashion brands flood our screens with promotional marketing, Zara keeps things understated, allocating a mere 0.3% of its sales towards advertising strategy. Instead of relying on traditional promotional marketing methods like TV commercials, Zara places their faith in the power of their merchandise, store ambiance, and competitive pricing.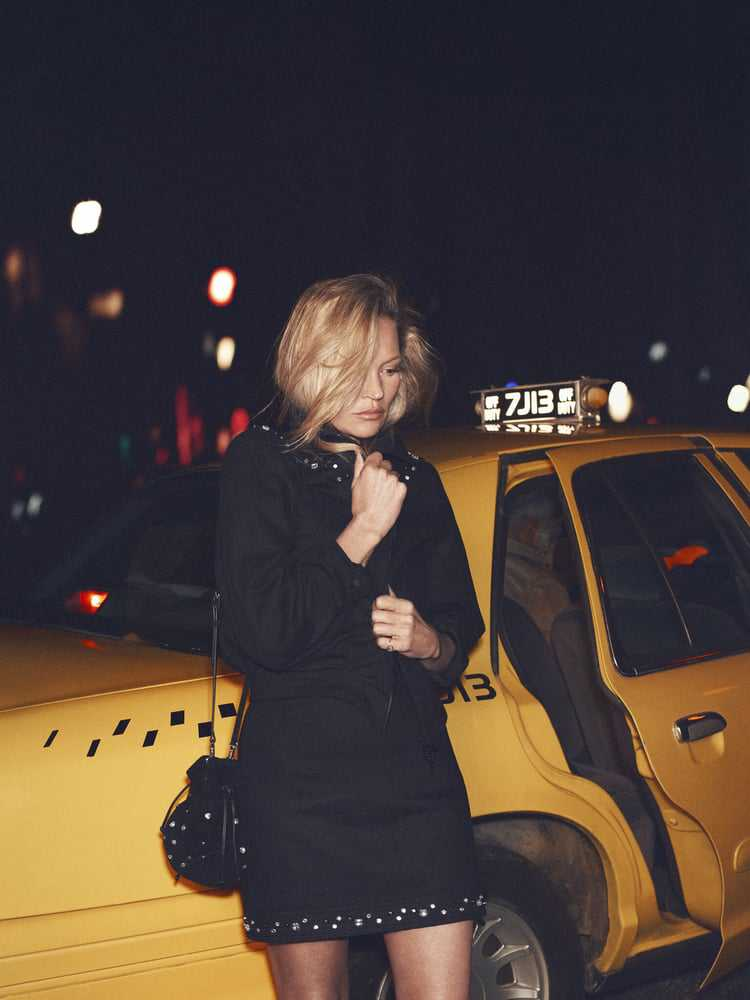 Source: Fashion Network
This unique approach allows Zara to remain laser-focused on delivering exceptional products, rather than overwhelming customers with a barrage of advertisements. And while you may not see Zara shouting from the rooftops about sales or promotions, rest assured that they are always curating a stylish and exciting shopping experience for their customers. Zara's main focus is opening new stores in new markets making clothing items available to everyone. This can be the main reason for Zara's success.
In-Store Magic
Shopping at Zara stores is like stepping into a fashion wonderland. From its prime urban locations to its carefully curated window displays, Zara knows how to captivate and charm its customers. With a keen eye for aesthetics, the company transforms its stores into artfully designed spaces that are impossible to resist.
Source: Architizer
The window displays are the epitome of Zara's fast fashion philosophy, constantly evolving to showcase the latest and greatest in the world of fashion.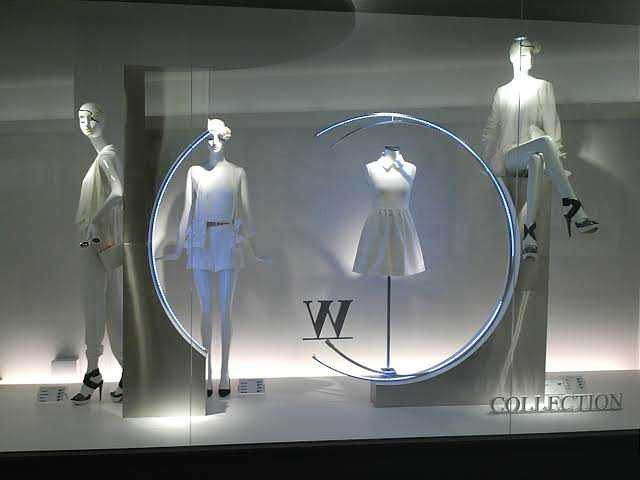 Source: Wordpress
And, the store managers and sales associates at every store locations are not only knowledgeable, but they also embody Zara's commitment to connecting with its customers by wearing uniforms specifically tailored to reflect the unique socio-economic trends of each location.
Each visit to a Zara store is a treat for the senses. Every detail is meticulously planned to offer a truly immersive fashion experience, making it impossible for you to leave without feeling inspired and fashion-forward.
Sales Promotions
Zara is known for its strategic and frequent sales promotions to drive traffic to its stores and online platform. The company frequently offers discounts on select items, ranging from seasonal promotions to clearance sales. These promotions are often time-limited and rotate frequently to keep customers engaged and interested.
In addition to in-store and online sales, Zara also offers a loyalty program for its most frequent shoppers, providing special discounts and perks for members.
Public relations and Influencer Marketing
Zara places a significant emphasis on PR, using various tactics and strategies to communicate its brand identity and message to the public.
Some of Zara's PR initiatives include engaging with fashion influencers, hosting high-profile events, and collaborating with other brands and designers.
Direct Marketing
Zara utilizes various direct marketing tactics to reach its target audiences, such as email marketing, personalized promotions, SMS marketing, in-store events, and print advertising. These efforts help Zara connect with customers in a personal and relevant manner.

Source: MailCharts
Store managers at Zara also contribute significantly to marketing the business and its products by giving customers individualized attention and offering product recommendations.
Zara places high importance on brand communication through online communities, despite limited spending on traditional advertising, unlike other brands.
Social Media
Given that social media is the lifeblood of the younger generation, Zara uses well-known platforms like Facebook, Instagram, and Twitter, YouTube, TikTok to promote its new collections, partnerships, promotional offers, and events. Zara's Instagram boasts a following of 56.1 Million while its Facebook page boasts a following of 30M. Zara's social media presence generates the vast majority of its value organically. Zara's YouTube showcases the launch of new campaigns.
From Trendsetting to Trailblazing Marketing: Zara's Secret Sauce
Thanks to its creative marketing strategies that prioritize the needs of the customer, the fast fashion brand Zara has soared to new heights in the fashion sector. Here are some important fashion marketing strategies that set the fast fashion brand Zara apart from most brands.
Fast fashion phenomena
Zara excels at fast fashion, swiftly and skillfully adapting to the most new trends and customer preferences. Zara dominates the opposition and holds a commanding lead thanks to its exceptional agility curve.
Vertical Integration
Unlike many retailers, Zara has a vertically integrated supply chain, allowing it to control all aspects of its business, from design and production to distribution and sales. Zara is able to keep costs low while maintaining high product quality as a result of this.
The design and product development team, a highly talented and creative group of individuals tasked with bringing the latest fashion trends and styles to life, is at the core of Zara's supply chain. They accomplish this by leveraging a wealth of data and customer insights to ensure that each product offering reflects the current fashion landscape and customer preferences.
Once the designs are completed, Zara begins the process of obtaining the necessary supplies from a large network of dependable manufacturers. Every aspect of the company's operations reflects its high standards, and it collaborates closely with its suppliers to ensure that the quality of its products is unrivaled.
Production takes place in Portugal, Spain, and other countries as a result of collaborations with independent producers. Zara uses a just-in-time production technique to reduce waste and allow for quick changes in response to demand changes.
The main part of Zara's distribution network is a centralized distribution center located in Spain, which serves as the hub for its global logistics. From this central location, Zara is able to quickly and efficiently distribute its products to its retail stores and e-commerce platform, ensuring that customers around the world have access to the latest fashion offerings.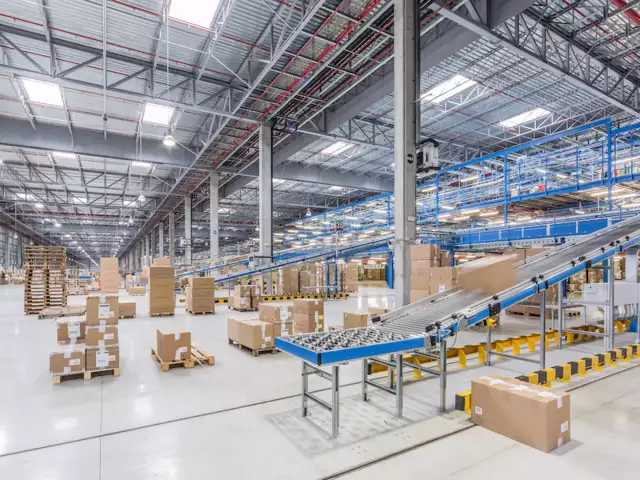 Source: Business Insider
Customer Experience
Zara has earned a reputation for providing a superior brand experience that puts its consumers' needs and wants first. The company's dedication to this experience is visible in every facet of its operations, from the clean, contemporary aesthetic of its retail spaces to the thoughtfully chosen assortment of in-vogue clothing.
Zara, a pioneer in technical advancement, ensures a seamless and convenient shopping experience by integrating digital displays and mobile payment options into the in-store experience. Due to the business's robust online presence and user-friendly website and mobile app, customers can readily access its products from the comfort of their homes.
But Zara's commitment to providing a good customer experience goes far beyond the boundaries of traditional and online shopping. The company has a keen awareness of the needs of the modern customer and takes consumer feedback seriously.
A story that exemplifies this was when requests for a pink scarf started pouring in from various cities like Tokyo, Toronto, San Francisco, and Frankfurt. The customer's voice was heard loud and clear, and within a mere seven days, Zara had created a pink scarf that was not only aesthetically pleasing but also in high demand.
With 500,000 pink scarves selling out in just three days, it's clear that Zara's swift action and ability to turn customer insights into tangible products is what sets them apart. By having a direct link to their production process, Zara is able to be nimble, meeting customer needs with lightning speed and remarkable efficiency.
By constantly updating their style to fit a new trend, Zara empowers its customers and strengthens brand loyalty, with store managers who try to understand the customer's mind through their behavior and feedback at the forefront. Feedback from even one zara customer makes a big difference.
Sustainable Sensibility
Zara is not just a global fashion powerhouse, but also a responsible one. The business is dedicated to sustainability and often highlights its eco-friendly initiatives in its marketing campaigns, positioning it as a leader in the sustainable fashion movement. Zara is committed to reducing waste and promoting environmental friendliness, using eco-friendly materials, and implementing programs like "Closing the Loop" to minimize waste.
The brand also partners with NGOs and works towards a future free of toxic chemicals through initiatives aimed at reducing hazardous substances in production processes. With its focus on a greener future, Zara firmly establishes itself as a responsible and sustainable fashion leader.
In 2019, the brand launched its "Join Life" collection, which received widespread media attention and emphasized Zara's dedication to sustainability. Its LEAF COALITION initiative brings together companies and governments to protect tropical forests and promote sustainable growth, with the goal of ending deforestation.
Zara has set ambitious sustainability goals for future to drive change in the textile industry, working with the scientific community, social and environmental organizations, and other companies in the sector. The brand is also committed to eliminating single-use plastics for customers and using recycled or reused waste in its operations. Zara aims to have zero net emissions by 2040, solidifying its position as a responsible and innovative fast fashion leader.
Collaborative Couture
Zara is always searching for novel ways to engage and enthral its customers. The brand's various partnerships with designers and artists to create limited edition collections and exclusive products that light up the fashion industry provide customers with a shopping experience that is nothing short of spectacular. It has a reputation for working with brands like Nike, Kaia, and most recently, Clarks.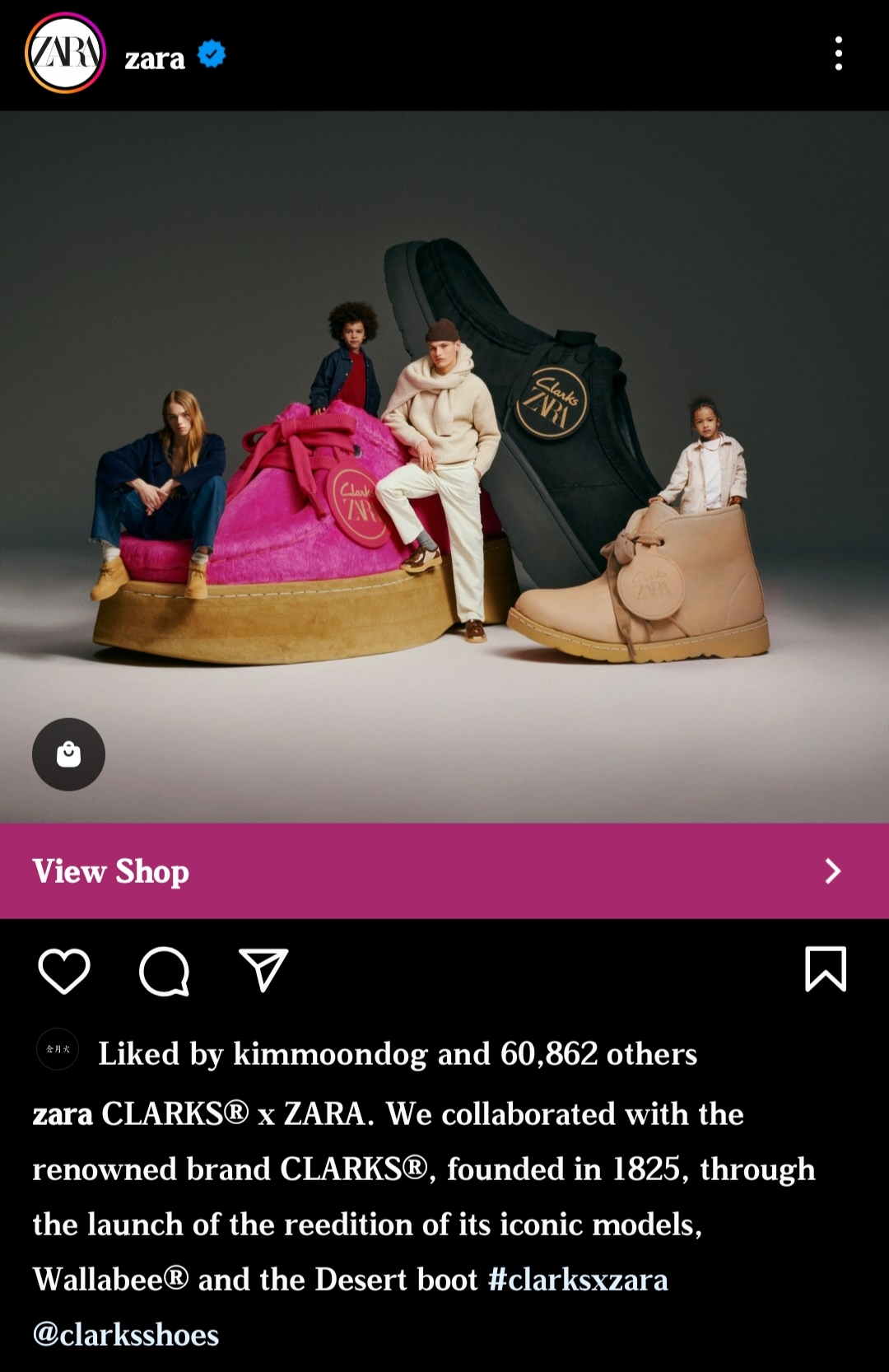 Source: Zara's Instagram
Zara's marketing methods, which are a symphony of innovation and customer focus, boost the brand above the competition. Additionally, they give customers a truly remarkable experience.
Smart Marketing Tips for Startup Success: The Zara Way
The ability of Zara to quickly identify and react to fashion trends is partly responsible for its outstanding performance in the fashion business. This makes it possible for the company to continually provide the latest styles to the market, retaining clients' interest.
Quality Matters
Despite focusing on fast fashion, Zara encourages quality in its products, setting it apart from its competitors and fostering brand loyalty. The commitment to quality made by the business helps to build customer loyalty.
Technology-Driven
Zara uses technology to streamline its logistics and accelerate the launch of new items. Additionally, the company uses social media and digital marketing to connect with customers and provide a seamless purchasing experience.
Stunning Store Design
Zara stores are made to be aesthetically pleasing and memorable, building a strong brand image and giving customers a unique shopping experience. The brand's stores are thoughtfully chosen to reflect the brand's mission and core principles, thus enhancing the brand's reputation.
Personalized Shopping
Through its app, Zara brand provides users a customized shopping experience that enables them to establish profiles and receive recommendations based on their preferences. This personalization fosters a strong bond between the company and its clients, giving them a feeling of exclusivity and individualized care. Explore customer experience analytics to learn how to assess customer experience when developing strategy.
Strong Brand Image
The cornerstone of Zara's marketing plan is creating a strong, recognizable brand image that resonates with its target demographic. The company's carefully chosen visual content and consistent message across all media have helped it establish a distinctive and recognizable brand identity.
In the world of instant fashion, the Zara brand stands alone as a brilliant illustration of marketing brilliance. Through a marketing strategy that combines fast fashion, designer collaborations, and cutting-edge technology, Zara has developed a brand image that is both stylish and socially conscious. Due to their environmentally friendly activities and aesthetically pleasing store designs, Zara consistently captivates people and outperforms competitors.
To sum up, Zara's marketing strategy is a symphony of style, content, and sustainability that has elevated the brand as one of the successful fashion retail brands in the fashion industry and solidified its status as a true marketing prodigy.
Intrigued by Zara's success? Learn more about the fast fashion market by taking a closer look at Fashion Nova's marketing strategy. Discover how this business leveraged influencer marketing and TikTok to rise to the top.
You can also read marketing strategy case studies on Myntra and Nykaa for an online-first approach in fashion eCommerce industry.