Amul doodh Peeta hai India... If you're an Indian, I'm sure you can sing this sentence in your head!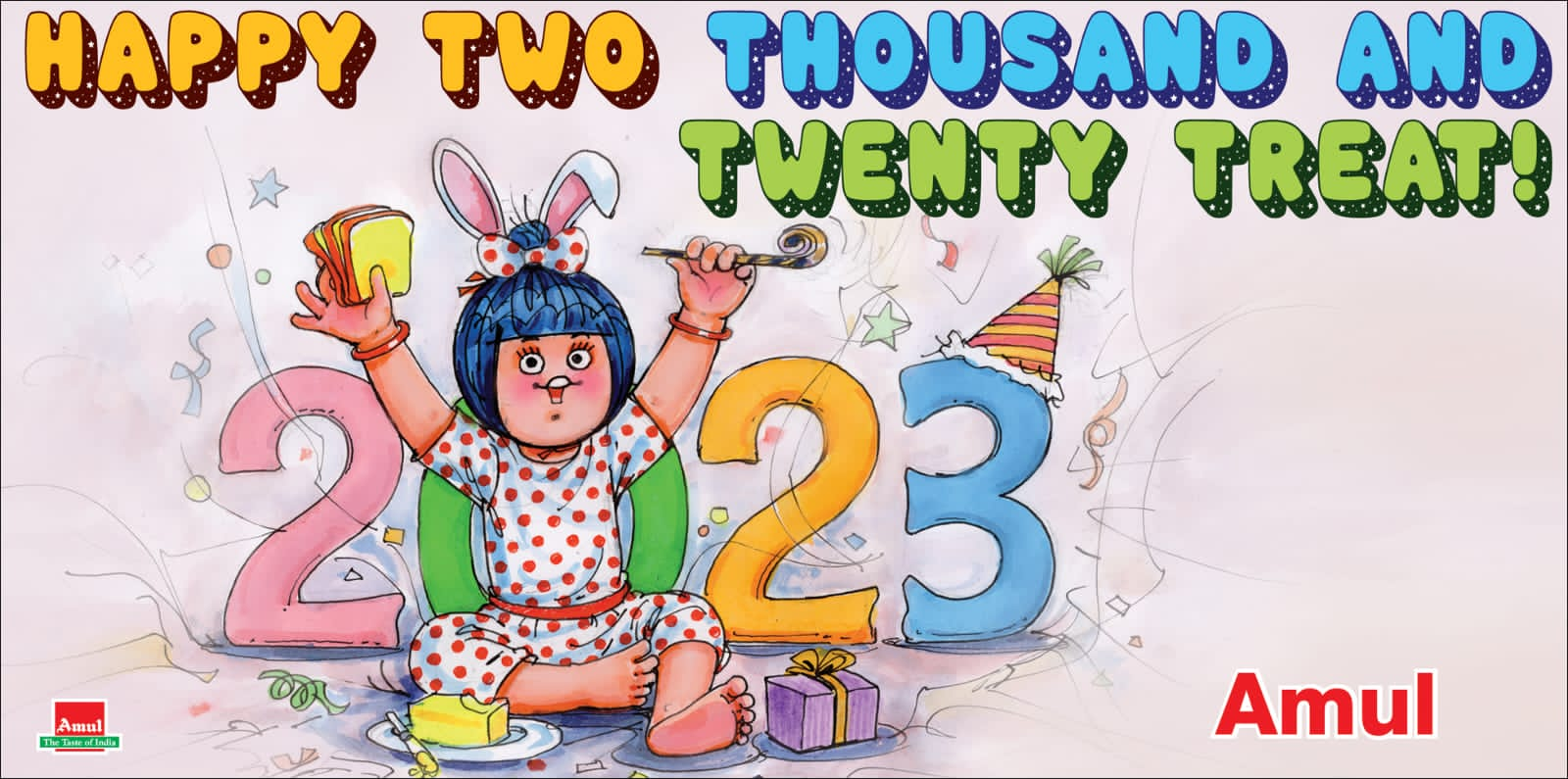 Image source: Facebook
Anand Milk Union Limited or Amul is one of the world's leading milk producers and marketers, with a long history of success. From its humble beginnings as a small dairy in India, Amul has risen to become the 8th largest milk processor globally in the list of top 20  published by the International Farm Comparison (INFC), a global dairy research network.
Source: Facebook
Its strong presence in international markets reflects its products' high-quality standards, which have won numerous awards over the years, including the World Dairy Innovation awards 2020 and the prestigious National Quality Award 2020.
Image source: Amul.com
The famous 'Amul girl' with blue hair and an orange face is thirty-nine years old now, and you still remember her as the first brand ambassador for milk in Indian history - a true brand icon for many!
But how does Amul manage to sustain this position? Isn't it unbelievable that despite the competition it continues to outperform its competitors?
The secret lies in the strategic blend of its product differentiation and its unique marketing strategy of Amul. Let's dive deeper into this and find out.
Amul – The Inception Story
Amul was established as a result of a cooperative movement in Anand, Gujarat, against Polson Dairy, which bought milk at meager low prices from local farmers in the Kaira district and sold it to the then-Bombay government. Everyone gained from this commerce except the farmers.
The district's farmers reportedly turned to Sardar Vallabhbhai Patel for help after becoming enraged by the unfair and deceptive business methods. In order to cut out middlemen, he urged them to establish their own cooperative so that they would be in charge of marketing, processing, and procurement.
The Kaira District Co-operative Milk Producers Union Ltd., now more commonly referred to as Amul Dairy, was founded with just two village dairy cooperative societies.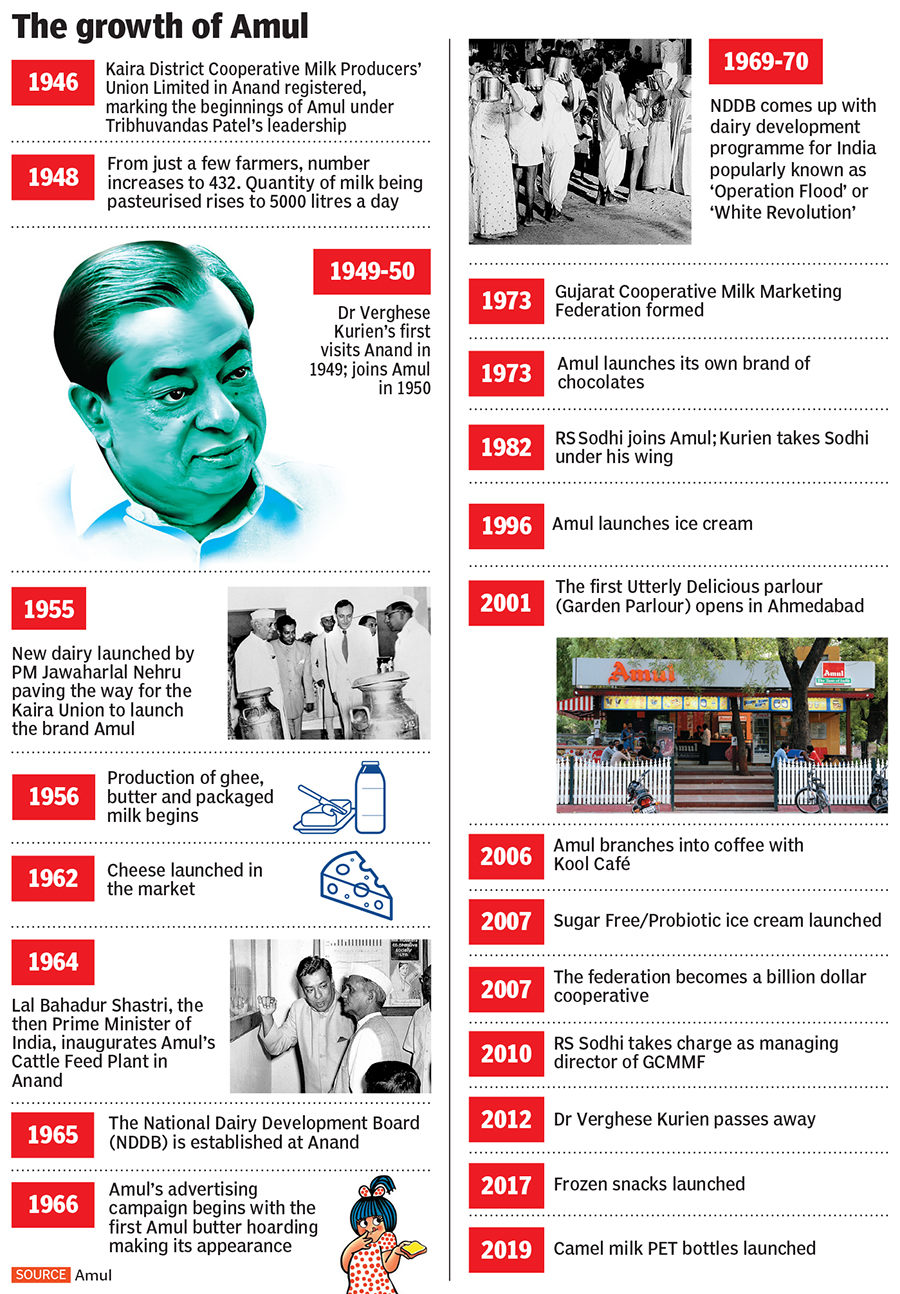 Image source: Forbes India
Thanks to the inspirational guidance of Tribhuvandas Patel, the founding Chairman, and the devoted professionalism of Dr. Verghese Kurien, (popularly regarded as the Milkman of India) who was given the responsibility of managing the dairy from 1950, Amul grew steadily and successfully.
Image source: Amul.com
Marketing Mix of Amul
Let's explore Amul's strong marketing strategies, including its pricing strategy, marketing mix, and more.
Product
When it comes to dairy products in India, Amul is one of the brands with the most product variety and it makes use of the umbrella marketing strategy. In comparison to its rivals, it offers the most variety of quality products.
Amul Cooperative Society is one of the largest milk cooperatives and manufacturers in the country. The cooperative made sure that all of the farmers' needs were met. As a result, the Amul model gained popularity and has expanded exponentially since its inception.
The diverse range of Amul products includes different variants of fresh Amul milk available like Amul milk powder, toned milk, skimmed milk, and buttermilk, as well as a range of products made from milk such as Amul butter, Amul lite butter, Amul pizza cheese spread, Amul dahi, ghee, etc. to suit all Indian consumers. Amul is a significant player in the mass market, with a 90% market share in just butter!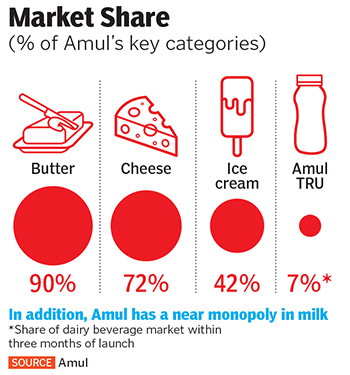 Image source: Forbes
Although Amul's product quality hasn't been matched yet, the dairy segment spectrum of items faces plenty of competition. Butter, Amul cheese spread, and ice cream from Amul will always receive high marks for taste and quality in polls.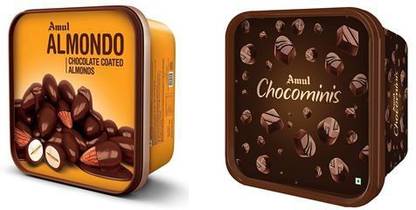 Image source: Flipkart
Image source: Amul Ice cream Facebook
Amul Chocolates has been working hard to move up the food chain alongside other rapidly expanding companies like Nestle and Dairy Milk. One of Amul's main competitive advantages is the fact that no other brand has been able to develop a product portfolio Amul has made!
Amul's Pricing Strategy
Like any other brand in the market, Amul also seeks to create a competitive advantage through effective pricing.
By selling Amul products at low cost, they have managed to reach their target audience and provide them with a wide range of products to choose from. Being the first Indian affordable dairy brand to market condensed milk, it has built a significant consumer base among the lower-income groups in the country.
For products with a lot of competition, Amul used a competitive pricing strategy, such as a one-on-one offer. As the income of the audience grows, Amul brand raises the price of its products. Therefore, this pricing strategy enables Amul to retain its great customer experience.
Promotion: Amul's Advertising Strategy
Whether it is television, social media, or print media, Amul places a strong emphasis on using advertisements as a main tool of promotion and engagement. Without advertising, they could've not reached their target audience. They still hold the Guinness record for 'longest-running advertising campaign.
Amul also created a number of taglines during the earlier years namely, "Amul doodh peetha hai India", "Utterly Butterly Delicious, Amul's!", "Har ghar Amul ghar" and many more in its advertisement videos.
Amul's Digital Marketing Strategies
Amul's digital marketing strategy has been nothing short of spectacular and the brand has seen phenomenal growth in recent years. The traditional marketing of Amul through its moment marketing strategy made the best use through social media platforms like Facebook, Instagram, and others, while not having as much of a presence on television commercials as it formerly had.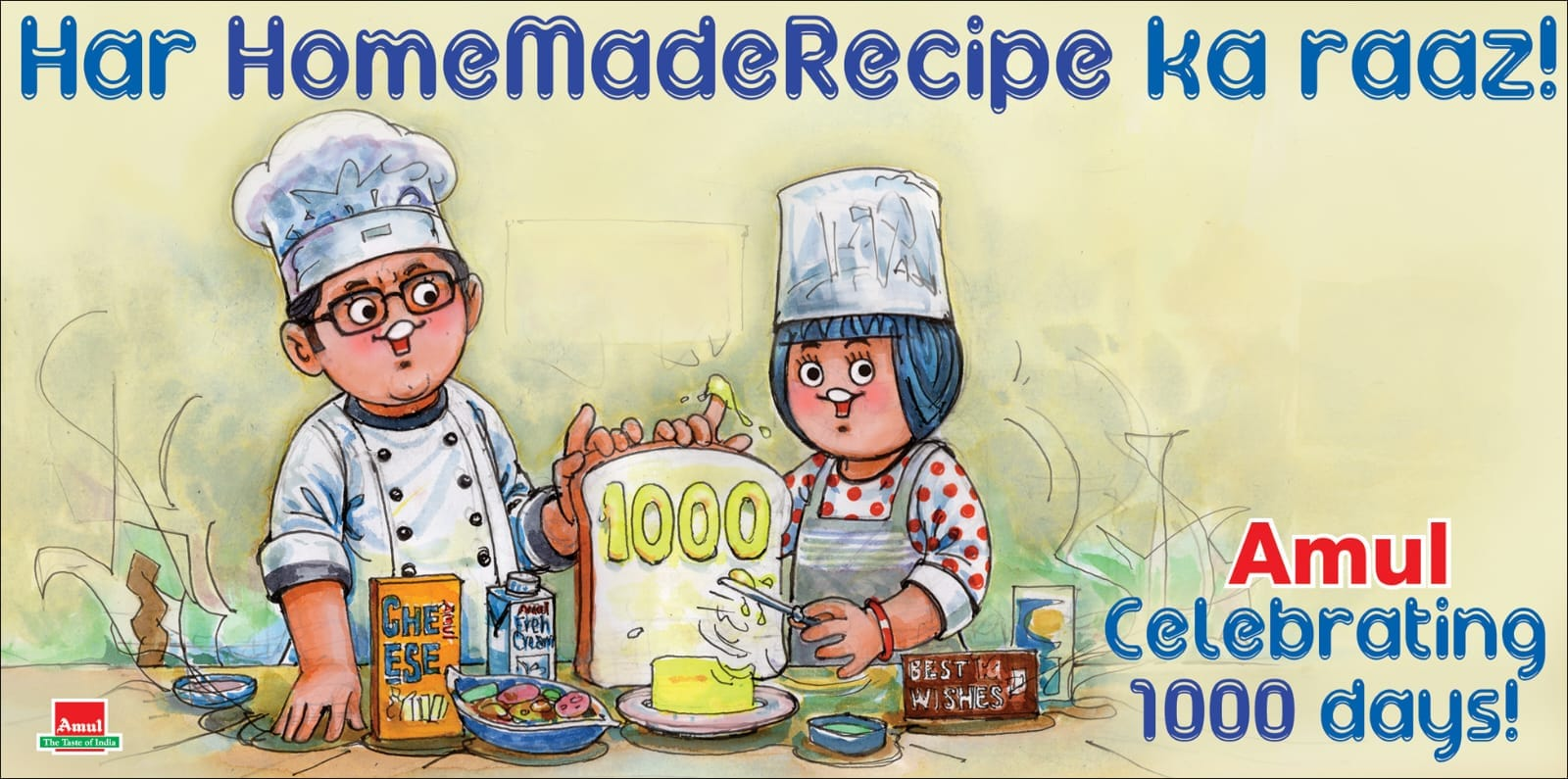 Image source: Facebook
Aside from Facebook and Instagram, Amul has a sizable following on Twitter as well. It has withstood the test of time and evolved alongside by adapting consumer-friendly strategies and the changing marketing landscape. Customers retweet the Amul Girl graphics, and Amul takes notice and responds. On Twitter, it also frequently holds giveaways and contests. In addition, Amul responds to customer complaints on social media promptly and perfectly.
Amul's Target Audience
Amul caters to customers who require quality products at reasonable prices. Since Amul established its products for everyone, we divided its target audience into two categories. Amul's marketing strategies are planned strategically for both of these target audiences.
Targeting Primary Consumers (B2C)
Amul created a line of products for each age group based on their interests and preferences. Here are a few examples of products.
Kids: Amul milk, chocolate, Amul Kool drinks, Nutramul
Youth: Amul cheese spread, Amul Pizza Cheese
Health Conscious: Amul lite butter, Nutramul, Amul Shakti, Sugar/skimmed milk powder
Targeting Secondary Consumers (B2B)
In most of its Television advertisements, Amul focuses on the B2C market. However, there is a much larger B2B segment within Amul that requires a lot more attention.
Milk: Restaurants, Ice cream manufacturers, Tea & coffee cafes, and local food stalls
Butter, Ghee, Cheese, Paneer: Restaurants, Bakeries, Food stalls, etc.
Placement and Distribution: Marketing Strategy of Amul
Amul stands out as a national icon not only because of its good marketing strategy but also, with the exclusive Amul shops and distribution centers that it has opened across India.
The company has thus been able to reach out to customers directly, giving them easy access to its products. This has helped to increase its customer base substantially over the years.
Image source: NDTV
Amul's products are also sent to households across India thanks to its extensive network of distributors. Distribution models rely on bulk purchases that are broken down into smaller increments before reaching the consumer. With its distribution network, Amul is able to cater to the varying needs of its customers.
Distribution of Amul occurs via two distinct channels:
What Amul calls its "acquisition channel," is where the company sources its milk from small farms and dairy cooperatives for use in its factories. From there, the raw material is processed into various dairy products.
Carrying and forwarding agencies, distributors, dealers, and retailers make up the distribution chain. All Amul products can be purchased through official Amul retail outlets.
Top Marketing Campaigns of Amul
Amul Girl campaigns
The iconic Amul butter girl, fondly called 'Amul girl', epitomizes everything that is India – fun and youthful, but also unpretentious and charmingly naive. The Amul girl was developed in response to Polson's Butter Girl, a product of Amul's rival company which eventually turned into Amul's brand image.
The design of the Amul girl was carefully crafted to give the impression of a friendly, bubbly character who was relatable to consumers from different walks of life. She was eventually made the face of Amul when an advertisement featuring the Amul girl was released in 1967.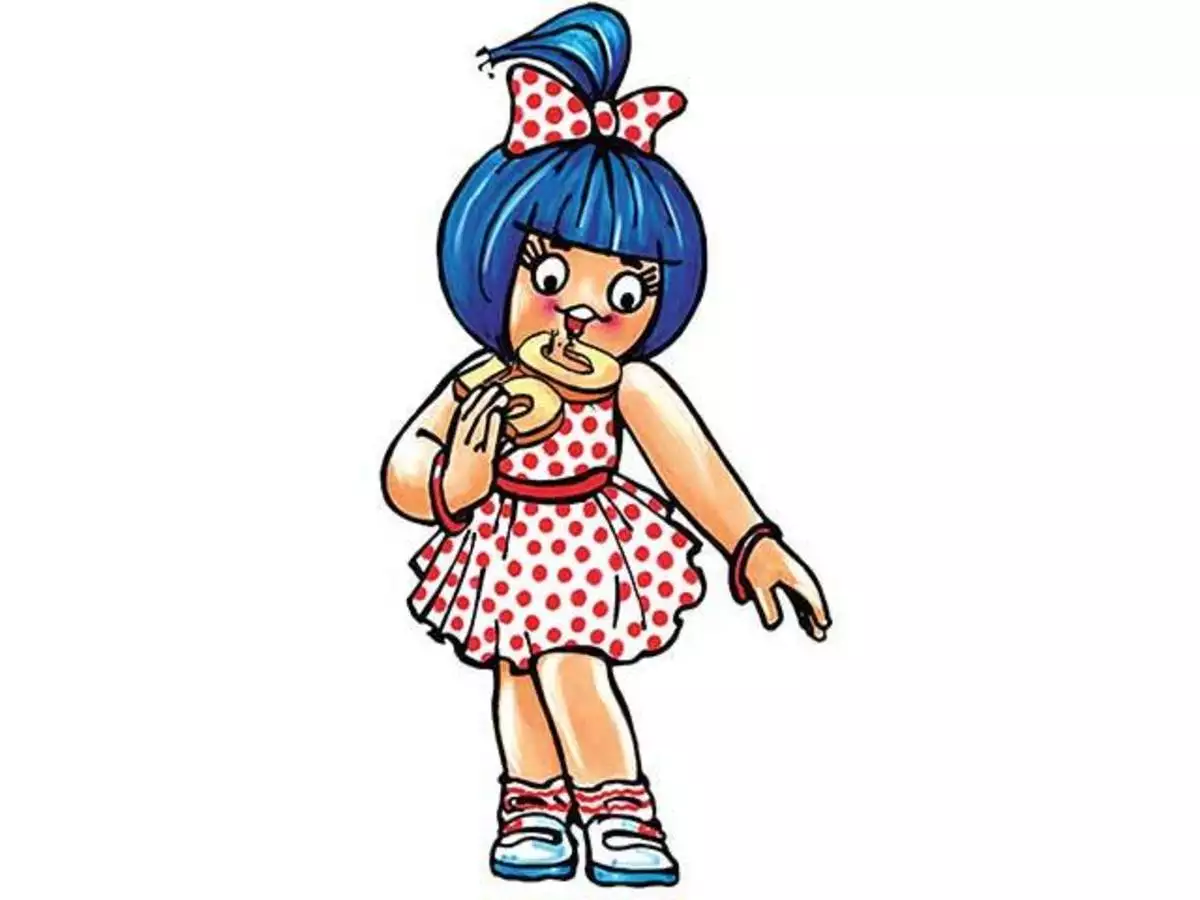 Image source: Economic Times
The popular Amul Butter product was featured in The Amul Girl's first advertisement, which used the tagline "Utterly Butterly Delicious." This was a huge success! Advertisements featuring the Amul girl have since been a regular feature on TV and in the print media, and she continues to be a popular advertising figure even today.
"Eat Milk with Every Meal"
Amul collaborated with Draftfcb Ulka agency to create prints and graphics for the virtual realm to reposition the goodness of dairy products and their byproducts, which the audience of sodas and soft drinks had undermined. The campaign received a positive response and was awarded the 2014 World Innovation Dairy Award.
Image source: Campaign India
National Milk Day
Amul celebrated National Milk Day on November 26th, 2019 in order to inspire young citizens. The campaign organized a bike rally in which 50 bikers traveled from Varanasi to Anand to meet dairy farmers and professionals and learn about Dr. Kurien's work. The hashtags used in the campaigns included #CelebratingDrKurien, #BikeRally, #26November, and #VaranasiToAnand.
Key takeaways from Amul for Entrepreneurs
Amul marketing strategy is great because it has created a brand that manages to evoke emotions in millions of its customers. If you are building a consumer business, here are some major takeaways you can keep in mind:
Be Customer-Centric
Being customer-centric has been one of the differentiating factors for Amul that has made it successful in the market over the years. Amul managed to provide the highest quality dairy products at ALL times.
The ingredients used in making Amul butter, for example, are always of the highest quality which adds to its unmatchable taste and shelf life. Hence, Amul is particular about its taste and how its consumers would like it even in the long run, and that is just how it successfully managed to become the "Taste of India"!
Transparency with customers
Amul is clear about its processing methods, quality standards kept, and the prices it charges for the products it makes. This also goes a long way in building up trust among its consumers which is a key element for a successful brand in any industry.
Moreover, Amul's social media staff responds quickly to queries posted by its customers on social media platforms and ensures that these queries are promptly addressed. This also helps in building customer loyalty and trust toward Amul.
Taking risks when needed
Risk-taking is the central pillar of Amul's Business model. Amul has executed many risks that have paid off well and have resulted in increased profitability for the company, specifically maintaining its name in the hearts of its consumers. Some examples of such risk-taking initiatives by Amul include launching flavored milk drinks, expanding its footprint beyond Gujarat into other states of India, expanding into international markets, and even changing its packaging design to give it a more premium look.
Moreover, Amul's critical marketing strategies always work out well in terms of rekindling people's emotions for Amul and regaining their confidence in Indian flavors. For example, the following Amul ad took both parents and kids on an emotional journey.
Amul really has a well-defined and extensive product line, with an emphasis on quality products. The company has maintained a positive image over the years due to its unique marketing strategy and product positioning.
Image source: Economic Times
Further, the company has successfully captured new market segments by creating new products. It is also important to note that the company has adopted robust marketing strategies for different market segments. For example, it has created a number of value-based products for the mass market while focusing on the premium segment for its premium products.
You can learn more about marketing strategies for consumer businesses by checking out the marketing strategy case study for Pepsi, Gatorade, or Monster Energy.