Adidas is a recognizable name to not just sports fanatics but everyone, right from children to adults. Started as a shoe company in Germany, today Adidas owns a market cap of more than 21 billion euros!
Venturing into sports equipment and sporting apparel brand has made it the fastest-growing footwear lines. As of 30th June 2022, the company's sales were $24.559 billion.
Founded and headquartered in Herzogenaurach, Bavaria to sell soccer products to athletes, today Adidas is one of the best sporting goods company that is competing for neck-to-neck with Nike footwear in this monopolistic sportswear market.
In this article, we will understand how Adidas' manufacturing process and branding enable the Adidas marketing strategy to build a company that has lasted for 73 years.
About Adidas company
Source - GamePlan
Adolf Dassler founded the firm at his mother's house for selling soccer products, where he was joined by his elder brother Rudolf in 1924. Both the brothers split, post which Rudolf created the famous Puma brand, while Adolf continued with Adidas.
The company acquired Reebok in 2005 and repositioned Reebok to align with Adidas' brand values. A series of such acquisitions allowed Adidas to gain market share and dominance in the sporting goods industry.
Adidas' marketing strategy
Adidas has worked for more than 70 years to build the brand that it is today. The Adidas strategy for marketing emphasizes quality, innovation, diversification, and heavy-budget advertisements to stay as one of the best brand in a competitive market.
Let's analyze the same using 4P marketing analysis:
Adidas Brand Target Market
For its marketing strategy, Adidas' target audience includes athletes and youth between the age group of 20 to 30. Another target audience of the Adidas brand is 13 to 18-year-old athletes as they believe the youth are the future generation of prominent athletes.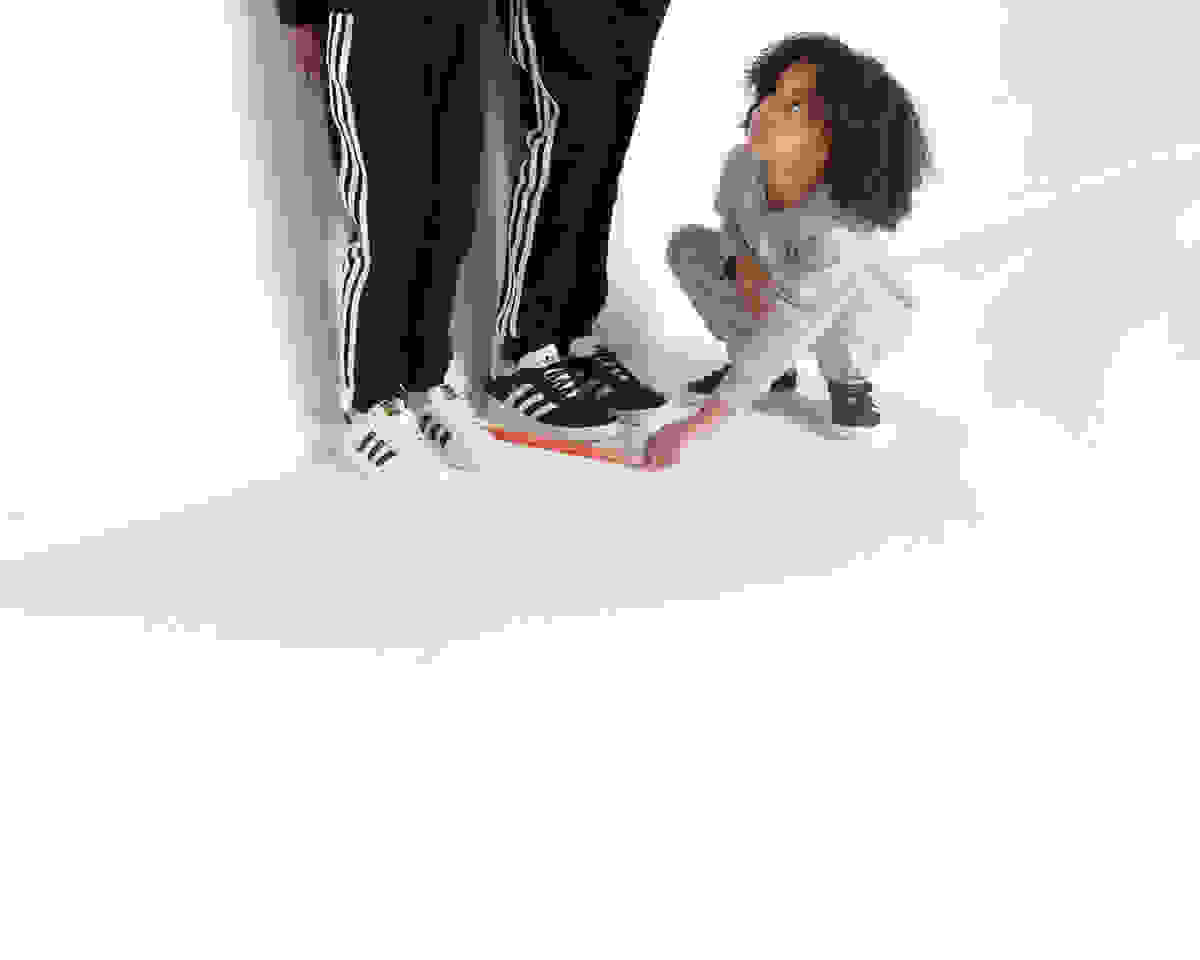 Source - Adidas
But overall, Adidas has taken an approach of broad customer development as a result of which their target market includes people of any age or demographic passionate about sports culture and being fit.
Product
Source - keishelleeadidas
Adidas' product lines include a range of t-shirts, hoodies, shorts, sporting equipment, etc apart from shoes. Their apparel includes sweaters, shorts, tracksuits, jackets, swimsuits, sports bras, hoodies, and other items.
To produce such products with good quality in a scalable manner, Adidas collaborates with many researchers, creators, designers, and open source innovations to shape its sporting goods. For example, Adidas partnered with Parley for the Ocean to use the plastic waste from oceans and beaches for manufacturing shoes.
You can learn more about the innovation and watch documentaries - Adidas X Parley shoes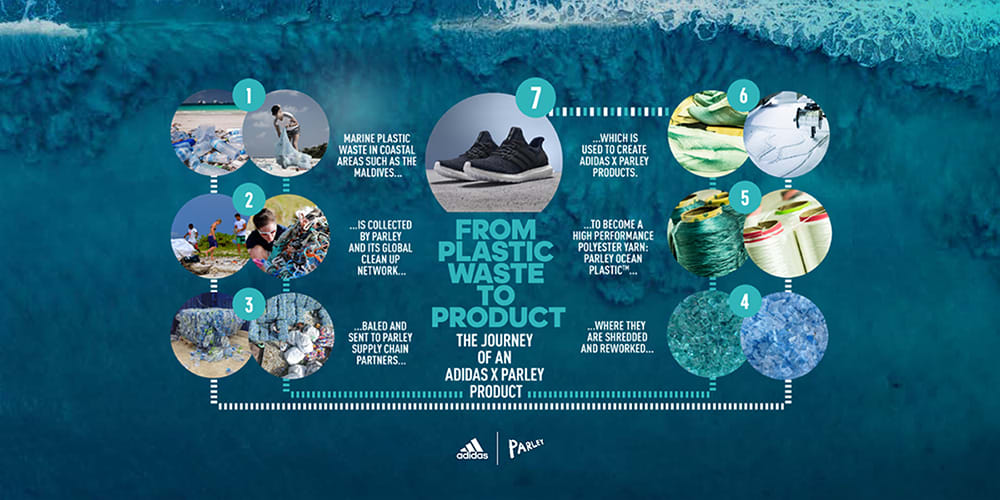 Overall, the brand's product portfolio is well-rounded, offering outstanding options in many vital areas.
To compete with Nike which had started to sell sporting equipment, Adidas too released its collection of backpacks, sunglasses, goggles, and watches to capture the market. This includes training equipment and yoga accessories too.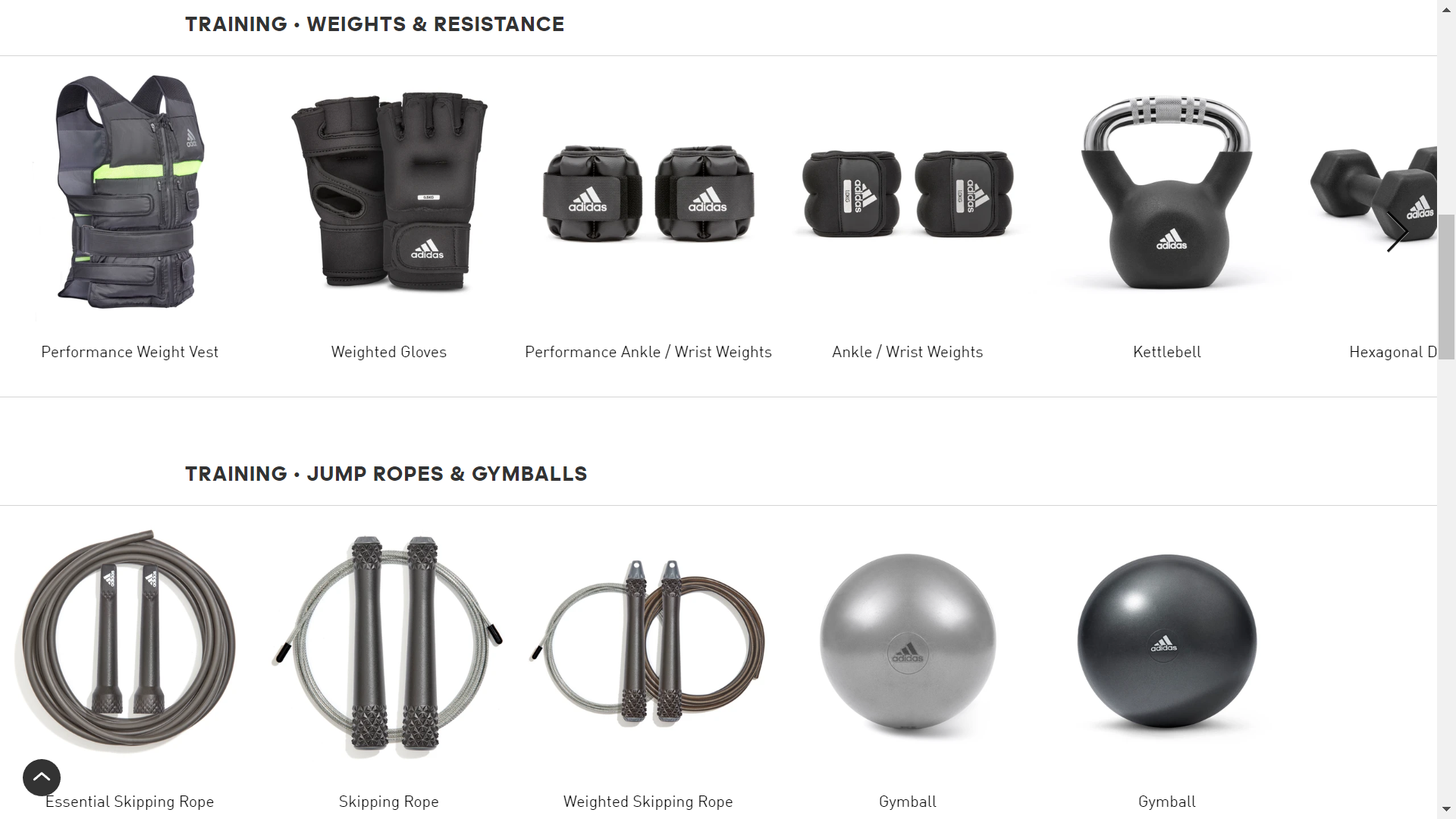 Source - Adidas Hardware
As mentioned, the Adidas marketing strategy also targets young audiences as a part of diversifying its product portfolio. It has a dedicated collection called Adidas Neo that sells casual footwear for young adults and children.
Pricing
Adidas, even though has premium pricing, indeed keeps in mind its major competition across Puma, Nike, and other upcoming startups to price its products. It also follows the skimming pricing strategy, where newly launched products are kept at premium prices, and their value drops as they get out of fashion.
Promotion
The Adidas brand spends a ton of money on traditional advertising methods. This includes billboards, TV, newspapers, magazines, etc. To compete with Nike, one of its strategic growth areas is to leverage digital marketing with social media, influencer marketing, and paid ad spending.
Adidas is also very actively involved in sponsoring sports teams, which includes big names like Real Madrid, England, South Africa cricket teams, United Kingdom Football, etc. Many professional athletes also form a part of its influencer campaigns.
Distribution Strategy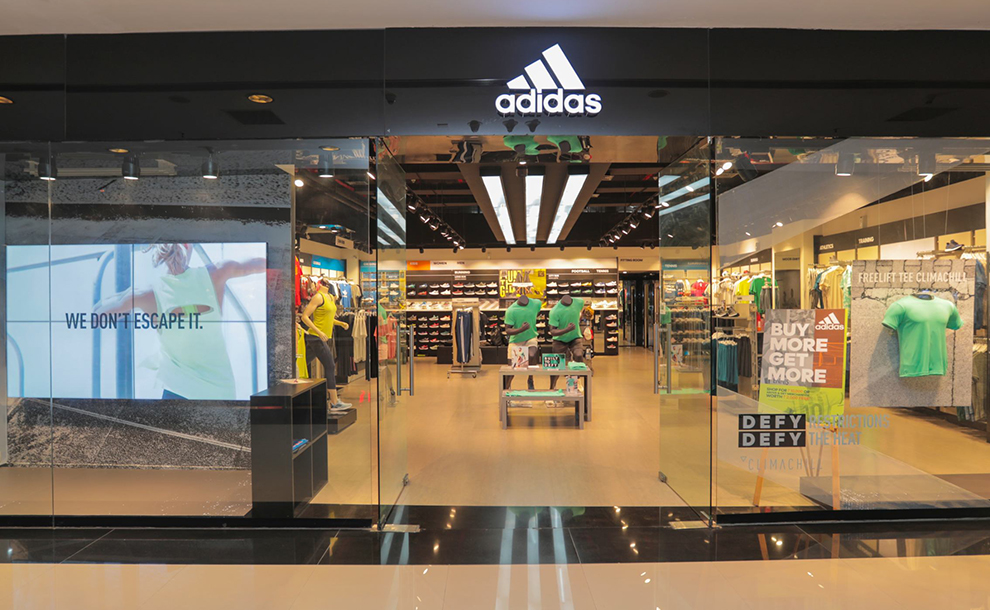 Source - Infinity Mall
Adidas, with its high speed manufacturing prowess and production process, has more than 500 independent factories across 55 countries. All its products are available in its own retail stores in malls, independent showrooms, other mega marts like Walmart, online stores like Amazon/Myntra, and its own eCommerce store for direct purchases.
The two sportswear giants' competition - Adidas vs Nike
Adidas and its main competitor Nike have nurtured their own sports fans in a fierce competition ruled by marketing spending. Consumers are loyal and both products are in high demand, but looking at their marketing strategy, one can find many differences stemming from their business ideology and country of origin.
Adidas has focused on tennis and soccer players, while Nike has focused on basketball and runners as its target audience. Within their segments, both have diversified to make sporting goods and equipment to cater to all their needs.
Their country of origin also plays an important role in how these brands market themselves. Being a U.S-based Brand, Nike focuses on its domestic market and many of its products are suited to American taste.
While Adidas, which is a German brand, has designed its products more suited to European feet and weather conditions. Its speedy manufacturing processes and production processes are enabled by German technology. Their German branding which is known for product excellence is indeed a unique selling point that gains potential consumers' trust across the world.
What makes Adidas' marketing strategy unique?
Building a company that lasts more than 70 years requires consistent branding efforts and adaptive business operations. Some key aspects of the Adidas marketing strategy that helps it stand out include:
Adidas digital marketing strategy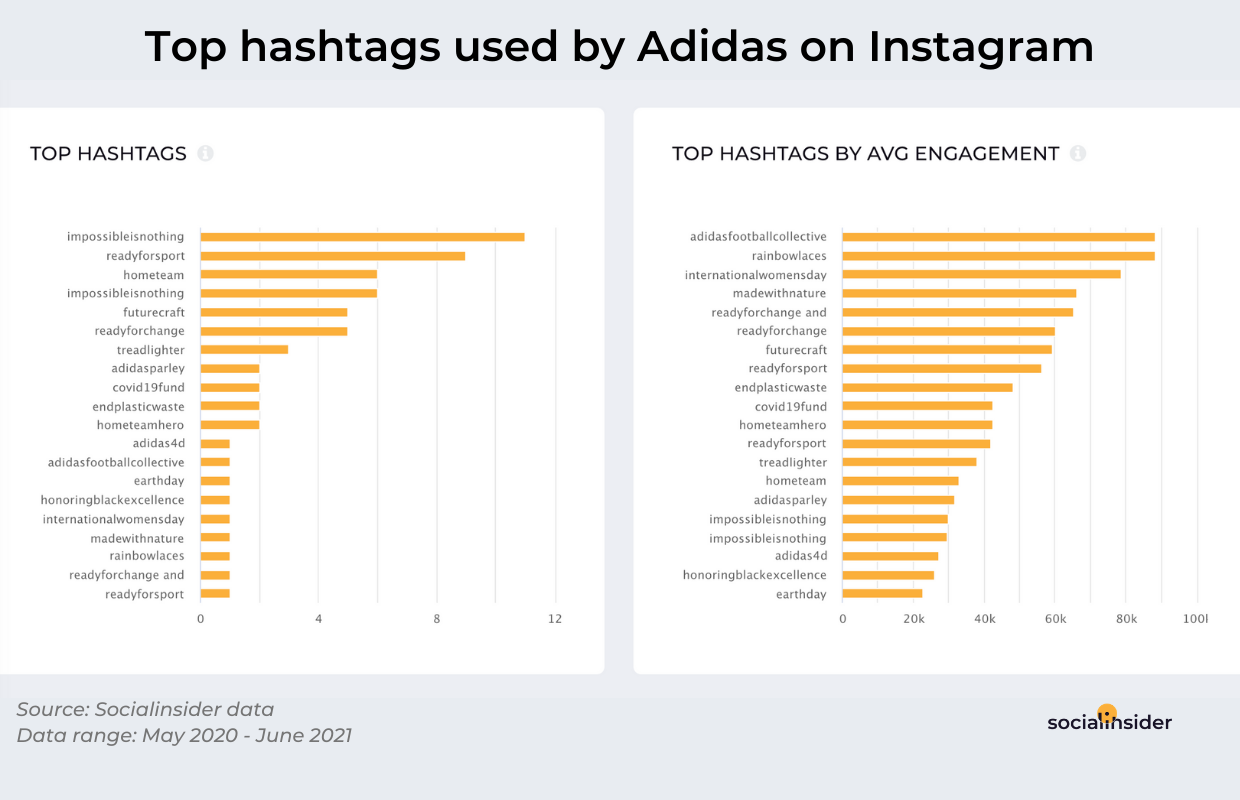 Source - SocialInsider
Adidas has its own eCommerce store is today one of its fastest growing revenue channel. For targeting the younger crowd which is more online, it's even more important today to maintain a strong digital marketing strategy. Its social media posts promote sustainability, action, inspiration, and a modern outlook.
To achieve this, Adidas itself went into digital transformation to become a digital company. Today, the company spends most of its marketing budget on digital campaigns and social media - as per MarketingWeek digital analysis of the brand.
Strategic Cities
Adidas makes its presence strong in certain cities of strategic importance and that are culturally influential. This includes prominent names like Paris, Tokyo, London, Shanghai, Los Angeles, and New York.
It is known that these cities influence fashion trends across the world. Many other strong competitor of Adidas also focus on these cities to ensure success there, post which they distribute the product worldwide. This forms a concentrated marketing strategy that helps reduce overall marketing efforts and budget if done right.
Memorable marketing campaigns by Adidas
Adidas' ads successfully create excitement and espouse inspiration to its viewers. They have worked with several professional athletes, musicians, actors, and influencers who align with its brand values. Some notable ad campaigns include:
Your future is not mine
This ad targets the younger generation, a customer segment that is of growing importance for the Adidas company. With futuristic visuals, the ad inspires one to take the future into your hands.
Muhammad Ali VS Laila Ali
The Impossible is Nothing campaign is a unique one, where they use technology to rework Muhammad Ali's images from his real-life matches to compete against his daughter, Laila Ali. This Adidas-created ad is a great use case of using AI for taking creative execution for ads to another world.
Partnership with Kanye West
Source - Adidas
Adidas partnered with Kanye West to release branded footwear - Adidas Yeezy and accessories that would appeal to his fans. Recently, due to Kanye's unfavorable behavior, the company cut ties on this deal, though it will continue to sell its shoes.
Key takeaways from Adidas marketing strategies
If you're working on building a retail business, there is a lot to learn from the Adidas marketing strategy and the founding story as well.
Here are some major takeaways:
Focus on building a quality supply chain
The Adidas company is successful today due to its strong focus on ensuring its product quality is at par with what its upper middle class and above target market find appealing. If you have good quality products, you can always sell, upsell and cross-sell across the world. Adidas ensures its products are also consistently available worldwide.
Don't neglect digital marketing
Adidas started to lose its market share with Nike due to its lackluster digital presence. Recently, it has vowed to regain its share by making digital as a key part of its overall marketing strategy. In today's age, one cannot neglect to be a digital company, especially post-pandemic.
Target the root cause of trend formation
Adidas smartly focuses on key cities that are responsible for fashion trends than doing any spray-and-pray approach to sell across the world. Adidas works to ensure the people of these cities use its products, while the rest gets taken care of via word of mouth.
Adidas is today's world's number 2 brand, just behind Nike. With its recent digital transformation, the Adidas digital marketing strategy would again create fierce competition in the sports retail market. If you enjoyed this case study, you can also get more retail-marketing insights from Nike's marketing strategy or beverage brands like Pepsi, Gatorade, and Monster Energy.